Traveling to Disneyland for the first time? Looking to have a smoother experience than last time? Here are our fast five tips to thriving at a Disneyland Race!
1. Stay Close to the Start Line
We recommend being within walking distance to the start line. This can vary for some people so think about how far you want to walk AFTER 13.1 miles. We stayed on Katella Avenue next to Paradise Pier. We were able to walk to the parks and the start line in less than 10 minutes! If you don't have a tight budget, we suggest the Disneyland Hotel for convenience.
2. Arrive Early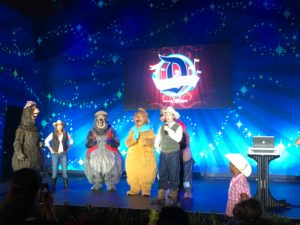 This is especially important for your first race of the weekend. There is a great area with a DJ for meeting friends, dropping off your gear check bag, or going to the port-a-potty! If you are in the lower half of corrals, give yourself plenty of time to walk over. We walked over half a mile to our corral and there were still people who didn't fit inside the fence!
3. Bring Music or a Friend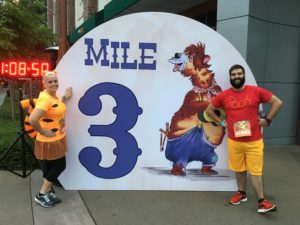 If you are planning to run any of the Disneyland races, it's important to note that almost two-thirds of the race is in the streets of Anaheim. Even though there is some street entertainment, it is hard to stay motivated. We are lucky we have each other to stay entertained!
4. Hydration!!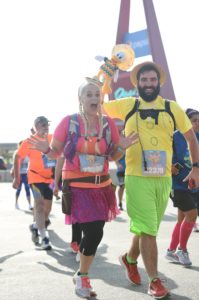 Disneyland treats water stops a little differently. For 5K and 10K races there are three or fewer water stops. There are some opportunities for water fountains. If you are used to drinking water more often, bring a small bottle to refill. During the half marathon, we used our own Camelbaks for water and grabbed Powerade at the hydration stops.
5. Prepare the Night Before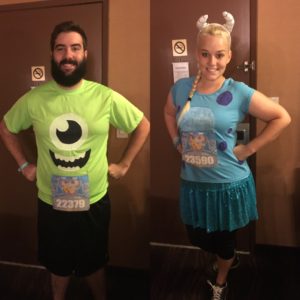 When we travel to races, we pack each race outfit in its own gallon ziplock bag. The night before, we lay out the full outfit including shoes and undergarments. Depending on the costume, we will sometimes pin our bibs on as well. We also like to set out watches, water bottles, and nutrition. It's important to remember that you might not be thinking clearly at a 3AM race alarm!