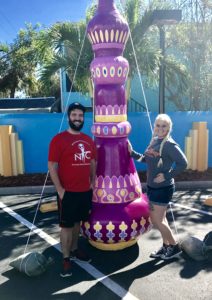 The Cocoa Beach Half Marathon was on our "Must Do" list because we love I Dream of Jeannie!  Overall, we were very pleased on the race.  We both completed the Half Marathon and Katie's parents ran the relay so we fully covered this race.  To start the course you board a shuttle from near the finish line down about 6 miles to the start.  For us, this worked well.  The second half of the relay team does not get on a shuttle and is responsible to get to the halfway point (which is very close to the finish line and shuttle area).  Before the start line there was some entertainment with the DJ.  I would've liked to see photo ops or more to do.  The first part of the course is about 8 straight miles down A1A.  This is great for runners looking for a good time.  After that it turns around in some parking lots and then completes 3 miles on the beach before finishing down A1A again.  This means the first relay runner has an easy straight shot, while the second runner has a challenging beach course.  This also means that you run past the finish line before you even are halfway done.  This was a HUGE BUMMER!!!  Entertainment on the course was nice, the volunteers were amazing, and the water stops were well staffed.  In the end, this is on our list to do again next year as a relay race.  The date for next year is October 29th, 2017.
http://cocoabeachhalfmarathon.com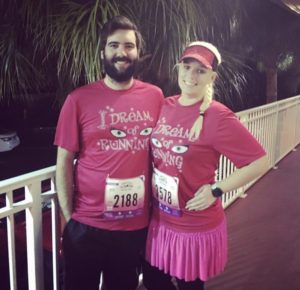 Our Cocoa accommodations left something to desire.  We stayed at the La Quinta closest to I Dream of Jeannie Lane and were extremely disappointed.  We booked the two hotel rooms months ago and requested a late race day checkout.  Upon arriving at the hotel, they denied all requests and refused any accommodation for us.  This meant we had to be out of the hotel by 11AM (the same time we were mulling around getting water/food/beer post race).  Luckily, Katie's mom was able to remove our luggage in time since she completed the first half of the relay.  I would advise everyone AGAINST staying at the La Quinta.  It was a horrible experience.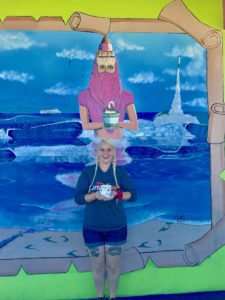 Cocoa Beach food options were amazing!!  We ate lunch at the Sandbar Bar and Grill close to Ron Jon Surf Shop and everyone had amazing food.  We had a light lunch to prepare for a big dinner.  Our afternoon snack was at I Dream of Yogurt, a frozen yogurt shop all themed around I Dream of Jeannie.  This is a Must Do before or after the race!  I was sad they weren't doing a special for runners though.  Dinner was at Brano's Italian Restaurant (not Bruno's).  We had amazing service and pre-race pasta that was not greasy or too filling.  When we do the race again, we will probably repeat all of our restaurant choices!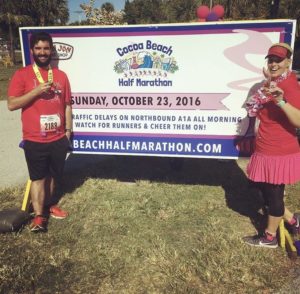 Cocoa Beach Half Marathon Review:
Do this race alone or with a friend – the Half and Relay are great options!
Stay the night before – just not at the La Quinta.
Wear a costume or a fun outfit!
Get a pre or post race treat at I Dream of Yogurt!