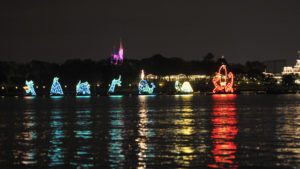 For the Wine and Dine 1/2 Marathon we picked a slightly obscure favorite of ours. The Electric Water Pagaent! This is a nighttime light show that runs Seven Seas Lagoon and Bay Lake. You can see it from the Magic Kingdom and surrounding resorts.
The construction of these shirts was unique because we had to keep a clear shape while only using paint dots for lights. Katie chose to use Glow in the Dark Neon Puff Paint for added effect. Spencer made all of the outlines by modeling thick tracing lines over actual images from the show. Katie dotted over the lines using those guides and a light board under the shirt.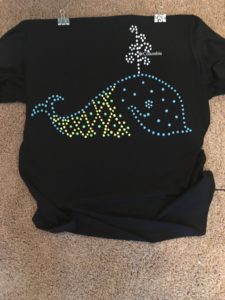 For the front of our shirts, we picked our favorite parts of the show! For the back, we will be running as the Dragon extending to both our shirts. Don't worry though, we decided against playing the theme music for the entire race!