Sometimes it is really challenging to be a runner and be flexible. A few nights before race weekend, Katie had a bad bout of asthma and had to go back on medication. We were signed up to run the Half Marathon, but dropped to the 5K the day before to make sure we were both totally ready for Walt Disney World in January. We arrived on Saturday to visit packet pickup and eat in downtown Mt. Dora. The trip over was very easy from Walt Disney World and finding a place to eat was no problem. We switched our bibs and went to The Lost Parrot for lunch. We would totally eat there again!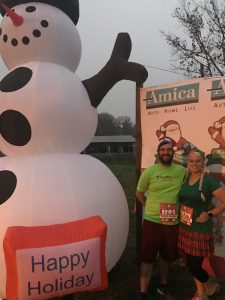 Even though it is totally feasible to drive to the race on the morning of, we stayed the night in Mt. Dora at the Quality Inn to make a weekend of it. The Quality Inn was fantastic and even accommodated a 1pm late check out for us. We ended up not needing it since we finished the 5K much sooner than planned.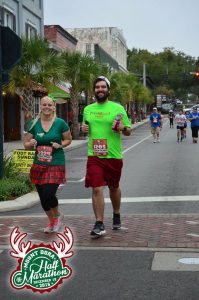 The DJ and pre race atmosphere was nice, except for the serious lack of volunteers. The Half Marathon started 15 minutes before the 5K and there was no one to stop 5K runners from getting into the corral area way to early. In fact, there was no way to tell a 5K runner from a Half Marathoner at all! That was disappointing. The 5K course was a there an back with no integrity mat at the turn around. Just one volunteer to help guide you. The water stop was nice because we were able to hit it twice, but only because we were going so slow. It was short on volunteers and only on one side of the road so the fastest runners couldn't take advantage of it on the way back.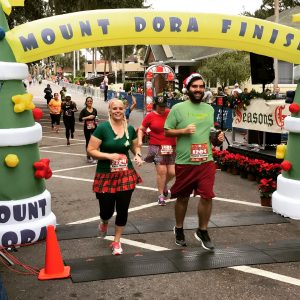 Overall, we won't be coming back for this race. The medal is the same for 5K and Half Marathoners, there was rampant cheating during the 5K, and even a lady who was allowed to complete the Half Marathon on a scooter. The Race Director needs to get the "day of" preparations more organized before we would ever come back to this race. We wouldn't recommend this race to any serious runners or anyone traveling out of the area.