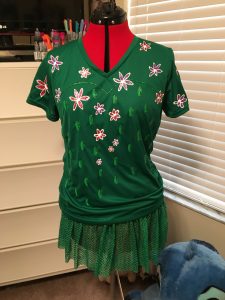 Originally, this costume was going to be for the Half Marathon portion of Princess Weekend, but we decided with all the accessories to switch it to the 10K. It's no secret that Katie has Elsa hair, and since wearing a wig to run is not on her list of things to do, why not Elsa?! As a nod to our constant struggle of running in Florida, we decided to do Frozen Fever Elsa and Summer Olaf.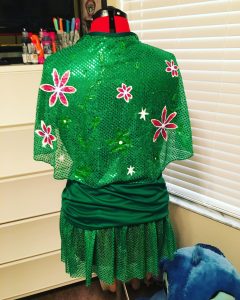 For the Elsa costume, Katie purchased a Sparkle Athletic green sparkle cape, green tech shirt, hair accessories, and puff paint. The hair accessories were a combination of small purple flowers from JoAnne's glued to bobby pins with E6000 adhesive. The large flower was purchased on Etsy from PinkLiliesBoutique.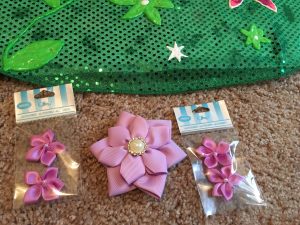 The Sparkle Athletic Green Cape perfectly matches the Green Skirt. Since Elsa's capes attach more to the shoulders than a superhero cape, Katie stitched the sides of it up a little longer to make it look like it was attached to the shoulders. This should also create a billowy effect during running! All of the designs are hand puff painted on using a glittery green, three shades of fuchsia, and white.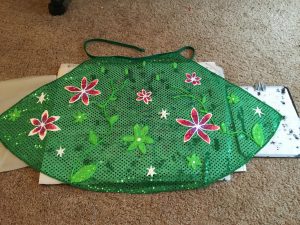 For the tech shirt design, the same colors carried over to the flowers on top and the green leaf sequins were imitated with dark green and glitter green puff paint. Everything was again painted by hand, with no tracing. I followed the children's costume sold by The Disney Store for guidance on placing.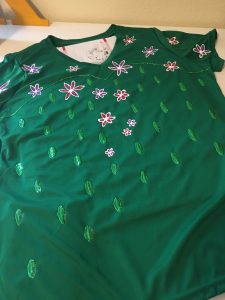 For Summer Olaf, the main design was easy with a white tech shirt, Hula skirt and Lei purchased from Amazon, and a white baseball cap with added accessories. The white shirt was easy to add three coal buttons with puff paint and fabric paint to fill in the inside.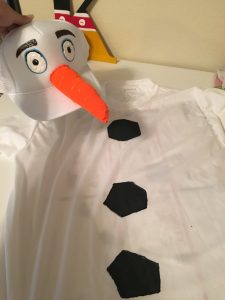 The hat was more challenging. Katie sewed and used E6000 adhesive on Olafs nose. It takes a long time to set something that large and awkward to a hat, so if you try this at home, be prepared to sit holding a nose for at least 20-30 minutes. Katie used puff paint for the eyes and to add some dimension to the nose.