When the crypt doors creep… Maids and Butlers come out to run! Since the princess theme is often a little overdone, Katie and Spencer decided to run as the Cast Members from one of their favorite attractions – Haunted Mansion! Katie might've regretted that decision, since they ended up being the most labor intensive costumes she had to make.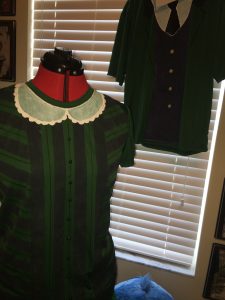 For Spencer's Butler costume, Katie freehand painted the entire shirt with Puff Paint and Fabric paint. Since the shirt was such a dark green, multiple coats of paint had to be used. If you're going to replicate a design like this, it is important to place cardboard in between the shirt so the paint does not bleed through. Katie also uses parchment paper to keep the paint from sticking to the cardboard. To add depth to the shirt, Katie created 3D buttons and collar corners with more puff paint.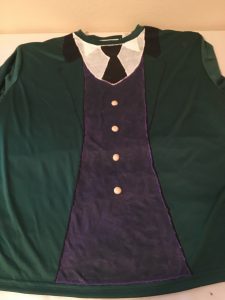 The Maid costume proved much more challenging. All of the lines were measured out and taped out using blue painters tape. The trick is to make sure the paint is very dry before removing the tape. Also you need to push down on the tape while painting a small section next to it, to make sure the paint does not bleed under. It is much different than painting a wall.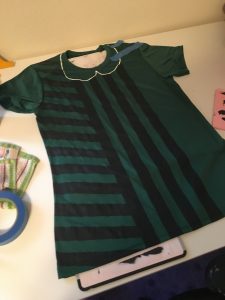 Getting the angles for the sides of the shirt should've been a scientific process, but was more of a guess and check and waste lots of tape process. Katie did not paint the sleeves so that something on the shirt was left open and free. The lines in between the paint stripes are small sharpie lines done will painters tape as a guide. The collar of the shirt is the same puff paint and fabric paint combo on the Butler shirt.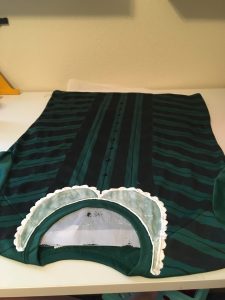 For added cuteness and authenticity, Katie added a skirt that will safety pin to her Sparkle Athletic skirt. The skirt is made of an extra tech shirt that was sent in the wrong size (but the right colors) and part of an old pillow case. Katie used a lampshade to trace out the circle pattern of the skirt and the inner line. The stripes were applied in the same pattern as the shirt.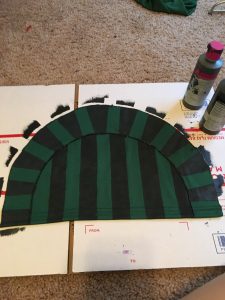 For the edge of the skirt, Katie cut the pillowcase into strips and sewed them on in an overlapping ruffle pattern around the edge of the skirt. Katie did not pin the ruffles because she wanted it to look a little ruff around the edges. I mean, can ghosts even use a sewing machine?