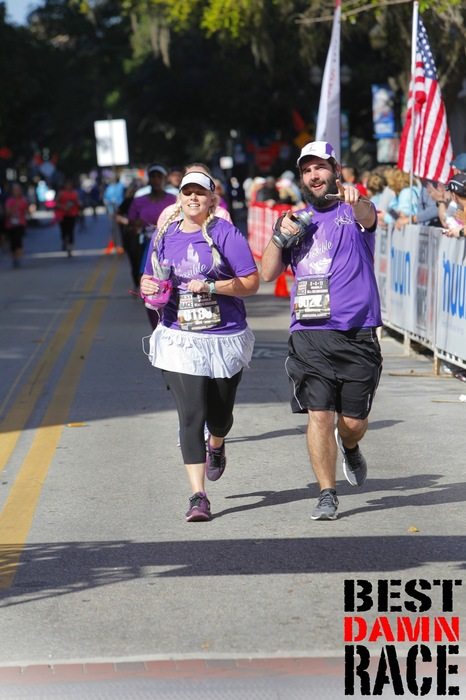 This was our second year running the Best Damn Race – Orlando. In 2016, we ran the 5K distance and were extremely jealous of the runners with 3 medals. This year we were able to run the 10K+5K Challenge for $30. Best Damn Race uses a tiered pricing system to open races starting at $1. The prices goes up with the quantity of runners, not by date.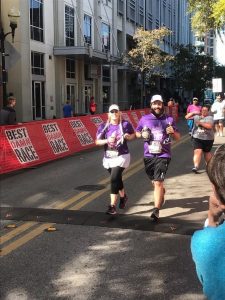 This race series starts with the 10K start, shortly after that the Half Marathon runners leave, and later in the morning the 5K begins. There is plenty of time between the 10K and the 5K so you would need to maintain a 16 minute mile to be safe, but could extend over that time to make the 5K. It is a unique challenge to do two races in one day.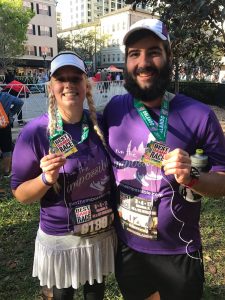 During the 10K, Katie had an injury shortly after mile 1 and we had to walk through mile 2 to recover. We looked for options to pull from the course, and found nothing. We were walking and maintaining well under a 16 minute mile when the "sweeper" police car arrived. This car loudly told us we needed to get on the sidewalk for over a mile and a half. The crowd had not thinned out and many runners were using intervals and we were all pushing around each other on the sidewalk.
It doesn't matter if you are an elite runner, first timer, walker, or using a baby jogger, we want you to have the best DAMN race experience.
Falling to the back of the pack made us quickly realize that this race focuses on elite runners, fast runners, and does not care about walkers or slow interval runners. We switched back to intervals and finished the 10K in under a 15 minute mile overall. Even with a strong finish, it didn't feel great at this race. We would not recommend this race to new runners.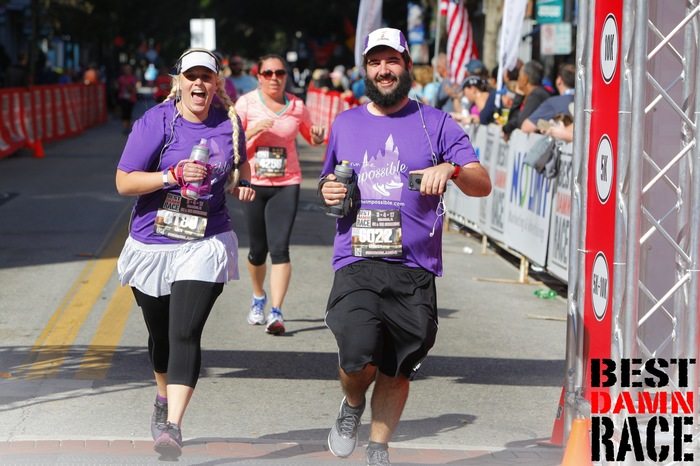 Katie's parents joined us to start the 5K. We had plenty of time to refill our water bottles, put our medals in our pockets, and hear the national anthem again. Over 75% of the 5K course mirrored the end of the 10K course. We were just excited to be on the shortest portion of our journey.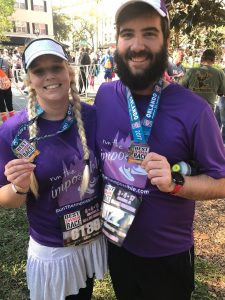 Course support was still strong during the 5K, with the exception of water stops running out of Nuun. As big supporters of that product, we were excited to have it on the course. With over 9 miles of running, we only had two cups of it. For the 5K distance, we took it very slow and just focused on finishing injury free.
At the end of the course, you stop by the registration tent for your challenge medal. Our first stop was the athlete food tent. Last year we had a variety of options with Hungry Howies Pizza and Pollo Tropical chicken and rice. This year we had cold pizza, small brownies, and guava bars.
We pride ourselves on spoiling our athletes. Every race entry includes: race shirt, finisher medal, bib, goodie bag, free food, free beer, free massage (based on volunteers availability at expo).
We left with our nice tech shirts, three finisher medals, a great bib, and a nice goodie bag. We did not leave with full stomachs, alcohol (lines were outrageous), or a massage. Compared to last year, we were disappointed. Next year, we will leave this as a backup option. If we were to return, it would be only for the 10K. The earlier race provides easier parking, less traffic to leave, and less lines at the beer tent!