Travel to Dublin, Ohio
One of the main reasons for picking the Emerald City Half Marathon was the ease and price of travel to the city.  Flying into Columbus, OH is relatively cheap.  A huge bonus is that most rental cars are onsite so we were out of the airport in no time.  Packet pickup was about 20 minutes from the airport, and worth picking up a day in advance.
We stayed in Hilliard, OH which is close to Dublin and has a variety of nice hotel chains.  There is plenty of food everywhere in Ohio as this area seriously loves food chains.  We left our hotel about an hour before the race and since we already had our bibs, we stayed in the car to shield ourselves from the 55 degree temperature outside!
There is plenty to do around the area, and it makes for a nice weekend getaway.  Our favorite was the Giant Corn statues in Dublin!  We also visited the Ohio State University campus and sampled some Buckeye Donuts.  Since we were on a tight budget this trip, we didn't have time for the Columbus Zoo or COSI – but those would be great options too!
Course Overview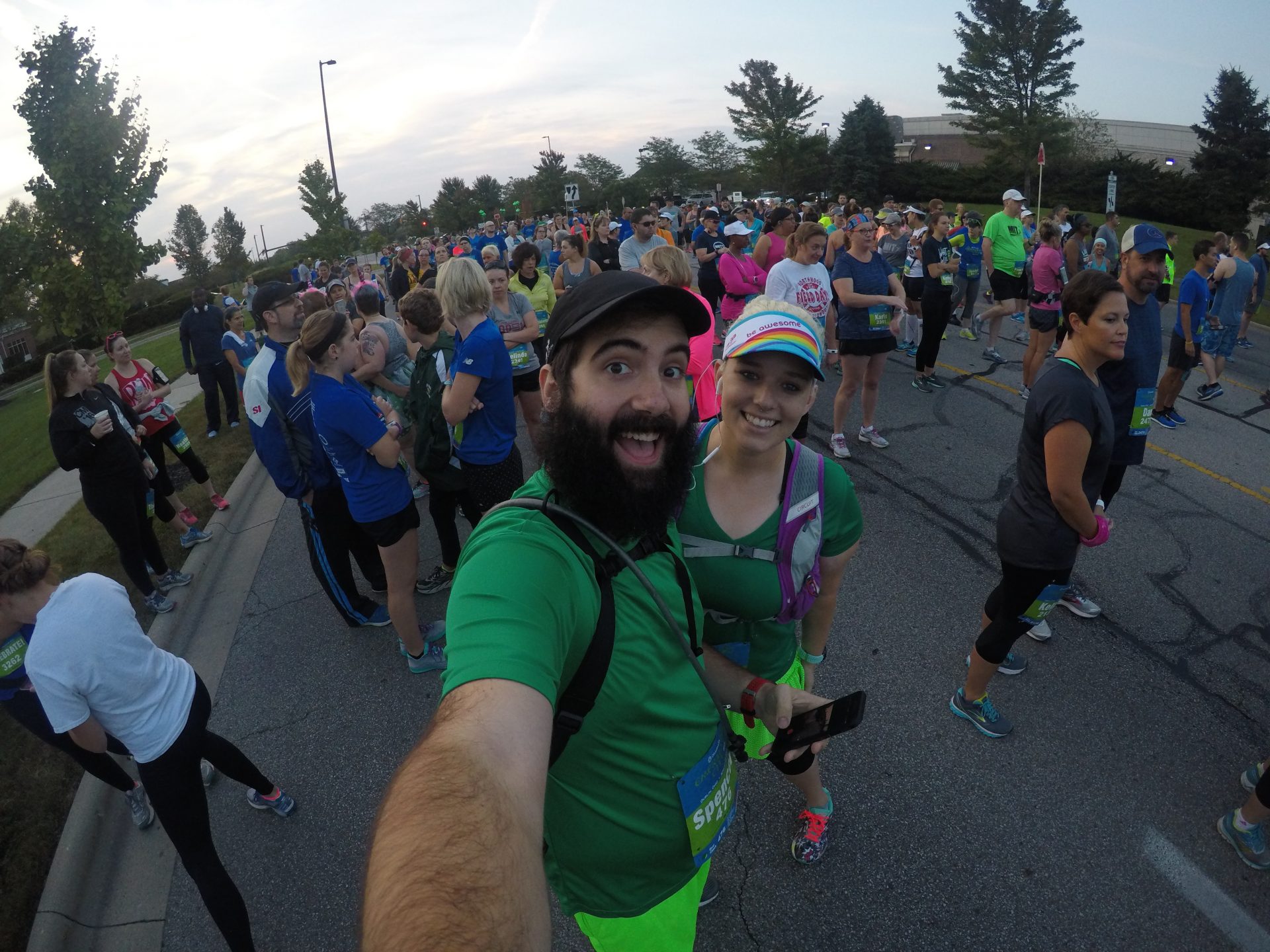 After reading some other reviews about the race, we were a little nervous about a boring course.  While we can't compare it to years past and the course had change slight, we had a blast!  The course started through some nice neighborhoods of big homes.  We had both lanes of traffic until around mile 2 when the Quarter Marathon split from the Half Marathon.  It seemed to be about 3:1, with many more runners diverting to the shorter course.  We continued on through another neighborhood with gorgeous homes and amazing lake views.
The highlight of the course was running through Glacier Ridge Metro Park.  This was breathtaking and serene.  We ran through fields and then through tall shady trees.  It was a bike path sized trail that was quiet and generally closed to outside traffic.  Aside from two close calls with some speedy bikes, we have no complaints.
Another huge benefit was the pacers provided by Fleet Feet Sports Columbus and Marathoner in Training.  Our original goal was to hang somewhere in between the 2:50 and 3:00 pacer, but our 2:50 pacers were so fun we stayed near them for almost the entire course.  A few times we would pass each other or move apart, but in the end we finished together!  We owe a great finish to those two wonderful ladies. Note: we did not see a 3:20 pacer for the Half, only the 1:40 pacer for the Quarter.
Perks and Swag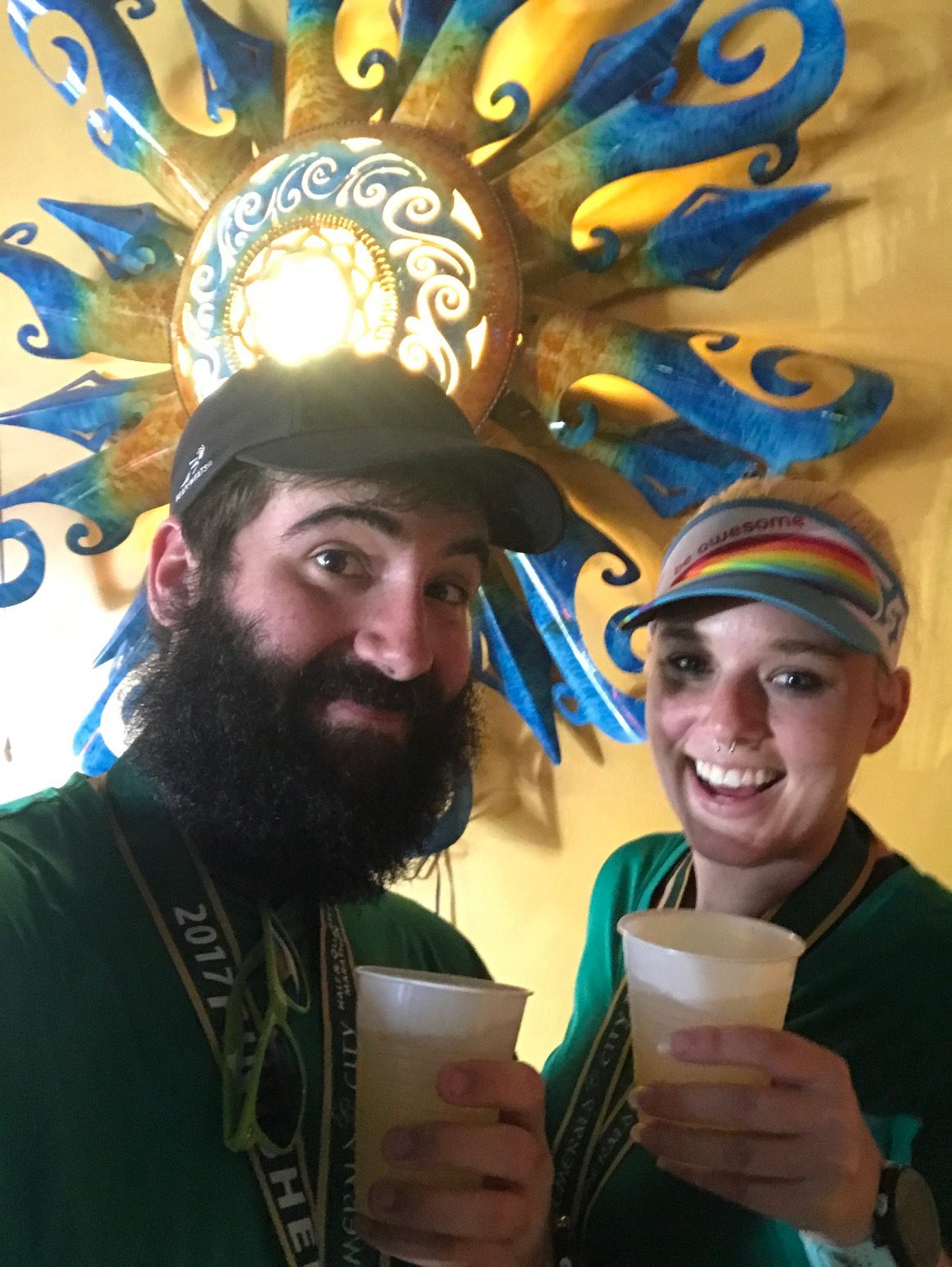 Participants did receive a gender-specific race shirt.  The women's shirt did end up being a tank top, but it was announced with enough time in advance for runners to switch to a men's cut T-Shirt.  We did think it was odd that the shirts were blue for an Emerald Green themed race.
The medals were the same for Quarter Marathon and Half Marathon finishers and they were stunning.  With stained glass style inlays and amazing construction, these are absolutely one of our favorite medals.  We don't always run for the bling, but if the medals continue to be this stunning you need to add one to your collection.
After the race there was Panera Bagels, bananas, and chocolate milk!  Just steps away from that was also a post party at Amigo's Mexican Restaurant.  We got free chips and Salsa and a nice size Margarita!  The restaurant had open seating and deals on food or additional drinks.  We appreciated indoor seating and close proximity to parking and the race finish.
Overall Review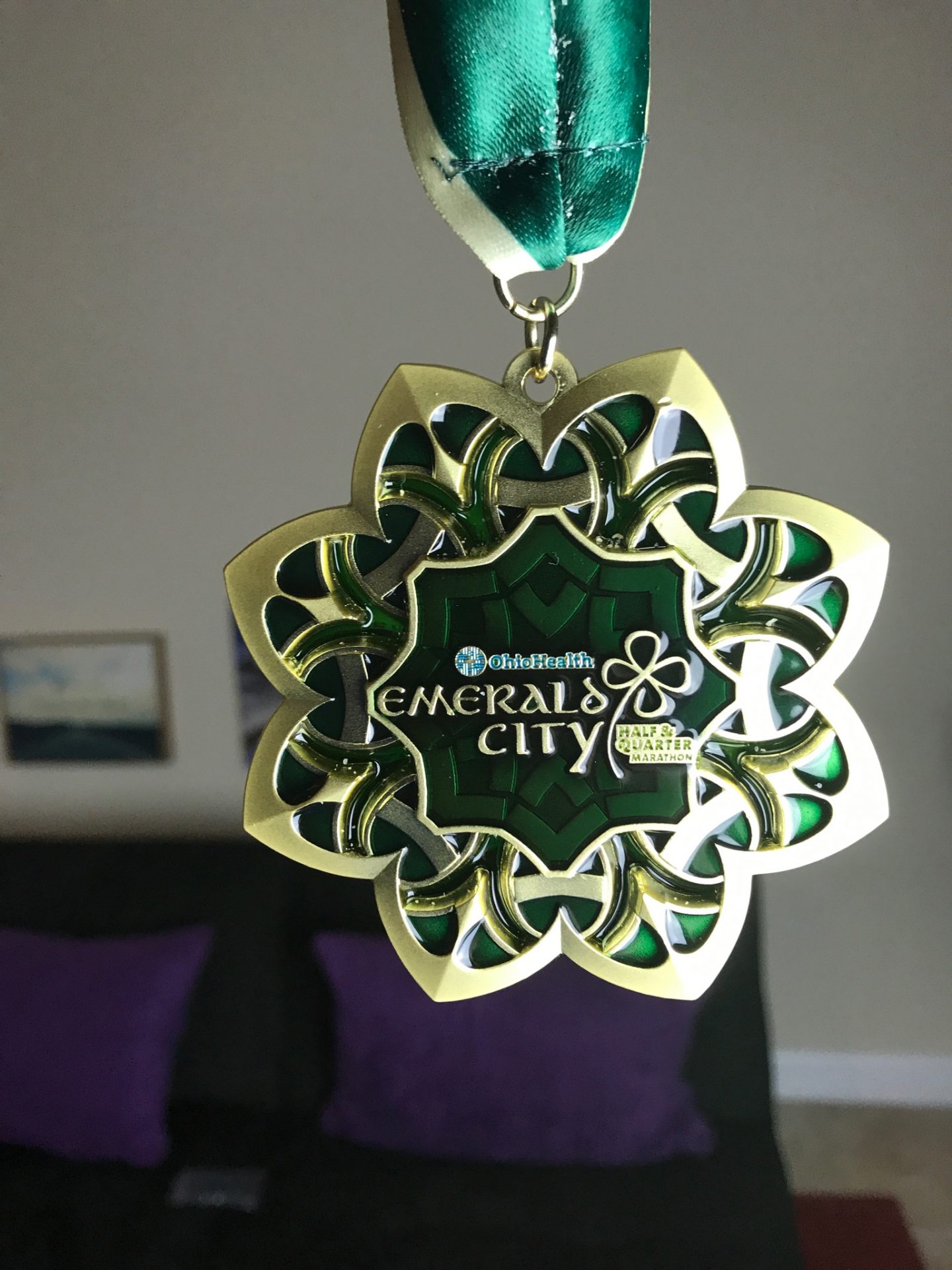 This race had 4,000 participants, with just over 1,000 finishing the Half Marathon.  It was well organized with tons of communication beforehand, easy to park at and drive to, and a safe course with plenty of volunteers.  If we have the chance to visit Ohio again, we would absolutely choose this race!  If you are running a 50 State Half Marathon Challenge – we know there are Ohio races that are a bit more popular; however, we strongly suggest this race with a smaller population, minor hills, and run by a group that cares about their runners and not the bottom line.
Run next year at the Emerald City Half Marathon!