We just finished up our 4th state towards the 50 State Challenge.  We chose back to back races for Labor Day Weekend in New Hampshire and Connecticut.  Monday we ran the Faxon Law New Haven Road Race.  Even though these states don't touch, its actually a pretty easy drive in between cities.  Get creative when looking for a multi-race weekend in the Northeast!
Travel
Since we were doing a back to back weekend, we flew into Hartford Connecticut.  It was a cheap direct flight and only about an hour and a half from the race.  To be as authentic as possible, we stayed in one of the only accommodation in Swanzey, the Bridges Inn and Whitcomb House.  Aside from being potentially haunted, it was a nice place to stay only 6 minutes from the race.  Be forewarned though, the neighboring church bells do ring every 30 minutes… even at night.
Before the Race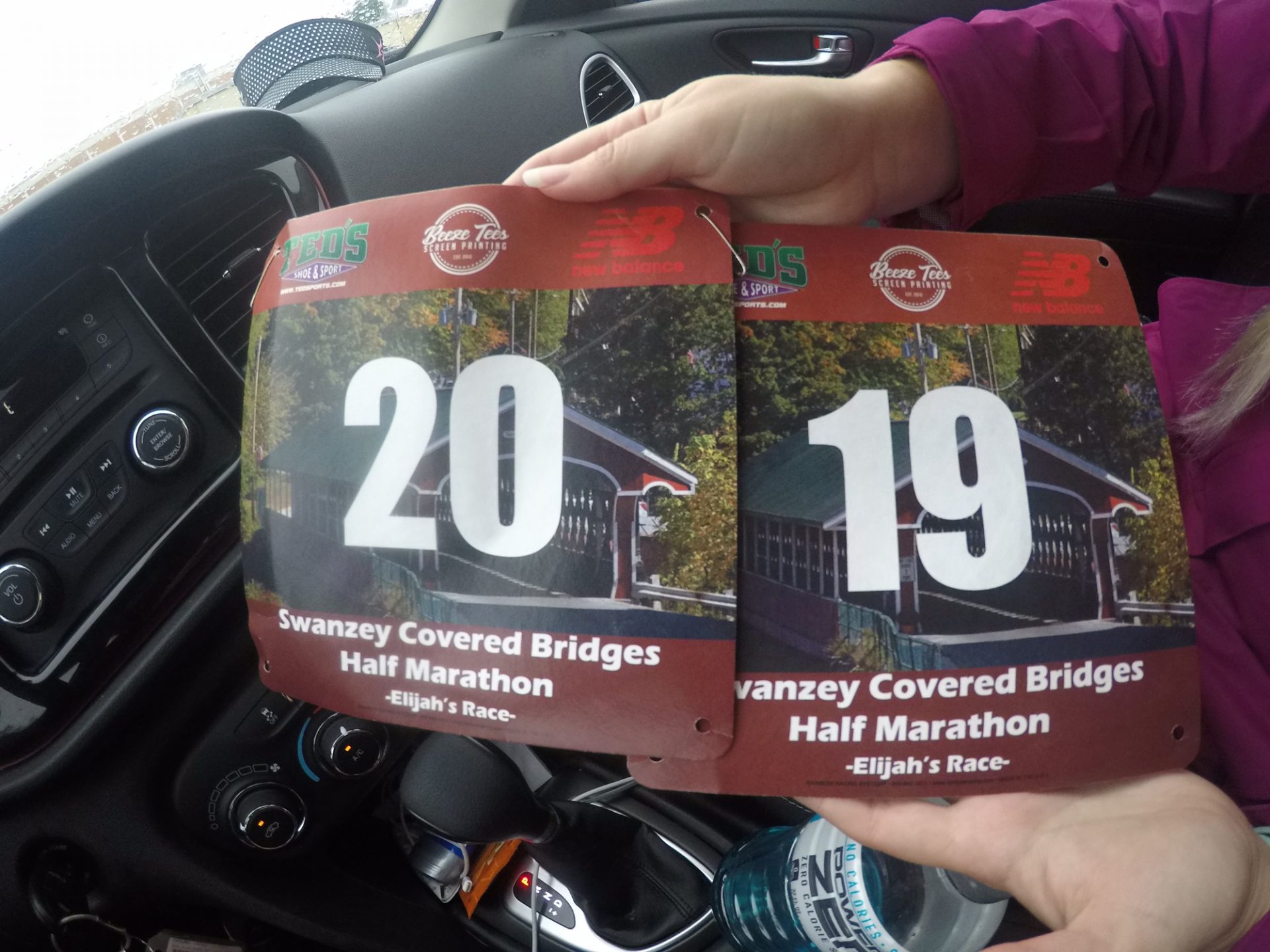 Since there was no packet pickup the day before, we decided to explore the neighboring town of Keene, NH.  It was a quaint city with a variety of restaurants.  Naturally, we chose Mexican before the race.  We knew the consequences and took the risk!
The race also didn't start until 9AM, which is SUPER late for us.  We were up at 6AM and repacked a little and tried to slowly prepare for the day.  Eventually we decided to drive over to get our packets, and ended up sitting in the car to avoid the impending downpour.  Packet pickup was held at the local high school, so they did have the gymnasium and locker rooms open for runners.
About thirty minutes before the start we wandered over to a big tent they had set up for runners and volunteers.  We figured we better wait there to get acclimated to the mid 50s temperature.  Then we noticed a few runners begin heading down the next road.  After asking around, we learned the start was actually about half a mile down the road.  So we walked over and quickly learned the road was still open to traffic.
The Race Course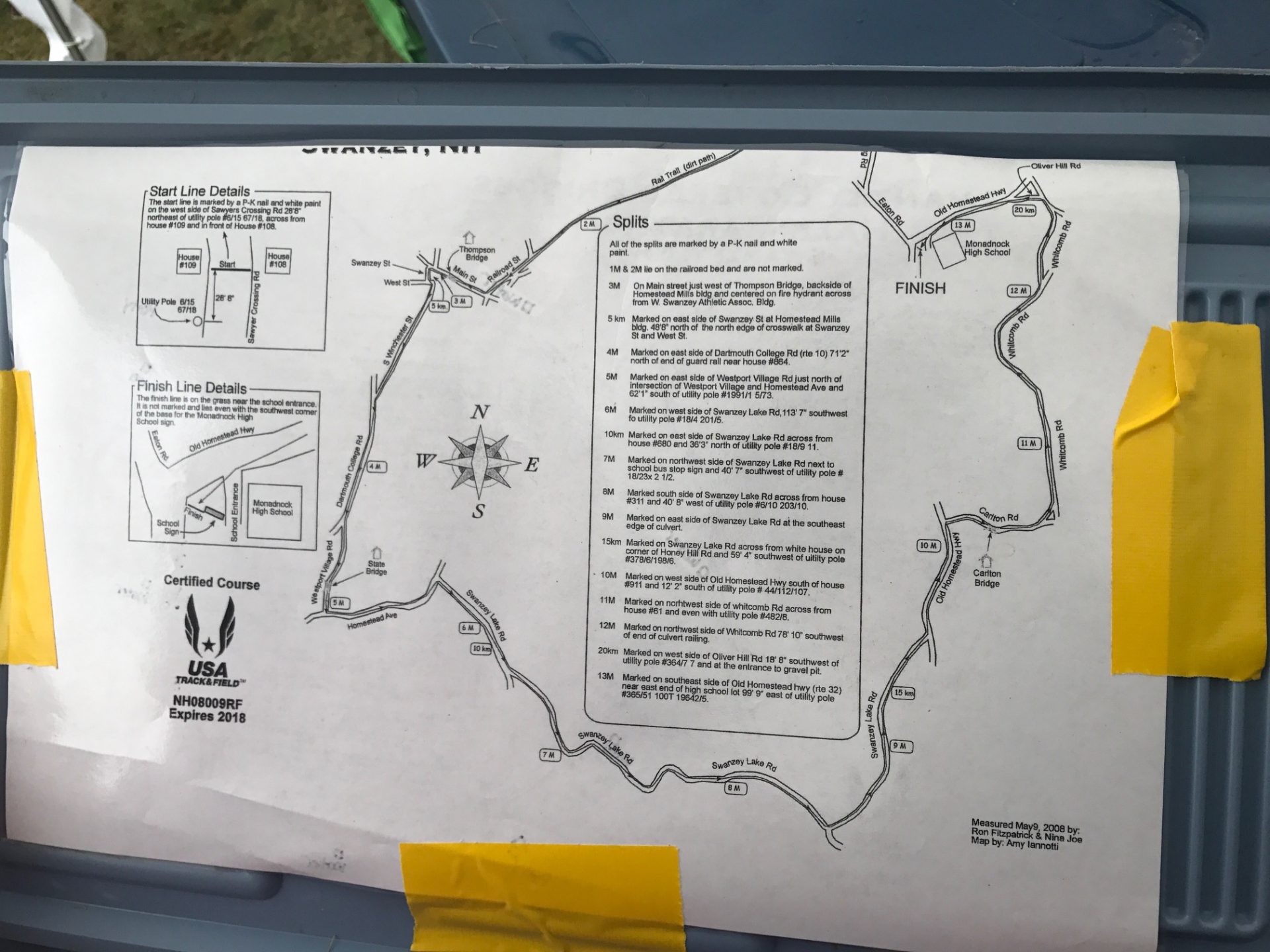 We should be upfront and mention it rained the entire time we were out on the course.  It poured, it sprinkled, and everything in between.  This might reflect our views in a slightly disappointed tone.
The first two miles on the course were on a converted rail road track.  It was a nice exercise trail width dirt path that went through shady trees and over giant rivers!  The views were breathtaking and we sped through those easy miles.  Ironically, this was the part we were most concerned about since we have limited trail experience.  It was well packed and the trees blocked a large amount of the rain.
The next 4 miles were pretty uneventful.  The course was mostly flat and even and had a small section on the main thoroughfare.  These sections with road were coned off and we were able to run in the easement single file.  While a little annoying, it was safe.  This part also had many volunteers directing runners and ensuring we were safe.
The relay transition point was at mile 6.  We can't really confirm too much about this.  By the time we got to that point, we did see one lady get into a car, but no one came out so we aren't too sure if she pulled from the course or if they sent her relay runner early with the weather.  It was after this point that we began to slow down substantially.
With the miserable weather and a race the next day, we made the decision to slow to a walk and slow jog for the remainder of the course.  This was also made in part to being completely alone on the course for large sections at a time.  If we didn't have each other, we would've been unable to see a runner in front of or behind us.  Not to mention a few turns were not staffed by volunteers and we had to check a photo we took of the course map to ensure we were not lost.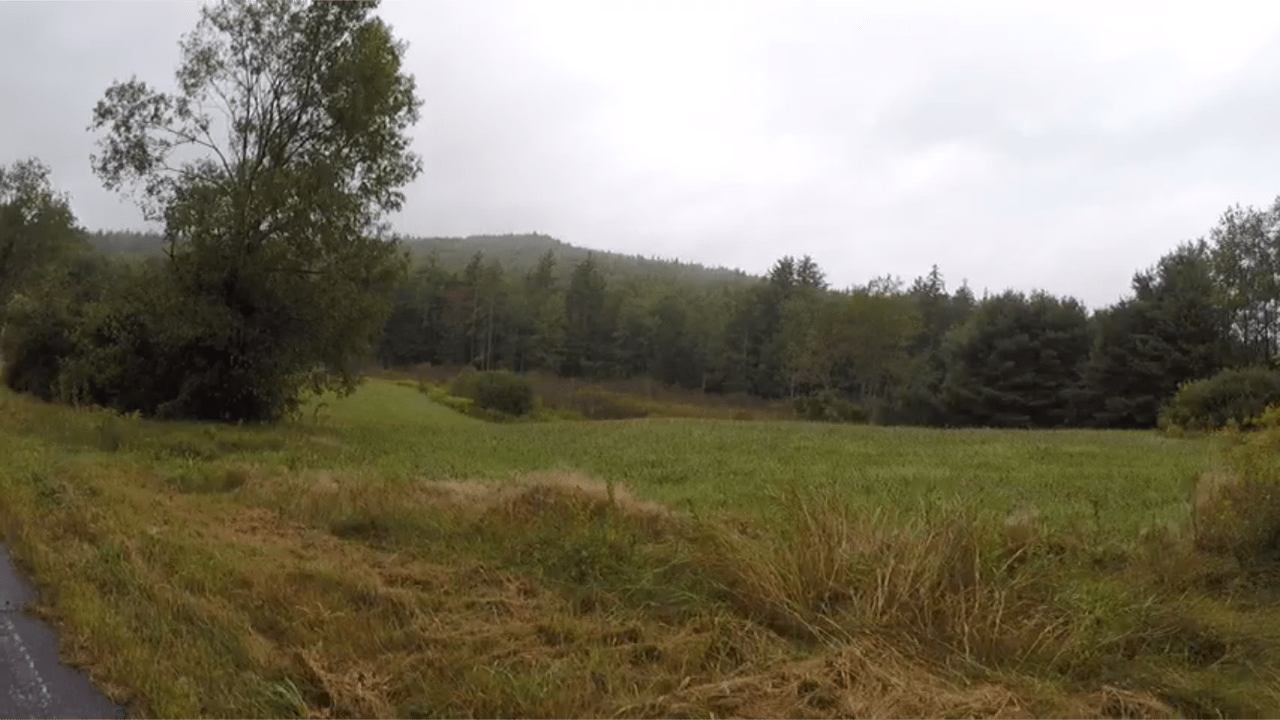 Our only other concern was that this course was not closed to vehicular traffic.  We were on roads with tight turns, banked sides, and limited easement.  We did our best to run single file and go on the side gravel to avoid cars.  It was flat out scary at some points.  Cars are used to the area and will take blind corners at 40+ MPH.  That means they can't see if you or another car is around the curve.  Our suggestion is to start the race earlier to allow for less traffic on the road.
Overall this race was an enjoyable experience.  We got to see (and run through) four gorgeous covered bridges.  The water stops, every two miles, were also run by sections of the high school band who dressed up to compete for best water stop.  Katie loved the Color Guard section and Spencer favored the Low Brass.  The volunteers at this race were very pleasant and were genuinely concerned with your well being.
Please note there were no "outhouses" on the course – so you better be prepared to go in the woods!