We were delighted to participate in the 40th Anniversary year of the Faxon Law New Haven Road race and the second year with the added Half Marathon.  The races big feature is the National Championship 20K – and one of the only 20K races left in the country.  We can't figure out why you wouldn't just finish up the change and make it a Half Marathon, but hey who are we to change tradition!
Travel
We ran this race during the same weekend as the Swanzey Covered Bridges Half Marathon.  Since this race is actually held on Labor Day Monday, it actually is a very convenient time of year!  We flew in and out of Hartford, CT, which is about an hour away from New Haven.  The race is held near Yale Campus and keep in mind that traffic can be pretty dicey for Packet Pickup and Race morning!
Pre Race Activities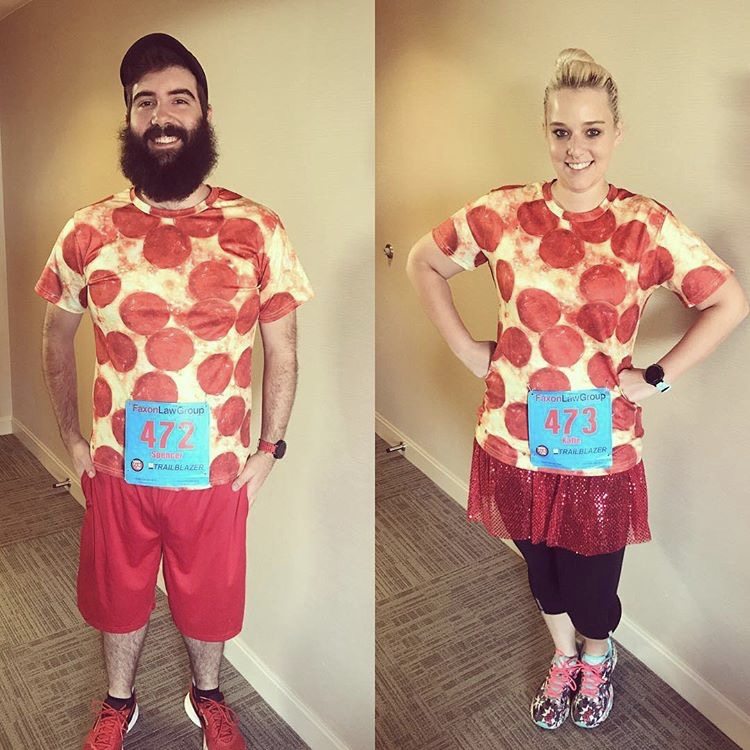 We didn't have tons of time coming from New Hampshire the day before.  We did go to early packet pickup at Trailblazer, the running store on Yale Campus.  Finding a parking spot was harder than finding your friend at the end of a Disney race – impossible!  Even though it wasn't super busy at packet pickup, it did seem a little chaotic inside the tiny store.  We opted for a safe choice and had Olive Garden in our hotel room as our pre race meal.
The next morning we had plenty of time to spare since the race didn't start until 8:30.  It must be a northern thing for these races to start so late!  We actually were able to have some of the free hotel breakfast, pack up our suitcases, and leisurely drive to the race.  There were thousands of runners all around the Green near the start of the race.  We opted to watch the kids race (which was 20 minutes before our start) and then head over to the corral.
The corral area was only labeled by a single 20K banner and we were not the only Half Marathoners to be confused about where to go.  We knew that both races would start at the same time and largely follow the same course, but with the 5K being split by gender, we didn't know if we would be split as well.  Also, we want to point out that the slowest pacer was pacing a 2:15 for the half, which was disappointing to see.
The Race Course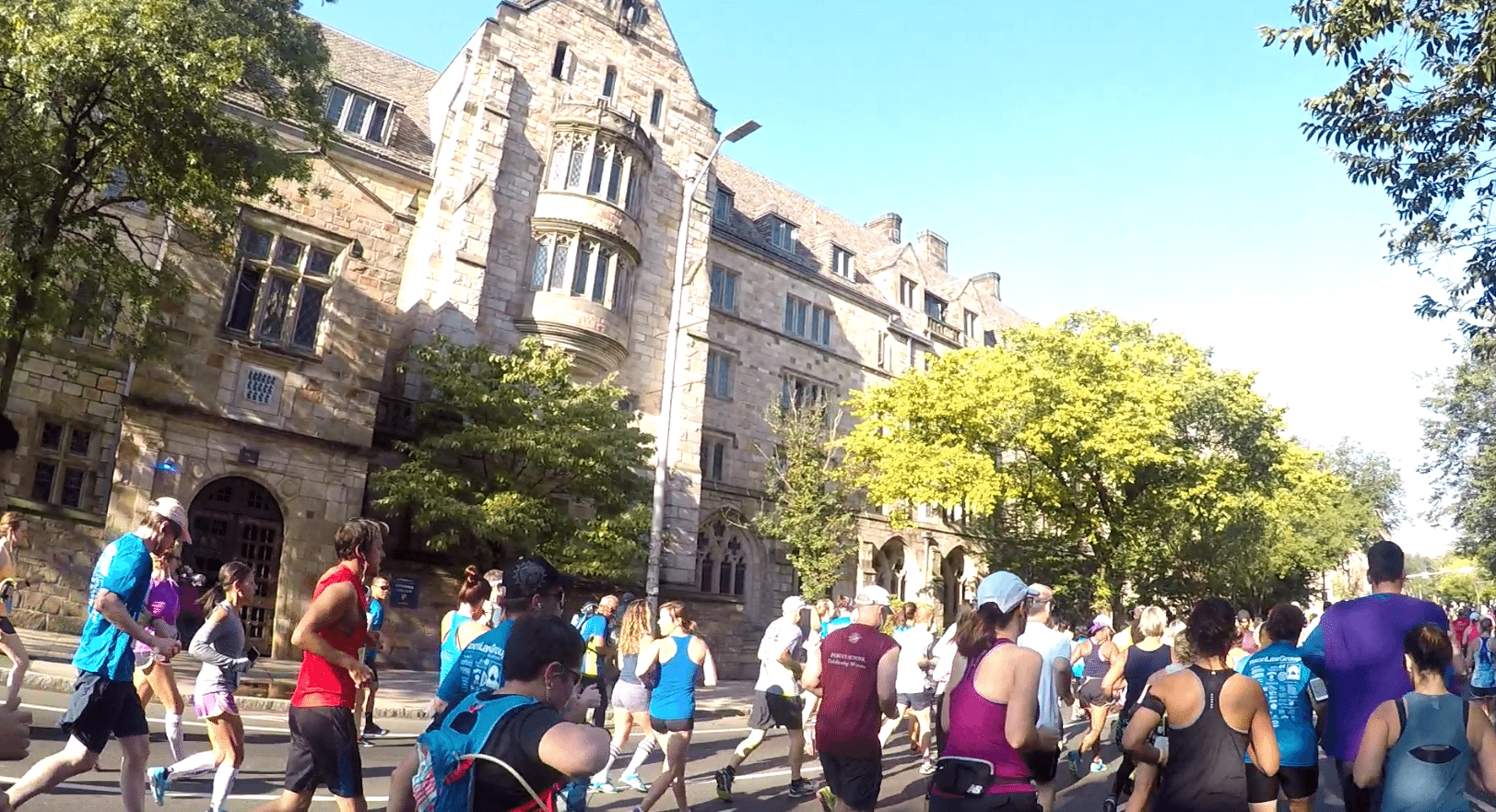 First and foremost, this race had the best course support we have EVER experienced.  There were people cheering on literally every portion of this race.  We ran through neighborhoods and people had noisemakers and brought their children out to cheer.  Multiple people had makeshift water stops and sprinklers to run through.  It was amazing and warmed our hearts.  The city of New Haven is a wonderful little city with a close community of neighbors.
The course had a strict 3 hour time limit, that we did know about beforehand.  What we were not expecting was to be in the last dozen people in this race at Mile 1, while still pacing under a 12:30.  Our goal pace was a 13 minute mile, and we came out strong to build a buffer.  This didn't matter as by mile 7, they were taking away the clocks at each mile marker already.  It's really disappointing to feel shafted in your race experience that early on – especially when you are maintaining well below the required pace.
We powered through until Mile 10 when Katie got injured.  An old foot injury came back to haunt her.  With Paris on the horizon, we knew we would have to walk it in.  We had reached Mile 9 at exactly 2 hours, so we were again well under the pace requirement at this point.
At Mile 11, we thought we were getting swept.  Vans with race staff flew by us and one member of the staff approached us.  He said we could continue on and made sure we were okay.  They way he spoke to us made us think we were last and had barely scraped through.  To our surprise, at the next there and back, we noticed 6 runners behind us.
The Finish Line
We finished the race 10 minutes over the pace requirement.  We did have to move on the side walk to finish the race, and we 100% understand and appreciate that to open the roads.  What we didn't expect was our finish line experience.  There was no one to cheer (except one rude man who said "there ya go" when we did jog it in at the end).  There was no DJ.  They were disassembling the finish line as we went through.  Most surprisingly there were no volunteers with water… or medals.
We hunted for anyone who worked at the race and they all seemed to point at each other.  There were a handful of 20K medals on the table, that non-runners were also walking by and taking.  We finally found a volunteer who took us to the awards tent.  They assured us we would get a medal and took down our name and address.  We will post an update here when they arrive.
It is a shame that an amazing race with amazing support was ruined in the last 20 minutes of the race.  We understand that medals aren't the most important thing in the world, but there is something really gratifying when one gets placed around your neck after a hard race.  This was grueling and we were believe that even if we had finished closer to pace, the ending would've been the same.
Our message to the race director would be to consider opening your hearts and your race to the back of the packers – our money is just as green as the elites.
September 2017 Update: We received a package in the mail from the New Haven Road Race!  We were pleased to see they had custom made a Run the Impossible finisher trophy for us.  They also wrote a nice letter stating that they would take our suggestion and increase volunteers at the end of the race and keep an eye on pace requirements.  Thank you New Haven Road Race!