We ventured out father west for this race and we were pretty spoiled to have only one race to run for the weekend.  We kept it short though and flew in and out of the city in less than 48 hours!  The real highlight for this race was how close it was to the airport.  We didn't even have to rent a car!  The race was fantastic with plenty of amenities, but a city that's almost entirely closed on the weekend left us wanting a little more.
Scheel's Fitness Expo
After doing some smaller races recently, it was a nice change of pace to see a big expo.  While they can't rival a runDisney expo, it was full of great vendors with giveaways and items to purchase.  We think this is a huge perk for a race because it's a great chance to grab forgotten items or find a great deal.  The expo was close to the starting line for the next day and pre-race packet pickup was "mandatory".
Our favorite part of the expo?  The meet and greet with the pacers!  We thought it was a really cute idea and they even had bios printed up for each runner.  The only downside was we didn't have a pacer even remotely close to our pace for the Half Marathon.  The pacers stopped at 2:30 and we were planning a 3:15 pace.  We were really surprised they omitted a 3:00 pacer since this is a great race for beginners.  With the course and time coinciding with the Full Marathon, runners essentially have 7 hours to complete the Half.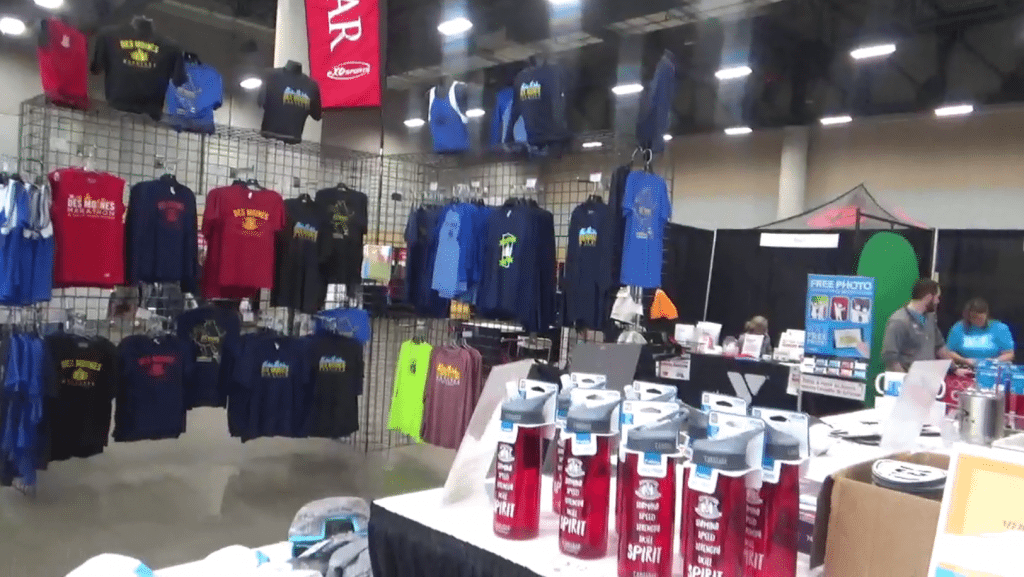 Finding the Start Line
The course was new this year!  From what we could see, it was structurally very similar with a big shift to have the Start and Finish line in the main downtown district.  Not being from the area, we actually had a hard time finding the Start Line and wandered downtown for a few extra minutes in the morning.  There was no publication of an address to plug into a GPS or even locate on a map.  We also struggled to find Gear Check.  Even on the morning of the race the website read "Gear Check location will be updated soon."
IMT Des Moines Half Marathon Course
The Half Marathon and the Marathon started at the same time.  There were thousands of runners and everyone was self-seated and there were no waves.  This did cause some heavy congestion at the start with the pre-race shuffle to the actual start.  The course thinned out around Mile 3 when the Marathon runners split off and went to add some mileage before joining back up later.
From there, runners did what we like to call a giant balloon pattern.  This is a big there and back with a loop at the end.  While the loop is obviously a nice touch, the there and back left a little to be desired.  The course itself didn't have that many things to look at, but that was made up for with tons of water stops and entertainment.
After one balloon, we merged with the Marathon and ran over to a second balloon!  This one was smaller and even crossed a cool bridge over a lake.  Katie hates bridges so maybe this wasn't the most ideal.  This part of the course was narrower and we were thankful we had separated from the big groups of runners.  From there, we ran straight back into downtown and finished back where we started!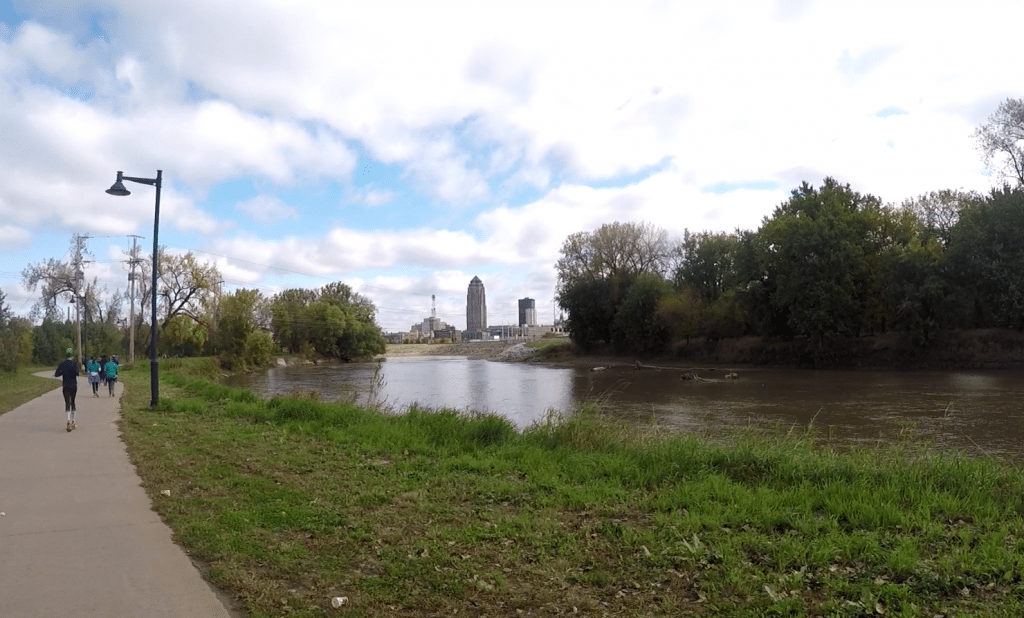 Downtown Des Moines After Party
One of the biggest highlights of this race is the large after party (seriously everyone asked us if we were staying for it).  We were a little underwhelmed.  After grabbing our medals and posing for a quick $25 photo, we wandered off to find gear check.  We passed some cookies, peanut butter, and bananas (and then went back for more cookies).  After throwing on some jackets, there were no mylars being passed out, we did locate the Sam Adams 26.2 DSM Brew!  This was a fantastic light beer – perfect for after a long run.
Apparently, we missed chips and queso, pancakes, and other goodies!  We are super bummed we couldn't find them!  The after party was stretched through different blocks and there were no signs to navigate.  We drowned our sorrows in Egg Nog Lattes and Jazz Music at Java Joe's!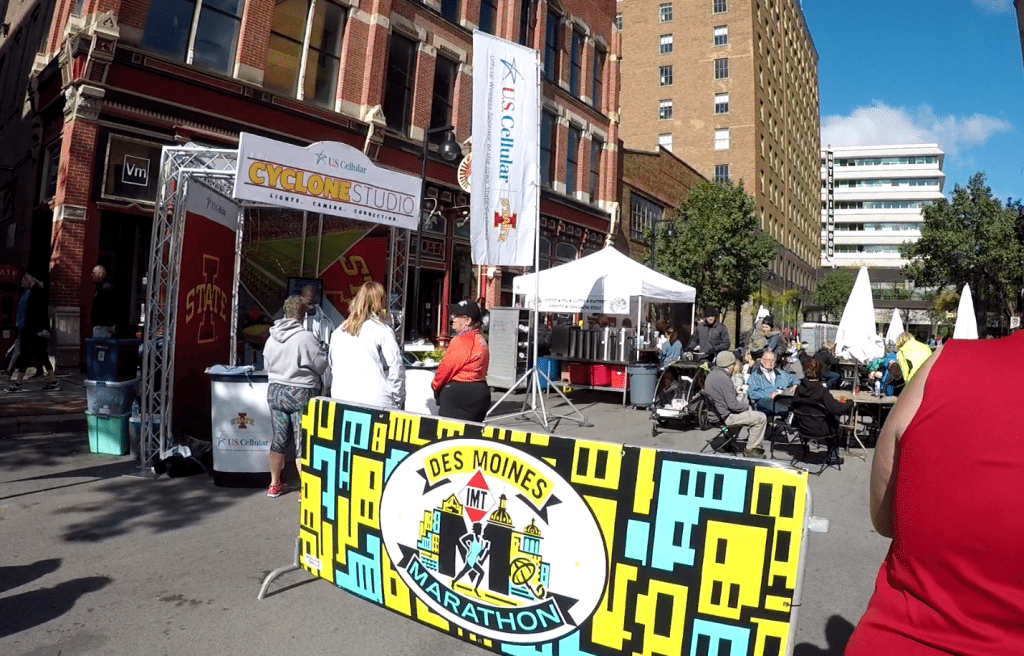 IMT Des Moines Half Marathon Swag
If you're like us, you have a closet full of race shirts… plus a bag… and maybe some even shoved behind other shirts in a drawer.  A lightweight quarter-zip is a welcome change!!!  This is especially useful in Florida where it barely gets cold enough for a real jacket.  This is going to be a heavily used item for airplane rides, evening walks, and rainy days.  Also, they made the Half and Full jackets different colors with different logos.  We appreciate the difference.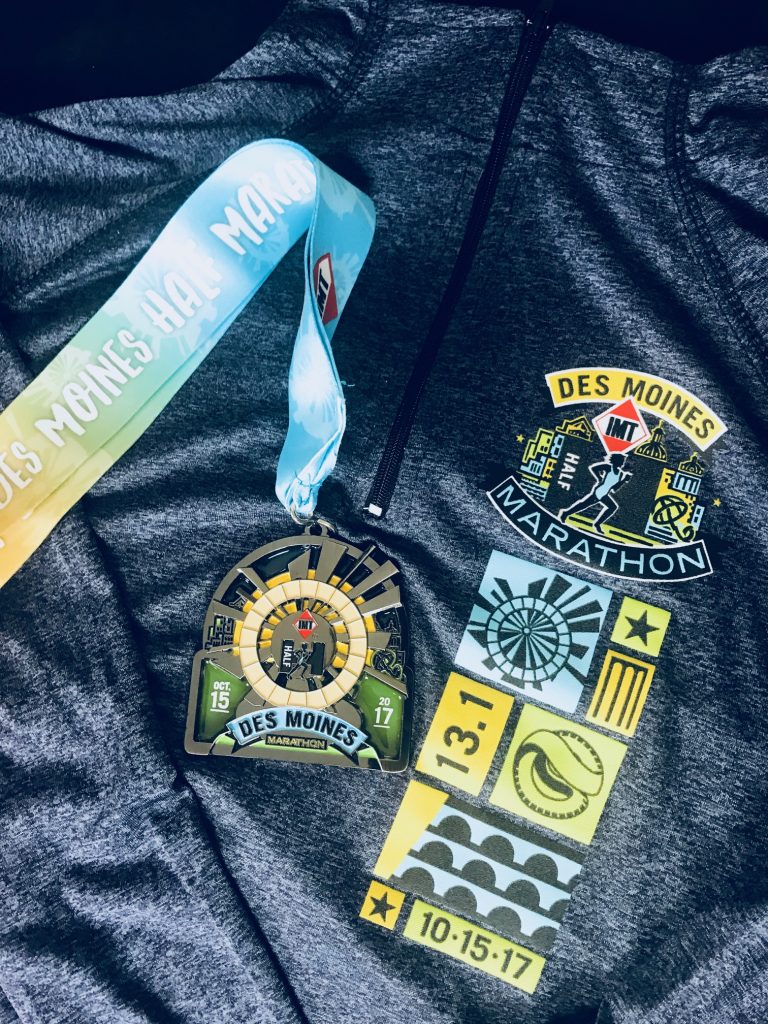 Overall Review
If you are completing your own 50 State Challenge, we think you should definitely run the IMT Des Moines Half Marathon.  There is amazing support and an easy time limit for beginning runners.  The swag and perks are great too.  Our only disappointment was there was absolutely nothing to do the day prior and after the race.  Everything in the city closes on the weekends and we were pretty amazed the tourism board (a sponsor of the race) didn't encourage more businesses to open.  Lucky for us, we did find a few bars so we passed the time with drinks!