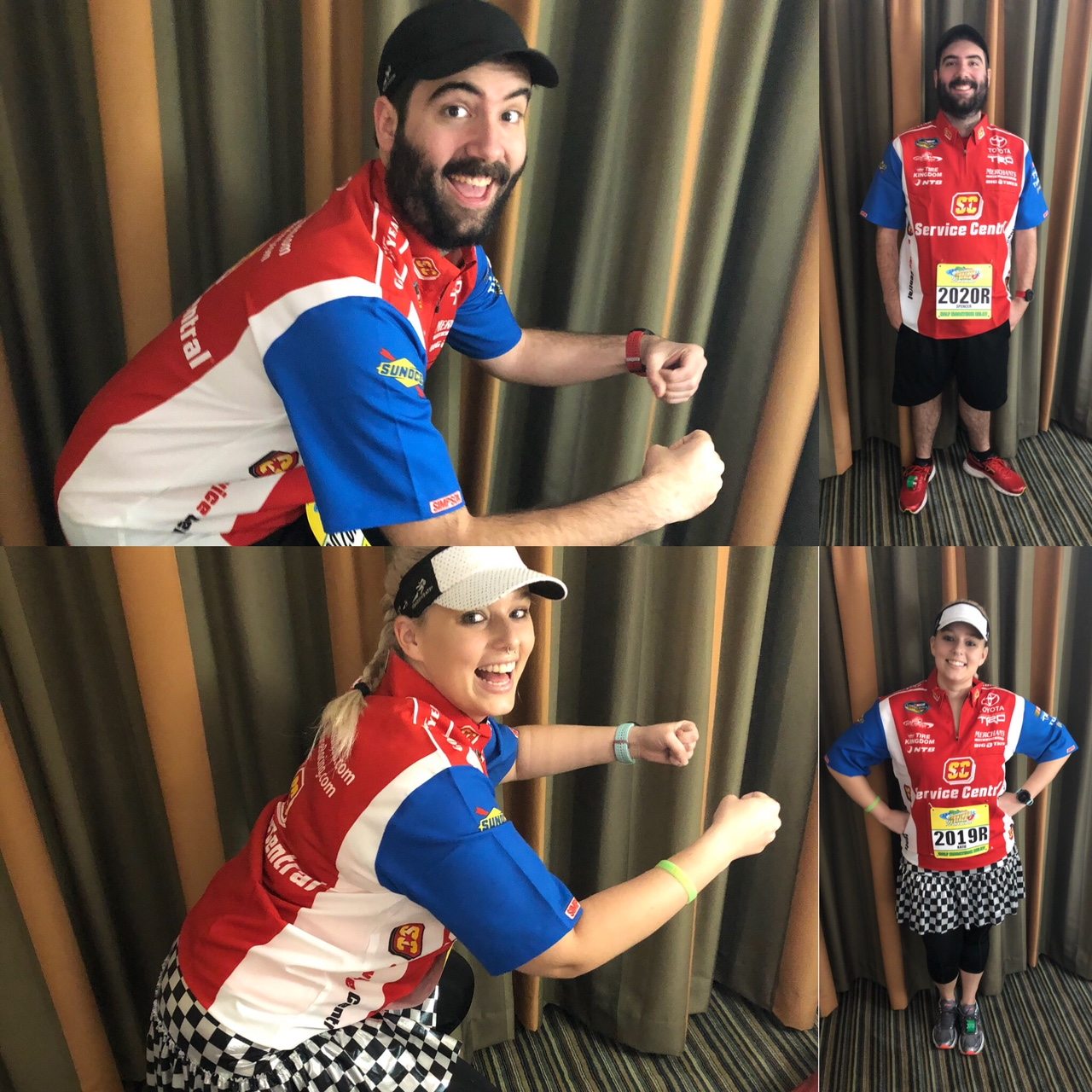 Since our main goal is to travel the country while running, it is a nice change of pace to experience a local race! The Daytona Beach Half Marathon is a well known race – with many runners traveling from other states just to experience running on the Daytona Speedway! Runners can also partake in the Speedway Challenge by running a 5K just after the Half Marathon for 16.2 miles total! (Note: Half Marathon must be completed in 3 hours).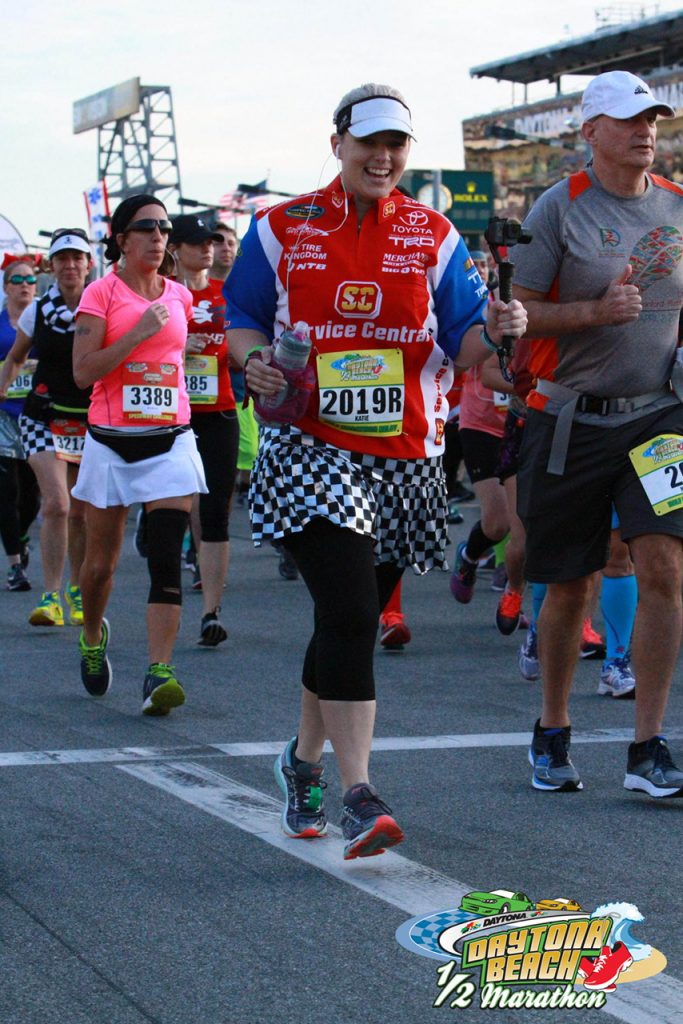 Daytona Beach Half Marathon Course
The big draw for this race is the first two miles. Runners start next to the checkered line and are led by a real pace car! Even though the track is extremely banked, there is a flat circle around the middle with plenty of room for a less congested start. Running on the Daytona Speedway also has a cool adrenaline factor and the first two miles were a breeze!
Runners then exit the track and complete 4 miles through neighborhoods heading towards the beach. There were some spectators around, but nothing extremely notable during this portion of the run. While less exciting, it was shaded and safe so really no complaints!
The course is largely flat and fast with the exception of a there and back over a large bridge. If you are familiar with this area, it is the bridge along International Speedway Boulevard connecting to A1A. Runners had a full lane of traffic to use, so they weren't close the edge. Normally, runners would have a stint on the beach in between the bridge runs, but due to high tide they were diverted to A1A.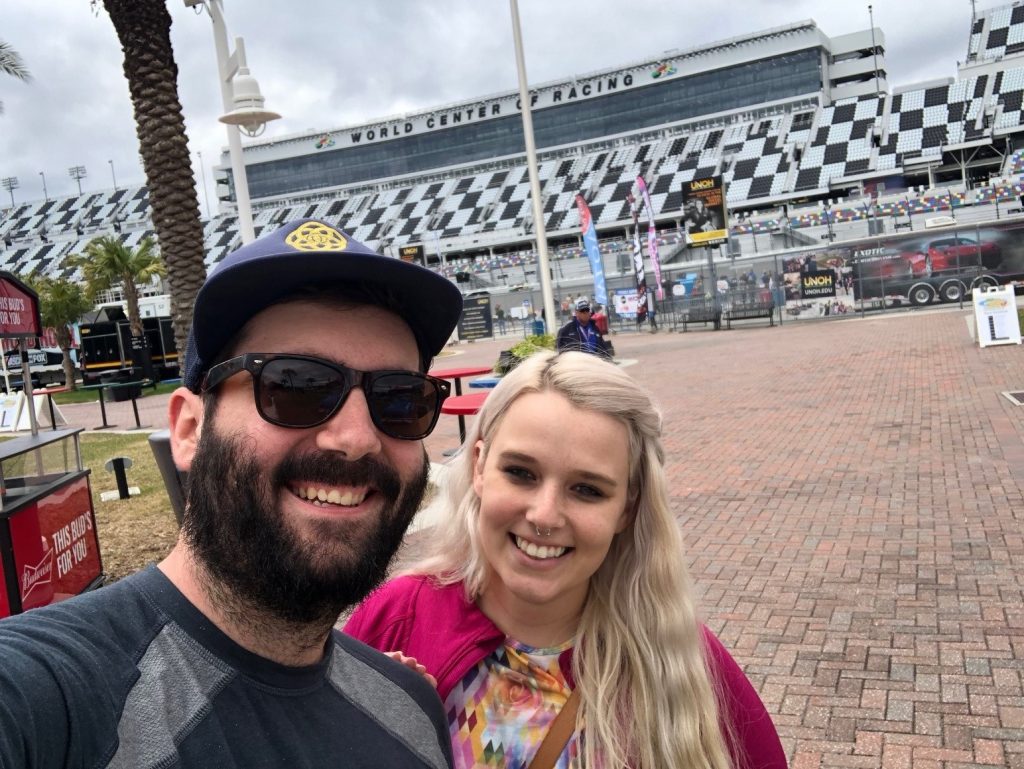 Daytona Beach Half Marathon Relay
Since Katie's dad was running his first Half Marathon, we decided to participate in the relay to coach him through the race. It was our first experience doing a Half Marathon Relay, but we have experience from the Cocoa Beach Half Marathon when we ran the full distance and Katie's parents completed the relay.
At packet pickup we were instructed on how to use our disposable shoe chips (the ones that loop through your laces like a bracelet). For some reason, about half of the relay runners never got that memo and kept them behind their bibs. We were also given one rubber bracelet to hand off at the switch-off, we assumed this was like the baton in the Olympics.
While Katie ran the first half, Spencer took a bus (30 minutes before the race even started) to the halfway point. There was a tent there with chairs that were notably facing the wrong direction. A nearby water stop, for the active runners, was all that was offered as far as hospitality. Volunteers provided little communication or assistance in the transition.
After we switched, Katie took a bus back to the Daytona Speedway. There was no bottled water, bananas, or any such amenities for relay runners who had completed their portion. Everyone was also confused the location for medals. After some sleuthing, Katie found a tent located just before Mile 13 on the track where she waited for Spencer to reach her. The runners who completed the first half of the race had to wait and finish with their partners for their medals. Needless to say, that last chunk was really slow since Katie had already rested for so long!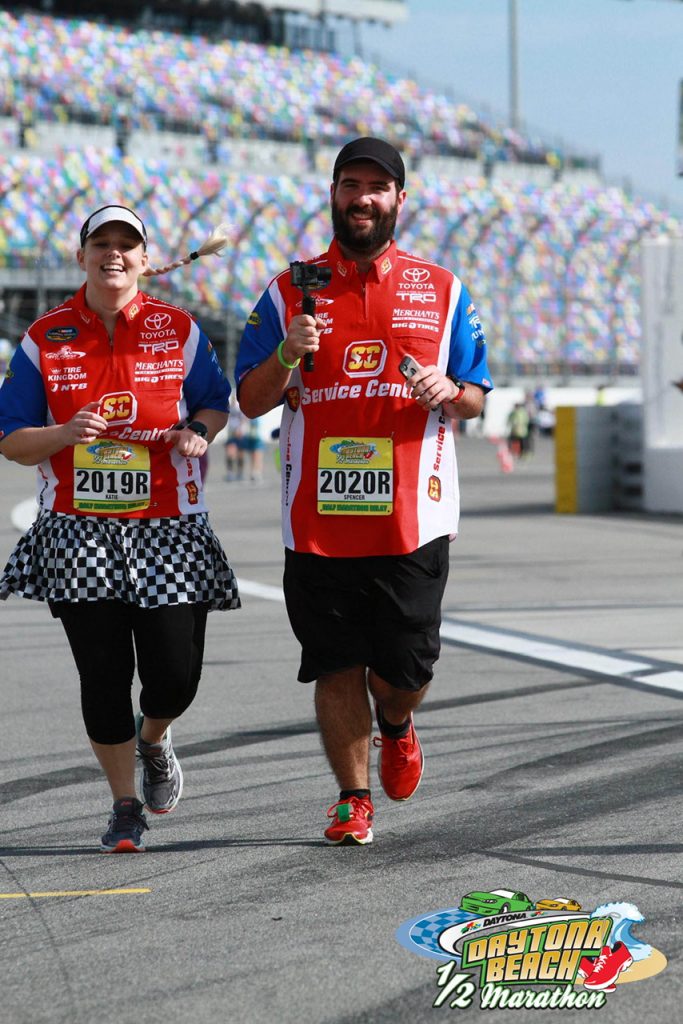 Runner Perks and Amenities
After reaching the finish line together, we received our medals. It was a little disappointing that there was no designation for the relay division. We only ran half of what everyone else completed, yet still received the same perks. Runners also recieve a really nice Beach Towel with the race logo emblazoned on it. This is a sweet perk for a beach race. Plus, it is a common item for runners to have in the back of the car!
The race shirts were also an all over print design with a checkered flag design swooping down half of it. While the women's cuts were once again inconsistently sized – we really like this shirt and will definitely keep it in rotation for a while.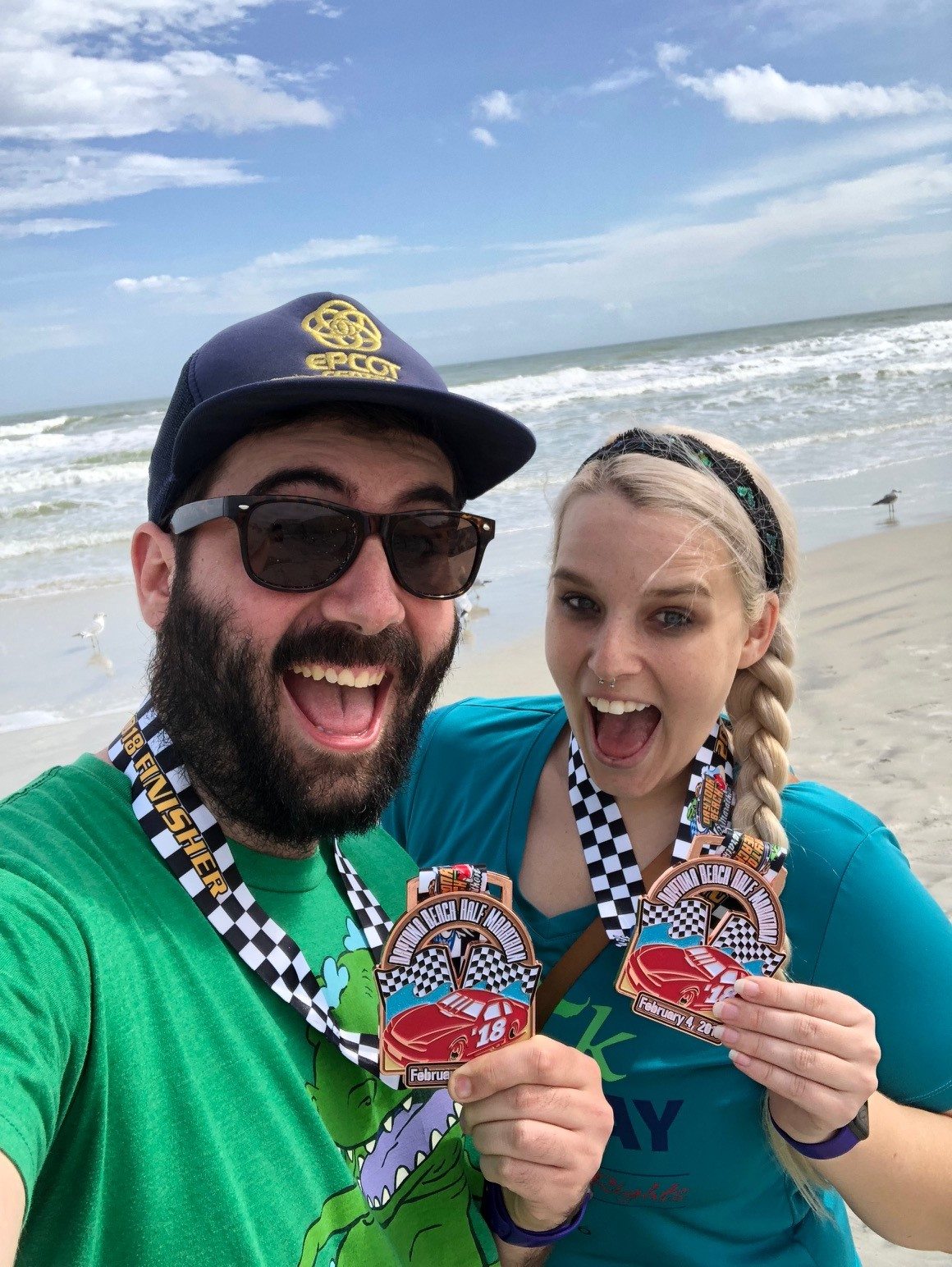 Overall Experience
Our review of this race is really in two parts. The overall race is well thoughtout with adequate communication and course support. The organizers are no stranger to putting on a solid race. Our disappointment lies in the Relay Division. We hope the race directors consider adding some hospitality to the tents, such as bottled water and bananas. They should also have more volunteers at the switch to assist with directions, shoe tags, and bracelets. We would recommend this race absolutely at the end of the day and hope that Running Zone continues to take feedback and improve on an already great race!