Well the old Texas saying "bigger is better" absolutely held true at this race!  The Gusher Half Marathon in Beaumont, Texas actually boasts a Full Marathon, Half Marathon, 5K, Cycling Time Trial, and a Fitness Competition!  This means there was a huge variety of athletes at this event and something for everyone in the community!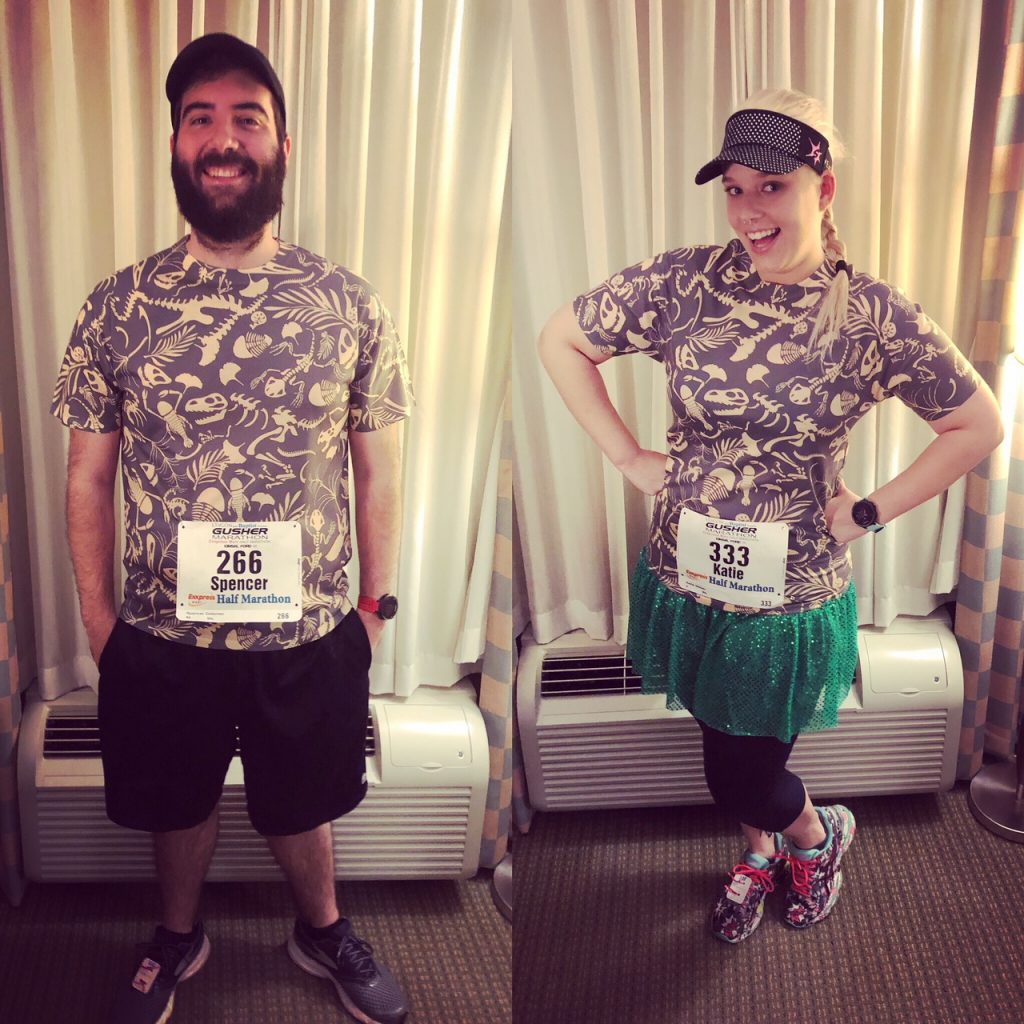 Gusher Marathon and Half Marathon Course
The course for this race is 13.1 miles, meaning marathon runners will complete two loops of the course.  The course time limit is 6 hours, which is perfect for beginner runners to try their first half marathon.  It is extremely comforting to know that even if you finish in 4-5 hours, there will be a marathon runner coming up behind you (no one needs to know they ran twice as far).
The course followed what we like to call a "balloon" shape.  Meaning there was a there and back section with a loop around the middle.  The there and back was way more manageable as both sides of the road were closed so you had a different view on the way back.  Our favorite part of the course was running past the world's largest working fire hydrant!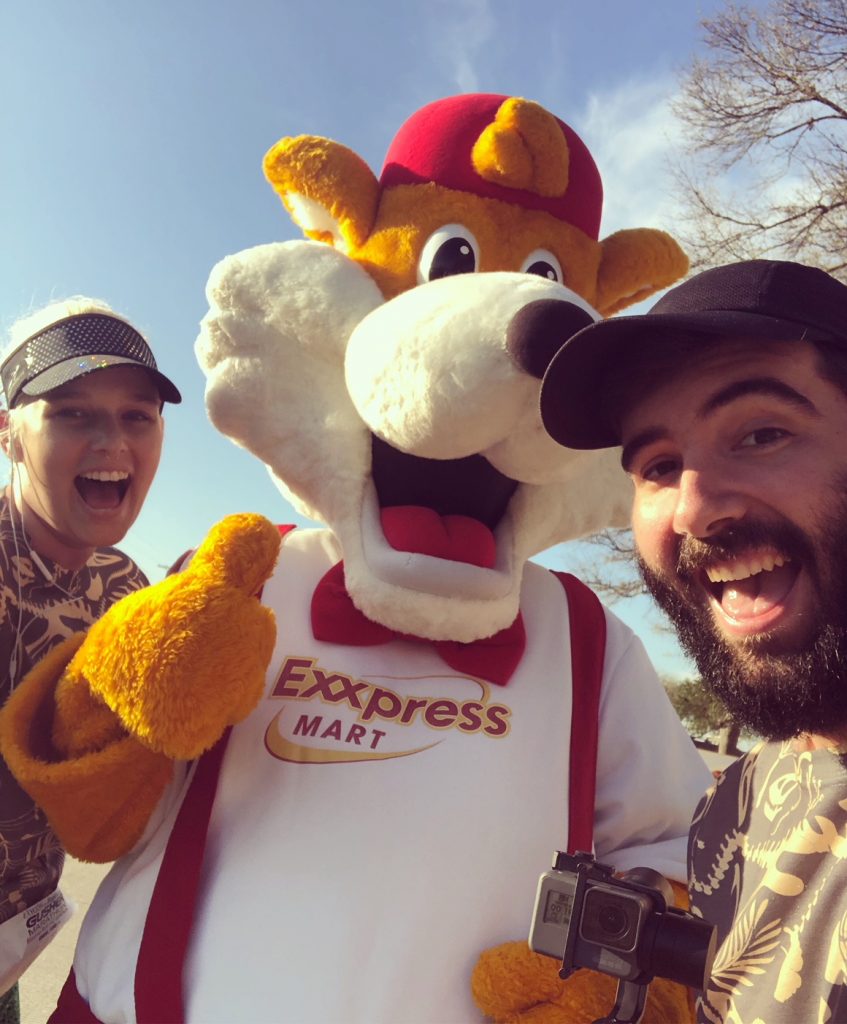 Gusher Marathon and Half Marathon Aide Stations
The absolute highlight of this race was the Aide Stations.  We didn't keep count, but we believe we passed 15 stations over the course of 13.1 miles.  Not only were they plentiful, they were extremely well stocked.  Each station boasted water and sports drink, plus gels and other nutrition.  Many of the stations had fresh sliced oranges and bananas and we even grabbed some Funyuns at Mile 12!  The icing on the cake was the dozens of motivated volunteers along the course.  We never felt rushed and always felt appreciated – every mile was easier because of these volunteers.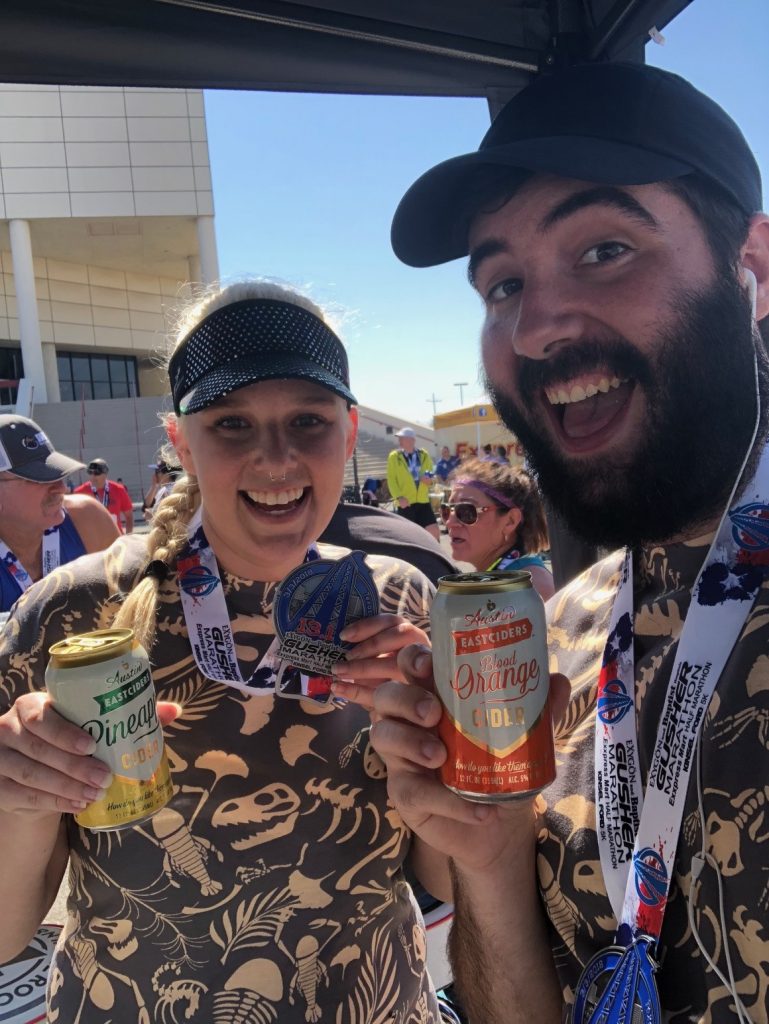 Gusher Half Marathon Medal
With "big" expectations in Texas, this race came through!  The medal featured the Oil Gusher theme and was race specific with a big 13.1 in the middle.  We really appreciated that the ribbon listed all three race distances so we can remember that in the future.  It met our expectation of either the ribbon or the medal being race distance specific!  It also featured a bottle opener, which some may like to versatility.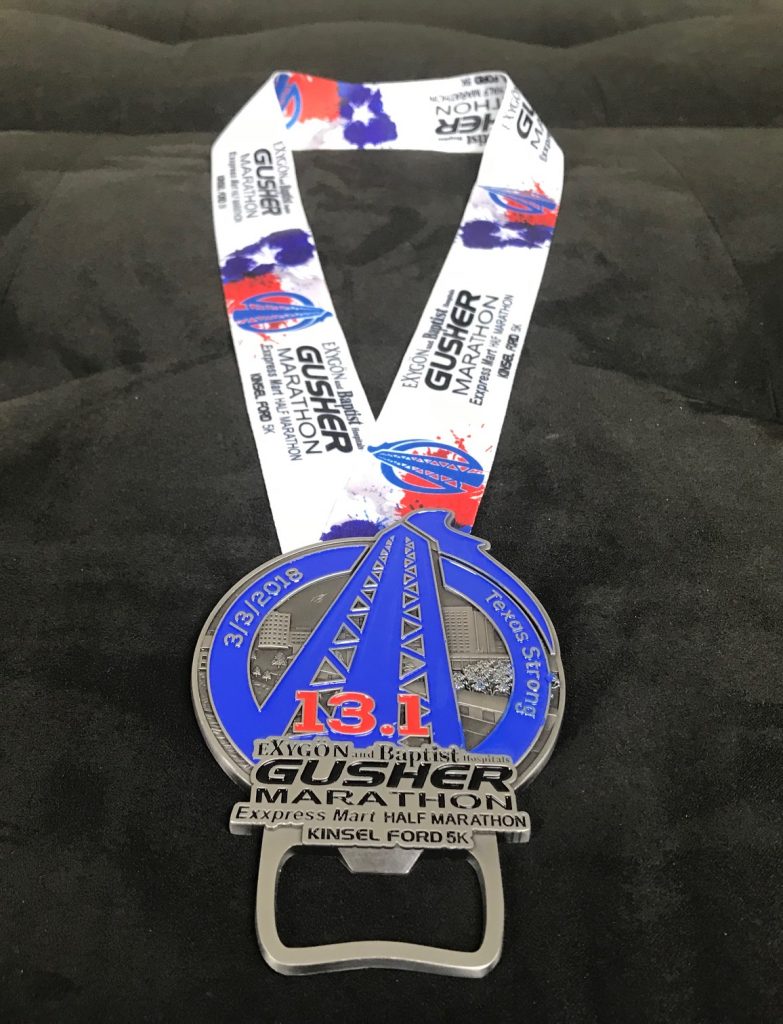 Honestly, there are a lot of races to consider in Texas.  This race should absolutely be on the top of any runners list for Texas.  With a great time limit for the Half Marathon, extraordinary aide stations, and a well established race staff – this race runs like a well-oiled machine!