Our choice for Louisiana was a no-brainer since Spencer is actually from Lafayette, Louisiana!  The Zydeco Half Marathon boasted a wonderful course and Spencer was thrilled to run through his hometown.  If you've ever been to a Fais Do Do – that was the entire vibe of this fun and community-involved race!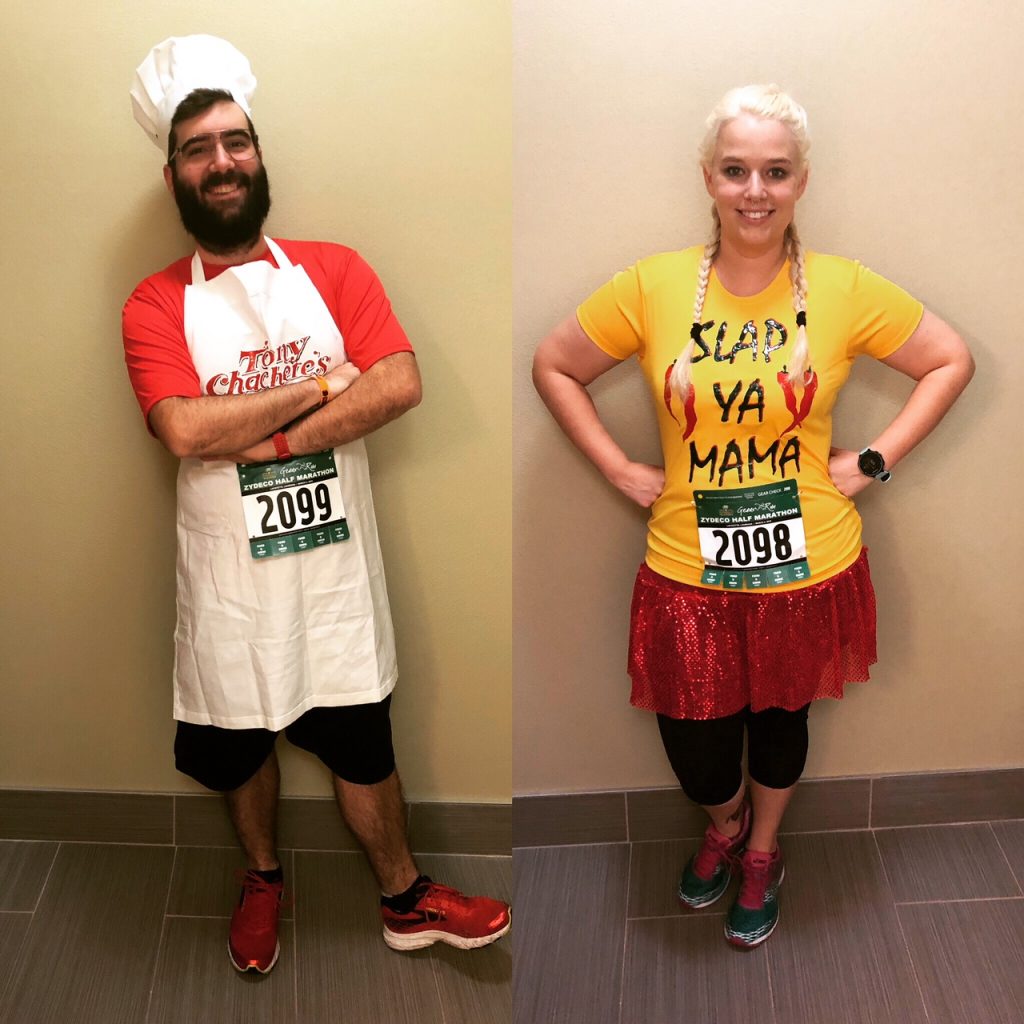 Zydeco Half Marathon Course
This was another race that boasted both a Full and Half Marathon distance.  The two courses actually stay together for the first almost 13 miles and then half runners turn towards the finish line.  The course winds through the entire Lafayette area, starting downtown and running past local icons like the Cajundome and the University of Louisiana campus!
About two-thirds of the way through the course, we entered a residential area.  At first we were skeptical because those areas can typically be a little dull, but we were quickly proved wrong.  Many of the homeowners were out in their lawns and on the side streets having a full cheering party!  We were even offered some boudin and cracklins!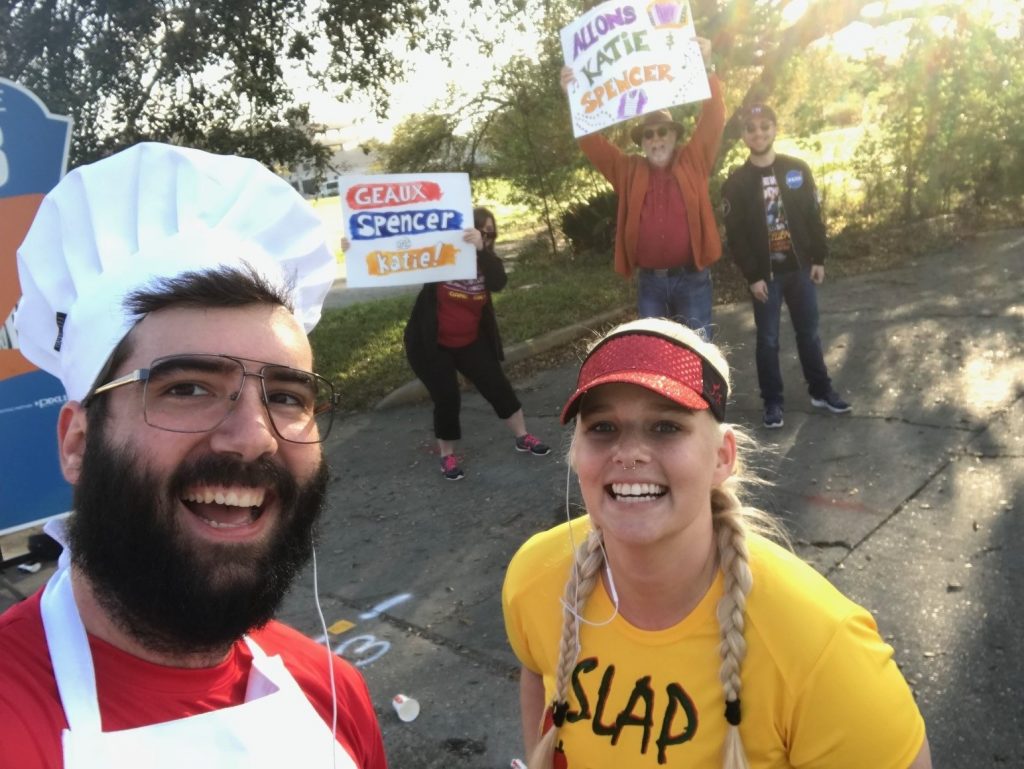 Zydeco Half Marathon Festival
This race wasn't kidding when we were told there would be a party after the race!  Runners had 5 Food and Beverage tickets attached to their bibs to be used at a variety of vendors serving some real Louisiana cooking.  There was also the opportunity to try some local brews.  Tony Chachere's was there and they loved Spencer's costume!
The real highlight was the music.  Zydeco is actually a genre of music that was created in Southeast Louisiana.  It was a really great way to incorporate the race name and local flair into this race.  Katie had never been to Louisiana before and she left this race with a comprehensive tour!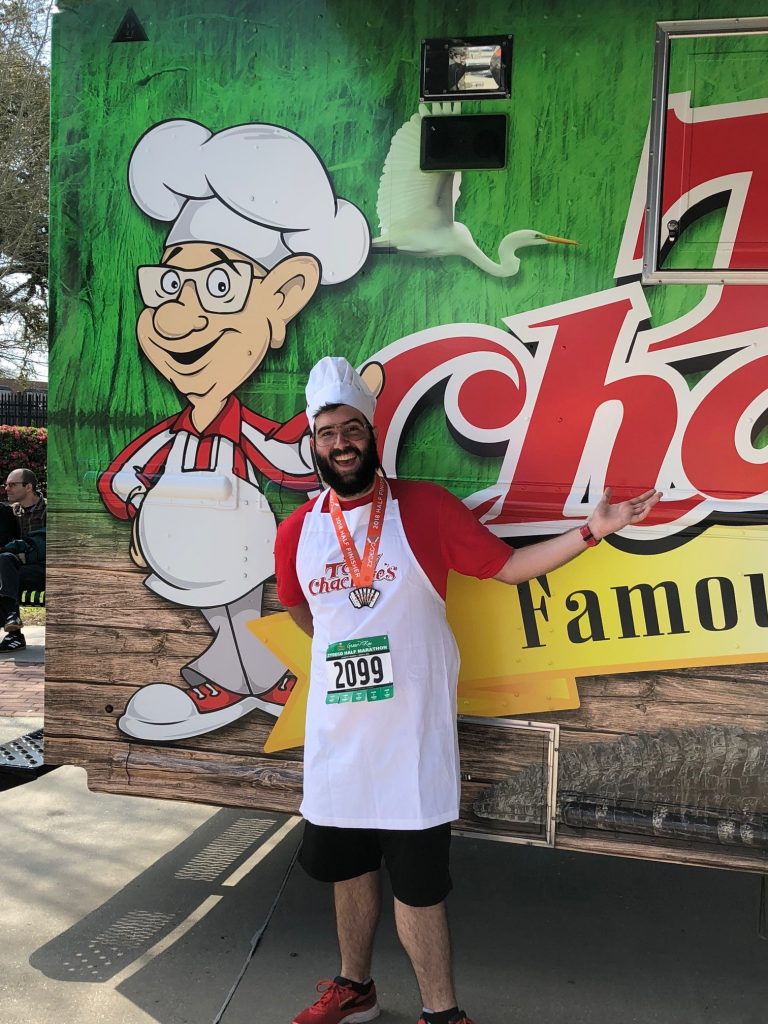 Zydeco Half Marathon Medal
Keeping in line with the theme, this race offered a musically themed medal.  The medal featured a large accordion – an instrument largely featured in Zydeco music.  The medallion was the same for both race distances, with the ribbon designating which race was completed!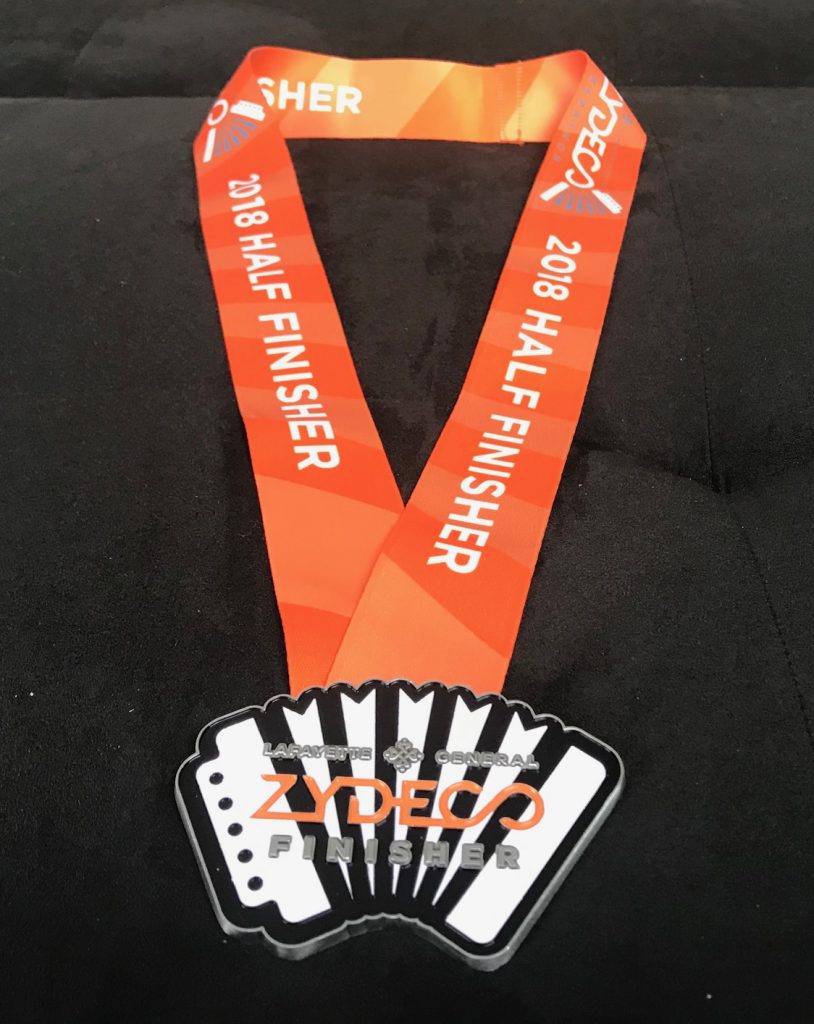 Overall, we had a great experience with this race.  The party atmosphere and hometown feel made it extremely enjoyable.  We would definitely recommend this race to anyone looking for a Louisiana race because you get a real hometown feel (and not in a commercialized Mardi Gras way).  We will be back to run again in the future!