Using our Rock 'n' Roll Tour Pass for the second time, we visited the City of Brotherly Love for the Philadelphia Half Marathon! Katie has been to the city before and Spencer has not so we can confirm this race is great for locals and new visitors!  With 5 full miles inside the city and water views, this one is a must-do.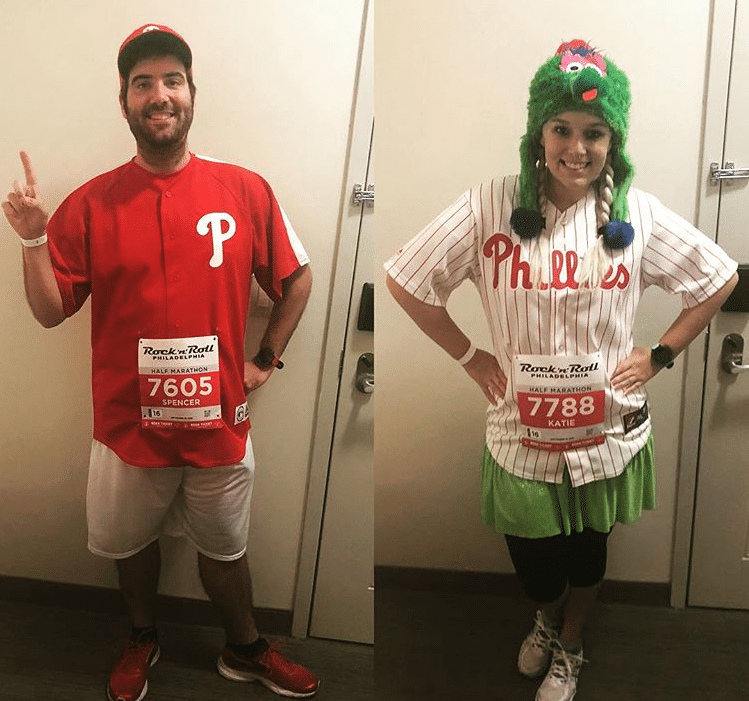 Rock 'n' Roll Philadelphia Half Marathon Course
We've done big city races before and are never fully impressed.  This race was a different story.  The course is a figure 8 shaped course, so a loop course that passes the finish line in the middle.  This means we spent the first 5 miles of the course weaving through the city.  We passed historical buildings and modern buildings in a thorough route through major areas.
After a quick pass by the finish area (which sucks a little when you are still running) we were quickly distracted by a beautiful river.  The icing on the cake was dozens of rowers training out in the waters.  Participating in an athletic event is always made better by watching other amazing athletes!
Even though the course was stunning and relatively flat, we have one MAJOR complaint.  Our roads were all closed to traffic and monitored by ample local police, with the exceptions of bicycles.  We had over 100 bicycles zoom in and around our closed course – when there was a perfectly good biking trail along our course for the entire river portion.  At one point, Spencer reached out to grab water from a volunteer and a bicycle passed between their outstretched arms.  This was extremely dangerous and we watched multiple runners almost get hurt.
Rock 'n' Roll Philadelphia Half Marathon Entertainment
The big reason we chose the Rock 'n' Roll race series, and a reason for many runners, is the on course entertainment.  We have to say, there was not nearly the level of participation we saw in Virginia Beach.  There were no cheer groups or neighborhoods participating in the spectating and overall less bands.  The bands that were out, we really enjoyable.
We had three favorite moments on the course.  In the first few miles, one bass player actually left the stage to really interact with the crowd.  They were the most engaged on the course.  Next, we passed a Philadelphia Eagles Drumline!!!  Our last favorite was one of our last bands with 3 different bagpipe players.  They were the most unique (and maybe the most talented)!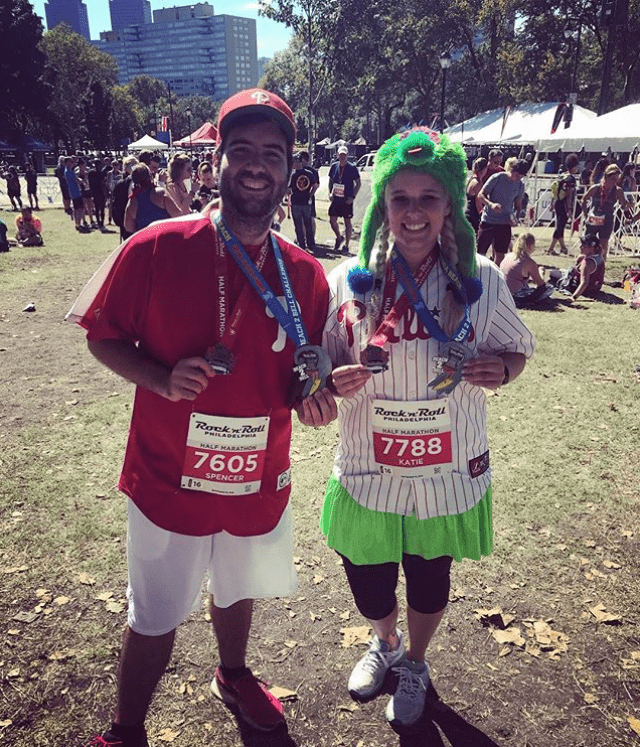 Beach to Bell Challenge Medal
Since we ran the Rock 'n' Roll Virginia Beach Half Marathon and the Rock 'n' Roll Philadelphia Half Marathon in 2018, we received a bonus medal for the Beach to Bell Challenge!  We fell into this one luckily, but Rock 'n' Roll does a great job promoting their challenges that rotate each year.  Medal pick up was easy at the end of the race and we enjoyed getting a bonus medal!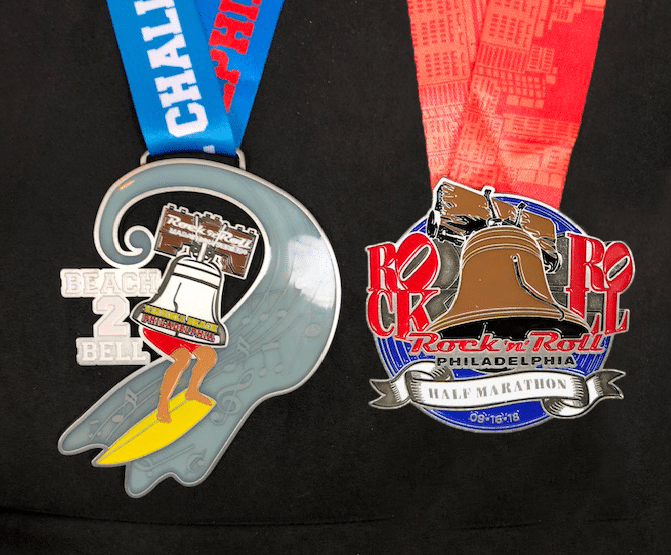 Overall, we absolutely loved this race.  Our favorite moment was being there for Katie's cousin, Michele, to complete her very first Half Marathon! We think this a great race for new runners, elite runners, and all levels in between. (Seriously though, Des Linden was there). It honestly might even be on our list to return in 2019!