It was a little odd to not be the only ones running in costume for once! Hah! The Atlanta Halloween Half Marathon is part of a series of Halloween themed races that take place in Florida, Georgia, North Carolina, and Virginia!  While we can only really review the course for Atlanta, Georgia – the amenities seem to be consistent across all four races!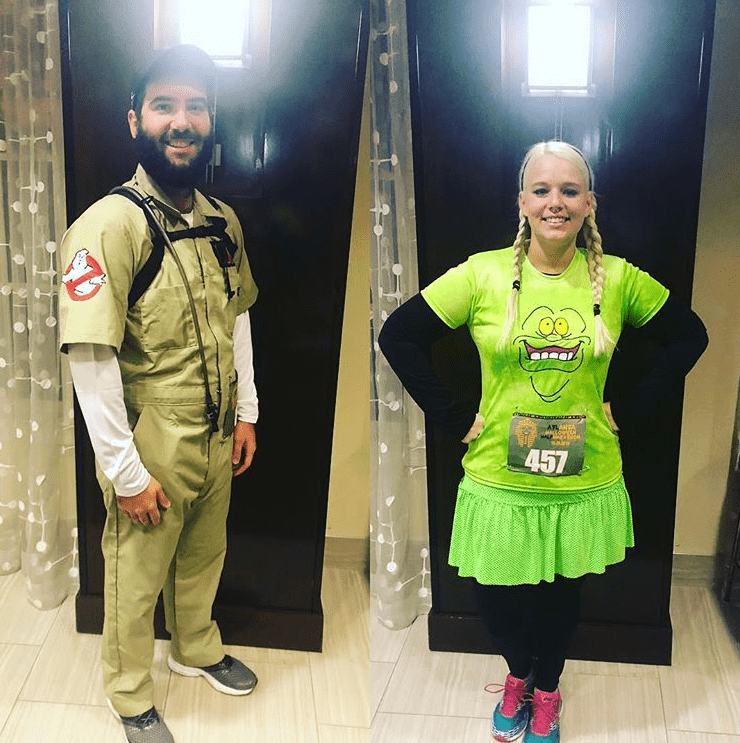 Atlanta Halloween Half Marathon Course
Many of our runner friends warned us that this course would be hilly, but overall it was manageable. For interval runners like us, you might want to consider walking up the hills and running down the hills as opposed to your usual intervals.  The course began and finished in Piedmont Park, just a few miles outside of the Downtown Atlanta Area.  There was parking and packet pickup available before the race started. The course was roughly a figure-eight course running past the finisher area before the last 5K of the course.
A huge perk for this course is the amount of ATL Police Officers enforcing the road closures and generally being there for your safety.  We had no issues with cars (even though one did try to enter the course) and felt generally safe throughout the race. Part of the course is on a popular running trail so even though it is closed to vehicular traffic, there were lots of runners, walkers, and bikers out for the beautiful Sunday morning.  This wasn't bad except for feeling severely overdressed in our costumes!
Unfortunately, due to the design of this course and lack of volunteers in the last 5 miles, there were lots of cheaters in this race.  There was a split time recorded at the 8 mile mark, but it seems that missing that would not eliminate runners from the results. The last 3 miles of the course were looped around like spaghetti and we watched at least 4 runners finish in front of us after skipping a chunk of the course. Two were in Katie's age group and even posted an inaccurate course map to their social media pages.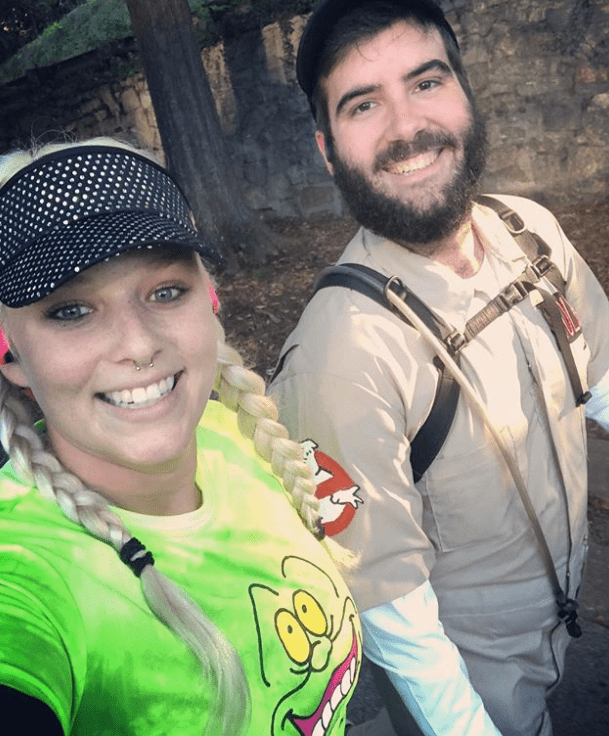 Halloween Half Marathon Runner Perks
One of the huge highlights to this race is the super awesome medal! Looking back, this race has a history of great medal designs.  We especially loved that the 5K medal was similar, but smaller and each race location had a unique ribbon to designate where you ran!  We don't have too many medals that open like this, so the uniqueness means it will get a front spot on the medal rack.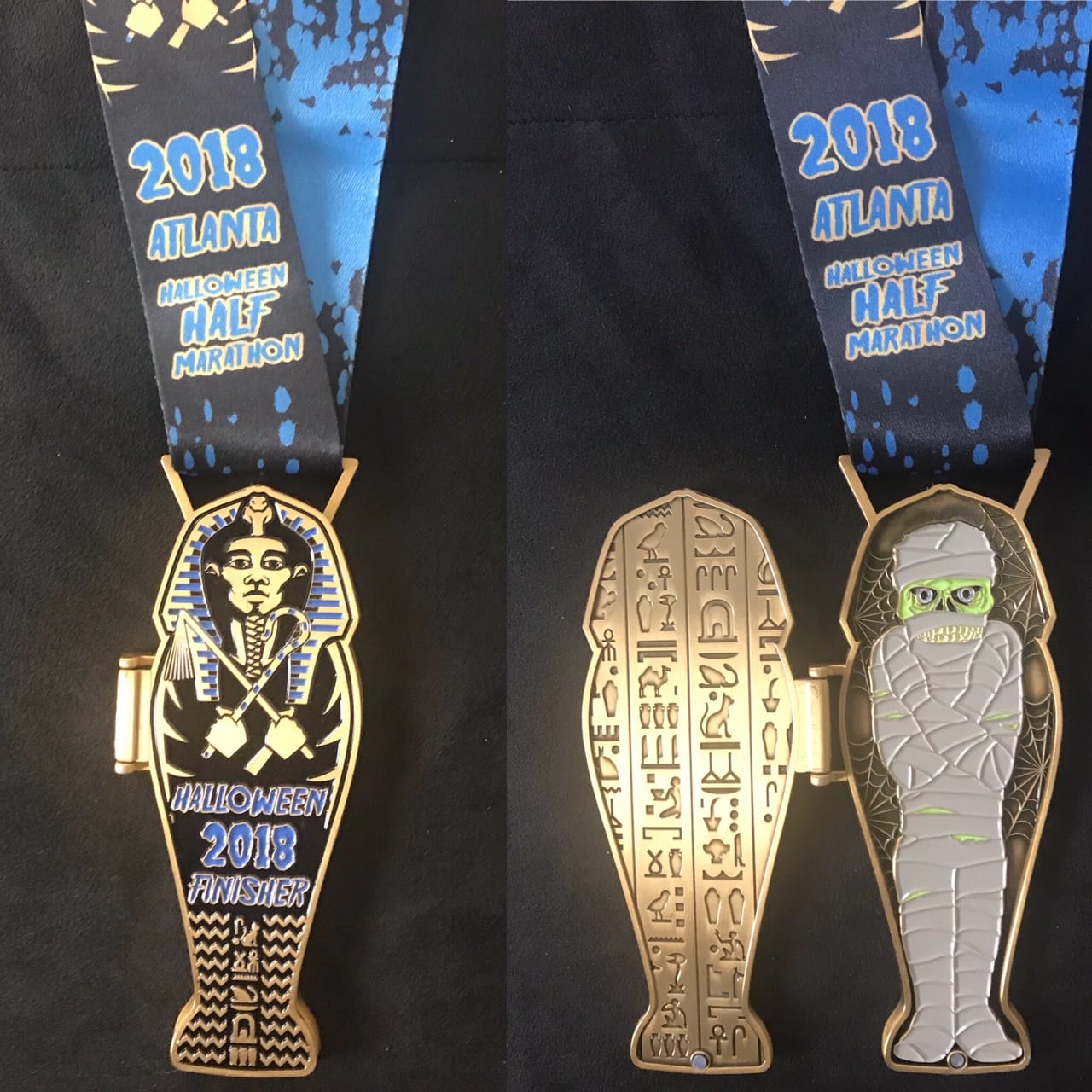 Traveling to Atlanta, GA
Typically, we like to think we are awesome travelers.  This time we made a minor error. We thought staying downtown would be super amazing and fun – it isn't.  Please take our advice and stay just outside the city for this race. You will be happier in a hotel that doesn't have a $35 parking fee and doesn't make you wait 30 minutes for your car to come from valet.  There is plenty of parking near the race and free parking at Packet Pickup for two days prior to the race.
While in Atlanta, you should visit the World of Coca-Cola!  We were able to sample over 100 different kinds of Coca-Cola products from around the world, including some old favorites from Club Cool at EPCOT!  The prices are a bargain for the action inside, plus October weather could be challenging, so an indoor opportunity is a great option! This was fun for us, even without kids!
Overall, we would recommend this race for your Atlanta, GA option with some minor opportunities for the race to improve in 2019.  We think mile markers are a necessity, volunteers should be stationed at any points to cut the course, and the results should be verified for missed timing mats.  For a hilly course, we had three friends PR and we ran a really solid time as well. Also, with so many runners in fun costumes – you can't go wrong!