Have you ever wanted to run the Strip at Night?  Your chance to do just that is at the Rock 'n' Roll Las Vegas Half Marathon!  The entire strip is completely closed to vehicular traffic and runners can run all the way from the famous Welcome to Fabulous Las Vegas sign to the neon lights on Freemont Street.  With 40,000 runners for this race, it is important to plan ahead to have the most fun possible. Our first recommendation is to buy your bib early as prices more than double on the day of the race!!
Rock 'n' Roll Las Vegas Half Marathon Course
The Sign
While the course may look like a straight line, it is technically a point to point race shaped like a staple.  You start on the Strip near the Aria resort and head south down to the Welcome to Fabulous Las Vegas Sign. There are tons of photo ops here as you will run by the sign twice!  Keep in mind that it will be dark, so check your photos before you run off! It is important to note that this entire section of course is dark as there are no street lights in this area.
The Strip
After you turn around and pass the sign again, you head into the highlight of this course.  A beautiful race through the Las Vegas Strip with stunning lights and loads of spectators! Every runners dream!  It is so motivating though, you'll blink and it'll be over! Keep in mind too that you will be running past the finish line.  If you are in the third section of runners, the yellow Corral, you will be seeing plenty of finishers cross at this point. For us, the first runners started over an hour before we did.  Also, the poor spectators don't realize you still have over half the course left and will be telling you that you're almost there! Hah!
The Return
The last part of the course was our least favorite.  It was nice to run down the north end of the Strip since we hadn't walked that far prior to the race, but then we entered downtown Las Vegas which was less than stellar.  What made this worthwhile, was passing the store from Pawn Stars and seeing Freemont Street's amazing neon signs. We actually had no idea that even existed so it was a nice surprise!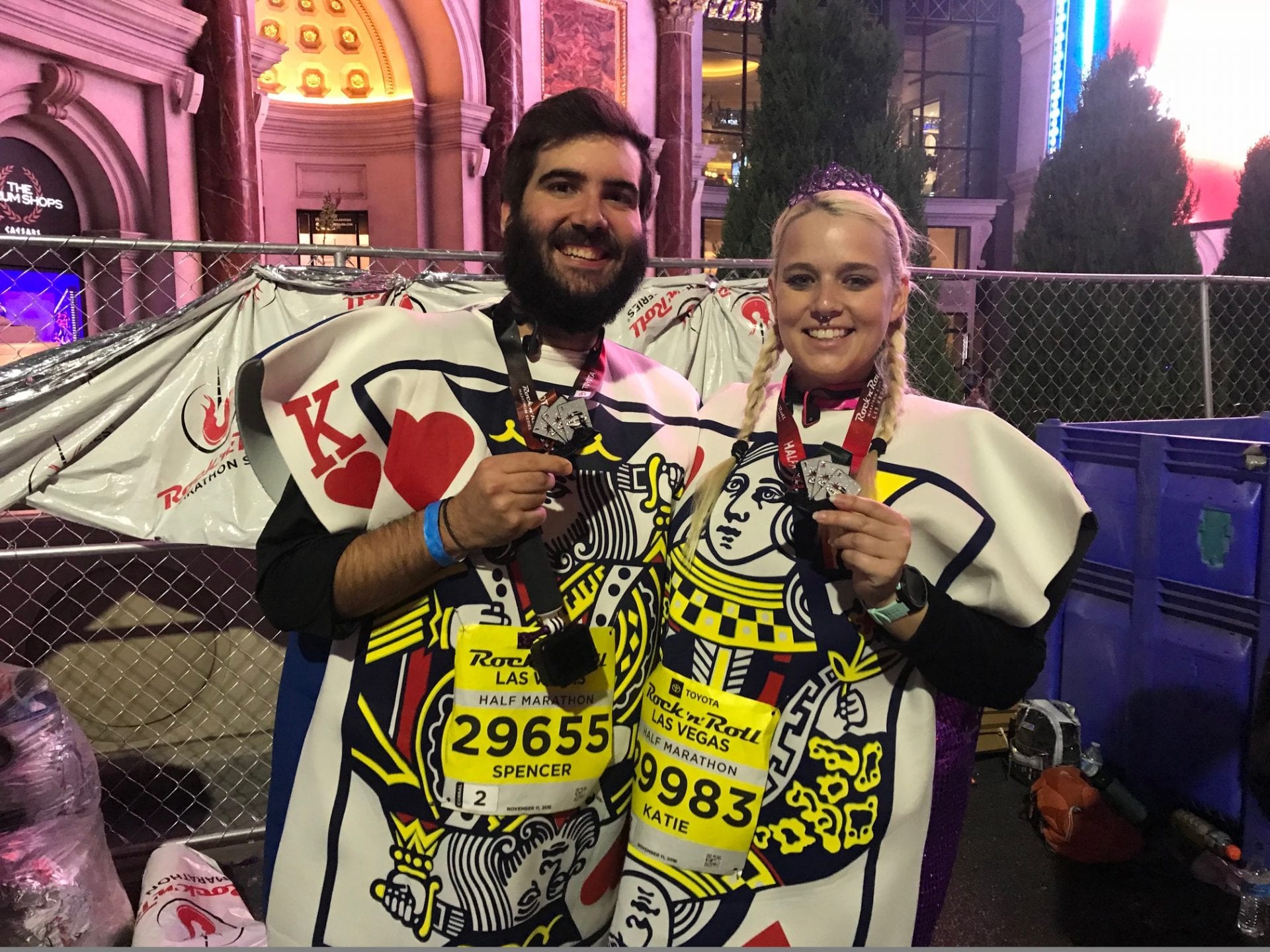 Rock 'n' Roll Las Vegas Half Marathon Runner Perks
Something unique about this race is the extensive list of Runner Perks, there were over 100 opportunities for discounts on the Strip.  Runners were provided with a bracelet to show to receive the perks. The problem was, there were too many to keep track of and they weren't organized by type.  It would've been great to sort by drinks or food, since you all know that's what we were there for! We ended up using our own discounts we had researched before arriving, and never took advantage of the race perks.
The businesses all seemed to be very educated about the race weekend and there were some signs congratulating runners.  We even had options listed for runners at our breakfast buffet at the Excalibur. That was a really nice touch!
One bummer to note was that since this was our third Rock 'n' Roll race, we should've received vanity bibs and an extra beer, but they are not included in Las Vegas or Los Angeles.  At least our bonus medal will be mailed to us.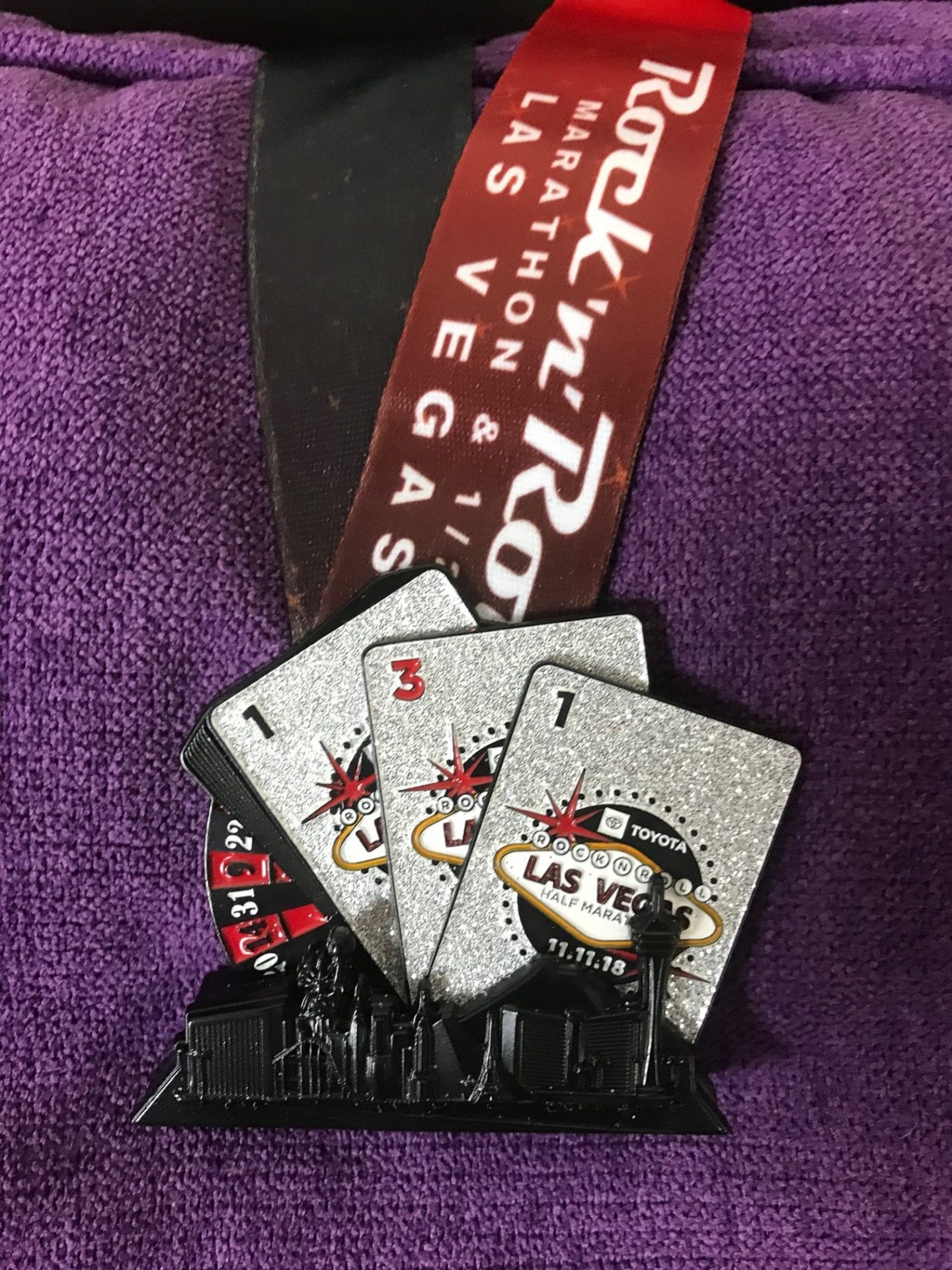 Traveling to Las Vegas
For this race to be really practical, you will want to book a hotel early and stay on the Strip.  There is just no feasible way to drive to the start line without arriving extremely early and paying a fortune to park.  The only other option would be Uber or Lyft, but you would still need to arrive early. For us, we stayed at the finish line and utilized the Las Vegas Monorail.  We purchased a two day pass and used it close to a dozen times. Even with that great options, we walked over 12 miles on our first day in the city!