If you live in Central Florida, you've no doubt heard about the Space Coast Half Marathon! It boasts over 4,000 runners from an assortment of states and even countries! This year, 2018, was the first year in the new Big Bang Series. Runners who complete 3 or 4 races over the next four years receive bonus medals. We started this series for the bling! New this year was also two separate Half Marathon courses, the South Course with a 7 hour time limit and the North Course with a 3.5 hour time limit. We participated in the South Course (since we heard it was the party course)!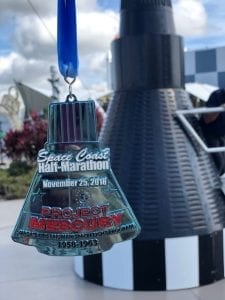 Space Coast Half Marathon South Course
Runners should know that all three races start at the same point with North Course runners and Marathoners immediately turning right leaving the South Course runners on their own. This did cause some congestion, but remarkably we didn't see anyone end up on the wrong course (although we are certain someone missed their signs). This race has been around for a while so we believe this will be corrected before the 2019 Space Coast Marathon.
Both the North Course and the South Course are there and back races with a turn .around near mile 6.5. We had plenty of options for course sponsored aid stations with water and slightly gross Gatorade. Then there was the real fun, many of the houses along the course put out their own aid stations with alcohol and snacks!! We stopped for Mimosas, Beer, and even Shots! One house even had some fresh pancakes and sausage.
Runners hugged the water line and had spectacular views of the sunset all morning. Weather for our race day was foggy so the sun stayed away. After a quick bathroom break, dolphins swam by and everyone stopped to take photos. Overall, we enjoyed the course – which is rare since we typically don't like there and backs!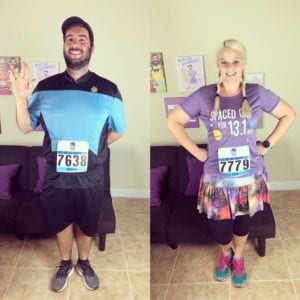 Space Coast Marathon Runner Perks
This race series is known for putting on a big effort to encourage runners to return year after year. Aside from beautiful and giant medals (that increase in size each year)! We were handed a nice beach towel after crossing the finish line. This was great to wipe all the fog off and feel generally more comfortable post race. Plus, it doesn't hurt to sit on a towel and save your car seats! We use our race towels often and love the idea!
There was a big area for the post race party with plenty of space for runners to spread out. We quickly found pancakes and eggs! There was also no line for beer and five different choices for runners. Those who prefer other hydration options could also choose from Coca-Cola, Milk, and Water. There were also tents with fresh pizza and muffins! There were options for most dietary restrictions which was nice.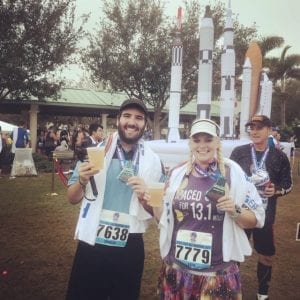 Visiting Florida's Space Coast
When you drive east to visit Florida's Space Coast it is easy to get sucked into the miles of beautiful beaches. There are some other great options as well! We visited the Kennedy Space Center Visitor Complex and even had lunch with an astronaut. This experience was not only informative, but also provided a great backdrop for some neat medal photos. This is a great option if you want to bring your family to the race as well!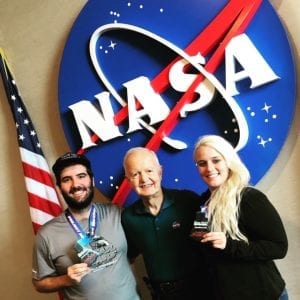 Overall, we believe we are committed to this race for the next four years. We just want that giant astronaut medal!! We also heard the South Course was the party course so we will be sticking to our fun atmosphere for sure!