Here are some of the most frequently asked RunDisney questions that every new runner asks. We've included our clear answers to help ease the stress of your first RunDisney race!
1. Is there a time limit for the race? Can I walk?
Yes! Each RunDisney race does have a pace requirement. For the 5K, the race is not timed officially and you will be told to keep moving if you are near the end of the race. This means that some slower runners may not have as many character photo opportunities as they need the course to clear. For the 10K, Half Marathon, and Full Marathon distances, the required pace is a 16 minute mile. This means you need to complete the race in 1 hour and 40 minutes for the 10K, 3 hours and 30 minutes for the Half Marathon, and 7 hours for the Full Marathon.
You can walk these distances, and many do successfully. You must still train at a 16 minute mile pace to guarantee you will successfully complete the course. While the officially pacing doesn't start until the final participants cross the start line (meaning runners in earlier corrals have a larger buffer) – you need to train at these paces to allow for bathroom breaks or character stops.
2. Do I get my medal even if I don't finish?
Yes, you will actually receive your medal on the sweeper bus as you are brought back to the finisher's area. RunDisney has clearly stated that any runner crossing the start line will receive their medal. Runners will not obtain any challenge medals if they are unable to complete the distance. For example, if you are running a 10K and Half Marathon Challenge and do not complete at 13.1 miles of the Half Marathon, you will not get your third bonus challenge medal.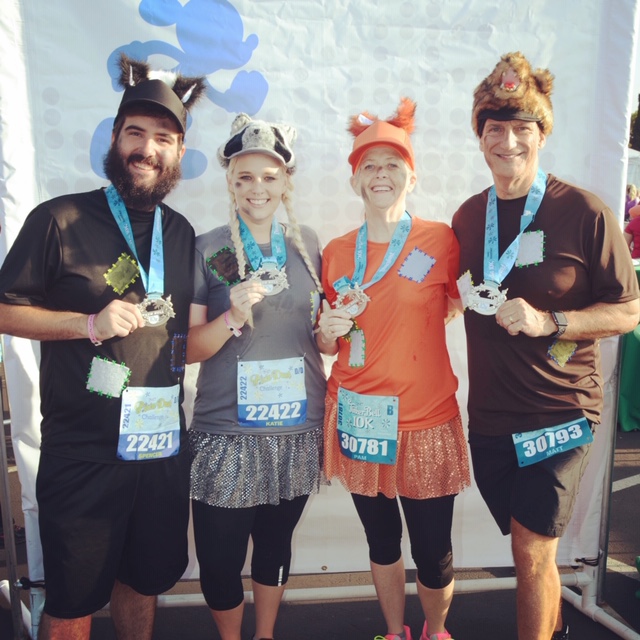 3. What is a balloon lady?
These ladies are wonderful volunteers that assist runners in knowing where the sweep line is going to be. They pace at exactly a 16 minute mile and run with balloons as a visual representation of the required pace. They are the last participants to start the race. The Balloon Ladies are not scary and have been known to be very kind and really promote an encouraging spirit at the back of the pack. Note: if a Balloon Lady tells you that there isn't time for a potty break, get out of that line and start moving!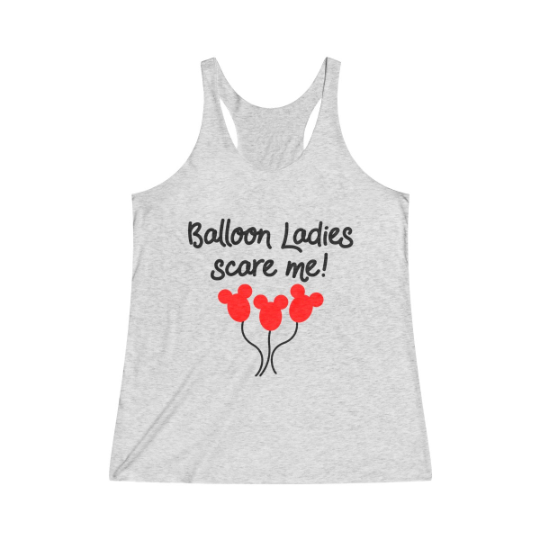 4. What is a Corral? Why do you need to get in your Corral so early?
RunDisney divides the runners into staging areas before the race starts, these are called corrals. This is so they can ensure thousands of runners are not entering the course all at the same time. RunDisney now sends each corral off in mini waves to keep the course less congested.
You need to arrive into your corral early for a few reasons. First, because RunDisney wants you in the corral early. It is for your safety and allows them to move a large number of runners more efficiently. Second, if you are in an earlier corral like A or B, they will move them before the race start and close the entrance. Third, the earlier you arrive, the more towards the front you can start – building an extra buffer from the Balloon Ladies!
5. My Friend and I are in different Corrals, can we still run together?
Lucky for you, the answer is yes! So you've picked up your bibs and noticed that one of you has a C in the upper right corner and the other has an E. You won't be separated by thousands of runners! The C runner can simply drop into the E corral. All runners are allowed to bump down corrals, you can't bump up for safety reasons. You will notice that Spencer often has a higher corral placement than Katie and will drop down to run together!
6. What is a Proof of Time (POT)?
POT stands for Proof of Time. RunDisney requires all runners pacing faster than a 2:45 half marathon or a 5:30 full marathon to prove it. During the registration process, if you select a time that requires proof, you will copy and paste a link to that races results page. Should you put in your link for a race where you ran a 3:10? Nope! You don't need to do anything if you are projected to be over 2 hours and 45 minutes!
For half marathons, runners can use a 10K, 12K, 15K, 10-Miler, or half marathon race. For the full marathon, you will need to submit a 10-Miler, half marathon or full marathon race. The race needs to have been officially timed and completed within the last 2 years. For the 5K and 10K races you are self-seeded and do not need to submit any pacing requirements.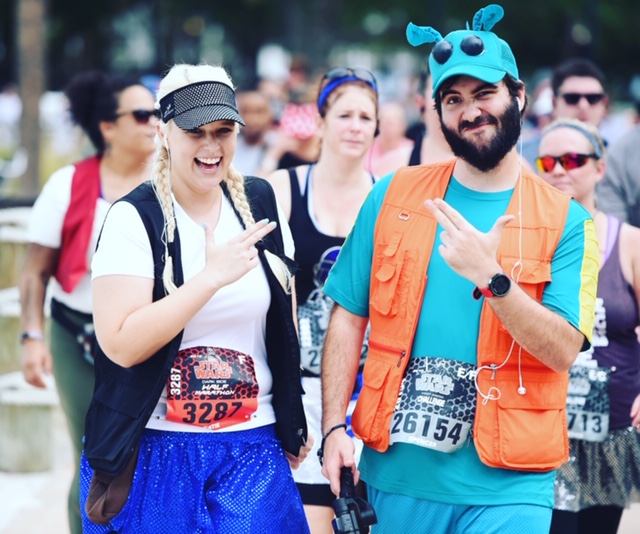 7. Can I transfer or defer my registration?
Simply put, the answer is no. Lately, we have noticed that RunDisney is making some small exceptions for extreme cases. These included military deployment, rare illnesses, and in some cases pregnancies. You should be prepared to take no for an answer, but it is okay to contact RunDisney once with your request and ask nicely. You SHOULD NOT sell your bib on your own or you will be banned from RunDisney in the future! Exceptions to this rule apply when booking through a Travel Agent, contact your Agent directly for additional information.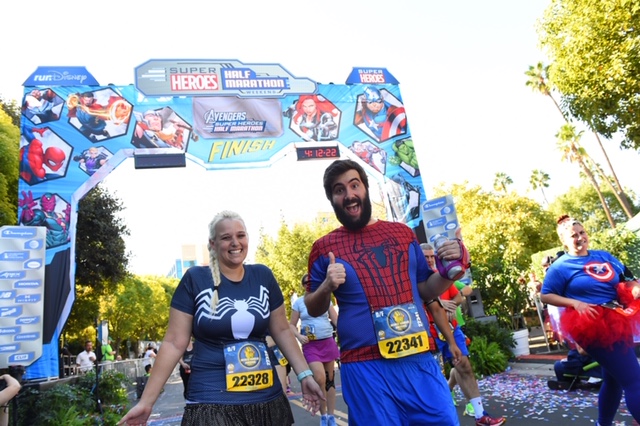 8. Can I pick up someone else's bib?
Nope! Not unless they are a minor and you are their parent or guardian. Runners need to pick up their bibs at the Expo PRIOR to race day! These are some exceptions granted for travel delays and emergencies to allow for bib pick up on the day of the race. Be prepared to arrive really early in that scenario and you will still need to visit the Expo to pick up your race shirt.
9. How do I get my race photos?
You can use either the My Disney Experience App on your smart phone or navigate over to the Disney PhotoPass website. From there, you will select Link Photos and type in the long code that can be found on the back of your bib. It is important to type this in exactly, or you will have a different runners photos in your account. If you do not have Memory Maker or an Annual Pass that includes PhotoPass, you can purchase one day of photos or individual shots. We recommend getting the Memory Maker option for your entire trip to enjoy your park photos as well!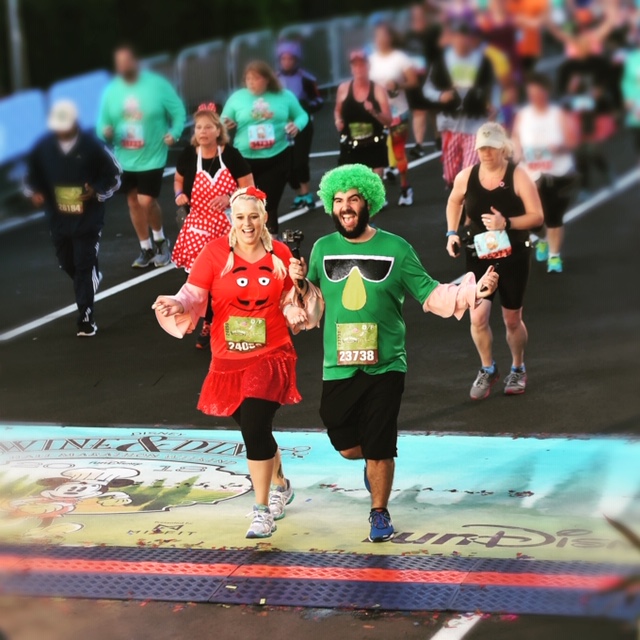 10. Are there characters on the course
Yes yes yes! This is the best part of a RunDisney race! There are characters sprinkled around all the courses, no matter the distances. Typically, they are themed to the overall theme of the race weekend. Expect Star Wars characters at the Rival Run Races or Princesses through the Princess Half Marathon Weekend! These lines can range from a minute or two, up to 15+ minutes so make your choices wisely. We keep a short list of characters we always stop for and typically stop for 3 or 4 photos during a race.