The Shark Bite Half Marathon is notoriously present at many race expos with big medals and offering some nice runner perks. Since it fell on an open training weekend for us, we decided it finally made our list. Aside from some windy weather, we left the race with our expectations pleasantly met.
Shark Bite Half Marathon Course
The Shark Bite Half Marathon offered a nice loop course with some small there and back sections separated by a block or so. This meant you were still seeing diverse scenery and not bothered by the other faster runners in front of you! It should be noted that this race does not run along the beach or the sand, but it finishes right off the ocean so you still get the fun parts without sand in your shoes!
There are two bridges on this course. The first is a smaller drawbridge and for those of you who share Katie's fear of bridges, you will not want to look down! The second bridge is a very large option that we would recommend building in a walking buffer for (if you are flat Florida runners like us!). The course kept us entertained and really showcased Florida's diverse wildlife and the nice scenery of New Smyrna Beach!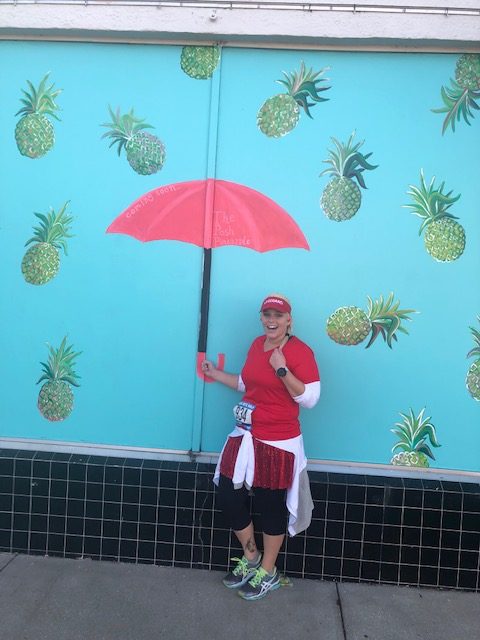 As a fun note, the course does pass a Dunkin' Donuts – so if you have a hankering for some Munchkins you can stop in and grab some! We might know this from experience.
Shark Bite Half Marathon Runner Perks
Seriously, this team brings the giant medals to many of the area race expos and this giant shark medal has been taunting us for a while! Turns out, the medals are just as great as we had hoped. Our only negative is that the 5K runners got the same size medal!! UGH! We ran 4 times farther than them! We also received a nice pint glass (full of local beer) after we crossed the finish line as well! The top 10% of Male and Female runners received a bonus hat, but since we like to hang out in the middle of the pack we can't really review those!
After the race, it was nice to spend some time just off the sand in the finisher area with super fresh pizza and brews. We were able to relax in the ocean breeze before heading back to our hotel with enough time to shower and leisurely head back home to Central Florida.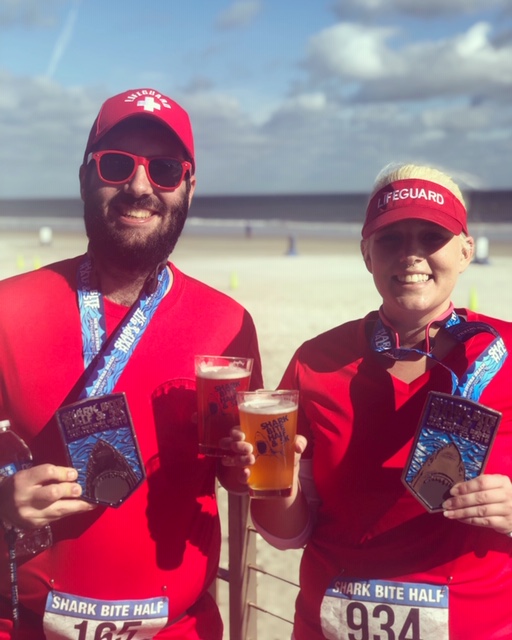 Overall, we would recommend this race. It might not become an annual tradition for us due to our sometimes chaotic January schedule, but this should definitely make any runners list of races to consider!