Kansas was a wonderful host for the weekend and we really enjoyed our time at the Prairie Fire Spring Half Marathon! From the moment we stepped off the plane in Wichita, we knew we were in for a treat. The city boasts plenty of unique breweries and fun places to walk around. There are actually two options for the Prairie Fire Half Marathon series, a spring race with a fun theme and a fall race that also includes the full marathon. Obviously, we opted for the fun theme! Our race fell on Cinco De Mayo this year, but in other years they have participated in May the 4th Be With You!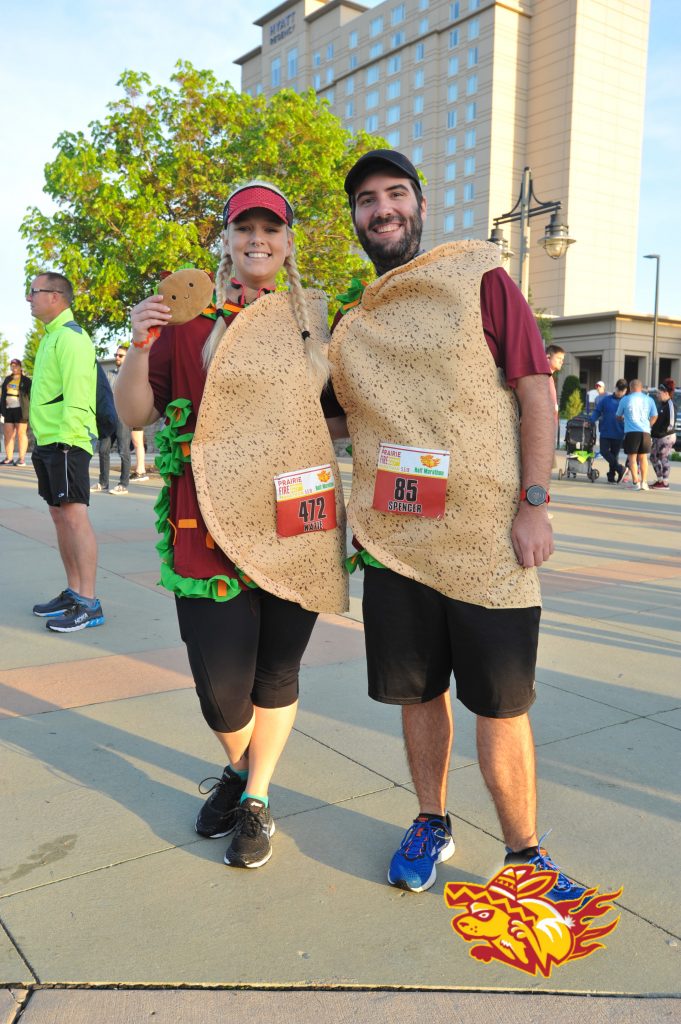 Prairie Fire Spring Half Marathon Course
The Prairie Fire Spring Half Marathon Course winded through all of the popular areas of Wichita, KS. We were able to run along the Arkansas river, run past the Keeper of the Plains monument, and run through Douglas Ave – all of the main areas to sight see! Our pacers were amazing at pointing out interesting sights like new construction, historical areas, and the best places to eat! The course started out nice and shady with coverage from the clouds and trees.
Due to some flooding, the course was modified the night before the race to run a there and back portion along the same side of the river, originally it was there on one side and back on the other. While this was unavoidable, it wasn't super pleasant for many of us to run both ways on a tiny path not much larger than a sidewalk. Luckily, this didn't last too long. The second half of the course was largely in the sun and got very hot very quickly. We didn't expect the heat to set in so soon – luckily we are prepared for the heat!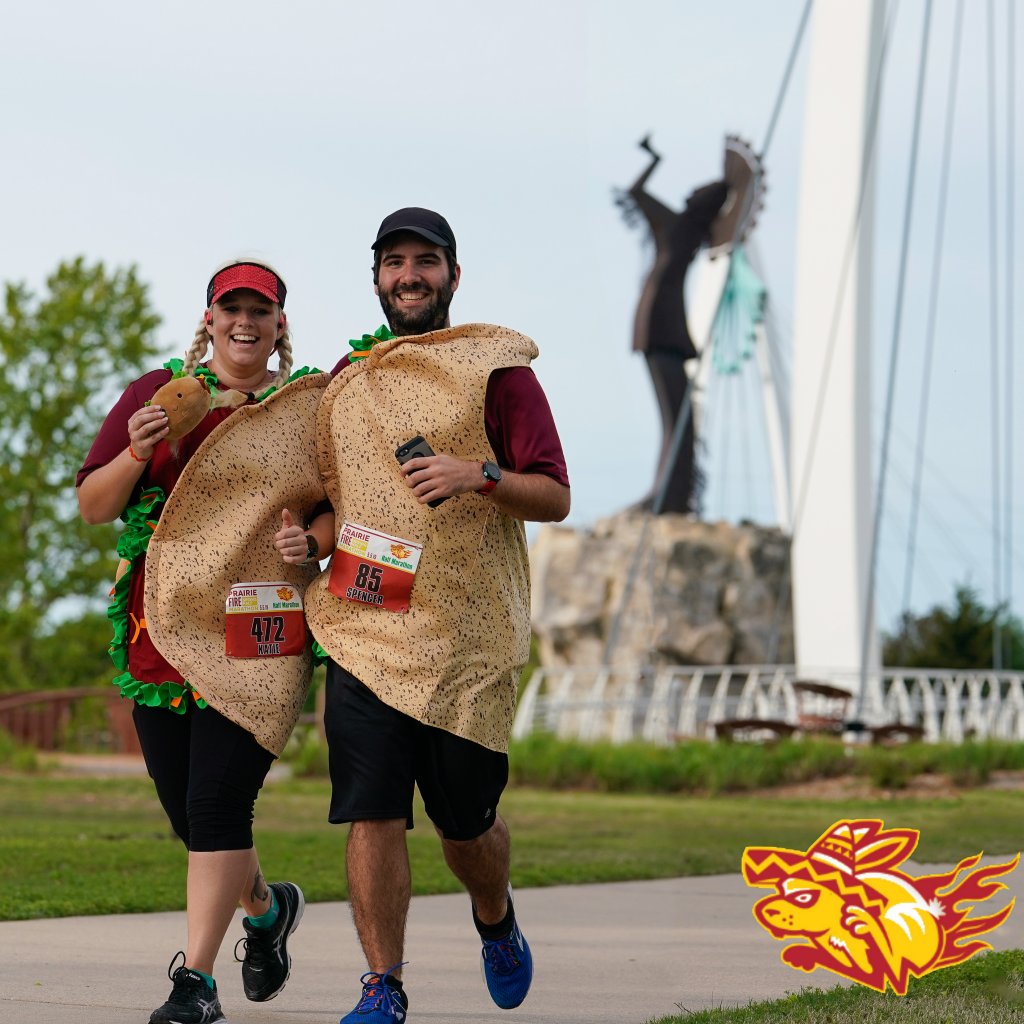 Prairie Fire Spring Half Marathon Perks
We loved that they took an opportunity to theme this race to the Cinco De Mayo holiday. It was a great opportunity to dress up as a giant taco and have some fun! We saw other runners dressed in theme as well too! We can only imagine the opportunities for a Star Wars theme! They even took their bunny mascot and created an adorable themed medal. This quickly became one of our favorite medals for the attention to detail.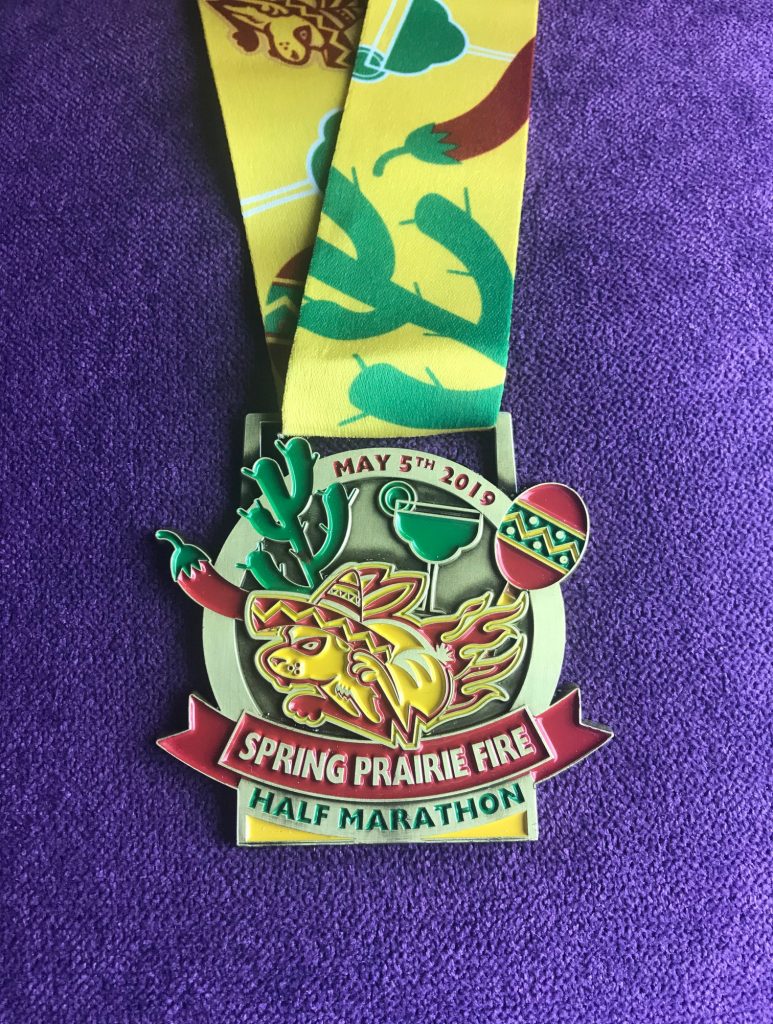 Traveling to Wichita, KS
We were really skeptical at first. Kansas has a weird reputation for being nothing except Wizard of Oz museums. This is not true at all! The city of Wichita, KS is stunning. This is one of the cleanest cities we have been to. You can tell the local government has placed a lot of energy into beautification projects, and it shows. The airport is stunning and brand new! We really enjoyed visiting the Keeper of the Plains – an amazing statue that sits at the meeting point of the Arkansas and Little Arkansas River! This statue was created by a Native American artist and really showcases the original roots of this area. The site was redesigned in 2006 to make the statue more prominent and add more elements like a fire ring! This is a must visit – and a great place that we ran by!
As you know, we love to brewery hop when we are visiting a new city. We find this is the best way to get a feel for the locals and we love to help local businesses! The heart of Wichita is full of small breweries – filled with nice people and cold beer. Our only complaint is that the cider scene isn't really popular there yet. Hoping for more options on our next trip!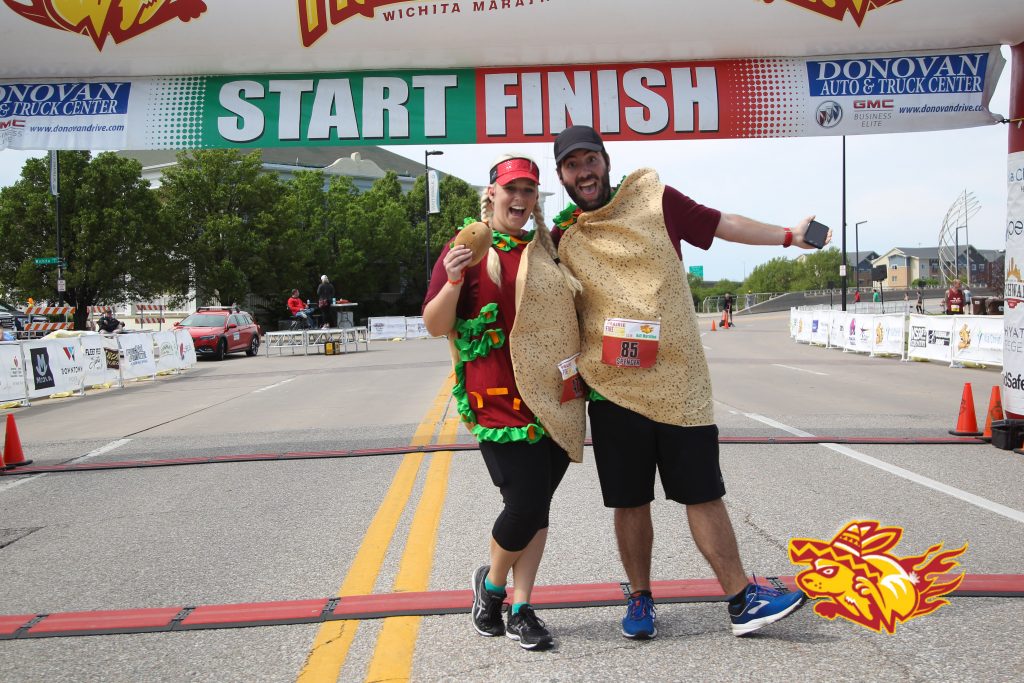 Overall, we had a wonderful time in Wichita, KS and at the Prairie Fire Spring Half Marathon. The beautiful city was matched with the nicest residents who really enjoy running! This race has put on a wonderful experience for runners of all abilities and celebrates everyone's accomplishments equally! Plus – free race photos are our favorite thing!