We completed three races in Wyoming, Idaho, and Utah as part of the Bear Lake Trifecta! This is three half marathons in three days! There is also a full marathon option as well. We stayed in Garden, City Utah. For this race, we traveled about an hour to Cokeville, WY! This was the most rural race, with only a gas station nearby!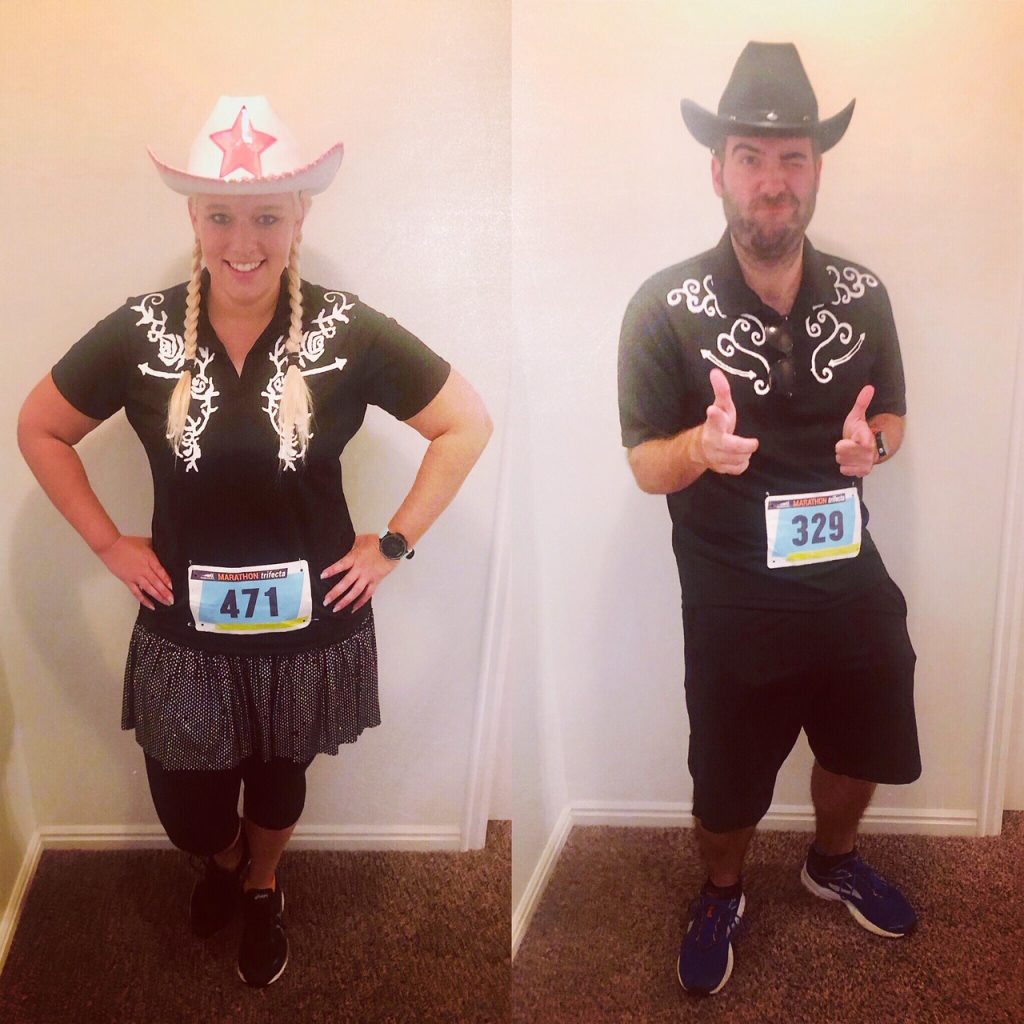 Run Bear Lake – Wyoming Course
This was the hilliest race and presented some real challenges! Since it was a there and back course again, we knew we had to go up and down every hill twice! The only saving grace was this course was entirely on asphalt. After the rocks in Idaho, the regular road felt magical! Of course this open road brought along one negative, more traffic! The road was entirely open to traffic and with runners on each side of the road, cars were sometimes a little too close for comfort.
For many of you that train in other states, this race won't present a huge challenge for you. We, of course, run in Florida and struggle to train for hills. They were all manageable and not anything like we have seen in other states. The aid stations were really motivating for this race and were evenly spaced out in between the hills! We appreciated the volunteers so much!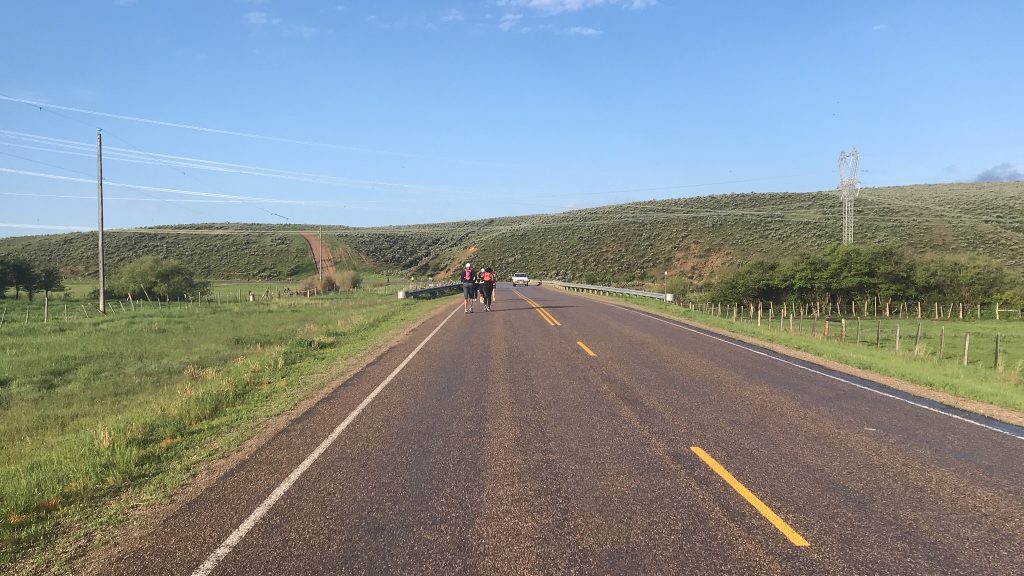 Things to Know about Run Bear Lake – Wyoming
This race was the farthest from Garden City, UT. We decided to forgo the early start and go at 7AM to allow for a little more time getting out the door. We also opted to bring some snacks for after the race since we knew we had an hour drive with not many options to stop for food! We did have some luck at the Pilot Gas Station nearby, and we even found a magnet for our collection!
We did pass a great photo op at the Welcome to Wyoming sign on the way to and from the race! We also drove through some amazing mountain views. We didn't find too many nearby opportunities to spend time in Wyoming, and went back to the pool instead!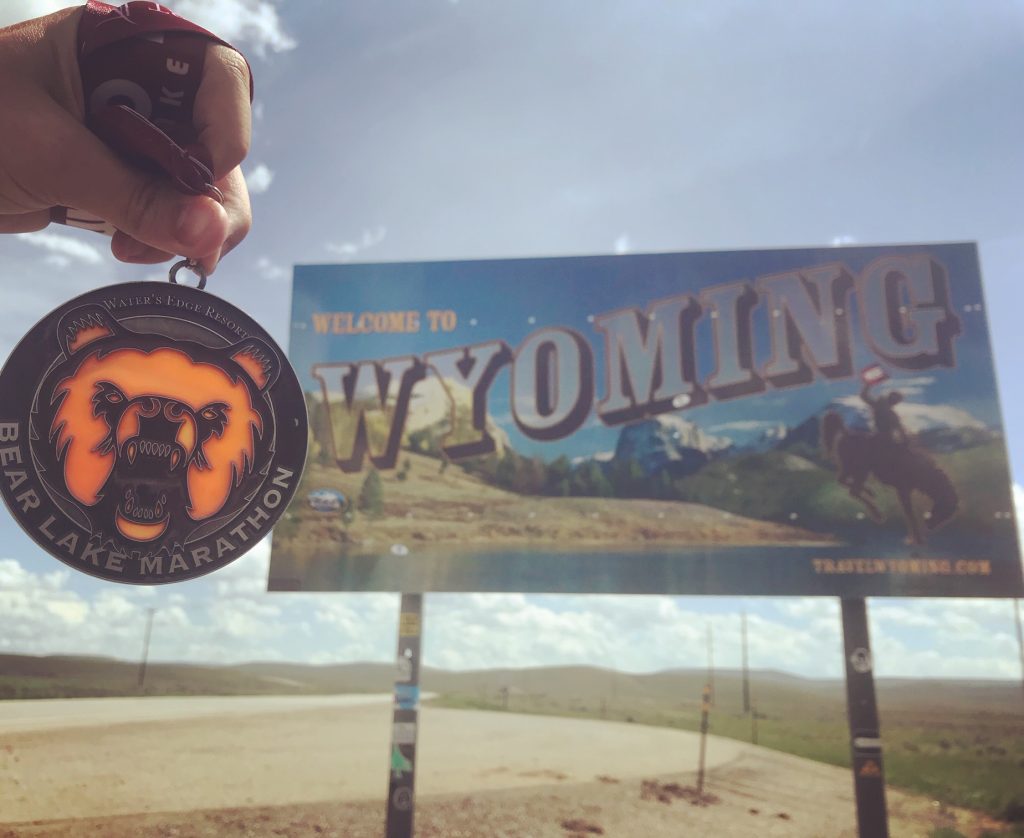 Run Bear Lake – Wyoming Post Race
Another race, another cute bear medal! Spencer took 1st place in his age group and Katie took 3rd! This means we got an extra bonus medal! They even took care to make the medals gold, silver, and bronze. There was pizza again after the race, but we have reason to believe it might've been from the day before.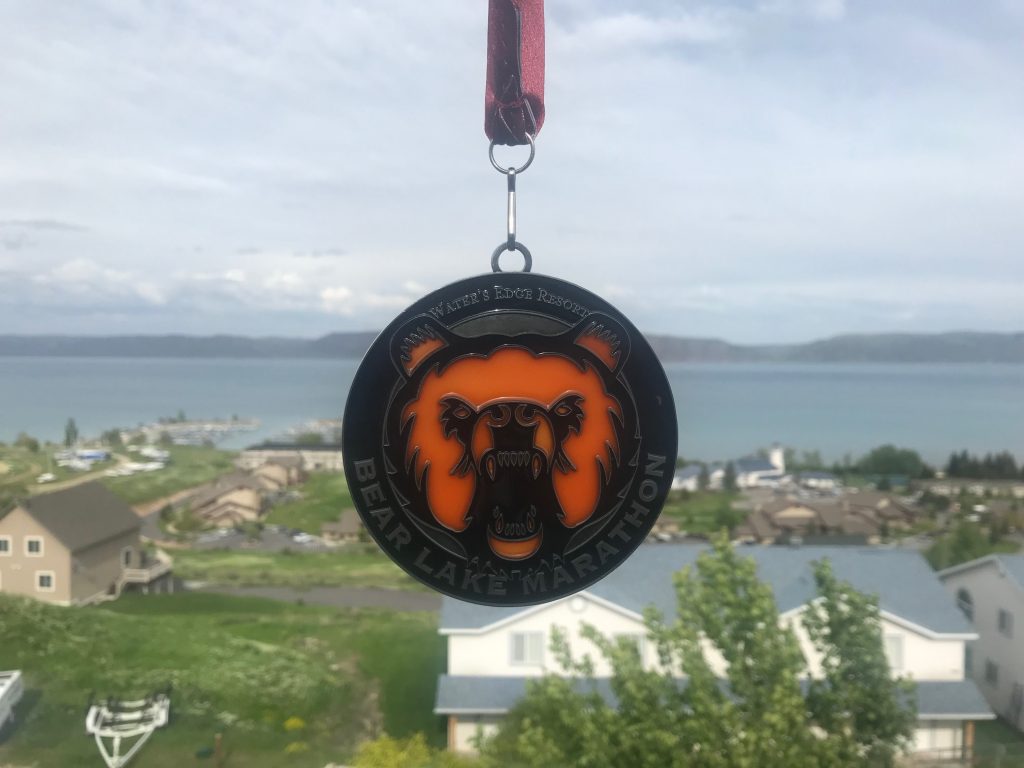 Again, we completely recommend this race series to knock out 3 challenging states for a bargain. This race would be much easier for those of you who actually have hills in their running trails! We also liked that this solid road was in the middle of Idaho and Utah, as those had some dirt portions that were a little rough on the knees.