Wine and running has to be a perfect combination for us! Add in the calm atmosphere of Baroda, MI and you have a winning race weekend at 13.Wine! We partnered this race with the Cheesehead Run in Wisconsin for our wine and cheese weekend! More miles means more wine.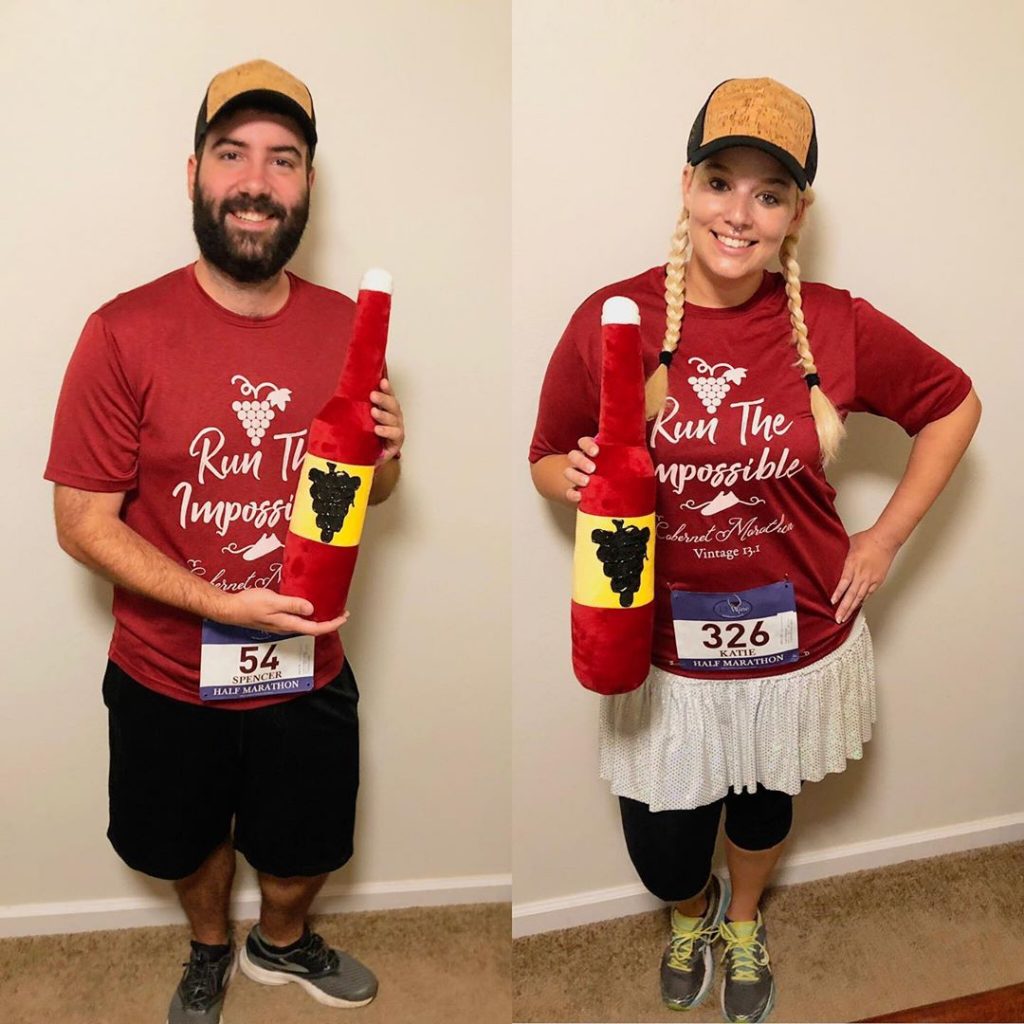 13.Wine Half Marathon Course
Once we arrived in Baroda, MI we were instantly surrounded by wineries. The race course for 13.Wine was no different! We ran past grape vines, fruit trees, and beautiful open fields. The course was a balloon shape with a 3 mile there and back string. The remaining 7 miles was a perfect rectangle shape. While unusual, it did allow us to break the course up into little sections, which is a trick we use to make the course seem easier!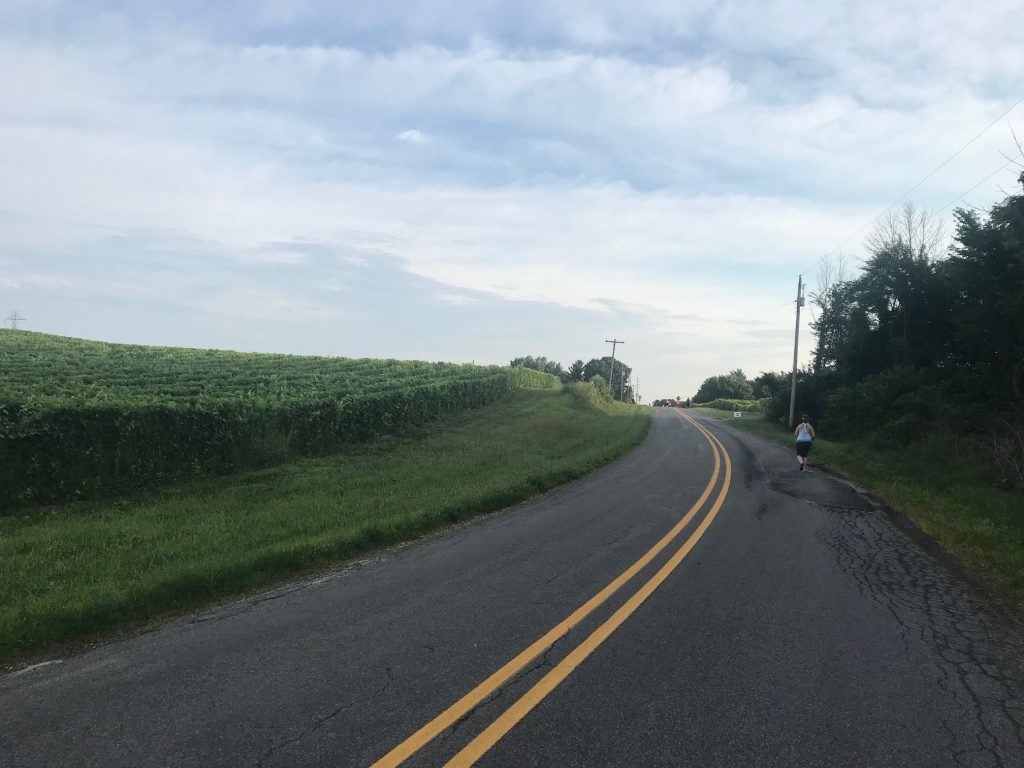 The course was hilly for us, but would be easily handled by any runner not from Florida! Some of the hills were deceptive with a long uphill leading to flat road. Overall, it was manageable and easy to adapt intervals for those who are like us and prefer to walk up and run down the hills. The course boasts a 4-hour time limit, and provisions were available until the last runner crossed the finish line!
13.Wine Runner Perks
As we finished the Half Marathon, a huge thunderstorm came through. Even still, we were able to enjoy snacks, Gatorade, and complimentary massages. We took shelter in the post-race tent and enjoyed chatting with other runners. We even got to watch the last few runners finish – and cheer them in! Wine samples were available as well, but we had a plan for after the race!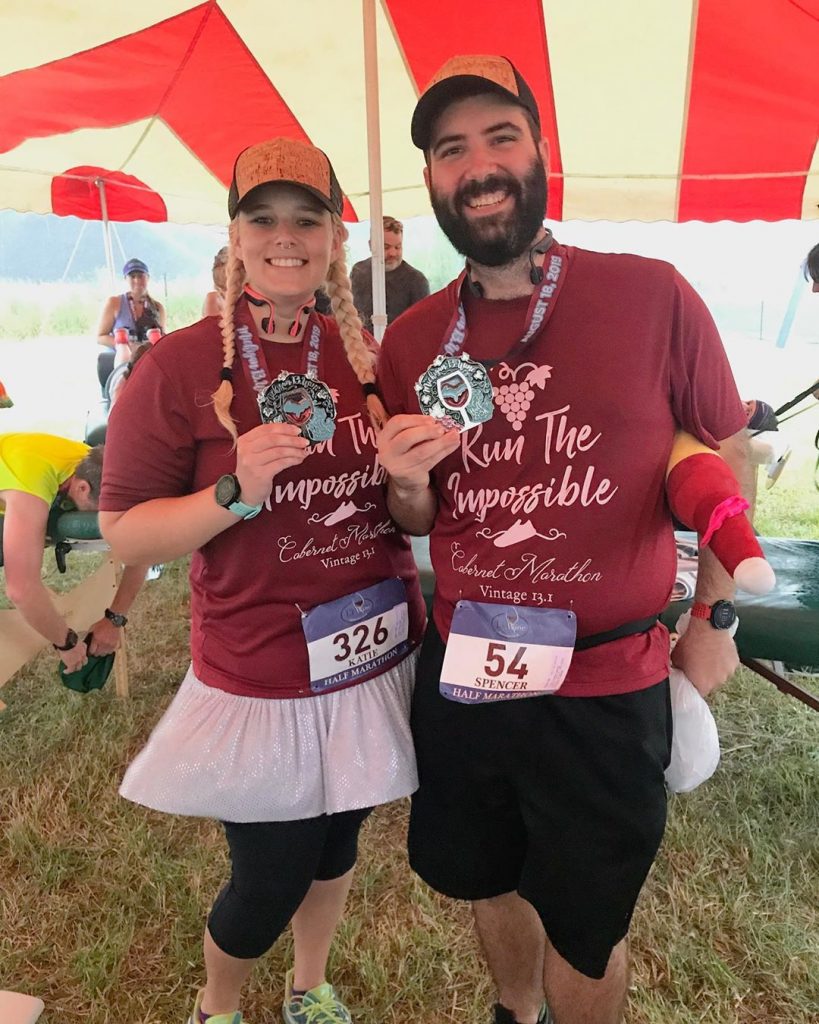 The official after-party for 13.Wine was at a nearby winery, Gravity. We took advantage of the BOGO glasses of wine and enjoyed our wine from the comfort of an indoor bar as the last remnants of the storm disappeared. We then visited a sister winery and were immediately congratulated by the staff on our accomplishments. Red Top Winery is known for offering fun flavored wines so we tried a variety with a tasting! We completed our tour at Round Barn Winery – a clear favorite for us. This winery offered an elevated tasting experience, which was worth every penny. Darla, our wine expert, was amazing and taught us everything we didn't know we needed to know about wine!
13.Wine Medal
Wow! This medal is stunning! The stained-glass element pairs beautifully with the wine theme. It clearly showcases the state the race was held in and the date! Many races forget that their runners come from all over, so showcasing the state is a unique option that 50 Staters like us, really love! Even if Michigan is your home, the home state pride shows through in this medal as well! This one earns a front space on the medal rack.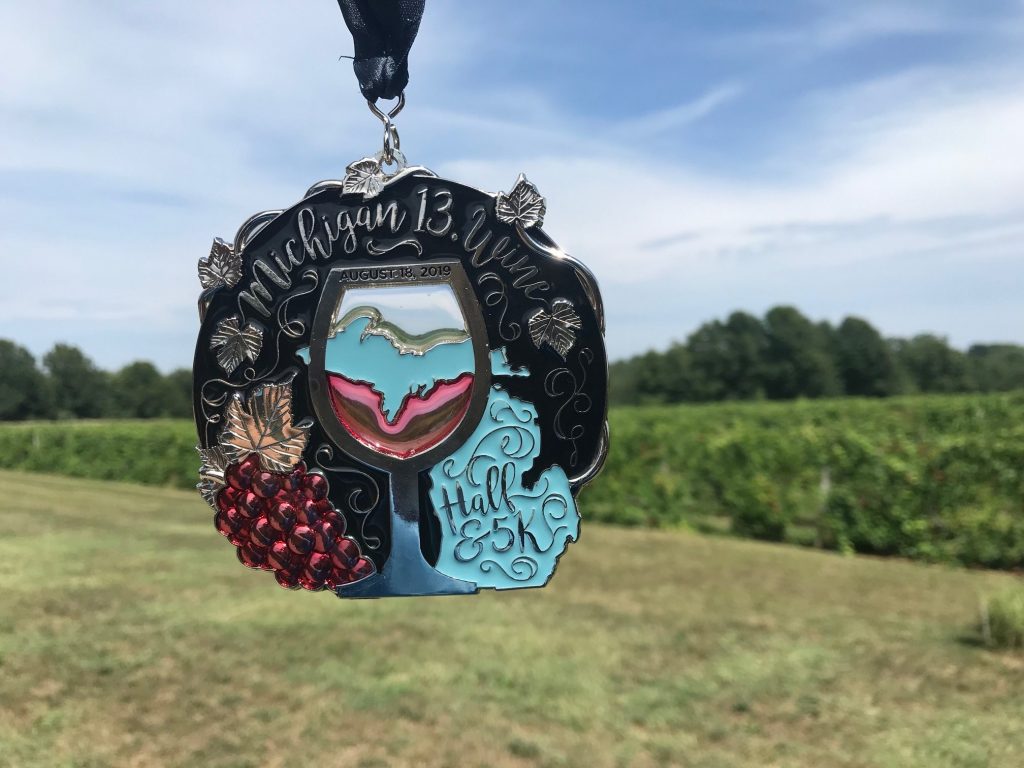 Visiting Baroda, MI
Baroda, MI is located in an idyllic wine country. The Lake Michigan Shores Wine Trail winds through Baroda and neighboring communities. We opted to stay nearby in Berrien Springs to be close to the race and all the wine! While hotels are hard to come by, we opted for a nice quiet AirBNB. We were so glad we added an extra day onto our trip to really enjoy everything Baroda has to offer! Leaving town, we took the long way to Grand Rapids to dip our toes into Lake Michigan. This is a short trip from Baroda – and totally worth it! We can't wait to return!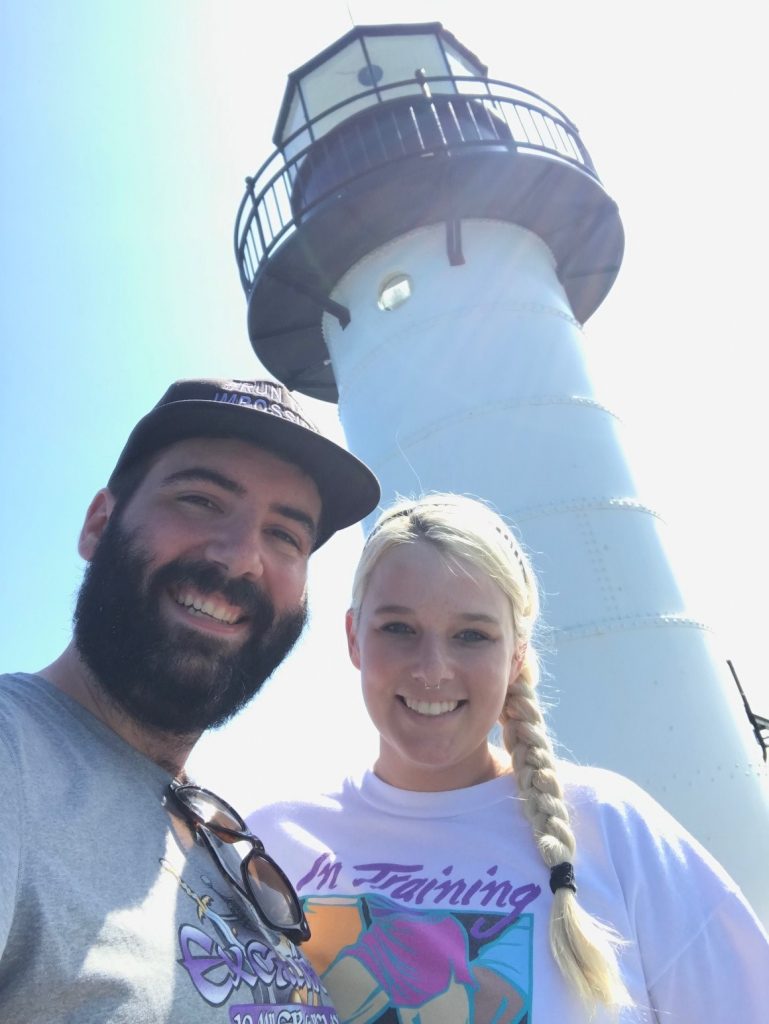 Overall, this race was an amazing wine and running experience. The course was stunning and our expectations were exceeded in every way. Even though the weather wasn't on our side, the volunteers stayed out during the rain and cheered every runner into the finish! We loved visiting the wineries post race, and it felt like we really celebrated our accomplishments! We know there are many options for a Michigan race, but this should definitely be a top choice!