The Cheesehead Run has been on our list for a while now! The thought of a cheesy themed race with runners donning massive cheese hats to run 13.1 miles really appealed to us! We paired this race with 13.wine in Baroda, MI to make the perfect cheese and wine weekend!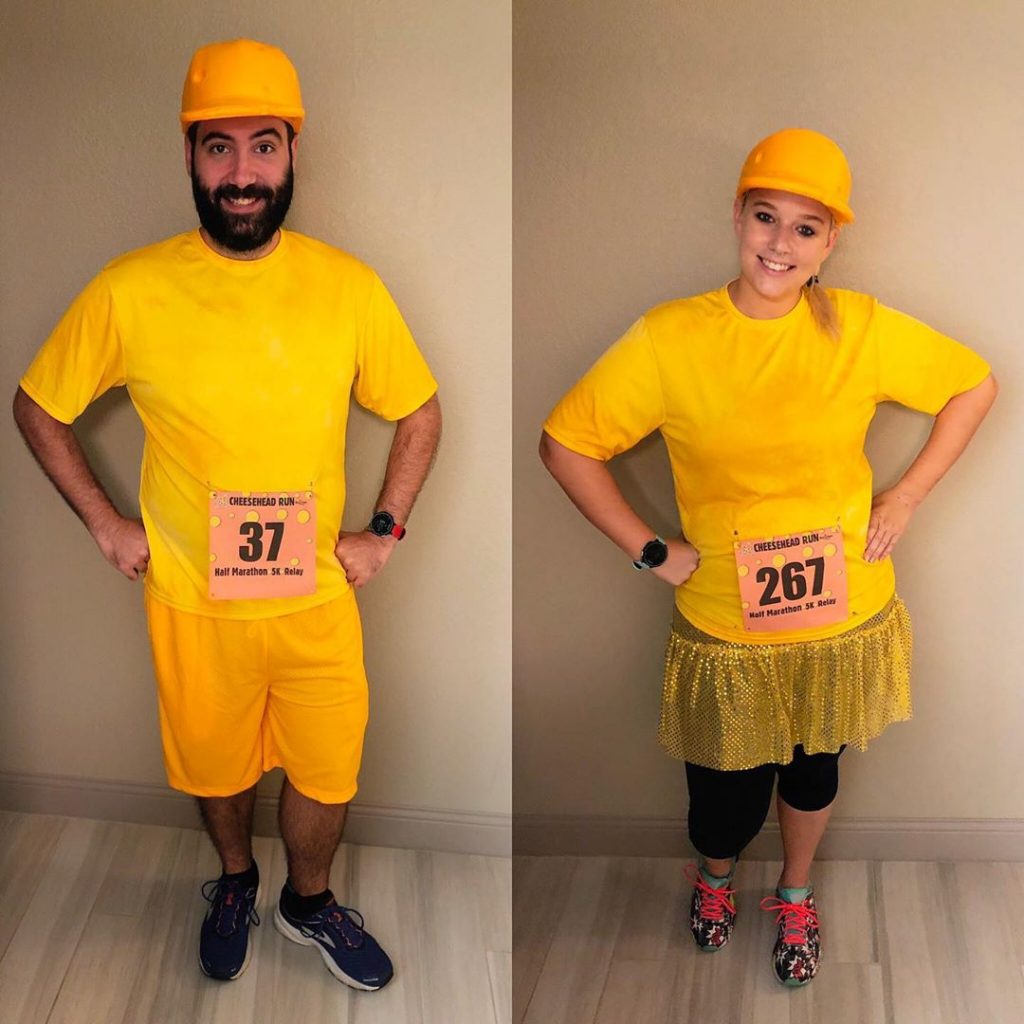 Cheesehead Run Half Marathon Course
Luckily for us, the course was almost entirely flat. Coming from Florida, even a race touted as "flat" in the northern region of the country can really be misleading! The course was a balloon shape with a 3-mile string or tail. This means the first and last three miles of our race were the same (in different directions) and the remaining 7 miles were a loop!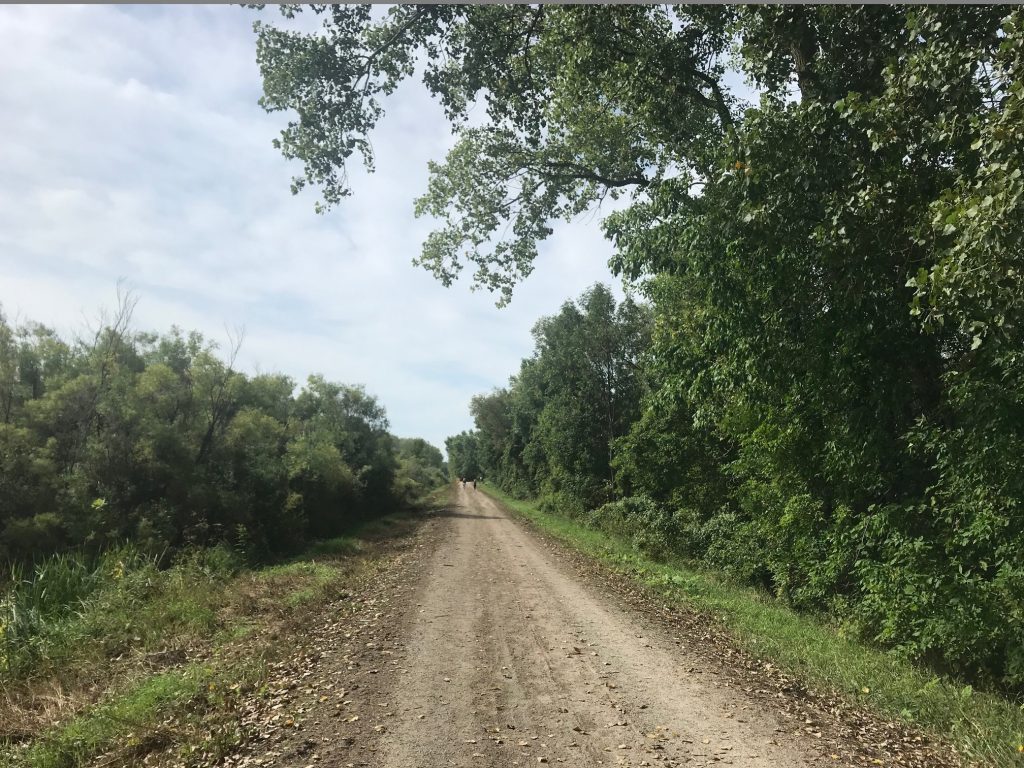 Visually, the course wasn't too exciting. Much like our other races in the Midwest, we found ourselves surrounded by sweeping farmland views. It was challenging to break this race up into chunks, as we didn't pass any landmarks or notable points of interest. We recommend having a fantastic playlist or running buddy to take you through this course!
Cheesehead Run Pre-Race and Post-Race Party
Since we couldn't find too many options to eat in the Hilbert area, we decided to take advantage of the pasta buffet at the Village Hearthstone before the race. We were able to grab our packets and enjoy a great buffet dinner designed for runners. The buffet boasted a variety of pasta and fish options – plus amazing cookies! We found this option to be a great value and convenient as well!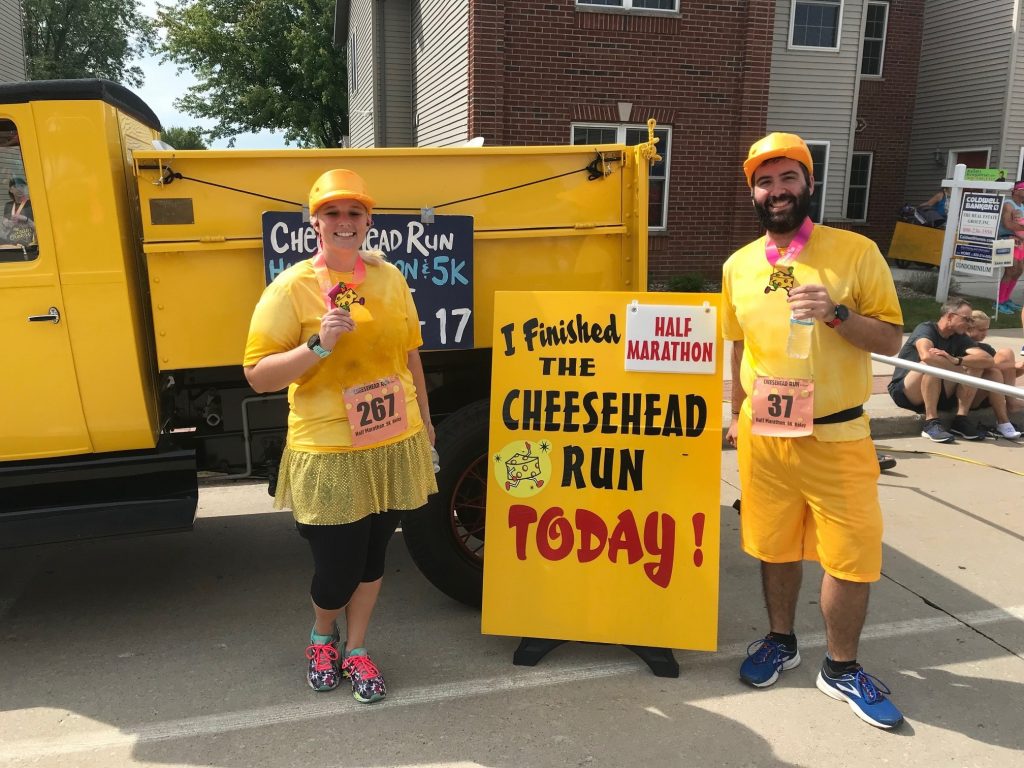 After the race, Village Hearthstone provided a great spread as well. Even as some of the last runners coming through the finish chute, there was still plenty of fresh food available. Breakfast items like oatmeal and pastries were available as well as lunch options like nachos! Plus, those amazing cookies were back again!
Cheesehead Run Costumes
The race photos from previous years highlighted runners in cheesy attire. There was even a raffle for Green Bay Packers tickets – the raffle being exclusive to costumed runners. Turns out, "costume" was used pretty loosely. Our cheesy attire really stood out! We made friends with some other runners who had opted for cheese crowns! We encourage anyone who completes this race to select their favorite cheese hat!
Visiting Hilbert, WI
Hilbert, WI is a small town located in between Appleton and Chilton. We chose to stay in Chilton as we were heading south to Michigan after the race anyway. Both towns had great charm and a nice historic feel to them; however, they were lacking many options for food or groceries. Many of the local grocery stores fell victim to one large Walmart that obviously closed their competitors over time. We struggled to find restaurants that offered dietary restriction friendly food, or quite frankly even restaurants with Yelp reviews. We would recommend taking your long weekend and visiting a larger city post-race!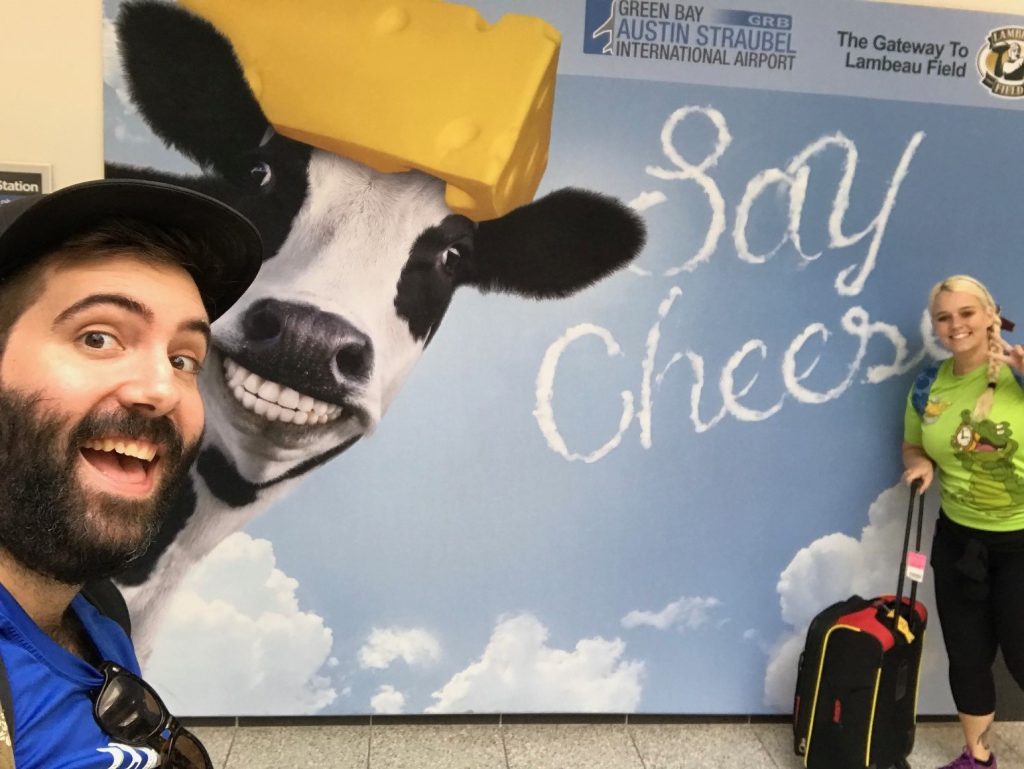 Overall, this race ultimately fell below our expectations. We expected more costumes, a better on course experience, and more to do in the nearby town. If you're looking for a solid race for Wisconsin, this is a nice option, but it wouldn't be our only recommendation. The big highlight is a 4-hour finish time limit, so this is a great half marathon option for beginners!