New Mexico has been one of the states we've been most excited to run and spend a weekend in – we decided to try "The Race Different"! The Santa Fe Thunder Half Marathon boasts a downhill course full of local culture and flair. Santa Fe is a wonderful city to visit for a long weekend race and vacation!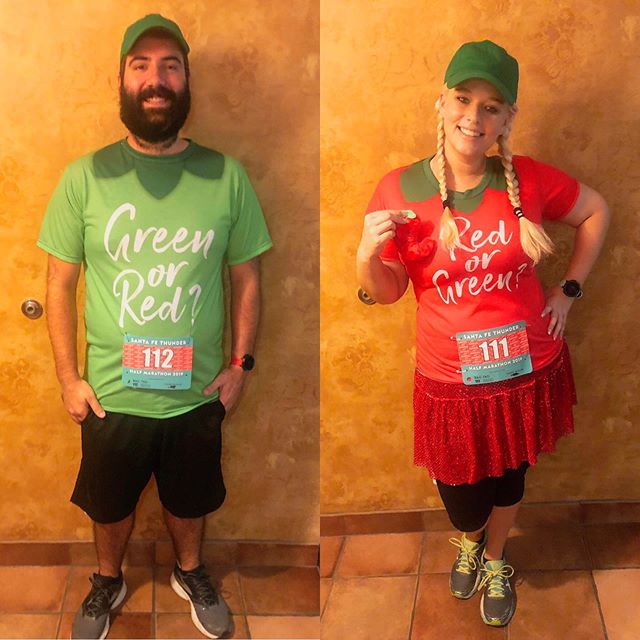 Santa Fe Thunder Half Marathon Course
This course is fast and downhill! For those of you who train at sea level like us, you may notice the higher altitude is more challenging to run in. We took it easy to enjoy the sites and meet fellow runners on the course. Runners from a high altitude or who arrive early to become acclimated will definitely notice improved miles times!
The first two miles of the course are a little daunting with about a 300-foot elevation gain. It seemed like we were going uphill for hours, but we were quickly rewarded with our amazing downhills! The course is a point to point course running along a major highway, on a rarely used frontage road. Our absolute favorite part was running by Camel Rock – a neat rock formation that looks just like a camel! The race finished at the Buffalo Thunder Casino and Hotel.
Course support was great! The race boasted volunteers with water and Gatorade every other mile. There was also a port-o-potty at each stop. Spectators dotted the course periodically, mostly cheering on friends or family – but they were happy to give us a holler as well!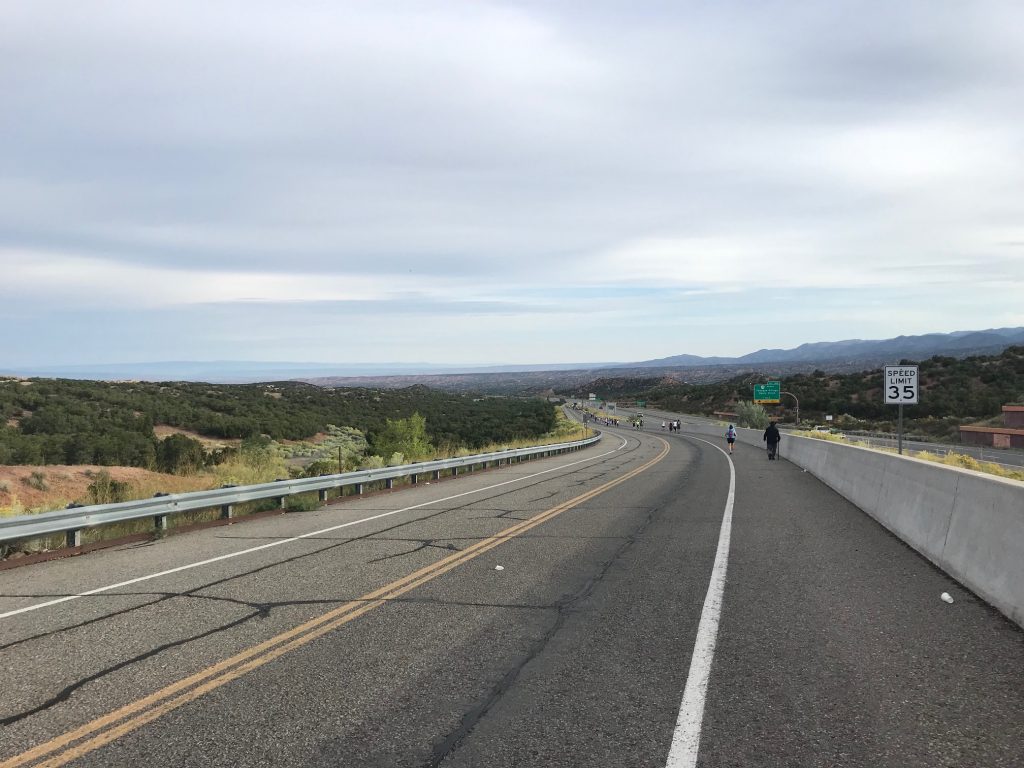 Santa Fe Thunder Half Marathon Medals and Shirts
Both the race medal and shirts are designed annually by local artists. Roxanne Swentzell designed the race shirt! She focused on the physical parts of running, like runner's legs and the terrain, while also noting the creative and spiritual powers above every runner! The race medal is traditionally designed by the Gachupin family. We loved that our medal really embodied the New Mexico spirit. Coming from out of town, it is a wonderful memory of the state! We really love how the Santa Fe Thunder Half Marathon embraces the art and culture of the state!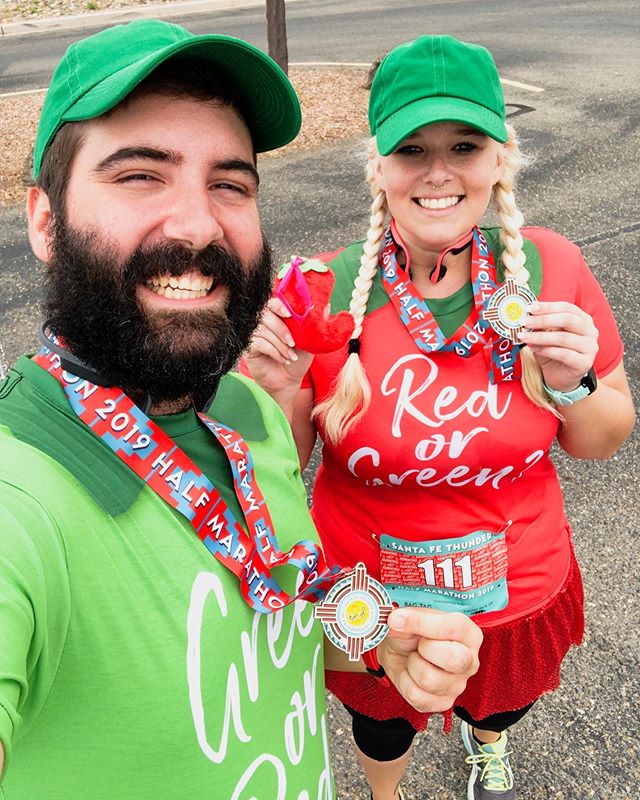 Visiting Santa Fe, New Mexico
Just a short drive away from the Albuquerque Airport, or home to its own regional airport, Santa Fe is a must-visit city! As you know, we love a mountainous view and truly enjoyed driving around! The city is rich with shopping and casinos! The food is flavorful and we found some wonderful New Mexican cuisine. Be prepared to answer the ultimate New Mexico question: red or green chile?
We stumbled upon a wonderful art installation recommended by many of our friends. We highly recommend checking out Meow Wolf. This indoor massive art project is equal parts mystery and intrigue. You can get lost inside for a day, beat the heat for a few hours, or even bring children to explore! This experience is less than 30 minutes away from the race!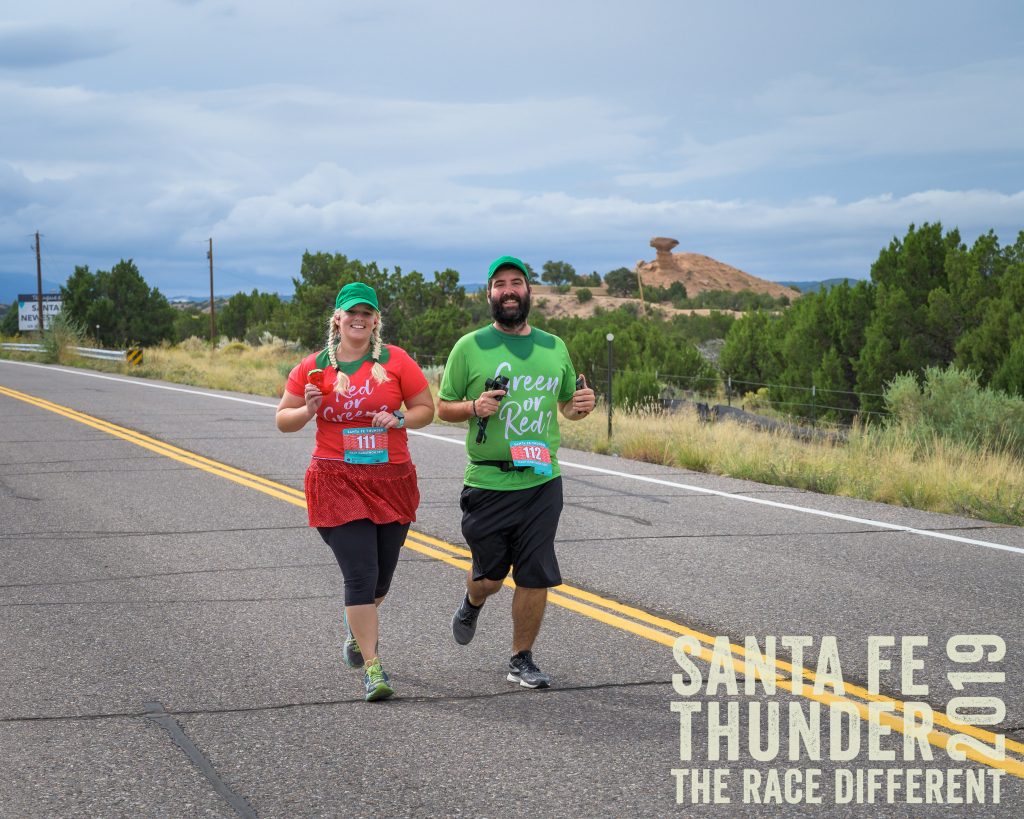 Overall the Santa Fe Thunder Half Marathon is a solid choice for a New Mexico race. The downhill course and the beauty and fun of the city of Santa Fe is enough to make us want to come back in the future! If you were wondering, our shirts correlated to our choice of chile!