We finished 2019 with the Mississippi Gulf Coast Half Marathon and kicked off 2020 with The Louisiana Half Marathon! By completing both races, we received a massive Beach to Bayou bonus medal! The Louisiana Half Marathon and Marathon take place in Baton Rouge, which is just an easy hour drive from New Orleans. We took this as an opportunity to see both cities in a great long weekend!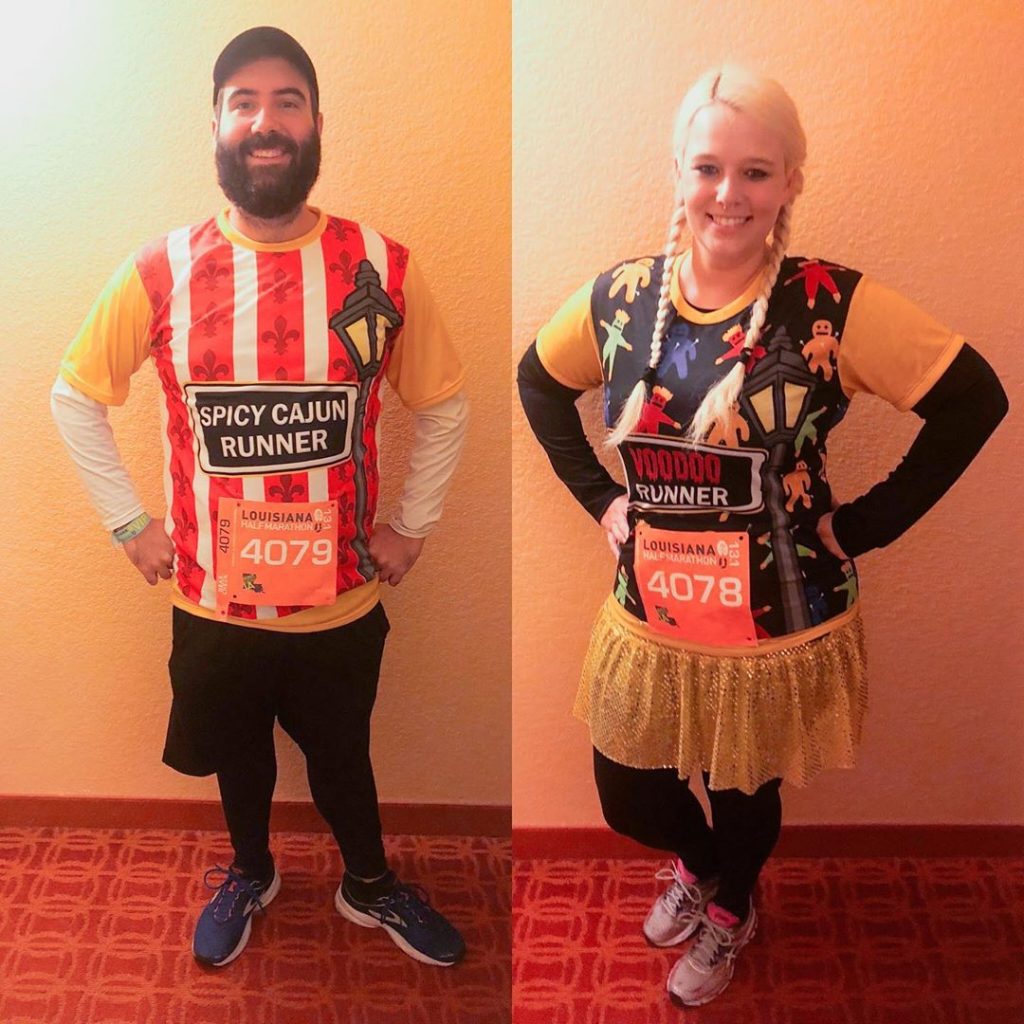 The Louisiana Half Marathon Course
The Louisiana Half Marathon course is flat, which is what you'd expect running at sea level! The course is what we like to call a "balloon course" meaning runners complete the first few and last few miles on the same stretch, with a loop in the middle. The Half and Full Marathon runners stay together until mile 11 which is the point where the full runners both split off and return to the course.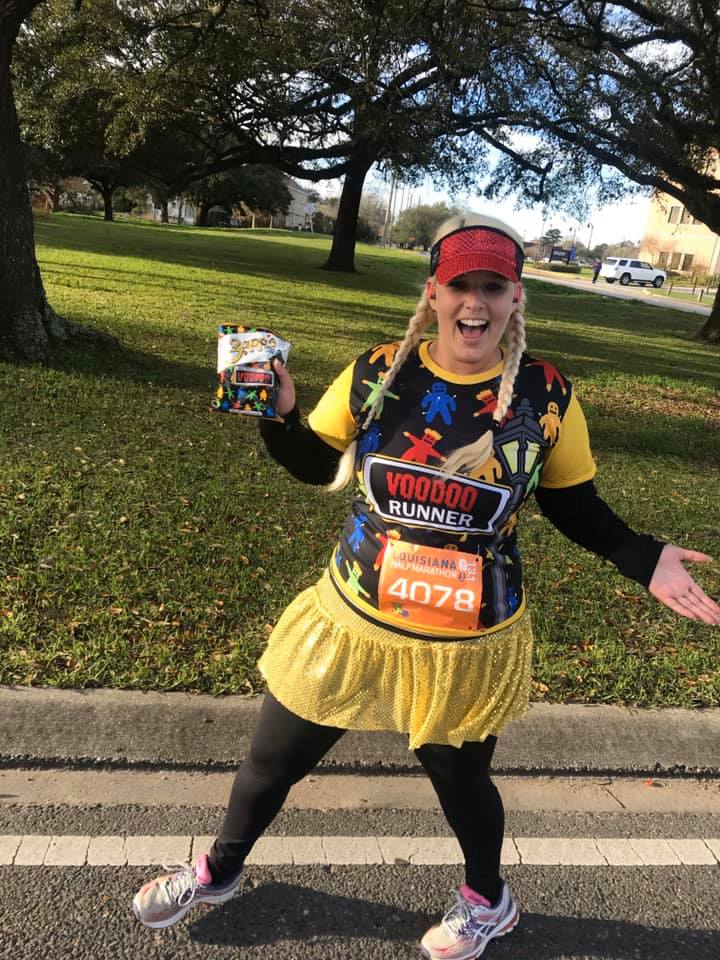 The race start and finish line are located in downtown Baton Rouge, which makes for some awesome photos! Runners pass through LSU's campus first. We love running through college campuses! There is always plenty to look at and the miles always fly by. Plus, LSU was celebrating a huge Football National Championship! The remainder of the course was residential and hugged a beautiful lake.
The Louisiana Half Marathon Entertainment
While running and course logistics rank high for us, entertainment can be equally as important. This is the kind of race that can be a PR race or a slow and steady fun race. We went into the race fast, but after the wind chill picked up and we realized we could stop for Bloody Mary's – we slowed down. Residents had tables set up with fun drinks and snacks. We even stopped to dance with a group! There were no dull moments of this course! There was always something to look at or someone cheering you on!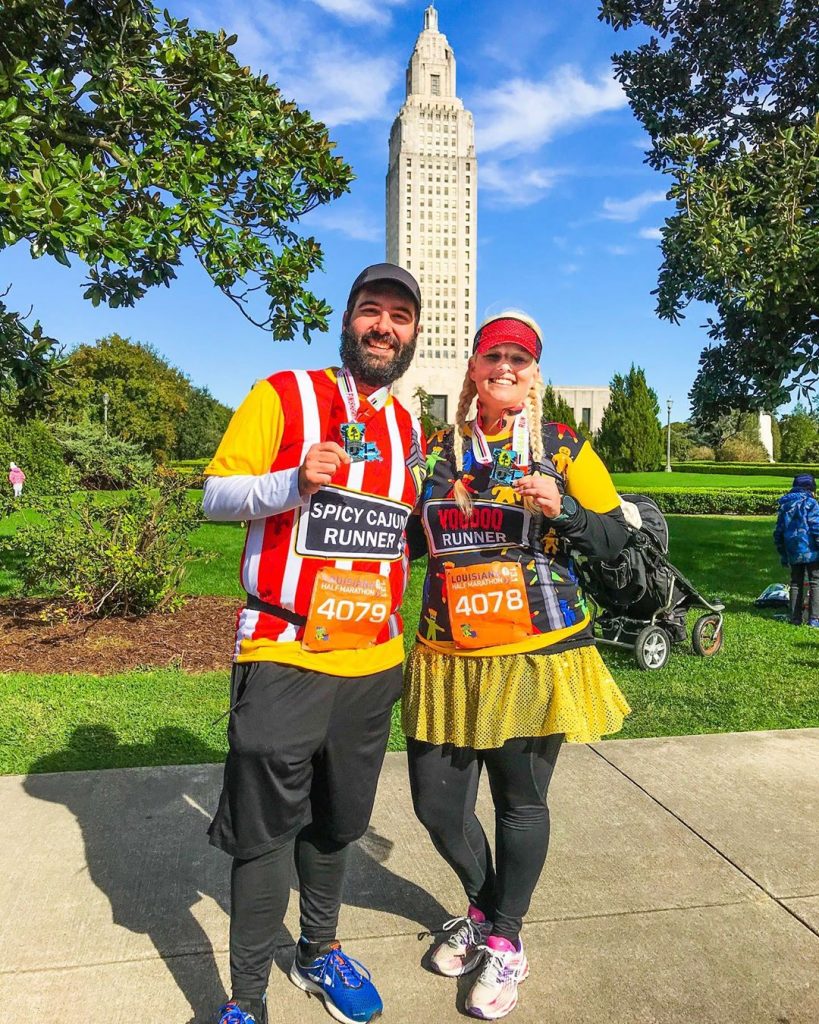 The Louisiana Half Marathon After Party
Whether you started celebrating on the course or not, there is plenty to celebrate after! Circling an open area with a music stage are wonderful traditional Louisiana food options! There was plenty of beer and food to go around! Katie really appreciated having a Vegan Gumbo option! In the VIP tent, runners had access to even more food and delicious Slap Ya Mama Bloody Mary's! We loved walking around the after party and never wanted to leave!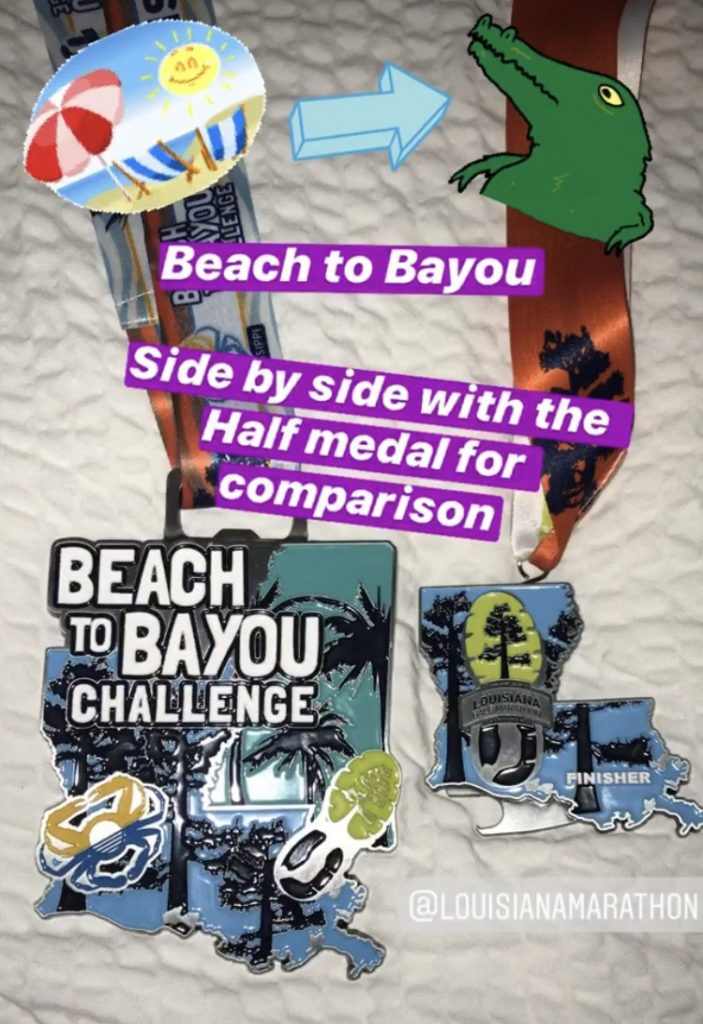 Overall we had an amazing time at this race! We met so many wonderful runners on the course and enjoyed some great food and drink. The miles flew by and we enjoyed the whole course. This is a great race for beginner runners, runners who need a PR, and runners who just want an easy shake out run! Check out their website at TheLouisianaMarathon.com for info about next year's race!