We were excited to participate in a brand new central Florida race! The Inaugural Rescue Run at SeaWorld Orlando was about a 3 mile run through the park! 100% of the net profits went to their joint Conservation Fund with Busch Gardens and will directly impact the Rescue Team that operates out of SeaWorld Orlando. The efforts from SeaWorld Orlando's Rescue Team have saved the lives of many manatees and other species.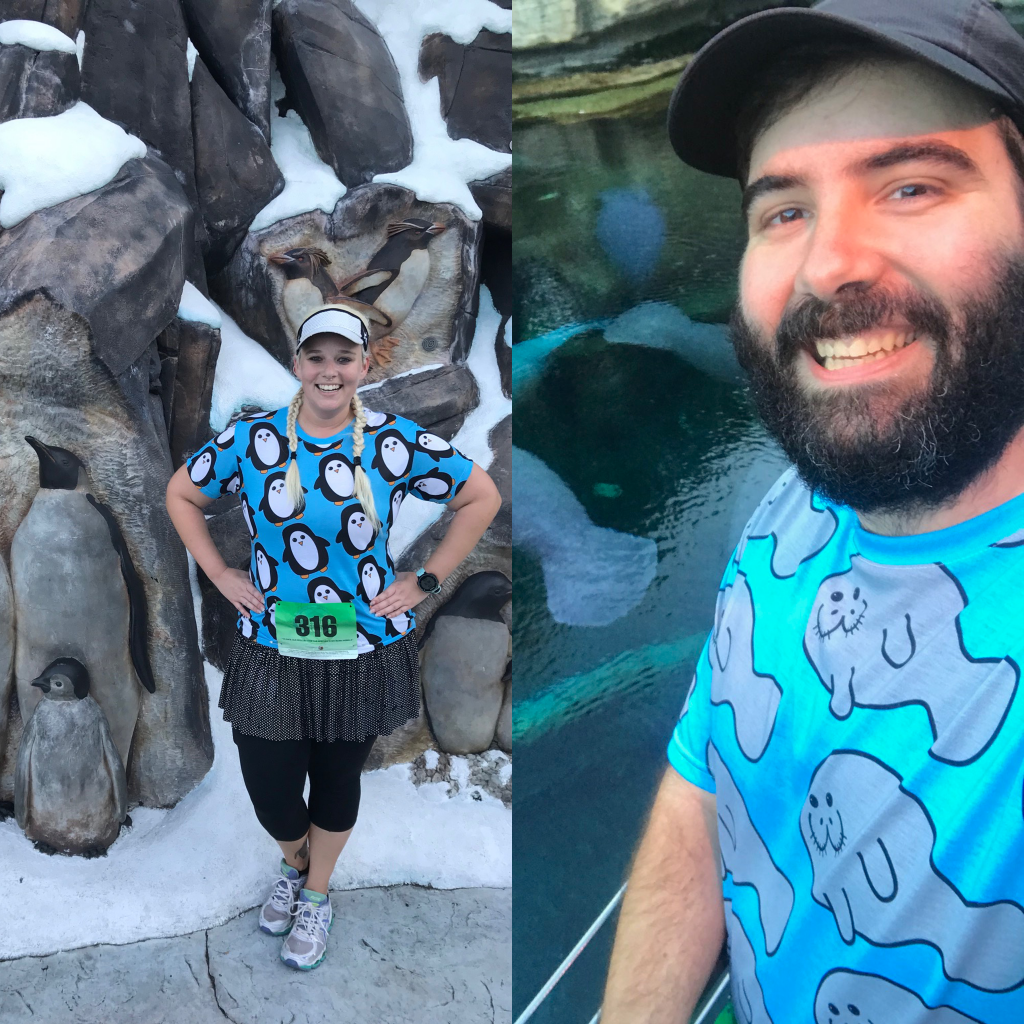 SeaWorld Orlando Rescue Run Course
If you've done a race at SeaWorld Orlando, you are familar with their course that generally starts in the parking lot, loops around, and then enters the park. Since this race finished at Shamu Stadium, our parking lot loop was a little bigger. We added a there and back through the parking booths, which is something we are used to from other theme park races!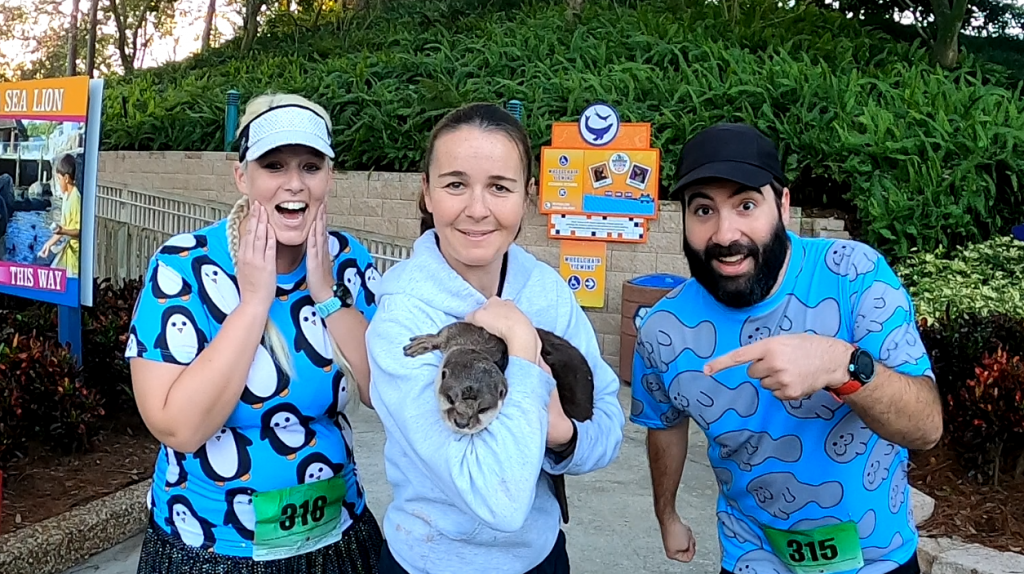 Inside the park, we ran past all of the major attractions and near many animal enclosures. We were able to see many dolphins, flamingos, and sting rays! Running in theme parks is always so fun! There is so much to look at and see, you hardly notice the miles passing by! The course was well spread out so we didn't feel like it was hard to run at any point.
SeaWorld Orlando Rescue Run Entertainment
For a theme park run with a decent price tag, we think they did an okay job with entertainment. They can add some easy fixes like putting some speakers or any entertainment for the first parking lot mile. Seriously, parking lots are boring. There was a great start line DJ, so it would be super easy to add some additional speakers!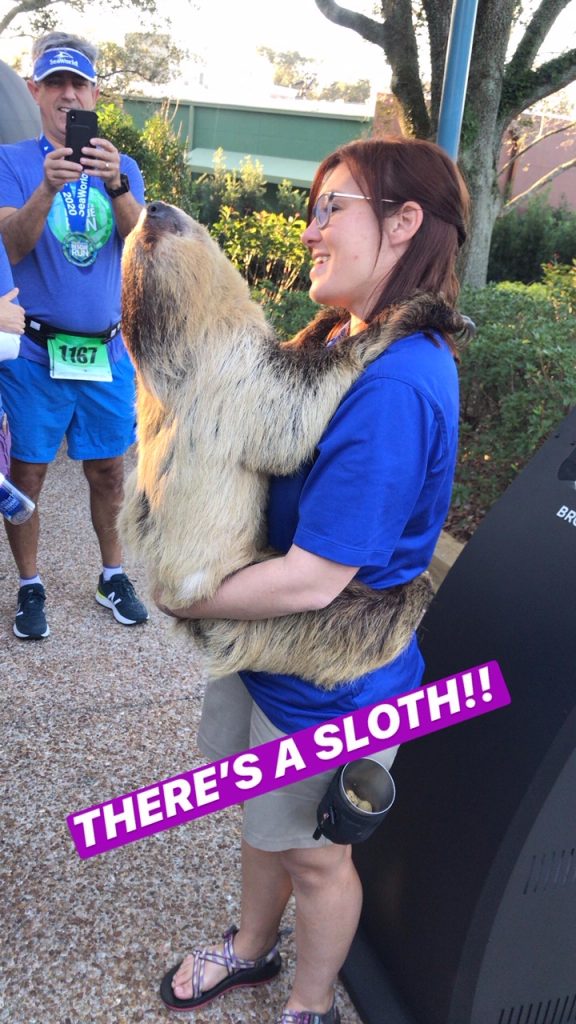 Inside the park we were able to meet Boris the otter and a few flamingos. This was a huge treat! After the race, more animals were brought out like a sloth, and owl, and an armadillo. Runners were able to meet these animals and even pet them! It was great to see animals that have benefited from the Conservation Fund out and about.
SeaWorld Orlando Rescue Run Medal and Swag
The SeaWorld Orlando Rescue Run Medal was really cute. We hope next year they can add some cute animals! We loved that it was actually metal and the ribbon said Inaugural Race! The race shirt was cotton and will quickly go into a pile of unworn shirts. Races should know that runners will happily wear a quality tech shirt often for some free marketing! We also received a themed water bottle after we crossed the finish line. While nice, we would've preferred a tech shirt.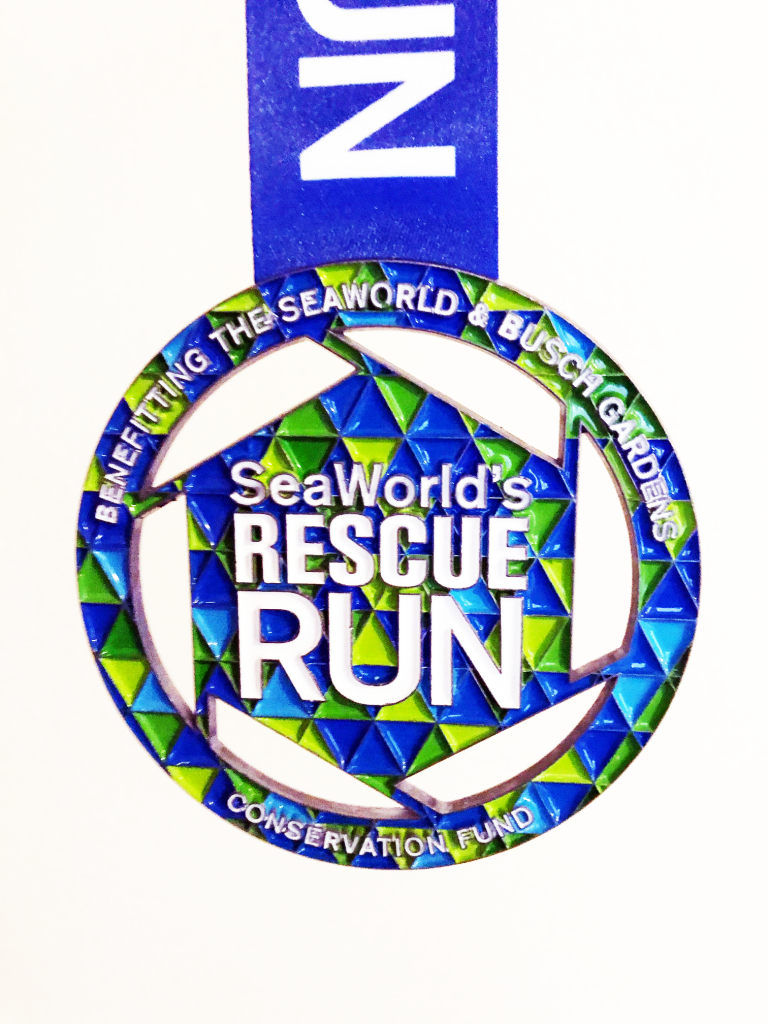 Overall, we are thrilled to have another theme park race in Orlando! This is a family friendly event for all levels of walkers and runners. The course never felt too crowded and we loved meeting Boris the otter! This race will be on our list for next year!