It was a great surprise to see so many of our friends at the 2020 Myrtle Beach Half Marathon in South Carolina! We had no idea how big this race would be! The race boasts a Marathon, Half Marathon, 5K, and Fun Run! The weather was extremely windy, which is a risk running near the ocean this time of year – so keep that in mind when planning your outfit!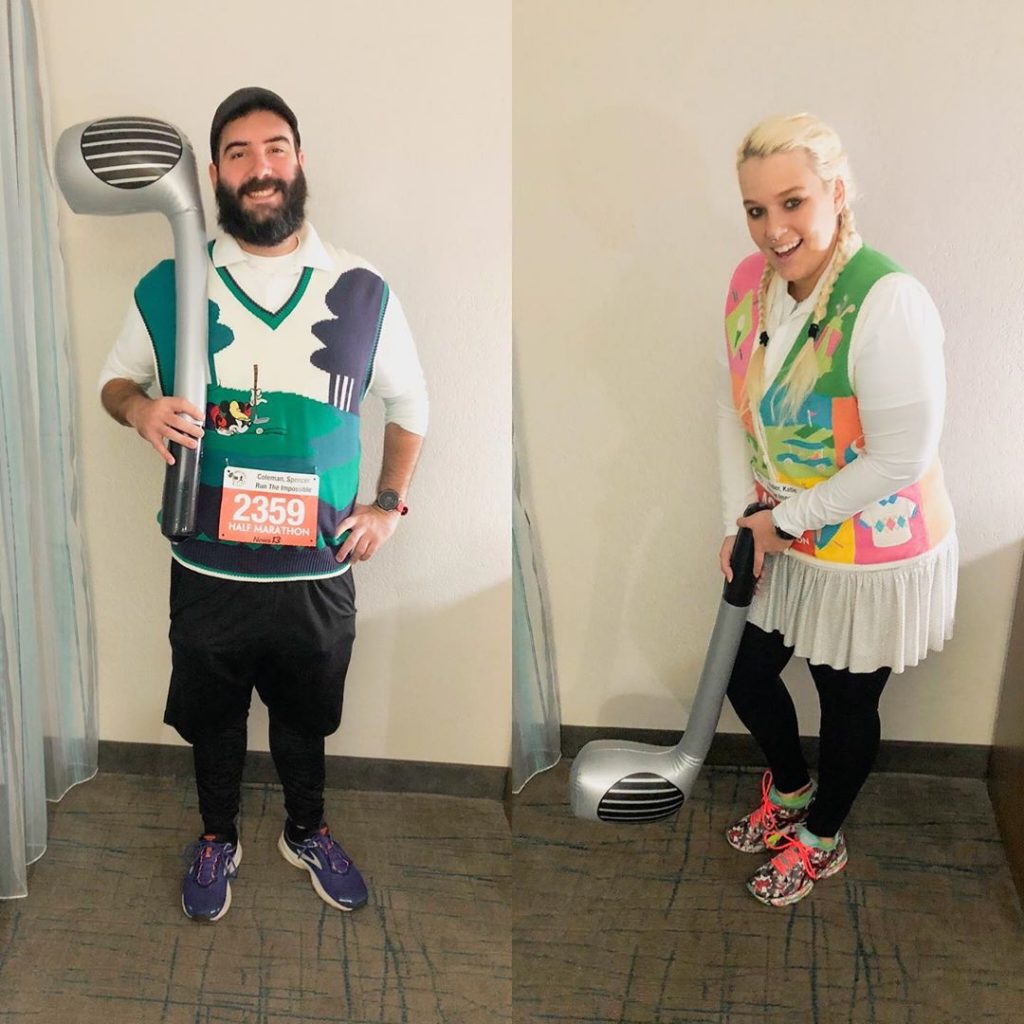 Myrtle Beach Half Marathon Course
The course is mostly flat, although some runners may notice some slightly rolling hills (especially chair athletes). The course is a loop course, a super oval loop. The race begins at the Boardwalk on the Beach, a major shopping and entertainment district. For about 4-5 miles, you run towards the airport. This is when the wind gets crazy!! The scenery is mostly fun stores and mini golf courses!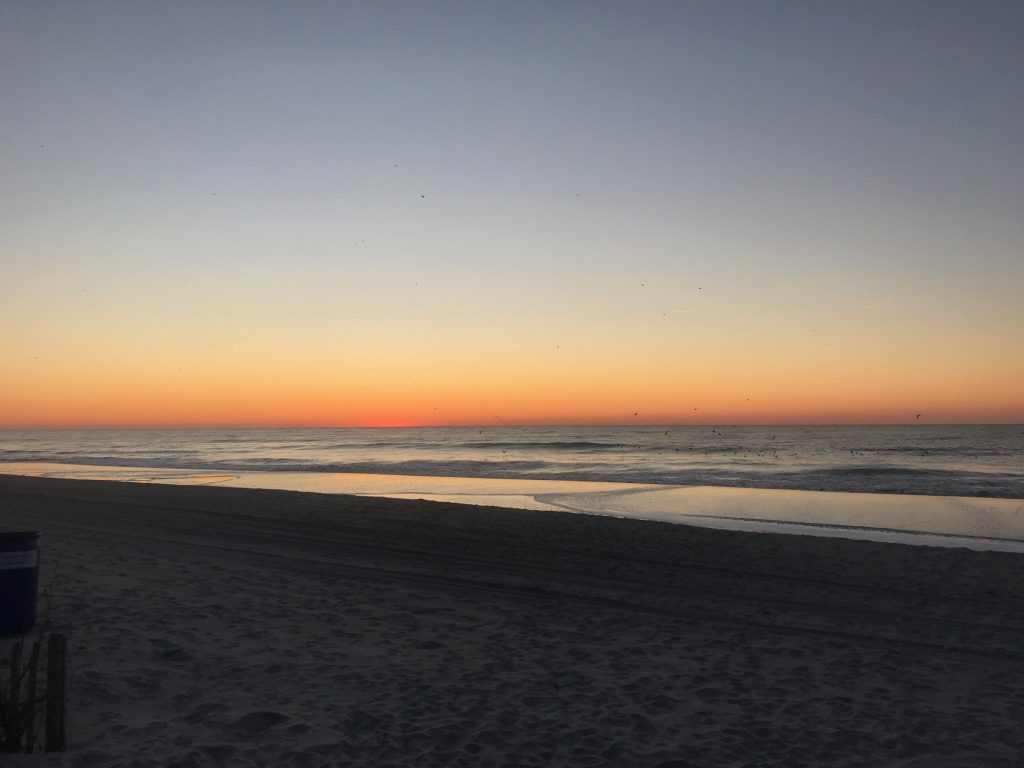 Next, you complete a 2-3 mile loop through an upscale shopping and dining district. This was fun to run through, and less windy! Finally, the race heads to the main beach street where you can catch glimpses of the ocean between high rise hotel buildings. We love beach runs, and it was great that this race kept building to better and better scenery!
Post Race Party
One of the big draws of this race is a great after party! After crossing the finish line, we were offered Mylar blankets (this is a big deal when it is chilly!). We then went in search of food! Katie was able to eat some minute microwave rice that was weird and hard. Spencer found pizza after hunting it down for about 20 minutes. What they lacked in food, they made up for in beer. There were three options for local brews and another three local seltzer drinks. We love local options!!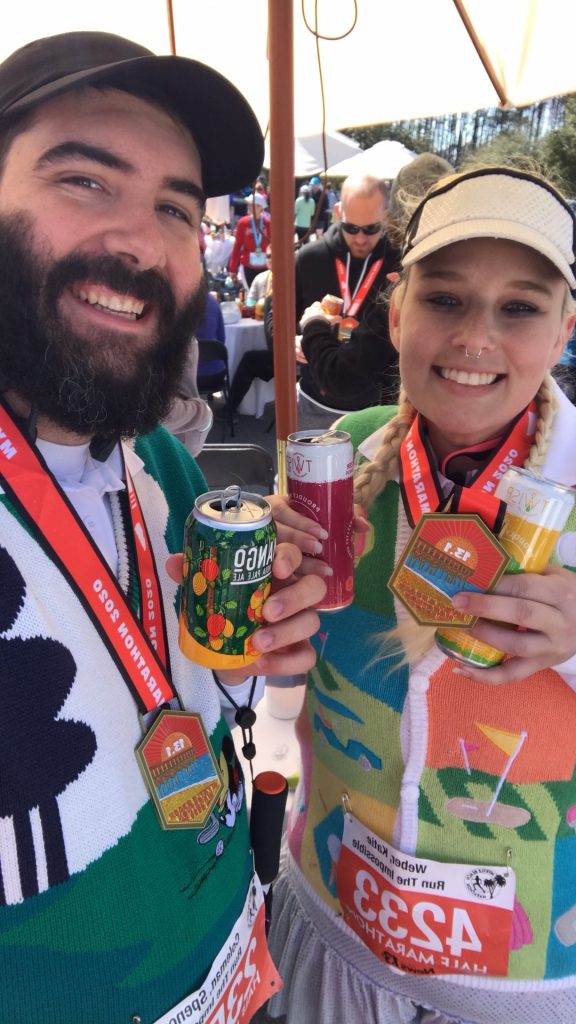 Myrtle Beach Half Marathon Finisher Swag
Even though we got sweet long sleeve technical shirts at packet pickup, we were treated to some cute tanks after crossing the finish line. There were men's and women's cuts available, but they all only said Marathon. They are a cotton comfy shirt, so they will be great for the beach!
The medals were cute and clearly had the race distance on them. We liked that the longer the race, the bigger the medal! We think runners deserve some extra bling!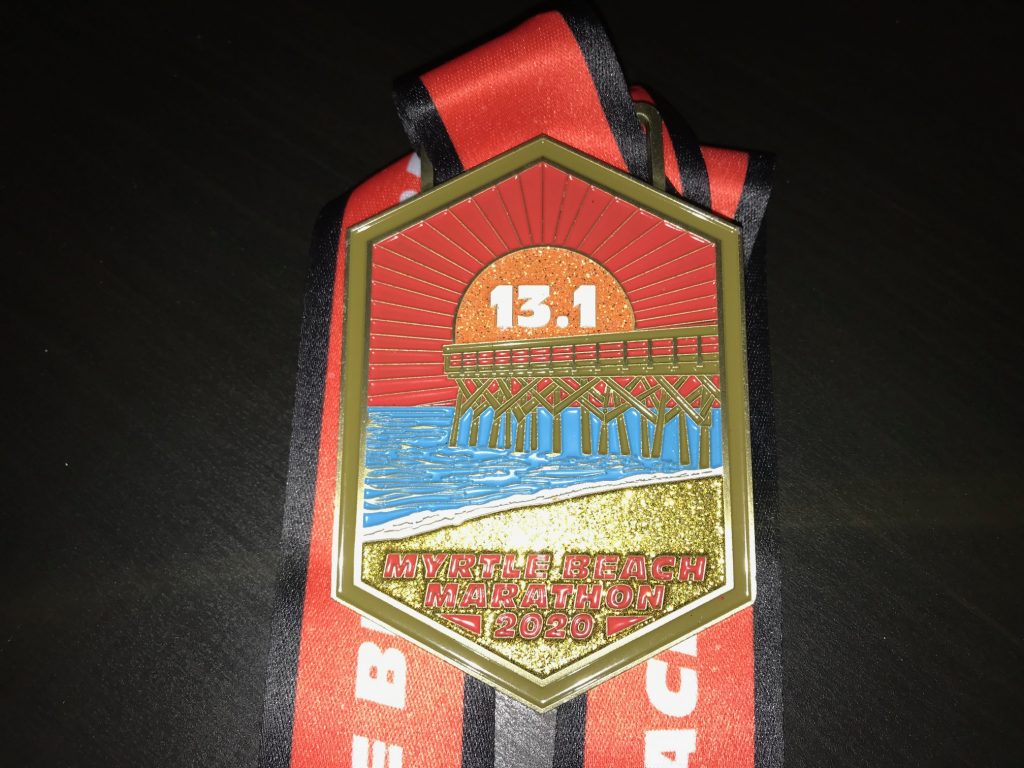 Overall, we really enjoyed this race and the course. The wind wasn't anyone's fault – but we were so happy to have long sleeves! Many of our friends were able to PR this course, so this is a great option for faster runners looking to improve their time or even qualify for Boston! With a four hour time limit for the Half Marathon, it is a great option for beginners as well!