At this point during the COVID-19 pandemic, we have been able to run a few in-person races following CDC guidelines, local guidelines, and advice from our medical professionals. We always prepare to be able to walk away from a race if we deem it unsafe to start. For now, we are sticking to shorter distances, around a 10K or less. As always, please follow guidelines and stick to what you and your doctor feel comfortable with. The following is our opinion and our observations about running during COVID.
Packet Pickup
Every race we have been to during the COVID-19 pandemic has offered packet pickup prior to race day, and discouraged runners from utilizing day of pickup. Some have removed day of pickup all together. Runners should definitely note this change! By allowing multiple days for packet pickup, it eliminates long lines on race morning. We have felt very safe attending packet pickup days or the day prior to an in-person race.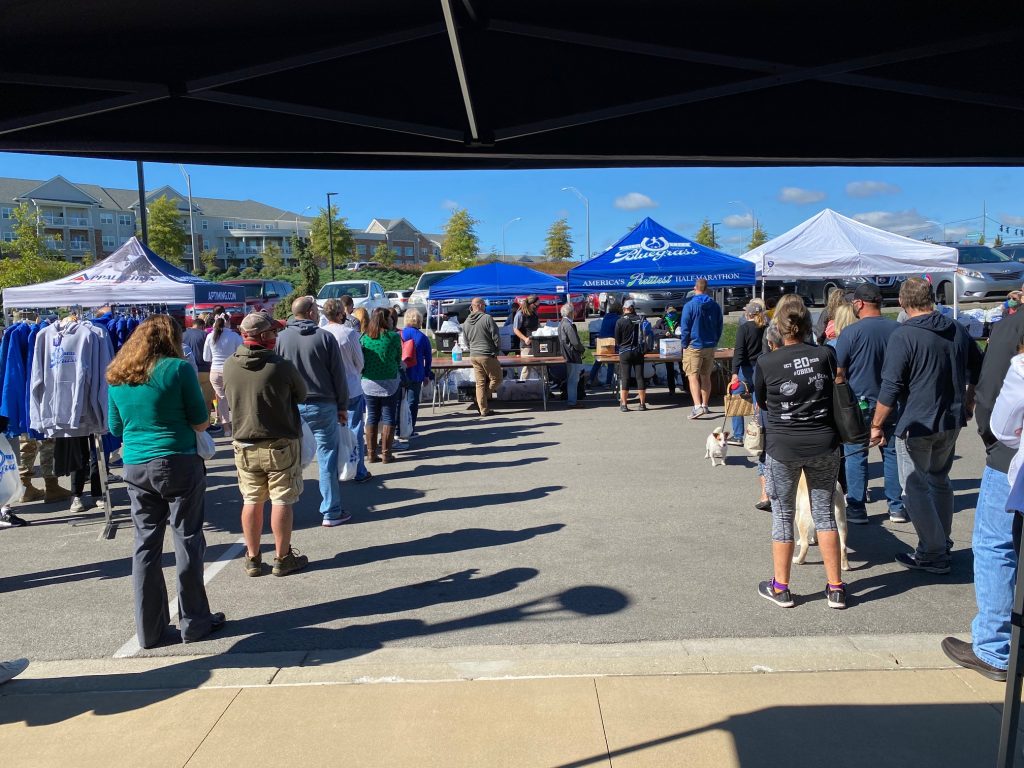 Some races are choosing to hand medals out at the packet pickup. This is a nice option for runners to make a last-minute switch to running virtually. Since the participants already have a bib and medal, they do not have to show up to the race or visit another medal pickup. It also eliminates the end of the race cluster. Runners typically stop immediately after the finish line to find a volunteer to hand them their medal. That practice isn't safe as it would also put a volunteer and runner within 6 feet of each other.
Start Line and Finish Line
The only way we want to race right now is if masks are required and enforced both before and after the race. Even if physical distancing, there is lots of movement before a race and wearing a mask eliminates a lot of concern. We have also seen races utilize a number of safety enhancements. Some are offering tons of wave starts. The wave is placed on your bib and you are given a time estimate of when you might start the race. The downside to this is how runners are placed. Sometimes we are split up due to our different last names if the race goes alphabetical. We believe the only acceptable method would be by time.
Other races are still hosting a self-seeded starting line area, with distancing markers in the corrals. This encourages runners to stand 6 feet apart prior to the race, but requires a whole ton of space. This just isn't completely practical for most races, and as the corrals move up towards the start line runners are shuffled closer together again.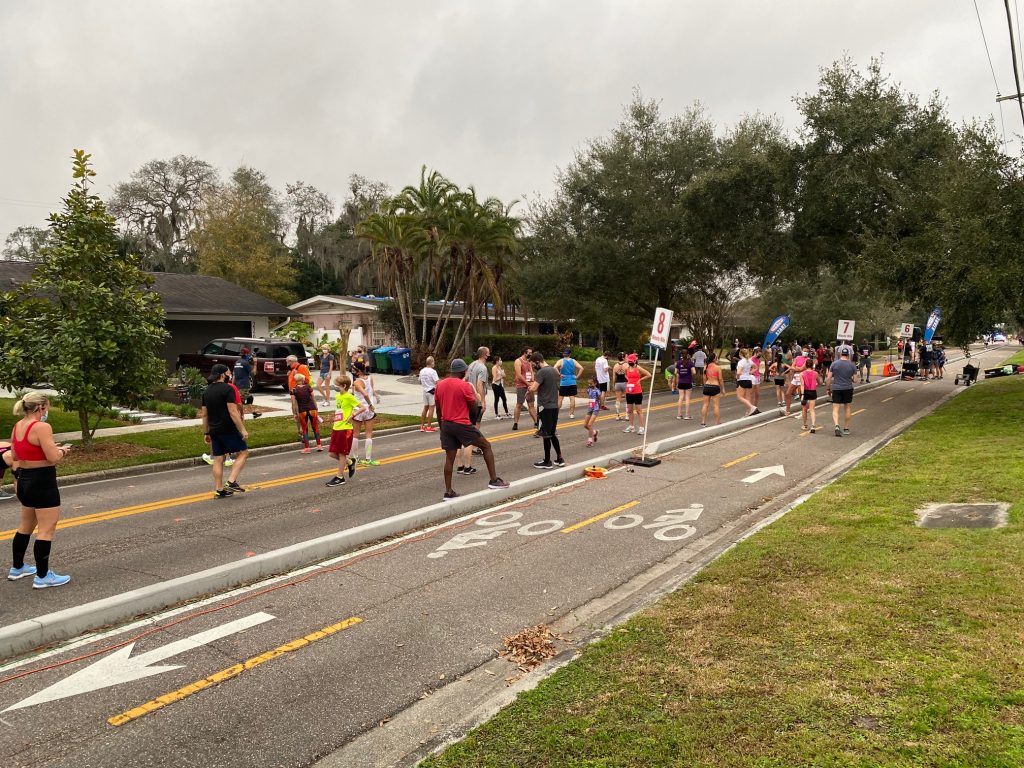 Post race, runners are once again encouraged or required to don a mask. Some races have finish line bags (with or without the race medal) including water, Gatorade, and a banana. Other races have had multiple grab-and-go tables set up so runners could grab a snack and quickly leave the area. Both approaches seem to be safe and work well. There needs to again be ample amounts of space so runners can eat and drink post race away from other runners.
During the Race
We have not participated in a race that requires masks to be worn during a race. We have chosen to run a few distances with a face covering on, pulling it down once we were well away from any other participants. It is challenging to run with a mask, but by slowing our pace down we find it manageable. Running the shorter distances has also helped us avoid crowded areas of the course. For us, we are enjoying what we missed about in-person racing and leaving the PRs to our at home runs!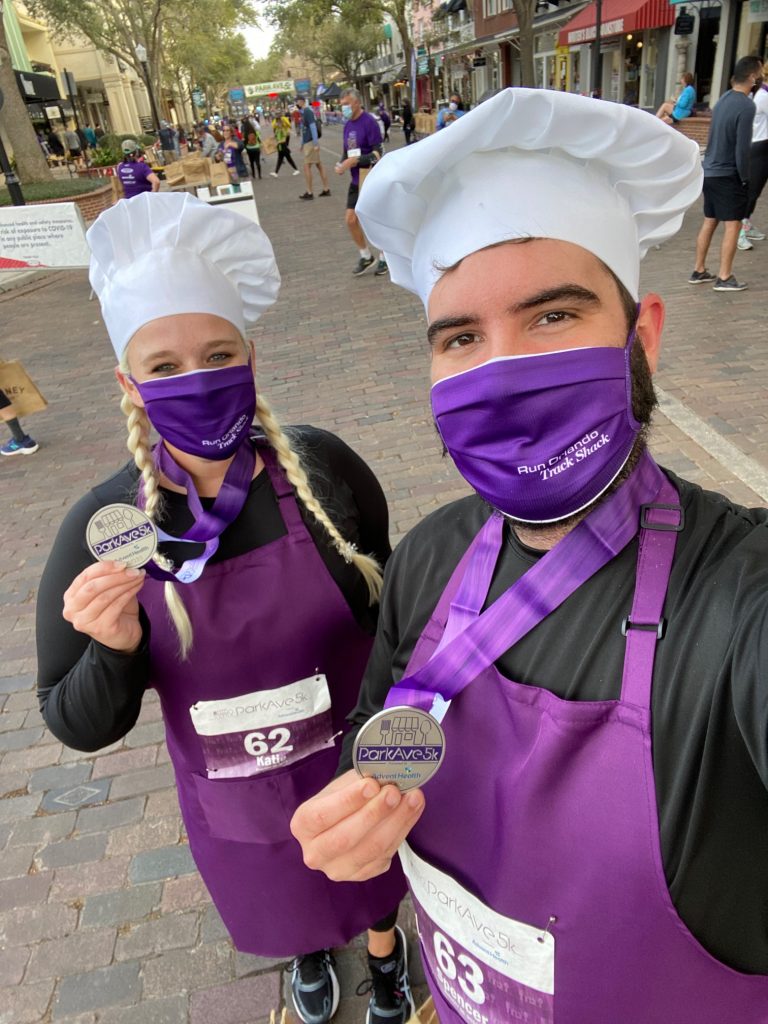 Water stops are necessary for any race, but especially in the Florida heat. The most popular approach is having masked volunteers setting out small bottles of water on a table for runners to grab and continue moving with. With proper recycling in place, this increase in single-use plastic can be offset. It might not be the most eco-friendly solution, but it is the safest solution right now.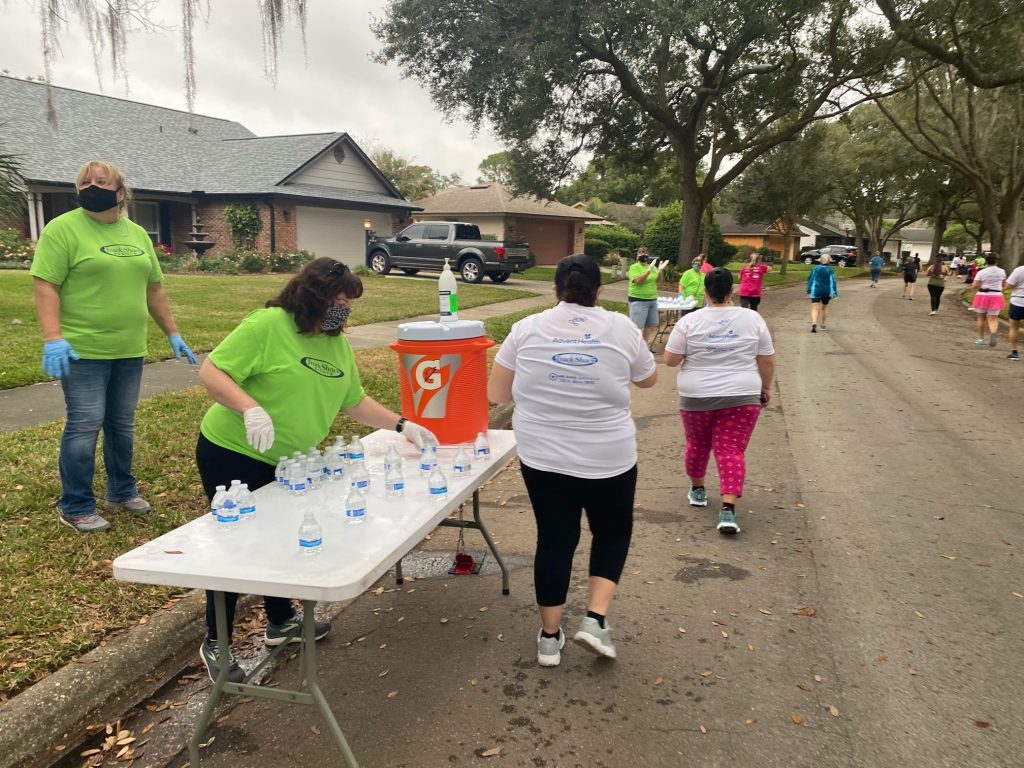 Overall, we think the path back to in-person racing is finally opening. Unfortunately, we see too many races jumping back into old habits and hosting large crowded races with little safety enforcement. The two main keys to this are to extremely limit race numbers and offer loads of space. Every race we have done, we have felt it was still open to too many people. We think races may benefit from duplicating an identical race on Saturday and Sunday, cutting the participant numbers in half for each day.
Races should be enforcing masks. Races should require masks. Runners should wear masks. Runners should want to wear masks so races can keep happening. 
RELATED: Check out how Peloton is pushing at-home workouts to new heights.