With the world turning to at-home workouts, the world of indoor cycling has skyrocketed in the last year! Peloton is now a household name, but long time bicycle company Schwinn has entered the market with a top-notch competitor, at a fraction of the price. We have had our Peloton Bike for over a year, and were lucky enough to get a Schwinn IC4 recently. Let's take a look at the comparisons, and where each bike takes the lead with Peloton Bike vs Schwinn IC4.
Peloton Bike vs Schwinn IC4: Cost
This is the area that we'll see the biggest difference between bikes. The Peloton Bike starts at $1,895 with the base package that just includes the bike. The Schwinn IC4 is $899 and is found at multiple retailers. This is a huge difference in cost, and a major reason that people choose the Schwinn IC4. It's important to note that the cost of the Peloton does include delivery AND assembly, while the Schwinn comes in a box and needs to be assembled by you.
It's also important to factor in the cost of a digital subscription when assessing options. The Schwinn IC4 can connect to the Peloton Digital App through a tablet or smart phone. The Peloton Digital App subscription costs $12.99 per month, per user. The Peloton All-Access Membership Subscription (needed for the Bike) is $39 and can be used by "everyone in your household" and on multiple devices (Peloton Bike, Peloton Tread, Peloton Digital App).
Shipping Times
You want your bike, and you don't want to wait a long time, right? Shipping time is a tricky subject for both Peloton and Schwinn. It truly depends on where you are in the country and when you buy your bike. Peloton has warehouses across the US, but also relies on third-party shipping and delivery companies for cities and towns outside of their "zones". Peloton currently shows a 4-9 week delivery window for the Bike on their website. Like we said, it's all relative, we've seen people get their bikes a week after ordering!
Schwinn, unlike Peloton, sells the bike through most major retailers (Amazon, Target, Dick's) as well as their own site. On Schwinn.com right now it says 8 weeks for delivery of an IC4, but if I look at Target, they can deliver it within THREE DAYS! You can also find the IC4 on Amazon Prime occasionally, which could potentially be even faster than that. The only problem is that you will sometimes have a hard time finding the IC4 in stock with these retailers.
Delivery and Assembly
Once you purchase your Peloton you will either schedule your delivery online, or will receive a phone call. The delivery and assembly process for the Bike is very smooth. Sometimes the delivery time will have the bike 90% assembled before they get to your house. They will put it wherever you need it to be, and will show you how to use it. Having a pro walk you through the physical bike and the app is great. Our delivery team also assisted with putting our cleats on our riding shoes for us. Tipping isn't mandatory, but the general consensus online is that you should tip $10-20 per person.
The Schwinn IC4 comes in a large, but narrow cardboard box, and requires two people to carry it inside. You will end up with a lot of styrofoam, but assembly is fairly straightforward. Be sure to follow the directions provided, and there are plenty of YouTube videos that can help. The most difficult part of the process is the assembly of the pedals. You have to attach them to the crankshaft. If you don't follow the directions exactly as written you can end up stripping one of the pedals and have to order new ones. Overall, we didn't have any problems assembling the Schwinn IC4.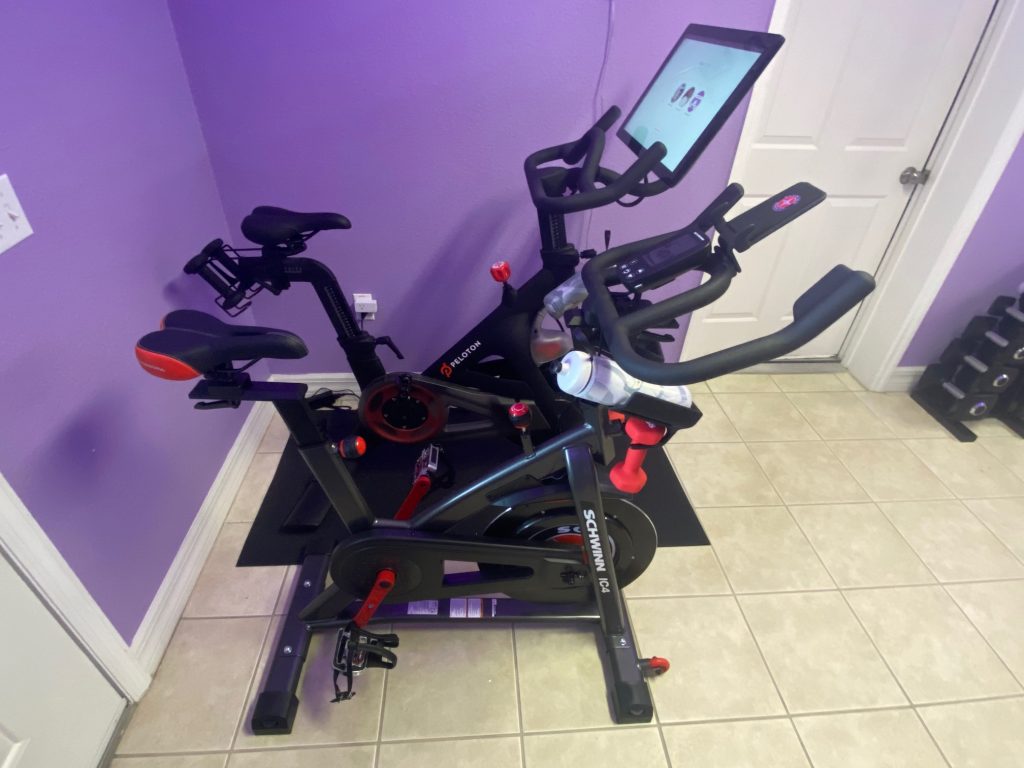 Peloton Bike vs Schwinn IC4: Physical Differences
These bikes are similar looking, both are black with red accents. The Peloton Bike does have a more modern and sleeker look, while the Schwinn IC4 is built for functionality. The main differences between these bikes, physically, are the footprint and weight. The Peloton Bike is 135 pounds, and has a total space requirement of 59″ L x 53″ H x 23″ W. Those dimensions and weight include the 21.5″ HD Touchscreen. The Schwinn Bike is much lighter at only 106 pounds and needs only 48.7″ L x 21.2″ W x 51.8″ H. It may not seem like a lot, but for what we're using our IC4 for, it made all the difference. Keep in mind that the dimensions above are JUST for the bike itself. If you plan on doing rides with arm workouts, you may need more space.
We'd be amiss if we didn't mention the absolute biggest physical difference, Peloton's 21.5″ HD Touchscreen. The convenience of not having to charge or set up a phone or tablet is SO nice. Being able to hit the power button and go is a huge time and hassle saver. Everything is connected and in one place. On the Schwinn IC4 there is a very small digital screen that displays different metrics, but for the full experience you will need another piece of technology. If you want close to the full stats that the Peloton gives, you will need a newer iPad running both Kinetic and the Peloton app simultaneously. You will also need headphones or a separate speaker if you want better sound quality. The Peloton Bike has two built in speakers.
Lastly, both bikes use different styles of pedals and cleats. The Peloton bike uses LOOK Delta cleats and pedals. The Schwinn IC4 uses dual pedals that need SPD cleats on one side, and the other side has clipless toe cages. Toe cages are convenient because you can use any athletic shoe, and do not need specific cycling shoes. It all depends on your personal preference, but for stability we prefer cleats.
Peloton Bike vs Schwinn IC4: The Ride Experience
Both bikes are very smooth. The physical biking components and motions are very similar. I had a harder time setting up the Schwinn to my needs. Peloton offers a series of short videos that show how to set up the Bike to your body shape. Schwinn does not offer such videos, but you can find ones on YouTube. Clipping in and out is pretty similar, you'll get used to it. Online more people seem to have trouble clipping in and out of Schwinn's SPD cleats.
The Peloton Bike ride experience is seamless: turn on the bike, choose your profile, choose your desired class and hit start. All of your controls and changes from resistance, volume, and other settings are all easily seen on the screen. Your metrics are beautifully displayed for you on the bottom of the screen. There is even a camera on the Bike if you want to ride with friends.
The Schwinn IC4 ride experience requires some steps, but I still had a solid ride on the bike. It took me a second to get set up with my two apps and making sure they were connected to the bike. The resistance cues from Peloton instructors are harder to follow on the IC4 because the "power" level is not the same. There are conversion charts online, but it is a touchy subject. During my class I followed a conversion chart, but also went by feel. I can see it being harder for more regimented individuals to guess and convert the power numbers to what the instructor is telling you. The only issue I encountered was coming out of the saddle into a standing position while still cycling. On the Peloton Bike I feel super sturdy and have no issues; on the Schwinn IC4 I definitely felt wobbly. I think this is because of the lighter construction of the IC4. It is something I am still working on. I also felt like I was going to knock the iPad off the bike anytime I got out of the saddle.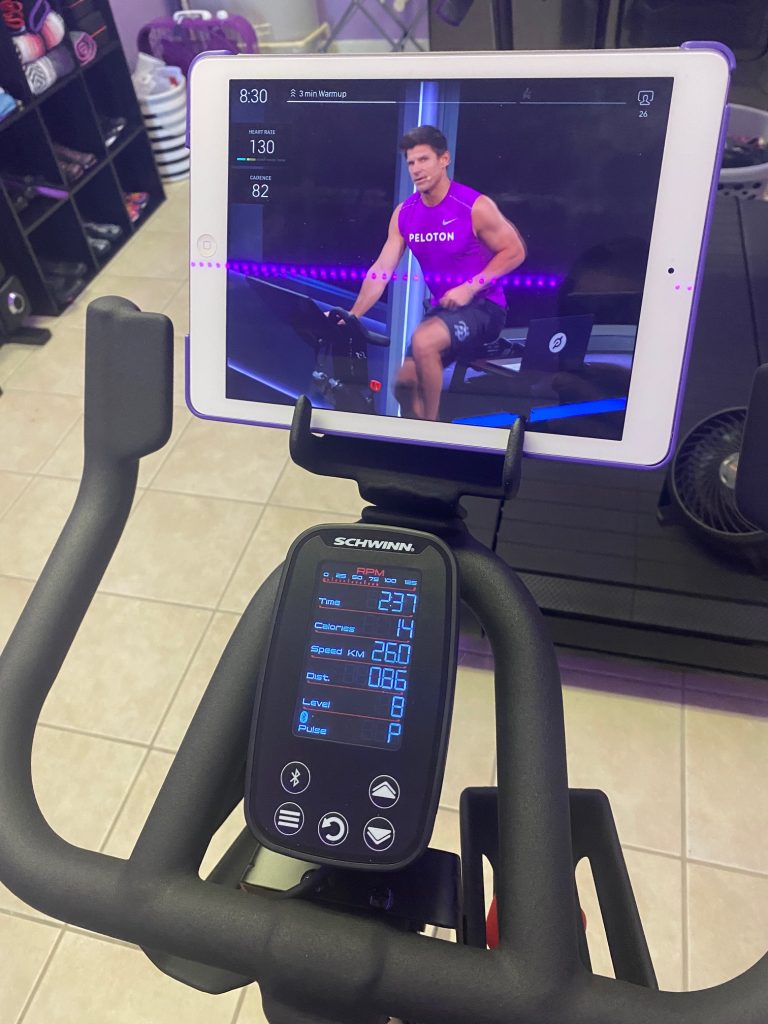 Peloton Bike vs Schwinn IC4: Overall Opinion
The Peloton Bike offers a top-tier, all-in-one riding experience. From delivery to working out, everything is catered to you to make it as easy as possible. This comes with a heftier price tag, but we personally think it is well worth the additional cost if this will be a main form of workout for you. Peloton works with Affirm to offer 0% financing, which makes it possible to own this bike without breaking the bank. Even with the All-Access Membership, we are still paying less monthly than for ONE of us to have an unlimited cycle class membership at a gym.
The Schwinn IC4 offers an entry-level indoor cycling bike at a great cost. The size and weight of this bike make it easier for anyone working with smaller spaces. The cost of the Schwinn IC4 is very desirable, especially if you plan on adding it to a larger workout routine where you might not be using it as much. We plan on using our IC4 in our RV, so the weight and size was a huge benefit to us. If you don't mind going through the steps of setting up your tablet or smart phone, this bike will serve you well.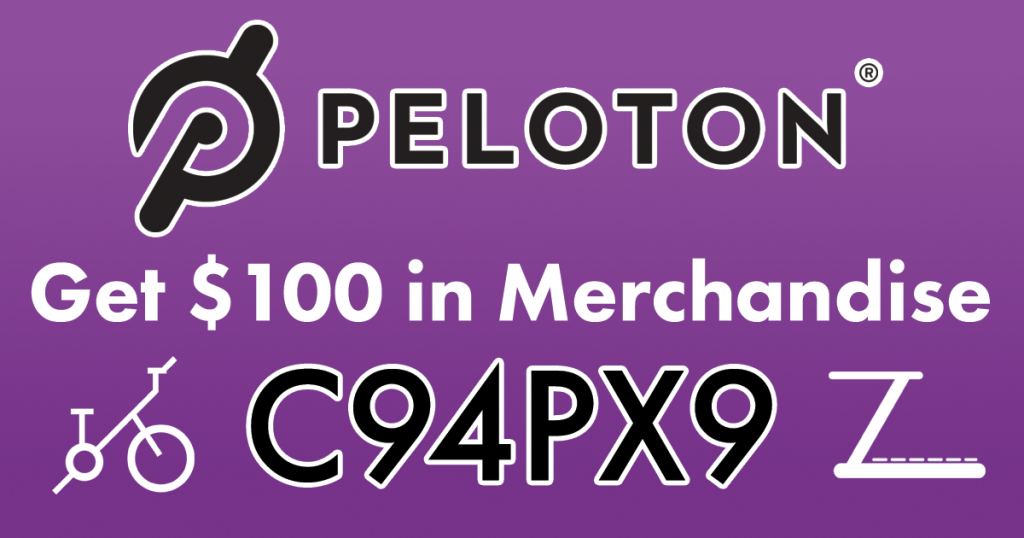 Looking at getting a Peloton Tread or Tread+? Check out our comparison on Peloton's two treadmill offerings here!