We had so much fun out in California for the first race weekend in the 2016-2017 Run Disney race season! We were able to participate in all three events and event visited the expo twice.
Expo:
The Expo was very different to what we normally experience at Walt Disney World. Packet Pickup is underground, but went very smoothly. We arrived Thursday afternoon and expected crowds. We didn't wait in a single line! They also take your photo for proof of challenge (to make sure it's you for the 10K and 1/2) right next to the packet pick up so that was very convenient. After that you head upstairs for shirt pickup and the shopping! Shirt pickup also went very smoothly and we received all the correct shirts. We started at the main Run Disney merchandise tent. There was a great variety of new "generic" shirts (or not race specific). I was disappointed that the Dumbo Double Dare shirts were blue… again!!! I have two blue Run Disney Jackets already and I don't want a third. The rest of the Expo was fun and we walked around for a few minutes. It felt a little more like a sales pitch at some booths, which I don't see at WDW.
The highlight of the Expo was early-early registration for Tinkerbell Weekend! We learned about this on one of the Facebook groups we follow. We were able to sign up for the Pixie Dust Challenge with no hassle or wait or stress! Unfortunately, we were not able to sign up the rest of our party for the 10K, but I was thrilled to have any help! We each got a free Run Disney backpack just for signing up. They also had different discounts for races that hadn't sold out. So if you are local to WDW or DLR, definitely go to every expo even if you aren't running!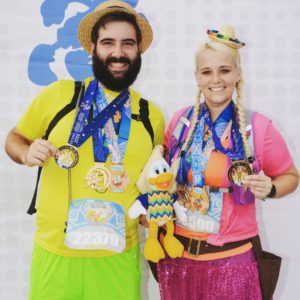 5K:
Originally we had signed up for the 5K before we decided to do our crazy "every Disney Race challenge." We were super excited to be the first 5K finishers to get a real metal medal though! It was the heaviest medal we got all weekend. The entertainment before the race was nice and the bathrooms and water were easily accessible. We were in Corral C which was a really nice place to be. We stayed close to the start line and didn't have to walk to far to enter the Corral.
The 5K course was really nice and spent a lot of time in both parks. It was very easy for us to chat and take it slow. We were at Mile 3 before we knew it. The lines for photos at the mile markers were insane and we only got one photo. The characters out on the course were all located on a float or stairs so it was "selfie only." This was really disappointing especially because Duffy came back!!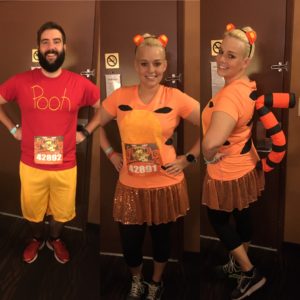 10K:
For the 10K, we were located in Corral E which was way up on one of the ramps. It was not as far back as we could've been, but we trekked at least half a mile just to enter the corral. We spent more time waiting in the Corral for the 10K because we knew we would be farther back and I am glad we did. Volunteers were trying to push everyone forward, but some people had to wait out of the Corral until we moved forward.
The course was nice and we were also really impressed with how much time was spent in the parks. It would have been a PR race for us except there were so many times we were stuck in a huddle of people or a small path in the course. This is what is expected at Disney races, so we weren't upset about it. We waited for one mile marker photo because Mike and Sulley were on Mile 1 and that's who we dressed up as! Our only major complaint is that there were only two water stops and I felt like there should've been more.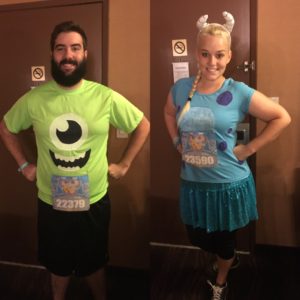 Half Marathon:
This was the race we were most excited for! We were in Corral H so once again we went back to the Corrals early. We were even farther back this time, but that meant we had our own porta-potties. We were disappointed that many of the cheers and waves before the race didn't make their way back to our Corral and we honestly could barely hear anything. At WDW, they have screens all along the Corrals so you can still feel like you are part of the magic.
The first four miles of the course were spent in between Disneyland and California Adventure so they flew by and were a lot of fun. It is important to note that from Mile 4 to Mile 10 you are just in the streets of Anaheim. We were a little disappointed because that meant six miles of no characters, no photos, and no Disney. There were a lot of fun things on the course to distract us from that though. Our favorite group was a huge group of Mexican dancers that were amazing and so lively. We also passed a few High School and adult bands that were really motivating. By the time we got to Angel Stadium around Mile 10 we knew we were close to the end. It would have been nice to have something else to look forward to around Mile 8. Running around the Stadium was amazing! After that, it is a short 5K back home to Downtown Disney and the finish line. We had no problems getting our challenge medals and loved the separate photo area. It was a hard course to stay motivated, but we still had fun!