UPDATE: We ran the Castaway Cay Challenge again in 2020! For the most up to date info check out that blog here!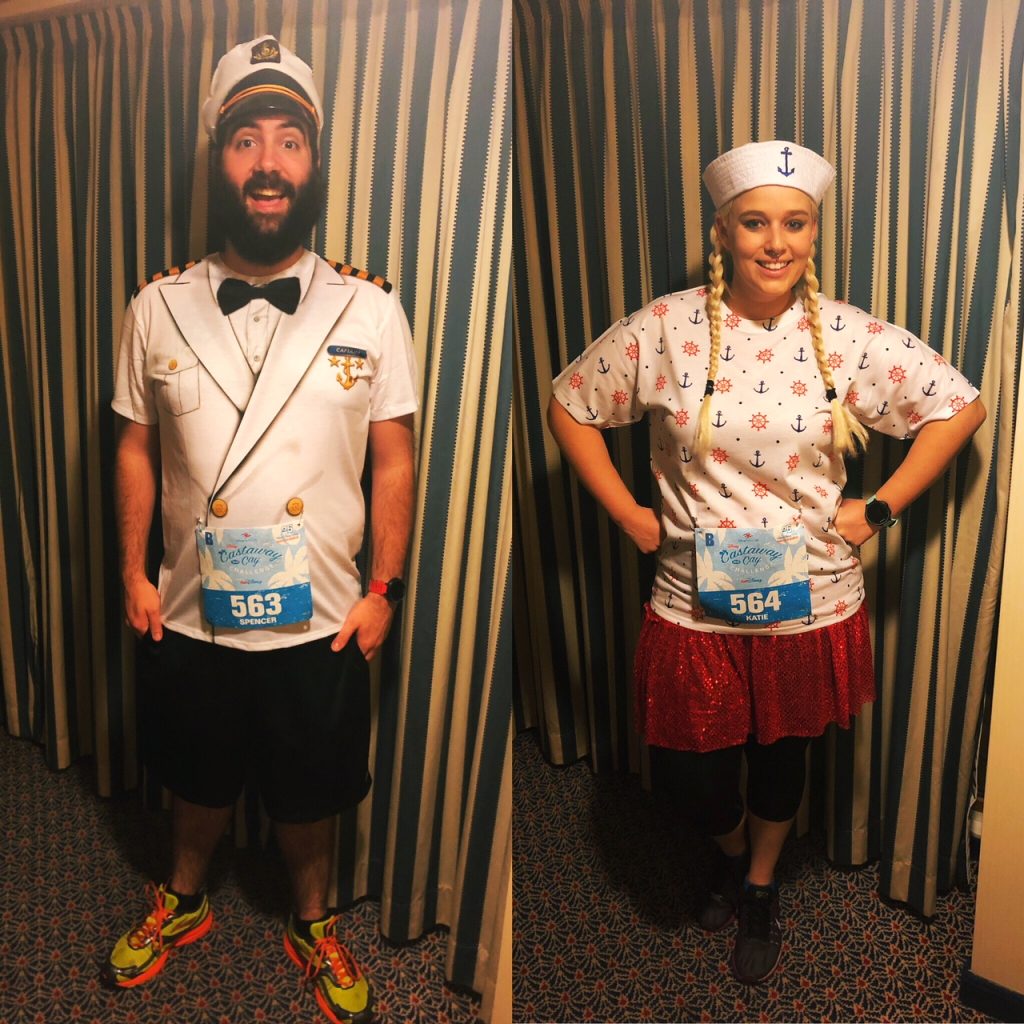 After running Pink and Blue Coast to Coast Challenges, the Kessel Run Challenge, and the Castle to Chateau Challenge – there was one Challenge left.  It is hard to compete with Disneyland and Disneyland Paris, but WOW did we have an amazing time on the Disney Dream and at Castaway Cay!
The Castaway Cay Challenge has been around for 4 race weekends now.  Runners complete any of the distances at the Walt Disney World Marathon Weekend, then immediately board the next cruise out and complete the 5K on Disney's private island in the Bahamas – Castaway Cay.  This is a great option for runners who feel more comfortable with shorter distances.  Other challenges required two Half Marathons to be completed, but this has a minimum of two 5K races (separated by almost a full week)!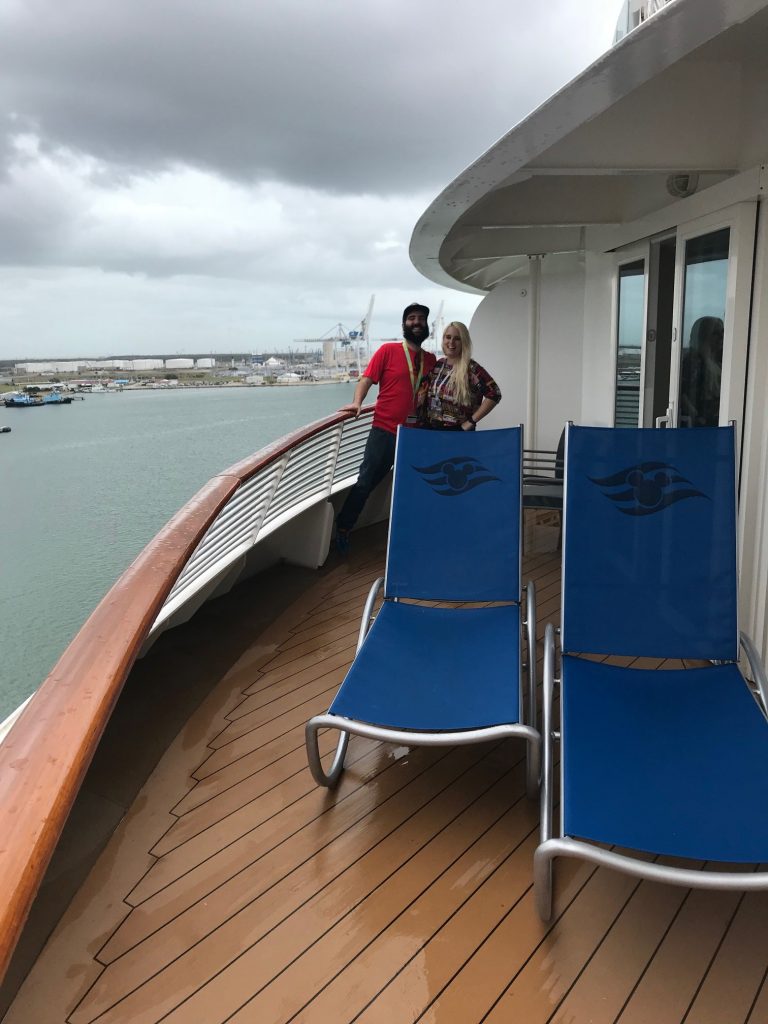 Day One – Arriving at the Disney Dream
For this cruise, runners leave from Port Canaveral which is just about an hour outside of Disney World.  You can drive and park at the port, take a private car, or utilize Disney's Ground Transportation from your Disney Resort.  We were able to board around 11:30AM and went quickly to Cabanas for a buffet style lunch.  Our room was available at 1:30PM and our luggage had already arrived!  It was such an easy and smooth process.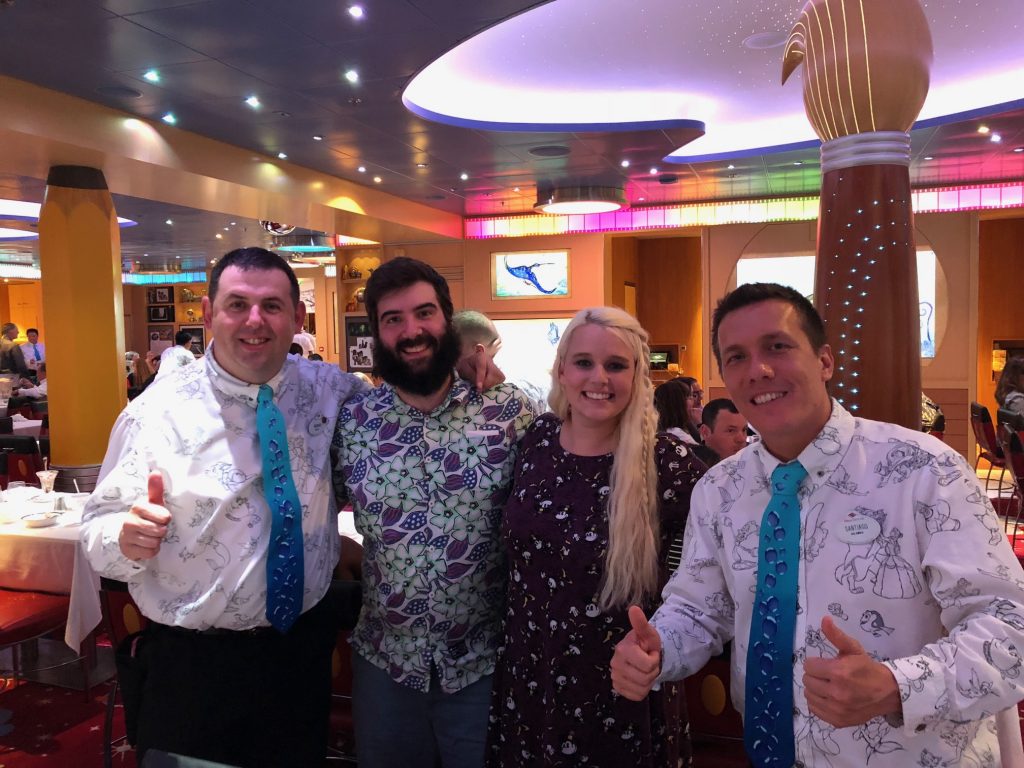 Cruisers can choose one of two seatings for dinner.  We opted for the first seating at 5:45PM.  Keep in mind that on race morning, you will be waking up VERY early so you might want to have an early dinner.  Our first night was in the Enchanted Garden and we met our Servers, Nanad and Santiago.  We really hit the jackpot with servers and you keep the same team for the whole cruise!  After dinner, we went to the theatre to watch The Golden Mickeys!  It is a nice way to unwind and relax after dinner.
Day Two – Nassau, Bahamas
We docked early the next morning in Nassau, Bahamas.  Since we wouldn't be able to leave the ship until later in the morning, we decided to see what the fitness center had to offer.  We took the 7:00AM stretching class.  This is a nice option for runners, but it is a very basic class for anyone who is fitness minded.  We might've been upset if we had paid for it, but it is a free option!  We then took advantage of the treadmill and bikes (since Katie is still not cleared for full running).  The fitness center overlooks the ocean for some breathtaking views!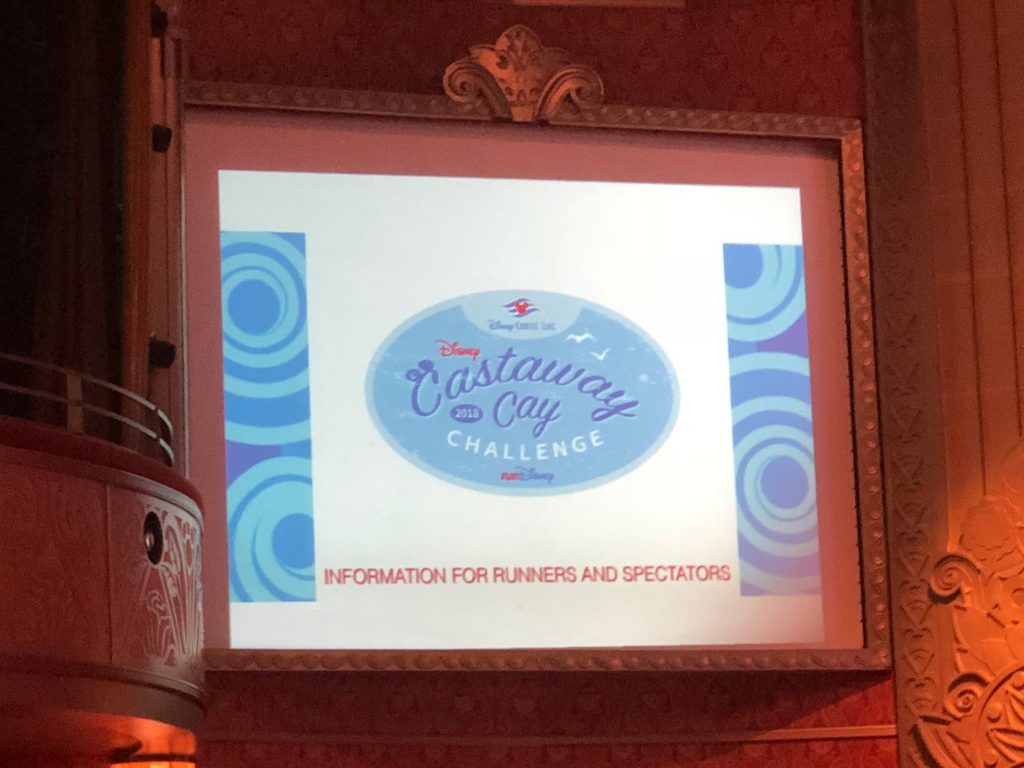 The Bahamas was arguably not our favorite option.  If you are in the market for some inexpensive diamonds, bamboo sheets, or watches then check it out.  If not, we recommend hitting the pool to ride the Aquaduck with a short wait!  We were on the clear slide that goes over the side of the ship in under 10 minutes!  Another great option for this port day is the Mixology class offered in one of the bar areas.  It is $25 per person and must be booked in advance.  This was one of the highlights of our trip!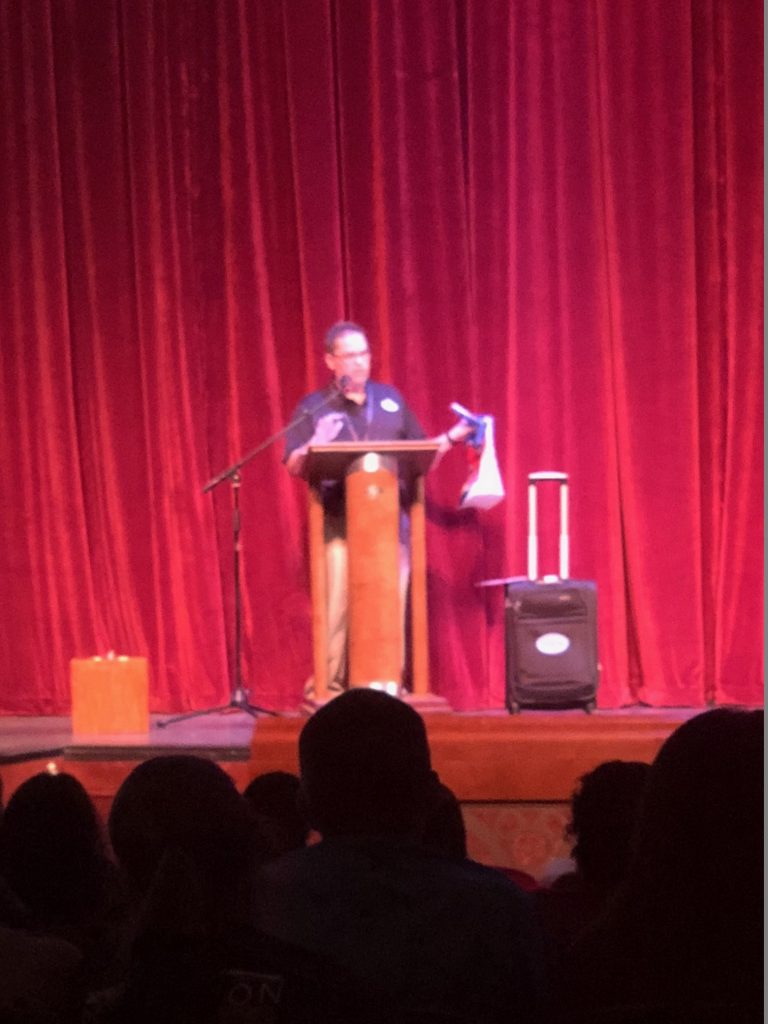 runDisney offered a runner chat in the afternoon.  This was where we learned when and where we would be in the morning, view the course, and have an opportunity to ask questions.  After the chat, our second meal was in the Royal Palace.  This restaurant has a really nice atmosphere and had Katie's favorite food options.  We probably overdid it on dessert that night.  After dinner, we decided to go to bed in preparation for the early wake up call the next morning.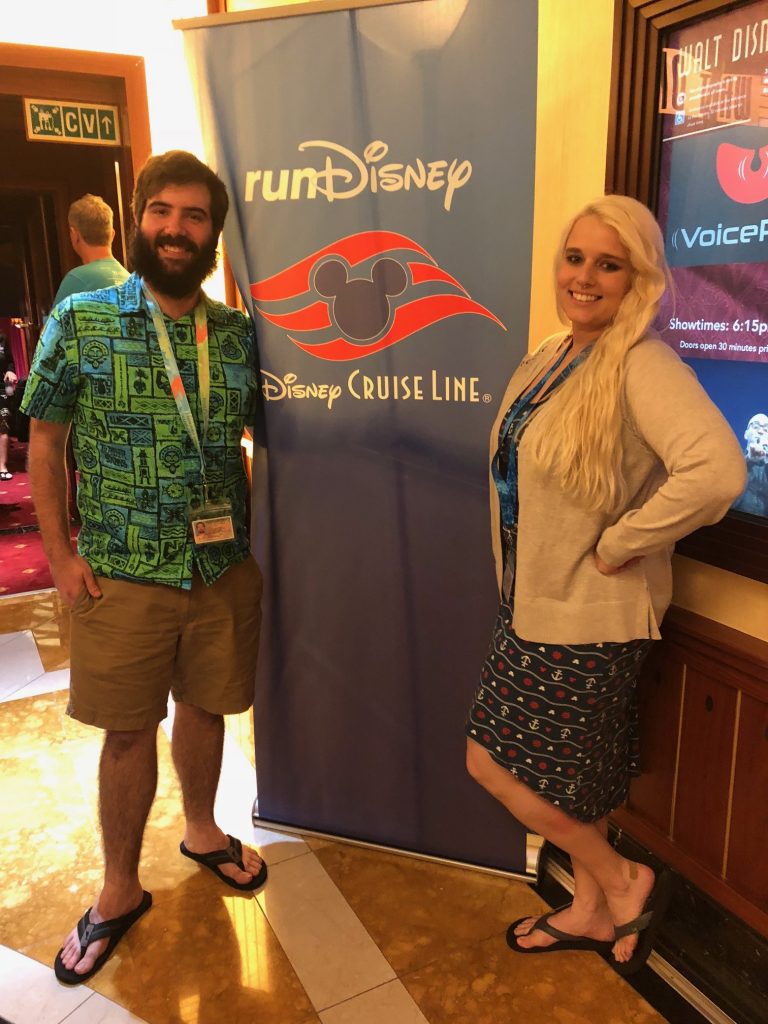 Day Three – Castaway Cay Challenge 5K
While arguably later than a normal runDisney wake-up call, we needed to be in the Theatre area at 5:45 AM seated in our assigned corrals.  A light breakfast was offered starting at 5:00AM in the Cabanas buffet area – this was great!  We left one corral at a time for each of the three corrals and made the almost a mile trek to the Start Line area.  We waited in the corral for a decent amount of time until the 7:00AM start time.  The course was a large L-shaped there and back with a one mile loop at the end.  The course was VERY narrow with minimal views.  If you hadn't told us we were on a gorgeous tropical island, we might've never known.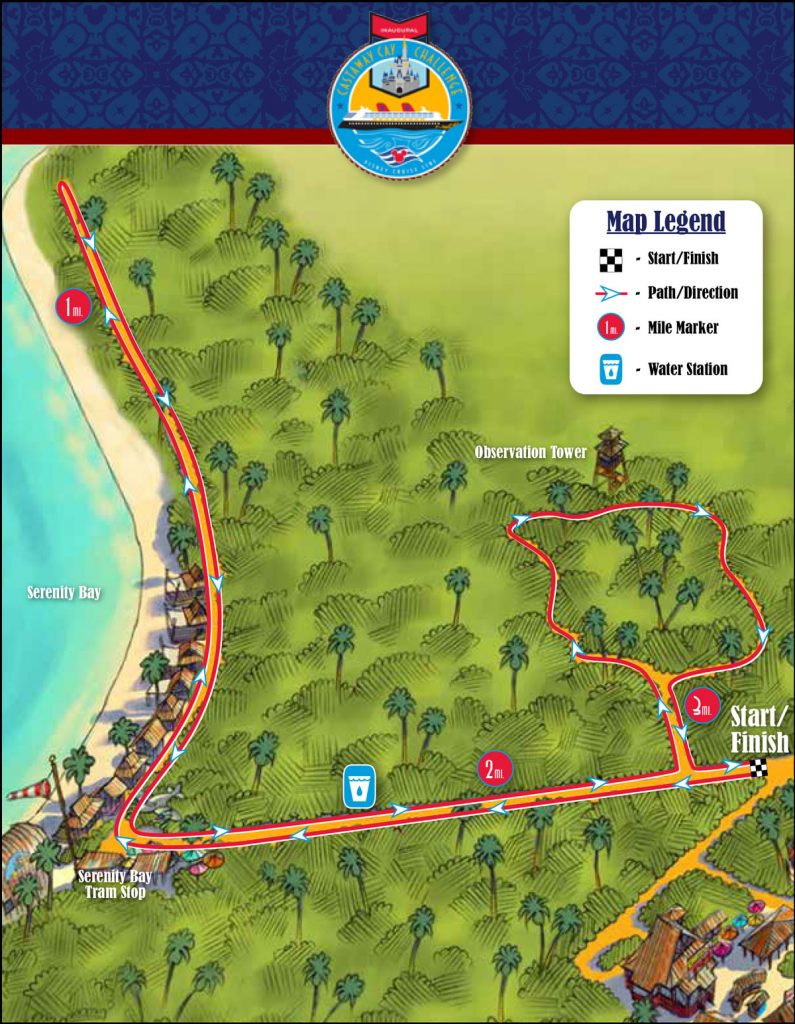 The course did have some fun characters like Genie, Timon, Smee, and Stitch.  Goofy was also there to cheer runners on in the beginning, and Mickey and Minnie were meeting at the finish line.  There were also runDisney staff set up to cheer and Disney Cruise Line staff there as well.  The Finish Line boasted snack boxes, Powerade, Water, and Beer/Champagne.  Clayton, the Cruise Director, promised us free drinks at the start line, but we were so sad to learn the drinks were not free.
There is a decent amount of time after the race to head back to the ship to prepare for the second 5K (hosted by cruise staff and not runDisney).  Since we are both recovering from injury, we opted for a full breakfast and getting dressed to go back to the island!  We enjoyed a rainy day at Castaway Cay and stayed on the island through the BBQ lunch served at Cookie's.  Taking advantage of the many cruisers still on the island, we raced back for another spin on the Aquaduck and some time in an empty hot tub.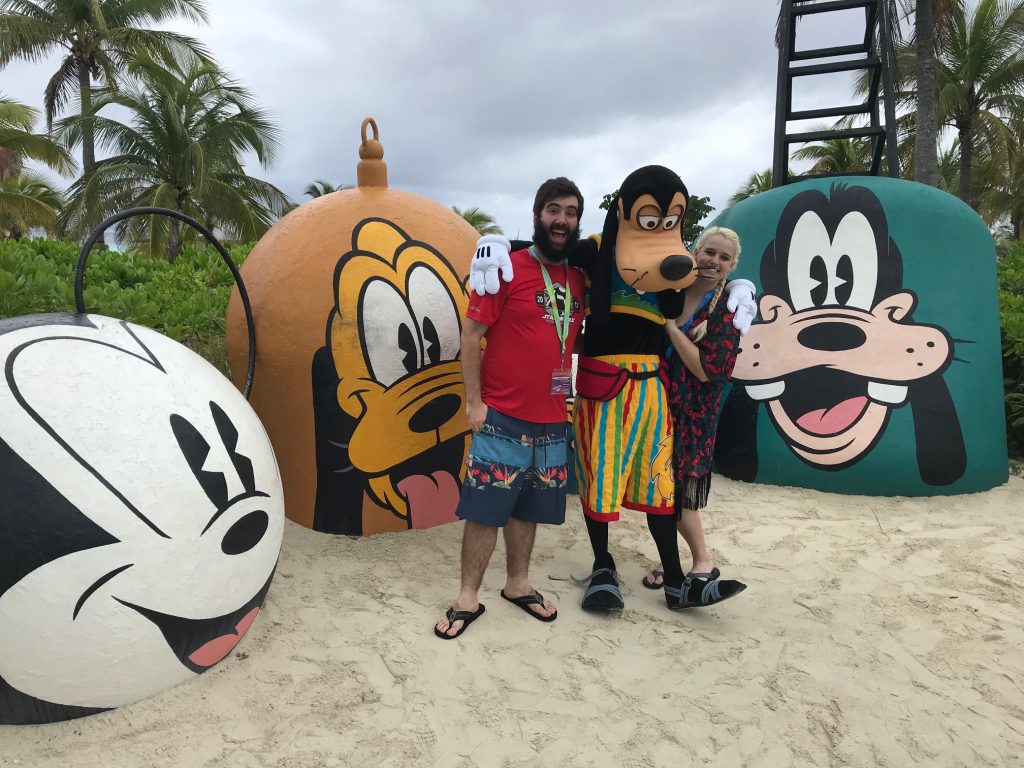 This night on our cruise was Pirate Night!  We dressed up in our best pirate gear (T-shirts) and donned the bandannas provided for every Guest and enjoyed Pirate Trivia and a special menu for dinner.  Our location for dinner was still at the Royal Palace, but the menu was the same across all three venues.  After dinner is typically a late firework show, but due to weather it was postponed.  We enjoyed the Beauty and the Beast Stage show instead.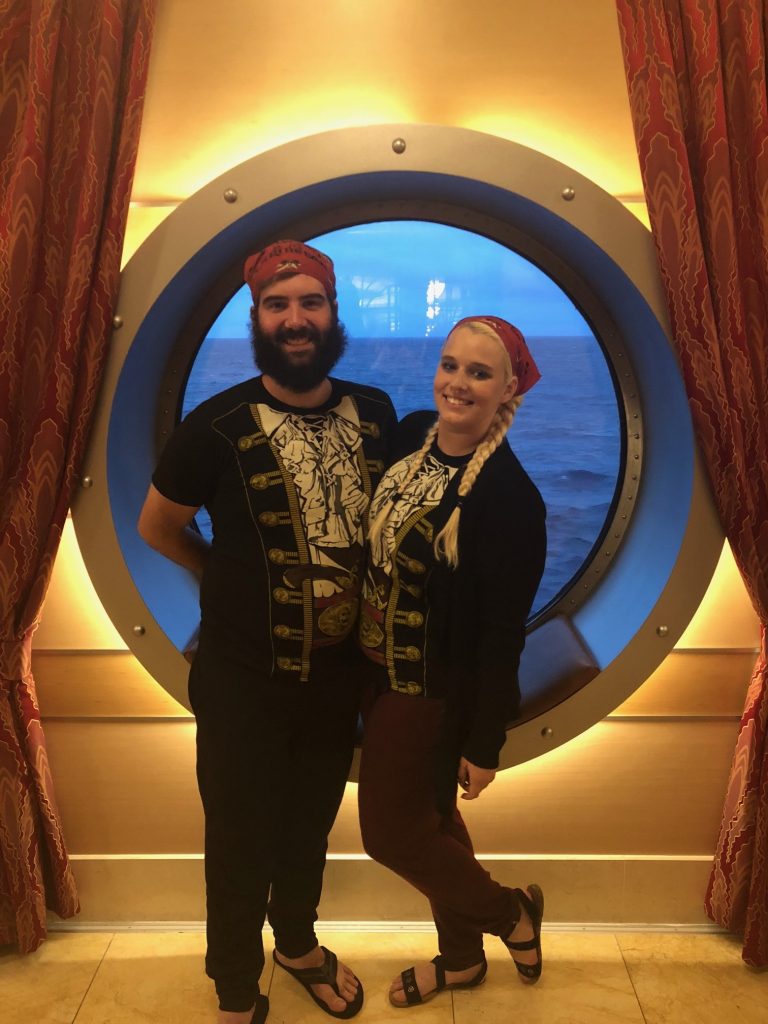 Day Four – Day at Sea
The big difference between the 4-night cruise and the 3-night cruise is the Day at Sea.  This literally means your ship is hanging out in the middle of the beautiful blue ocean for you to enjoy everything that is offered on the ship.  We took this as an opportunity to hit the spa for some relaxation.  After a tip, we pre-ordered our Senses Spa Rainforest Room Day Pass for $16 a person.  We were able to enjoy three different saunas, fun rainforest showers, private hot tubs, and warm stone loungers.  Runners – this spa option is a must do!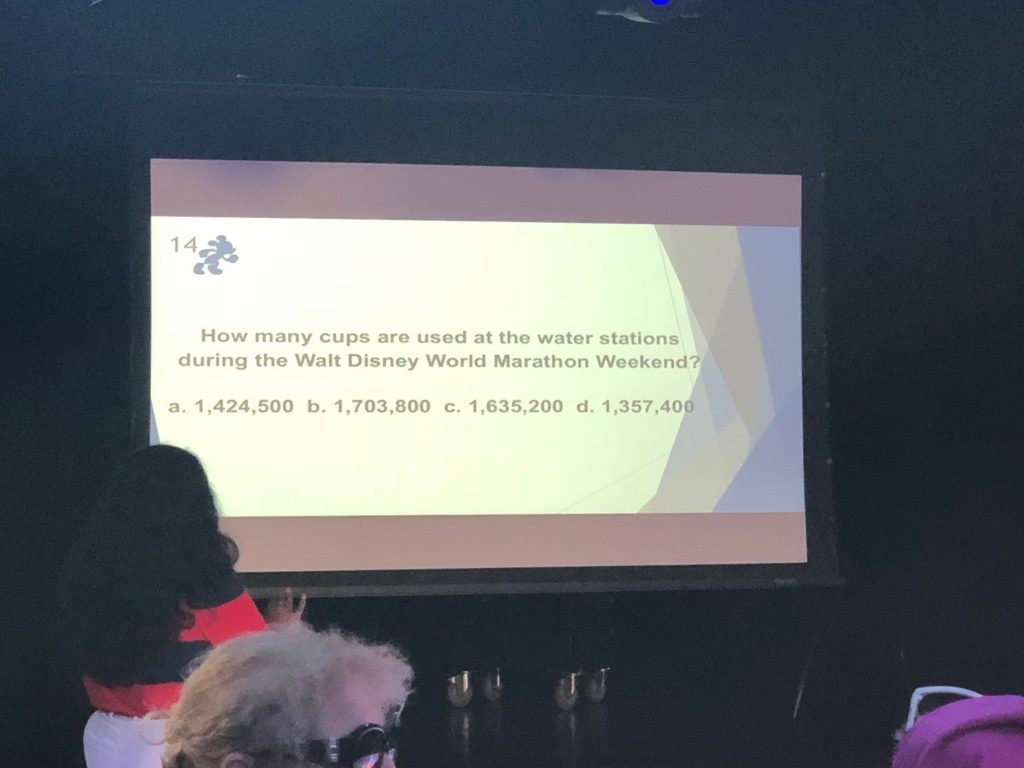 Keep in mind that since everyone is stuck on the ship, things are going to be crowded.  We spent most of the day at Trivia and other events, plus saved some time for a nap and Room Service in our Stateroom.  This is also a great day to take medal photos with the characters around the ship!
Our last dinner was at Animator's Palace – the place we were most excited for!  Crush from Finding Nemo visited our table and we learned his surfing dance.  The servers also seem to enjoy this night (or maybe they were just excited it was the last night, hah!).  After another amazing meal, it was time to say goodbye to our favorite duo.  Nanad and Santiago were the best server team we could've ever asked for.  They took the time to learn about us, watch for food preferences, and give some killer recommendations (seriously, we just ate what they told us to)!
Luckily, the fireworks were rescheduled for right after our dinner.  We were able to walk up to Deck 12 and view the entire show.  Some other blogs suggested we might be disappointed after watching them so many times at Walt Disney World, but we were still really impressed!  We were also thankful they were early so we could get back to the room and finish packing.  If you want assistance with your luggage, you have to have it packed before bed time!
Overall Castaway Cay Challenge Experience
Overall, we were expecting a nice vacation with some relaxation.  In the end, we were completely blown away.  The ship is kept in immaculate condition that we could not have dreamed of.  It was spotless!  The food was amazing and went above and beyond our wildest dreams.  The Castaway Cay Challenge was a nice option to have an (almost) entire cruise of runners and their families.  We made new friends and had lots of laughs with like-minded people!  It was so amazing, we have already put a deposit on the Castaway Cay Challenge 2019 Disney Dream Cruise.  See you there!