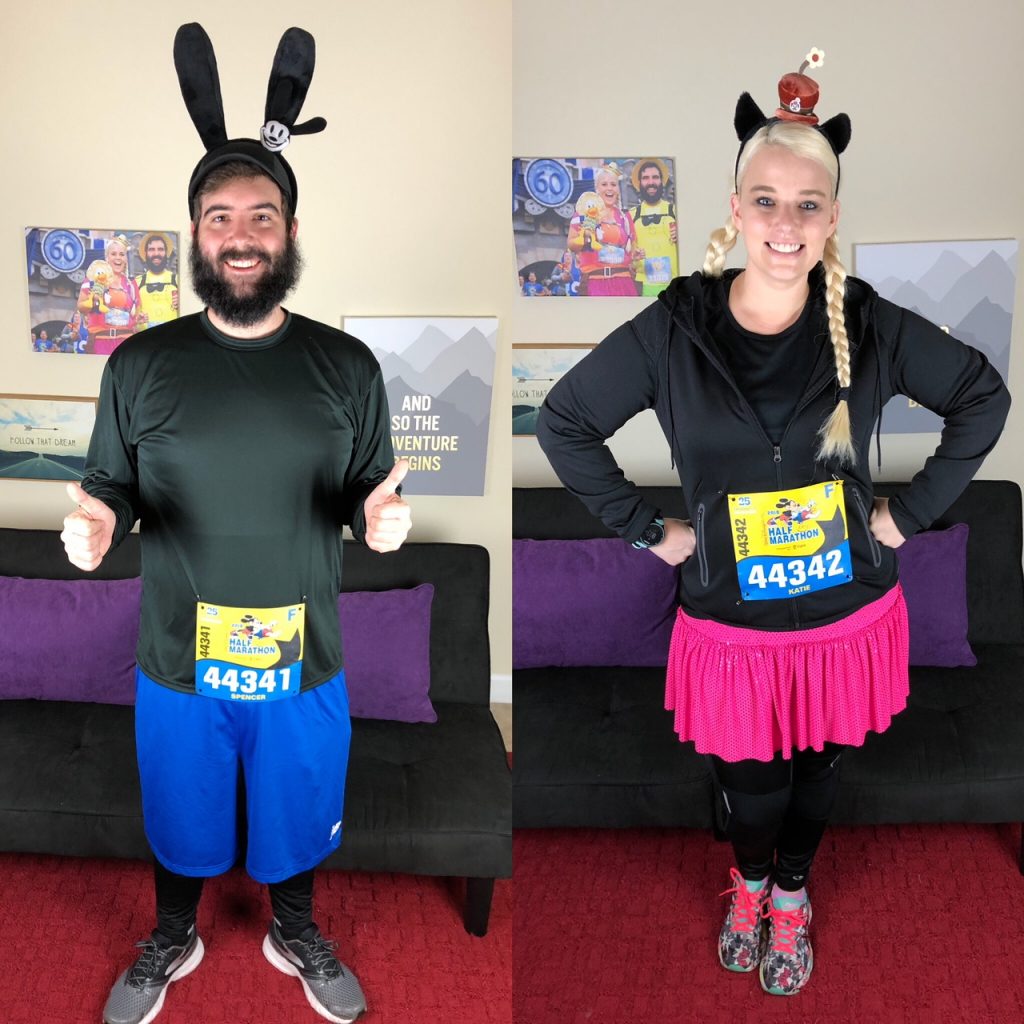 With a foot injury just healing, Katie wasn't sure if she was going to finish the Half Marathon. Luckily, we took our time and both finished! It was really weird not running the 10K the day before, since we are so used to runDisney Challenges. We are so envious and proud of all of the Dopey Challenge and Goofy Challenge runners. We met so many of you out on the course and still are amazed! What a feat!

runDisney Half Marathon Course
runDisney alumni know that Princess Weekend and Marathon Weekend are extremely similar in course layout. Of course, there are always minor changes with construction – but you can expect to run from Epcot over through the Magic Kingdom and then back to finish in Epcot. It is largely a giant there and back, with less than two miles total in the Theme Parks, but you shouldn't expect to see too many runners ahead of you. We saw some of the Wheelchair Athletes and Elite runners finishing the race just before we hit Mile 2.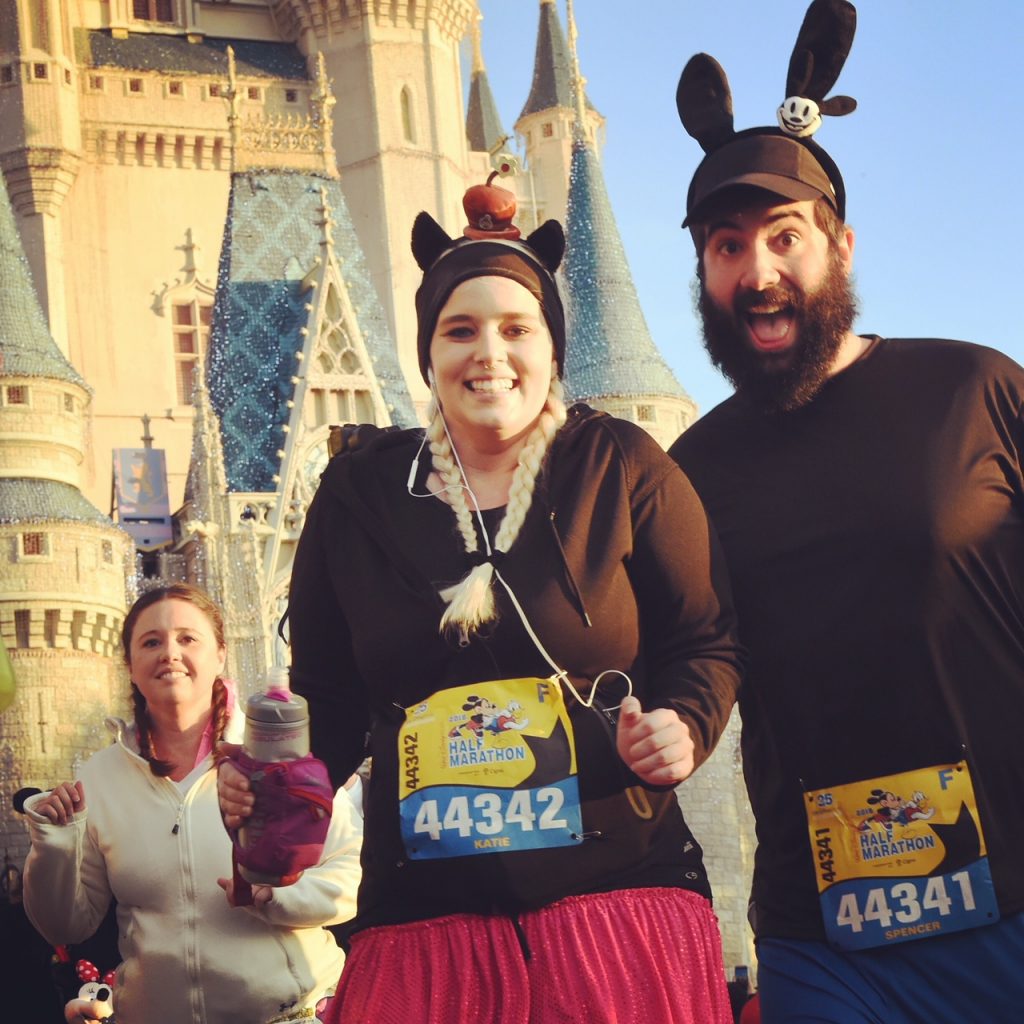 runDisney Half Marathon Characters and Entertainment
Honestly, we were a bit shocked with how many characters that were out. During the short mile stint through Magic Kingdom, we saw loads of characters. This helped even out the lines too. Runners could pick and choose their characters instead of stopping for the first one they saw. Our favorite characters that we saw were Jack and Sally, Perla and Suzy (the mice from Cinderella), and Woody with his trusty sidekick Bullseye.
Between the parks there were some character stops and nice entertainment. We've said it a bunch, but we love Marching Bands on the course! Since we were only in Epcot for a short turnaround, there were limited character stops. Epcot had loads of PhotoPass opportunities, which is great to ensure you get that amazing photo with Spaceship Earth in the background!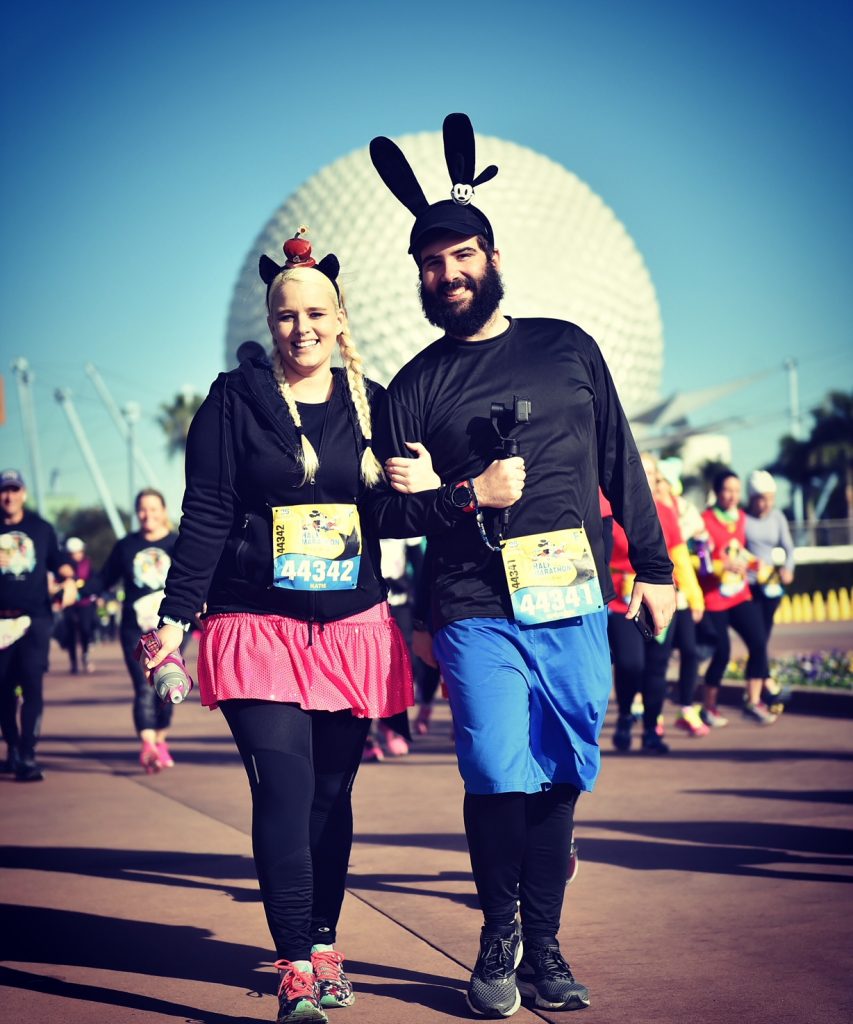 Finish Line Experience and Perks
Big improvements were made from the 5K race to the finish of the Half Marathon during Walt Disney World Marathon Weekend. Getting a medal was easy with tons of volunteers eager to hand you a sparkling Finisher's Medal! The medals are shiny and loaded with glitter! There were also plenty of mylars to grab as you strolled past and snack boxes prepped and ready for you. We opted to bypass the finish line photo area. Katie was in some pain and we wanted to hustle home.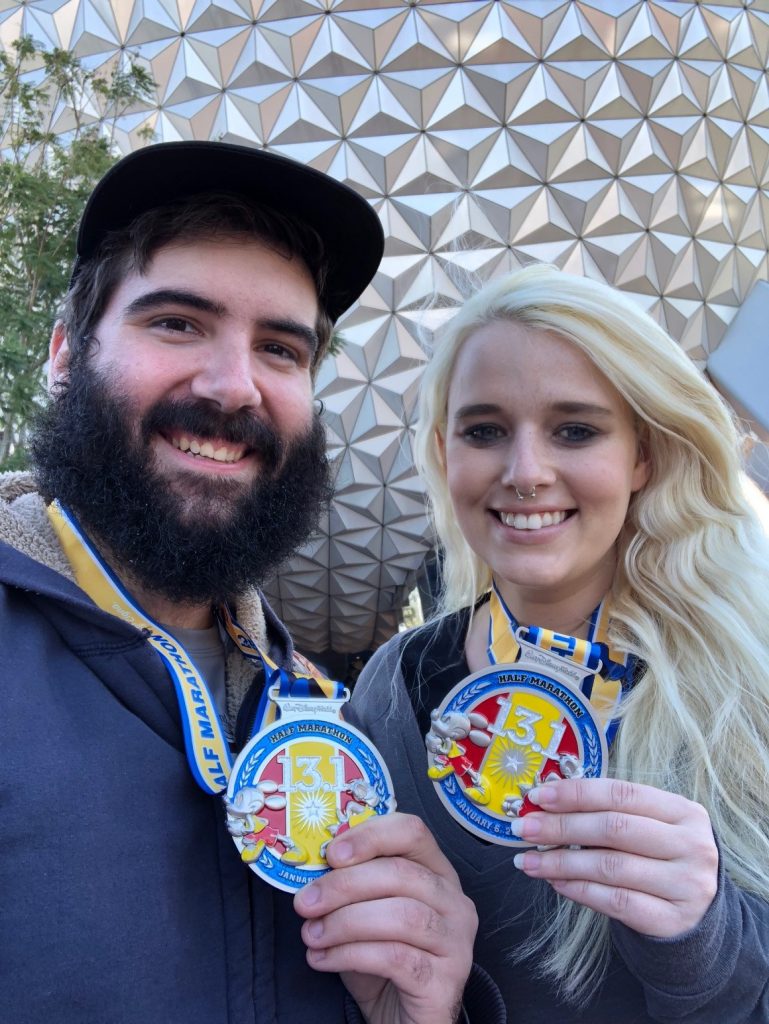 Overall runDisney Half Marathon Experience
Near the end of the race, we actually took the time to discuss our plans for next year. Keep in mind, last year's Half Marathon was rained out. That was a logistical nightmare and overall just frustrating. This is a solid weekend with lots of support; however, the weather is a huge gamble. This year was freezing (literally) and we found ourselves running to Walmart the night before for extra jackets. If you are set on 13.1, prepare yourself for the weather and you'll have a fun race. If you just want to participate during the weekend – run with us at the 10K next year!