With one of the most popular themes for a runDisney race, the Princess Half Marathon continues to sell out, even in its 10th Anniversary this year! With over 200 runners completing every race, it is easy to see why this race is on many runner's bucket lists. Another unique feature of this race is that it attracts a large amount of newer (and potentially under-trained runners) which means it also boasts one of the highest counts of non-finishers.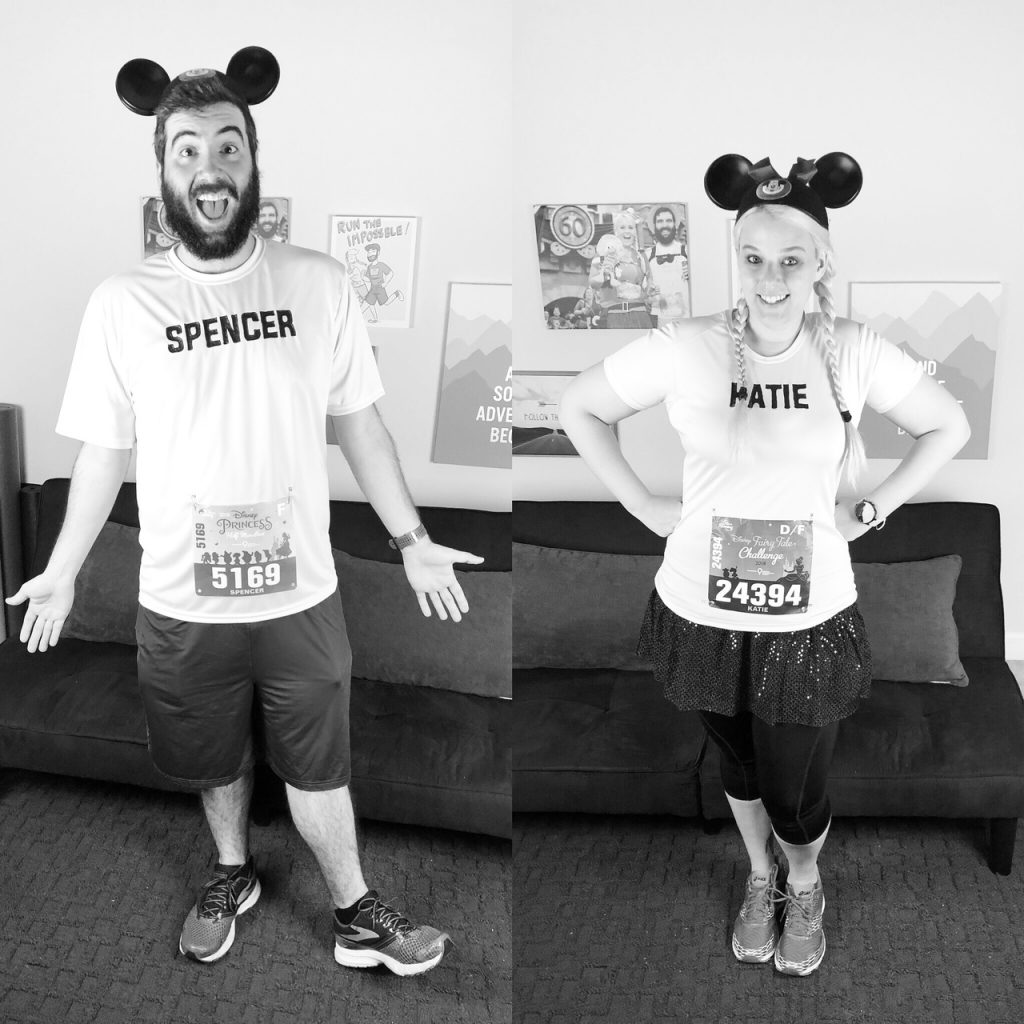 runDisney Princess Half Marathon Course
The Princess Half Marathon Course closely aligns with the Half Marathon race from January's runDisney Marathon Weekend. The main draw of this course is that runners actually run through Cinderella Castle. For many, this is the highlight of the whole race! For others, this is a heavily congested area that might ruin a PR.
The course begins in the EPCOT parking lot, runs out to Magic Kingdom, passing through the Ticket and Transportation Center, and then back to finish in EPCOT. This course arguably seems longer because it is harder to divide it up into chunks. Miles 7-10 are back down World Drive and the straight path with no real attractions seems long. Also, at this point of the race (for many) the sun is up and there is little shade to be found.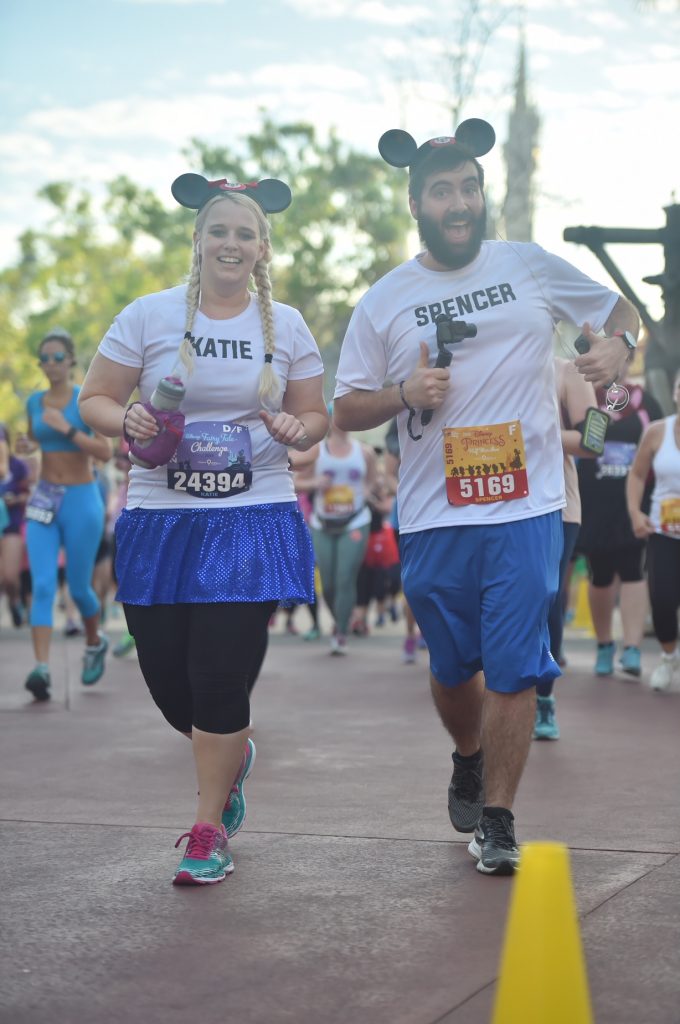 runDisney Princess Half Marathon Photos
Like we said, running through the castle is one of the main reasons people are willing to drop the serious cash for this race. When we made it through the castle, PhotoPass was having "technical difficulties" and a manager was there to pull the two photographers off course. This lead to the bottom photo area of stationary photos to get huge lines! We were able to snag some photos exiting the castle, but we always enjoy the typical castle shot.
There were plenty of photographers spaced out around the course. We did see other Cast Members struggling with their cameras, and we even got a full set of blurry photos. One PhotoPass Cast Member refused our photo because too many people were near her. We were running at this point and maintaining pace with the runners around us. This was the first time we have seen major challenges since the switch from MarathonFoto.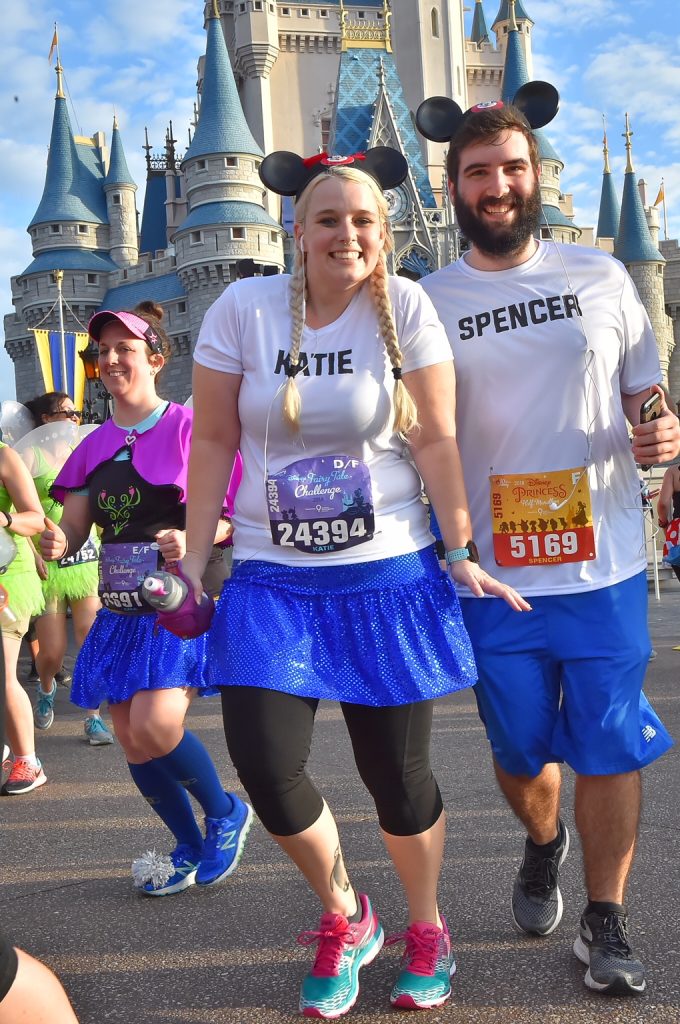 runDisney Princess Half Marathon Costumes
Katie's favorite part of this race series is the number of costumed runners. Of course, we always run in costume, but at this race you would be out numbered if you didn't wear one! Don't stress if you are not a costumer, plenty of runDisney Expo vendors offer themed shirts, skirts, and accessories to make a quick and comfortable costume before the race!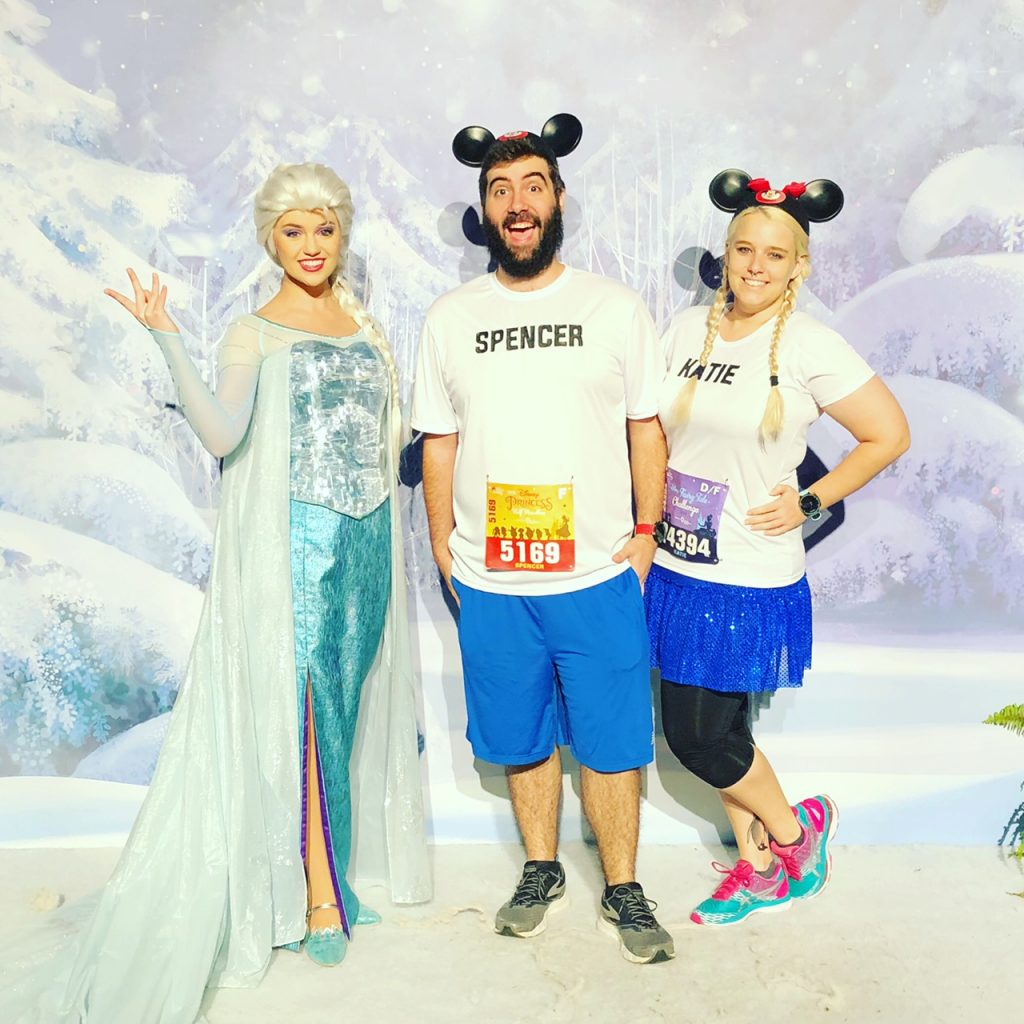 runDisney Princess Half Marathon Medals and Swag
Let's be honest here, would we drop this much money on a race if the bling was sub-par? Absolutely not! For the 10th Anniversary of the runDisney Princess Half Marathon, runners received a very glittery Snow White spinner medal. Unfortunately, we saw a spinner piece on the ground only feet away from the medals! They seem to have some quality control issues. Fairy Tale Challenge participants received a much more lackluster Cinderella Coach Medal with no glitter, no jewels, and no spinner.
Our big swag complaint though… NO BACKPACKS! Seriously, where were those amazing drawstring backpacks?! Traditionally, runners for the Half Marathon distance have received drawstring bags at the completion of the race. On race day they are fantastic to help with juggling your snack box and drinks. Throughout the year, we use them to separate pieces in our luggage, pack gym clothes for after work, and even for long walks or hikes. We were majorly disappointed.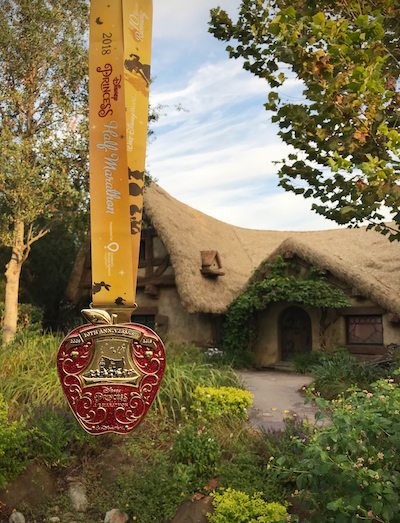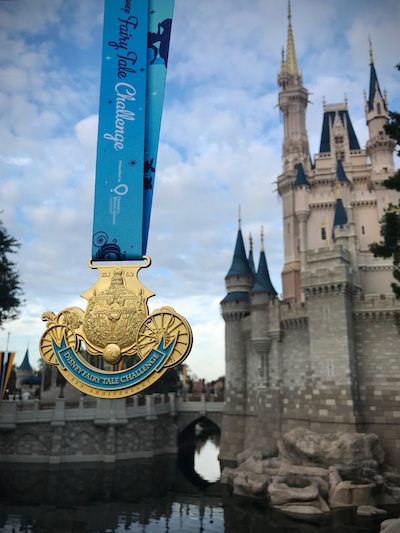 Overall, we were disappointed with this race. The congestion continues to get worse and the etiquette is lost on many new runners. While we know this is a popular race series, it doesn't allow for enough time to run freely and the entertainment was less than in the past. Next year, we will be considering the 5K and 10K only.