This is one of our absolute favorite weekends. Even though Katie is a casual fan and Spencer loves the franchise – both of us find happiness at the runDisney Star Wars Rival Run Weekend! The Star Wars theme really encourages runners to dress in costume. Plus, the 501st Legion, the best Star Wars Costuming Club, brings out many of their fun and rare characters to take photos with! Spencer is currently "perfect challenge" meaning he has run the 10K and Half Marathon Challenge successfully for 4 straight years! Katie is "perfect half" meaning she has run the Half Marathon successfully for 4 straight years! This was actually Katie's very first Half Marathon!
It is important to note that this race was formerly called the Dark Side Half Marathon. With the temporarily removal of Disneyland Races in California, the race had a name change. In 2019, runners could select their side (Dark Side or Light Side) and their bibs reflected their choices!
runDisney Star Wars Rival Run 5K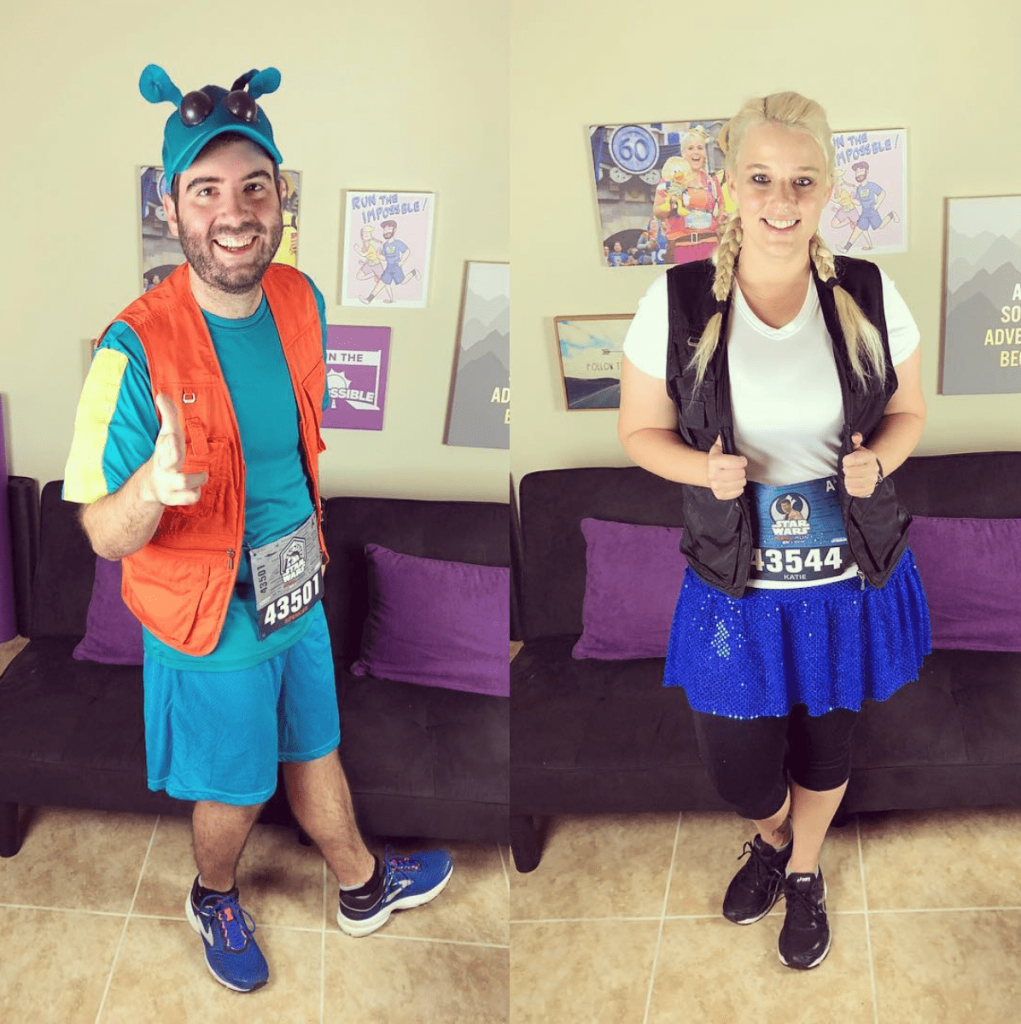 Yuck. This race was a mess. We queued up to begin the race at 5:30AM. We were poised to be in one of the first three waves of runners. At 5:30, we noticed there was a delay, no national anthem, no wheelchair start. At 5:33, they cleared the area and evacuated runners to their personal cars, parked busses, or inside EPCOT. We were luckily parked just next to the start line and took shelter in our car. It was almost impossible to get a phone signal to find out more information. Katie didn't even get the email updates until after the race was over!
Then, it poured. The skies opened up and it rained like a true crazy Florida rainstorm. At this point, we watched many cars leave the parking lot and exit the race area. We toyed with the idea of leaving, but we had no communication about alternative options. Around 7:00 we finally had communication. They were lining us up back into the corrals. We were to begin the race with no waves, no corrals, just one massive hoard of runners. Cool, that seems safe.
We were off around 7:15 and we watched numerous runners pour into the corral area behind us. We made it about a quarter mile into the course and heard a huge clap of thunder. Guess someone made the call to bring us back on course a bit early. We did see some runners exit at this point and head back to the busses for shelter. We trudged through the puddle laden course with no Disney characters to be seen. The only saving grace was the 501st Legion located just before the finish line.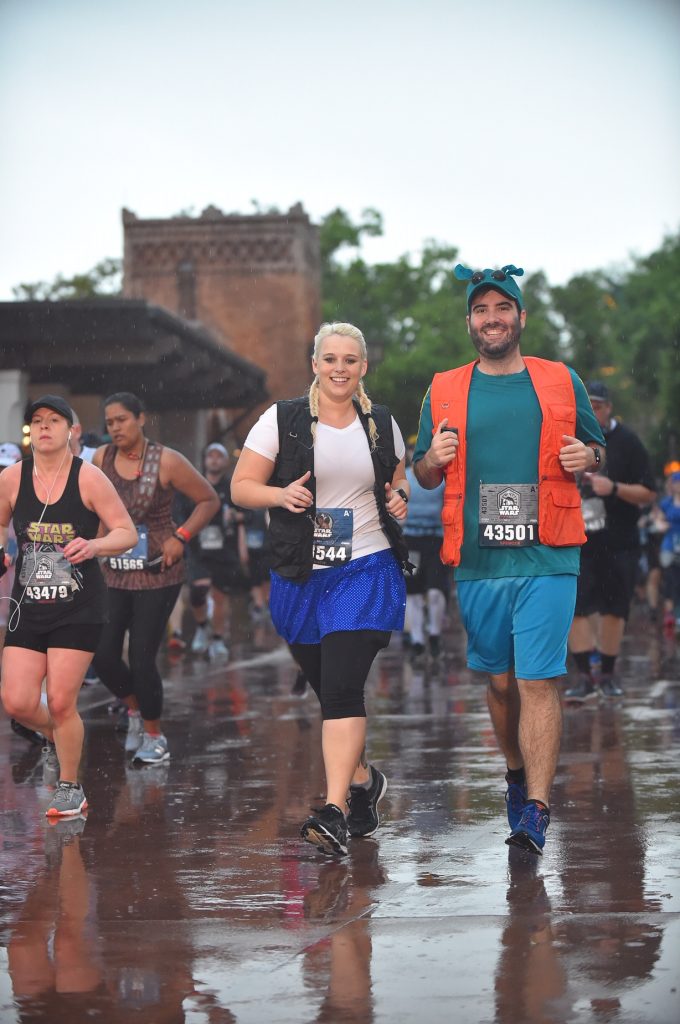 For reference, the course was shortened inside EPCOT and ended up being about 2.5ish miles (who knows exactly) and there were still PhotoPass photographers and volunteers on the course. There were no officially entertainment stops. As far as we know, refunds were not provided to runners who left early.
runDisney Star Wars Rival Run 10K
Spencer ran this race solo as part of the Rival Run Challenge! After the cluster that was the 5K the day before, everyone was a little antsy to see what would be in store for us. Luckily there was beautiful weather (maybe a little cooler than 2018!). This race course changed from last year, eliminating Hollywood Studios entirely, running only through Epcot. This change is odd, and frankly kind of silly. Now the race starts at the TTC (meaning there's a bus before the race) and ends at Epcot, but only runs through Epcot. Why can the race not just start and end at Epcot like other RunDisney races? Despite the odd course, there seemed to be more characters on World Drive, partially because they needed somewhere to put the 501st Legion.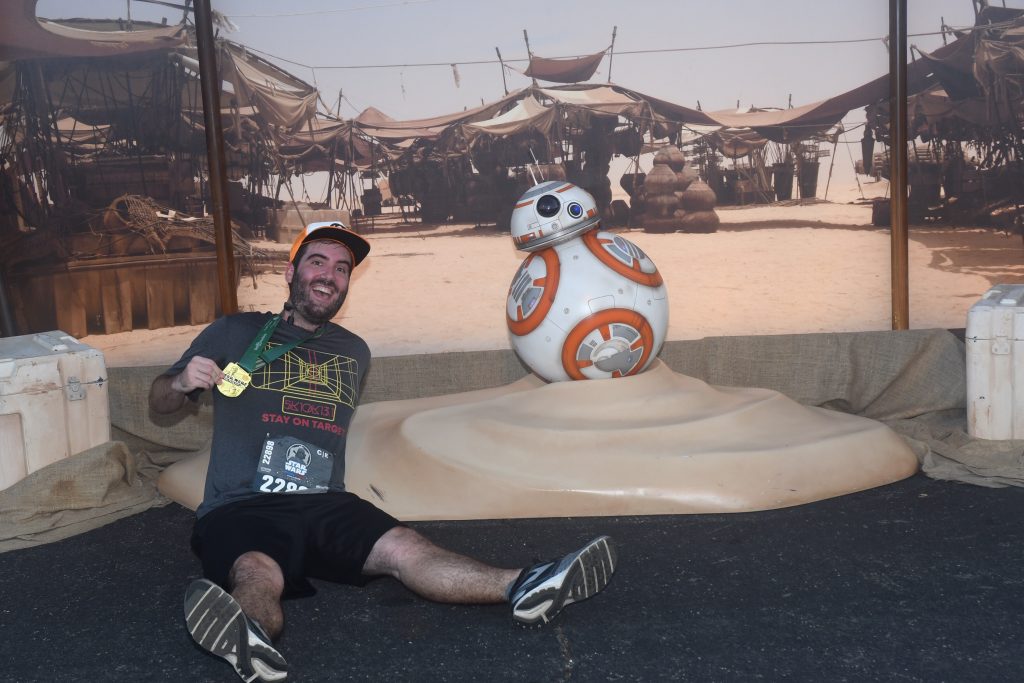 Character lines were long, but it was nice to take a small break from the crowded field of runners. New to the course this year was Rey up on a stage with a PhotoPass photographer underneath. What was odd about the Rey stop is that she didn't really interact with the runner taking a photo below her and seemed to be talking more to the runners going by. This weird set-up led to me waiting 10 minutes in a line to get a photo of Rey mid-blink facing the other direction. Thanks?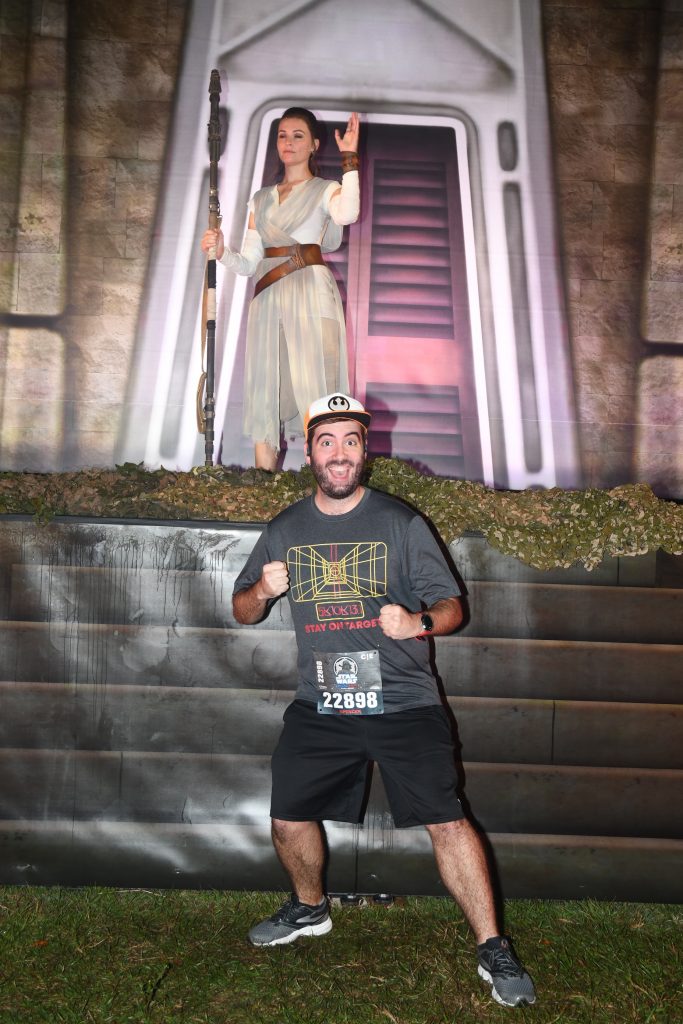 Overall, I had a good time at the race and will continue to do it as part of the Rival Run Challenge. If you have other family doing the challenge and are looking to join in, the Star Wars Rival Run 10K is a solid RunDisney race, but just very little park time.
runDisney Star Wars Rival Run Half Marathon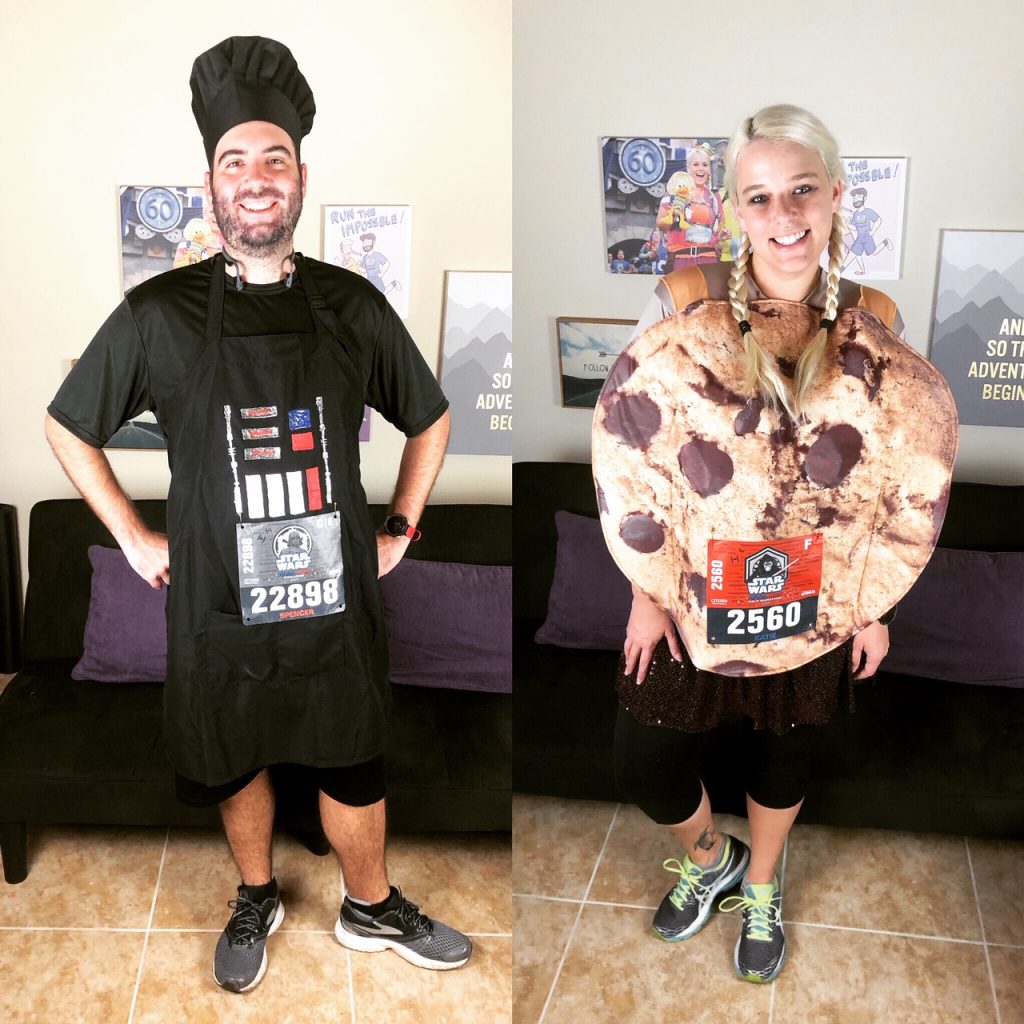 The Rival Run Half Marathon course has stayed consistent for the last 3 years. Runners park their vehicles at EPCOT if arriving by personal transportation and take a bus to the Magic Kingdom Parking Lot, also known as the Ticket and Transportation Center. This race is a point to point race! Runners do not enter the Magic Kingdom for this race!
Runners begin their journey around the Car Care Center and down Bear Island road. This portion of the course is sometimes dark, so caution should be used. Around Mile 4-5 runners are at Disney's Animal Kingdom! Since Pandora opened, runners are able to run through the land of Avatar – a sight rarely seen with that few people! Arguably the lamest portion of the course comes next. The course spends a decent amount of time winding through the Animal Kingdom parking lot. With no cars, the empty lot feels like a barren wasteland at times. Thank goodness for photo ops!
After this, runners spend a few miles heading down Osceola Parkway towards Disney's Hollywood Studios. This portion can be daunting as many runners hit a "wall" or mental block around Mile 7 or 8. The best course of action is to remember you are heading into the parks and power through. We use this time to chat with the runners around us, sing songs, and generally just stay in good spirits.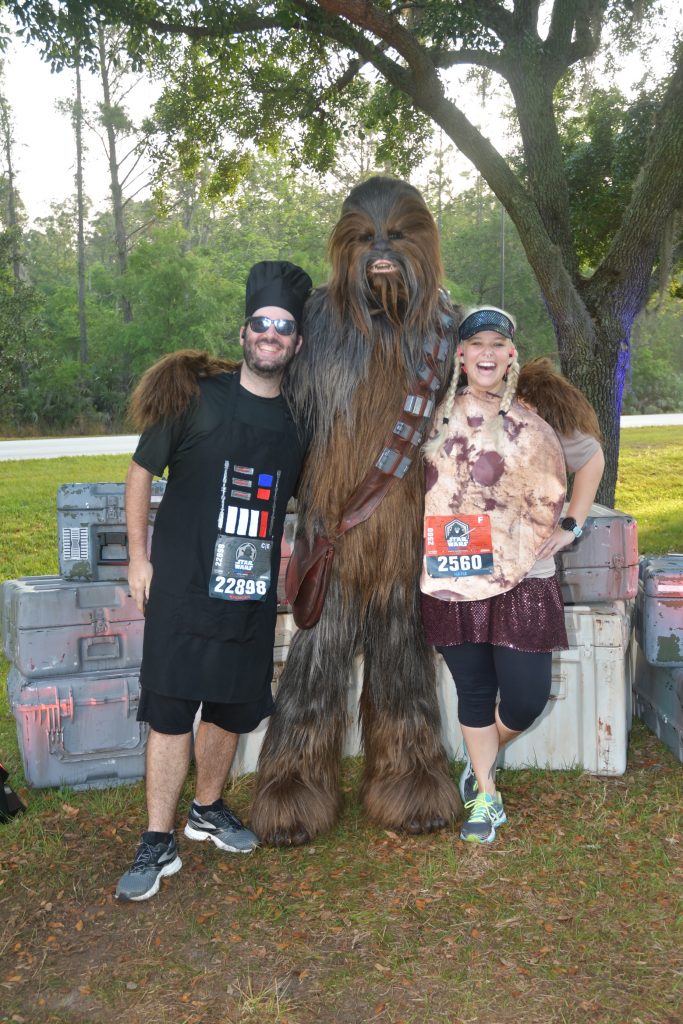 Finally, runners enter Disney's Hollywood Studios. By the time we are typically reaching this point, there are guests in the park just trying to enjoy their day. It is fun to watch their confused expressions as thousands of runners fly by them! This is also our favorite place for PhotoPass opportunities. The lighting is always great and there is plenty of room for a great shot!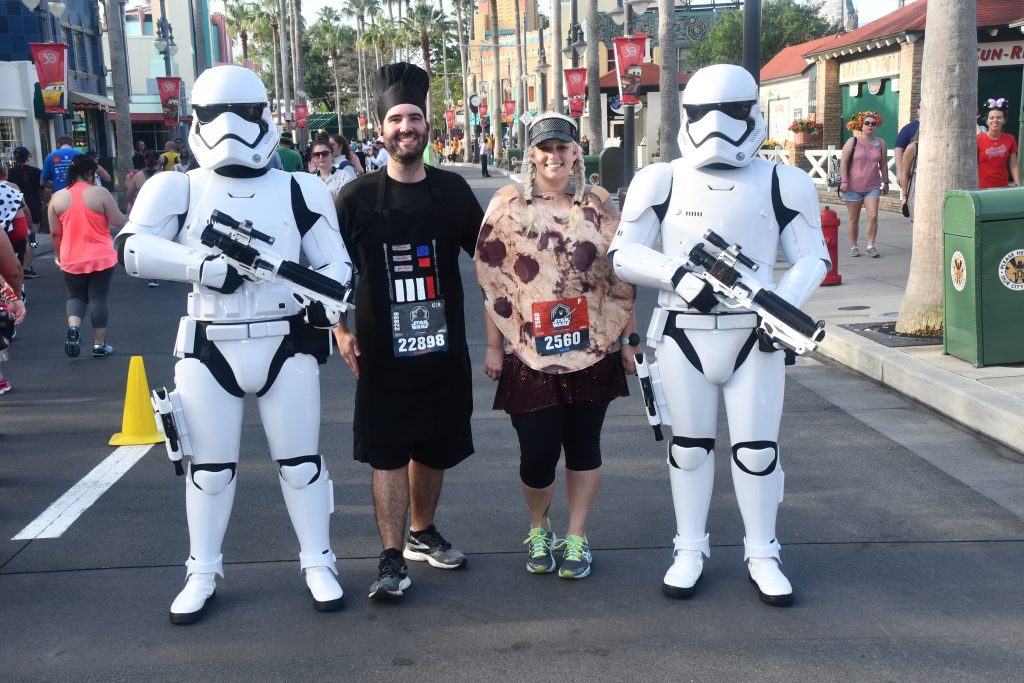 The last transition is around the Boardwalk resort area which is usually filled with cheering spectators. Many people speculate this is the last place you can be "swept" or pulled from the race. We advise all runners to maintain a 16 minute per mile pace and listen to the official runDisney staff for information. The finale of this journey is a loop through EPCOT. This is the cherry on top to a wonderful race weekend!
We took our time to stop for plenty of characters, run with friends, and enjoy our time on the course. One of the reasons we train so seriously is so we can have a cushion of time for this experience. We know that Disney boasts some of the most fun races ever, but we encourage everyone to take their training seriously and find a race that fits their pace!