The RunDisney Princess Half Marathon Weekend is always a fan favorite! Many runners choose this weekend to experience their first 5K, 10K, or Half Marathon! Our favorite part about this weekend is the abundance of costumes, and our least favorite part is the inconsistent weather. This year, runners were treated to temperatures in the upper 80s. Yuck! Changing it up a little bit this year, we ran the 5K and half marathon!
Princess Half Marathon Weekend Courses
Princess 5K Course
The Princess 5K course is the standard RunDisney 5K course. Runners begin in the EPCOT parking lot and complete their first mile around the parking lot area. Shortly after this first mile marker, runners enter the EPCOT behind Test Track and this is when the race becomes fun! For many runners, the sun is just rising over Spaceship Earth, presenting great photo opportunities.
There are a variety of characters always sprinkled throughout the theme park area. Some of the lines this year were deceptively long or hard to enter, so we recommend running with a buddy if you can! This way, one runner can wait in line and the other can scope out the length and decide if it is a character worth stopping for!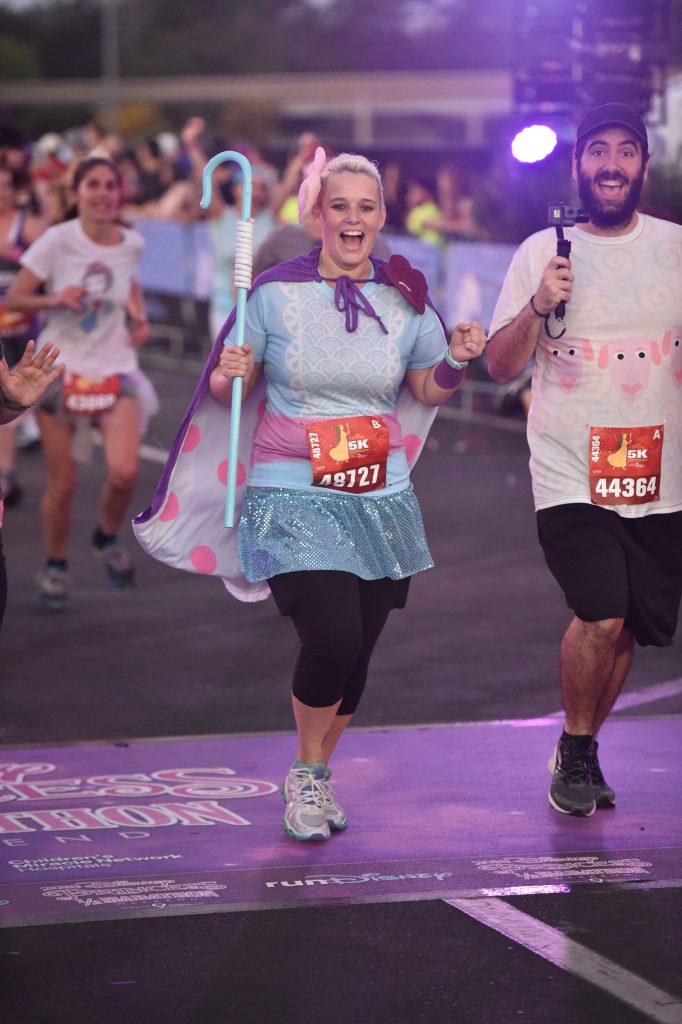 Princess Half Marathon Course
Notably, this course does not differ greatly from the one during January's Marathon Weekend. Runners begin again in the EPCOT parking lot and essentially run to Magic Kingdom and back. The big highlight for many runners is running through Cinderella Castle at the Magic Kingdom! As a reminder, it is a good idea to KEEP MOVING straight ahead through the castle area, don't stop and ruin another runners photos or experience!
It is important to note that the area after exiting the Magic Kingdom is called Cone Alley. This is due to the sheer amount of traffic cones lining the one lane road. We mention this because we don't want you to feel discouraged during this section. It can be very crowded and hard to pass large groups participating together. Just remember you are more than halfway to your goal!
At Mile 10, you will be greeted by some "Florida Hills" – overpasses. There are a series of small hills from Mile 10 to Mile 11. Trust us, that's the worst part of the course and you can overcome it! Remember, after the hills is a short trip through EPCOT before the finish line! Take a moment to wipe the sweat from your brow to get those amazing finish line photos you worked so hard for!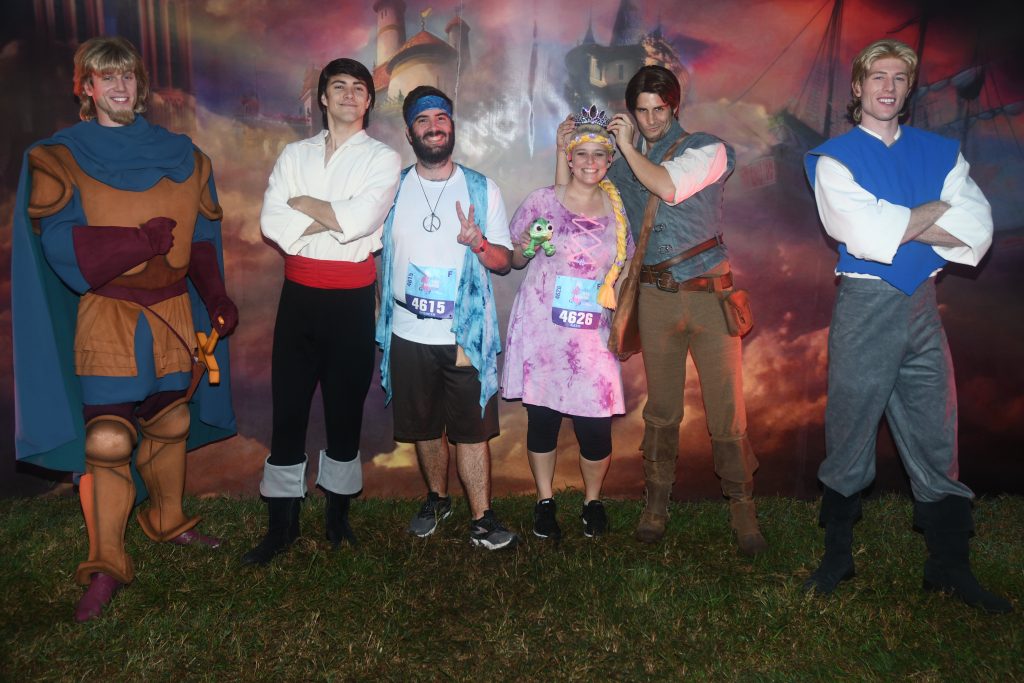 Princess Half Marathon Weekend Medals
We earned the Elena of Avalor 5K medal and the Aurora Half Marathon medal. Elena is one of the newer princess who has her very own TV show on Disney Junior. The Aurora Half Marathon medal caused lots of negativity on social media due to the less than stellar quality. The gold plating chipped and wore off very easily. Many runners had damaged medals presented to them at the finish line or were disappointed after wearing them with other medals clanking together in the parks. Our tip is to always wear one medal and use painters tape on the back of the medal to keep your clothes from pilling.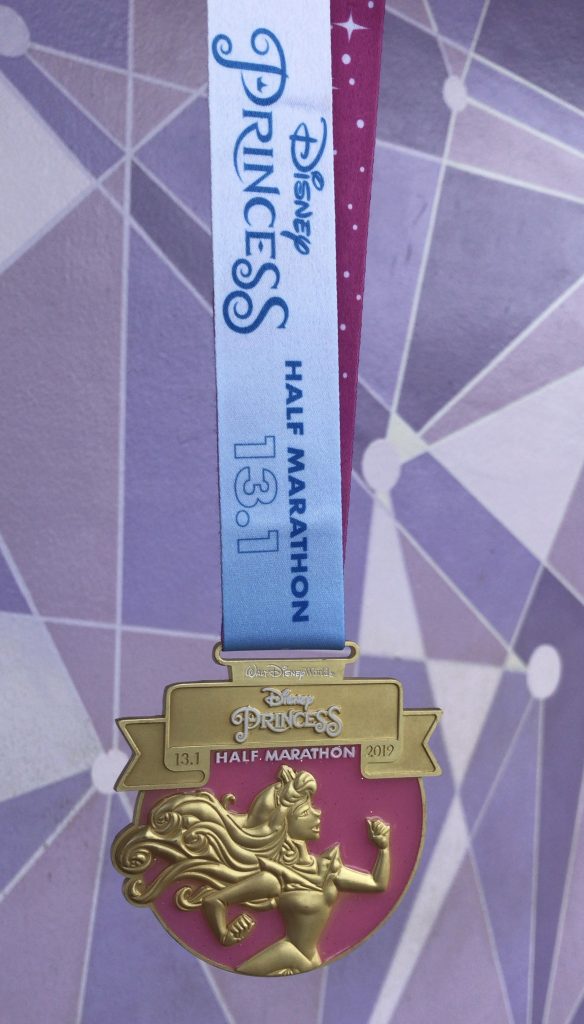 Princess Half Marathon Weekend Costumes
5K – Bo Peep and Sheep
With the new trailers releasing for Toy Story 4, we couldn't resist an opportunity to run as Bo Peep and her sheep (Billy, Goat, and Gruff). Bo Peep has always been one of Katie's favorite characters. We designed our own shirts and they are currently for sale in our Etsy Store! Katie stitched two capes together for the cape and painted pink circles on the inside in Bo's signature pattern. Spencer painted a plastic crook and added rope to mimic her iconic accessory. Final touches were a giant pink bow and flower button to hold the cape together!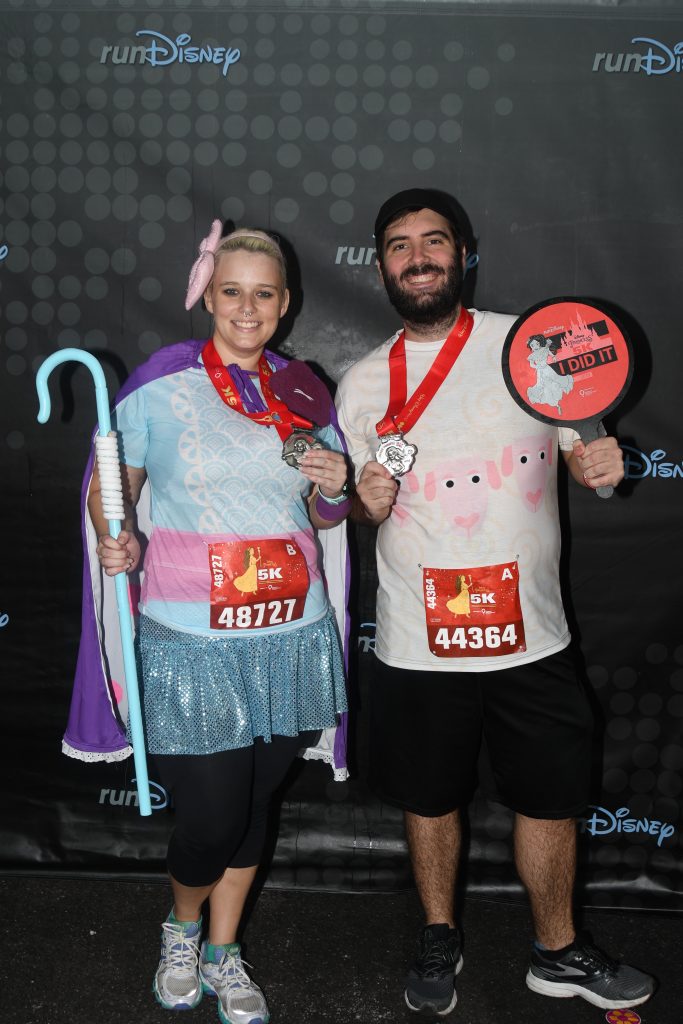 Half Marathon – Hippie Rapunzel and Flynn Rider
Mash up costumes are a great idea for RunDisney races, especially if you are looking for something outside the box. Katie found a tie-dye t-shirt dress on Amazon and was able to make it notably Rapunzel by adding ribbon and a flower embellishment. The hair was the most complicated and most fun part to make. I was able to braid large sections of yard into a headband. To plus it up, I used two different shades of yellow/blonde and added flowers with hot glue! Add some sun shaped sunglasses and Pascal and you are set.
For Flynn Rider, Katie found all of the pieces on Amazon and Etsy. This is a great Disneybound style costume that you might be able to piece together using items you already own. The key is his satchel, which we did purchase on Etsy. The bonus part of running with a satchel is extra storage space! We used it for our GoPro batteries, in fact, since we never could find brown shorts with pockets!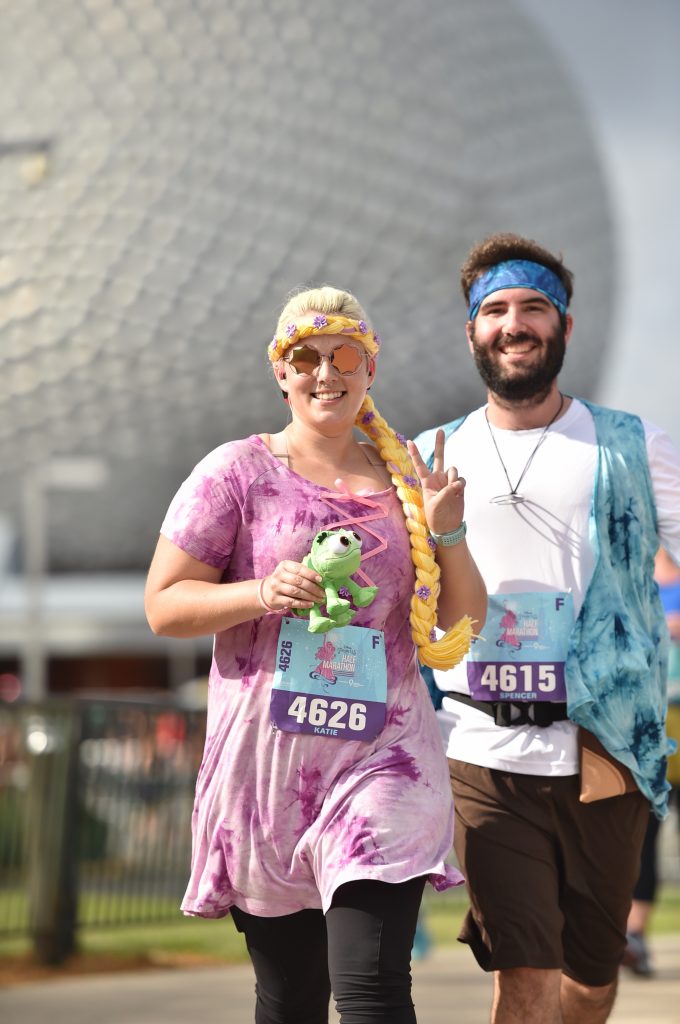 In short, we continue to have a love/hate relationship with the RunDisney Princess Half Marathon Weekend. The weather presents a challenge and the sheer number of runners can be frustrating. We go into this weekend looking for character and costume fun and don't worry about the actual running. Here's to hoping that one day in the future we can run Gasparilla in Tampa without them falling on the same weekend!