The Princess Half Marathon continues to be runDisney's most popular half marathon each year! This race is full of costumed runners, many of which are running their very first half marathon! We love that this race weekend continues to be fun and bustling full of excited runners! Keep reading to see just how many characters there were at the 2020 Princess Half Marathon!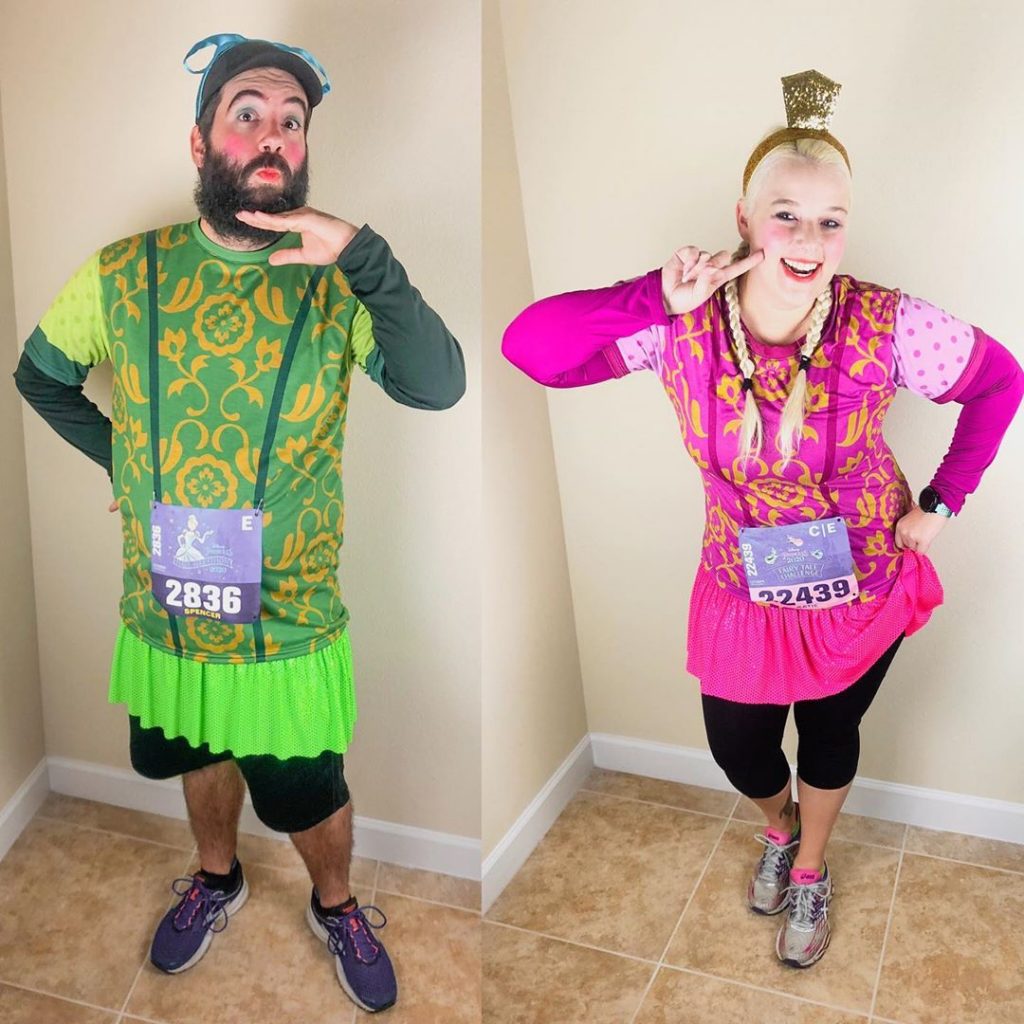 runDisney Princess Half Marathon Course
The runDisney Princess Half Marathon is a loop course starting and ending at EPCOT. The race begins on EPCOT Center Drive and runners begin the roughly 5 mile trek over to Magic Kingdom. For many runners, they strive to reach Cinderella Castle before the sun rises completely. With too many awesome characters early on in the course, we failed at this challenge! We also hit a roadblock in a construction area of the Ticket and Transportation Center (the Magic Kingdom Parking Lot) and had to walk for a while. Behind us, we heard runners were at a complete standstill.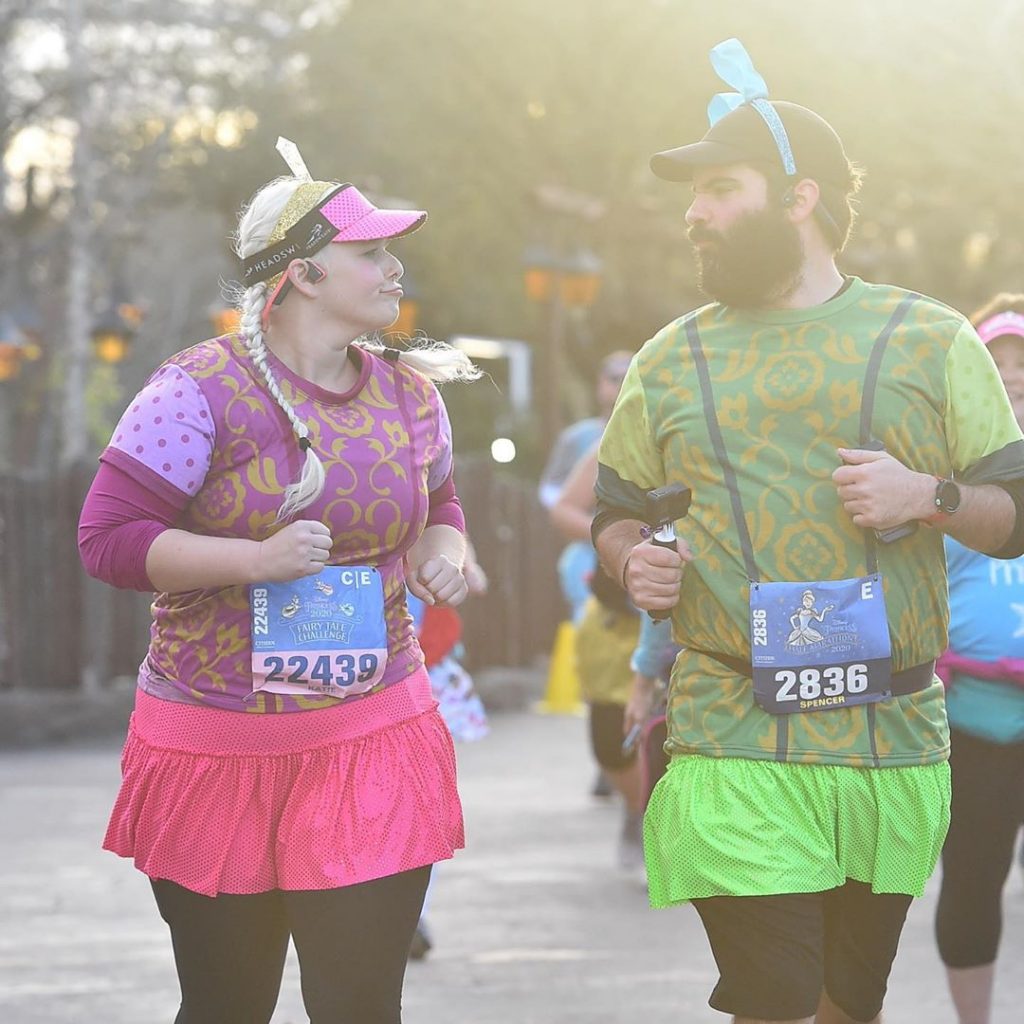 This is the critical point in the run as you wind down Main Street, into Tomorrowland, and finally through the castle for that "perfect" castle photo. In reality, if you are in the back two-thirds of runners you will likely hit some bottle-necking at this point. While we didn't get our perfect castle photo, we always enjoy running through Magic Kingdom!
Exiting through Frontierland, runners enter the area known as "Cone Alley". This is because you are surrounded by cones roughly from the exit to the Grand Floridian. With some road changes, the cones appeared to start a little later this year, but last a little longer. We also had a little more space, so this area has slightly improved for congestion.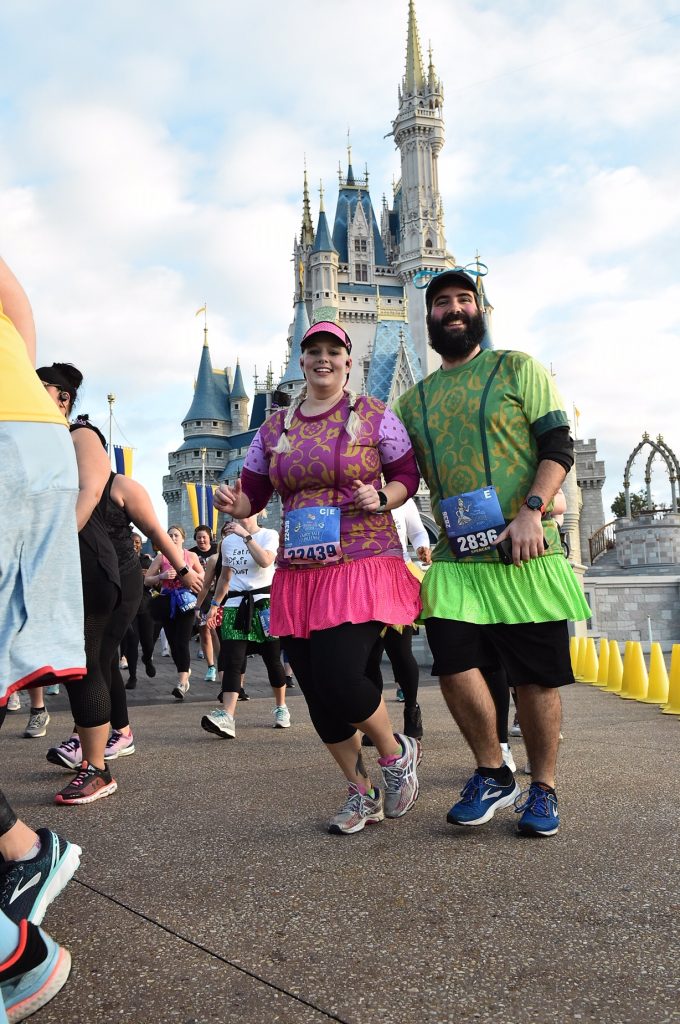 After the dreaded mile 10 overpass hill, it is a final 5K taking place mostly inside of EPCOT! These final miles are expected to change frequently from race weekend to weekend while EPCOT undergoes major construction. We hope that one day they will return to the previous iteration exiting the park under Spaceship Earth.
runDisney Princess Half Marathon Characters
The runDisney Princess Half Marathon had loads of great characters. We were happy to see they have begun to bring back more rare characters, but it is important to note they were in different locations than year's past. We were thrilled with this change, as it kept us guessing along the course!
First up, in the first mile of the course were Suzy and Perla, the female mice from Cinderella. Next up, following the Cinderella theme were the Stepsisters, Anastasia and Drizella with their mother Lady Tremaine. This was a must do character stop for us, and we waited around 10-15 minutes. In the TTC parking lot, there was no wait for a variety of princess themed carriages.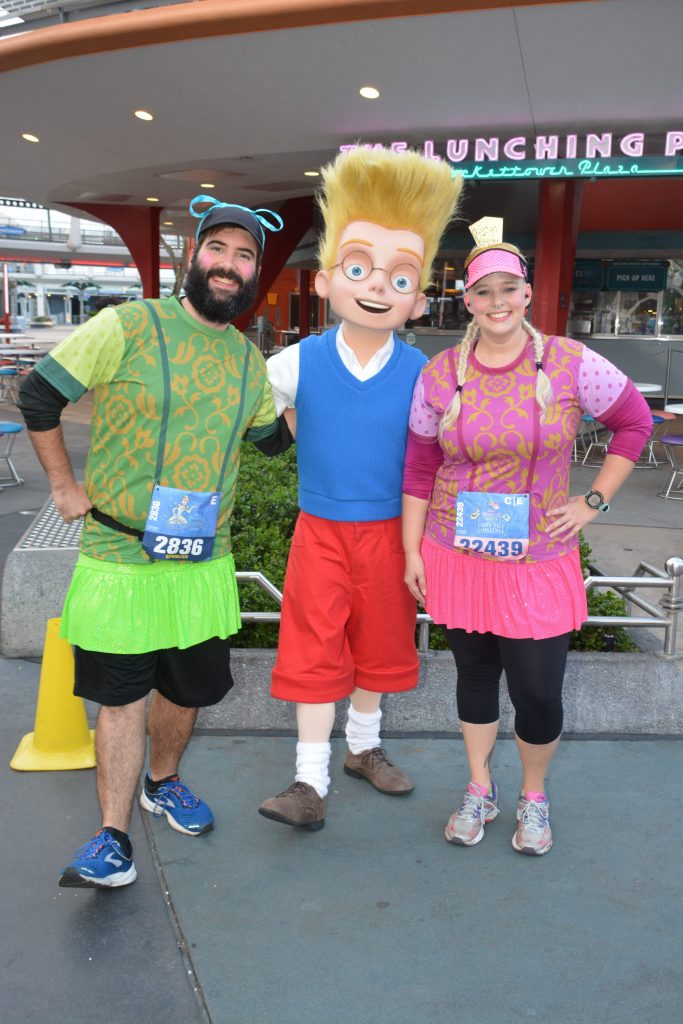 Once inside the Magic Kingdom, we stopped for Louis from Meet the Robinsons. He had a 5 minute or less wait. We passed Dopey by the Seven Dwarfs Mine Train. Near Cinderella Castle was Snow White for us, but we saw Rapunzel there for other runners. We would've stopped for Rapunzel. The last character stop inside of Magic Kingdom was Chip and Dale in their Frontierland outfits.
Behind the park were two parade floats (with no characters). Runners could have a photo taken with the Princess Garden Float or the Brave Float from the Festival of Fantasy Parade. Next was a sometimes forgotten princess, Princess Atta from A Bug's Life! We waited about 5 minutes for this photo, but the photographer was moving too quickly and did not get a good photo.
A popular option from the Princess 10K out again were the three Good Fairies! We passed since Katie had met one just the day prior. Instead, we waited at least 20 minutes for Cinderella and Prince Charming. Previously, the princes had met together in one character photo. This year, the only prince on the course was Charming.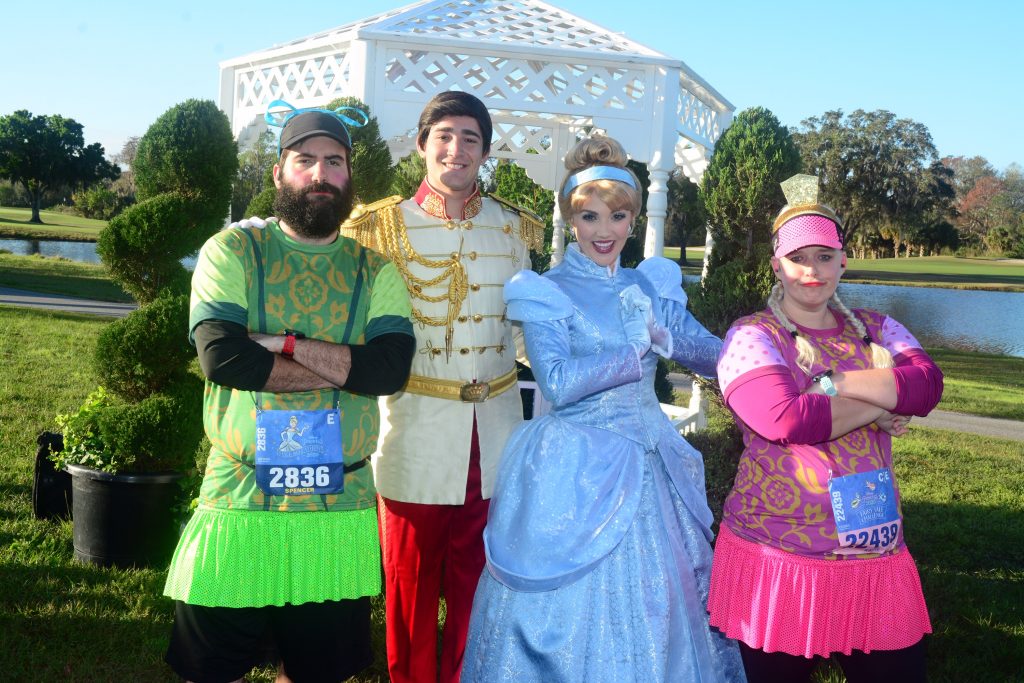 On the way back to EPCOT, we passed Jafar and stopped for a photo with Shan Yu. Both had a line of about 5-10 minutes, and it was fun for a few villain photo ops! We passed the Stepsisters and Lady Tremaine again, along with Suzy and Perla on the way back to EPCOT.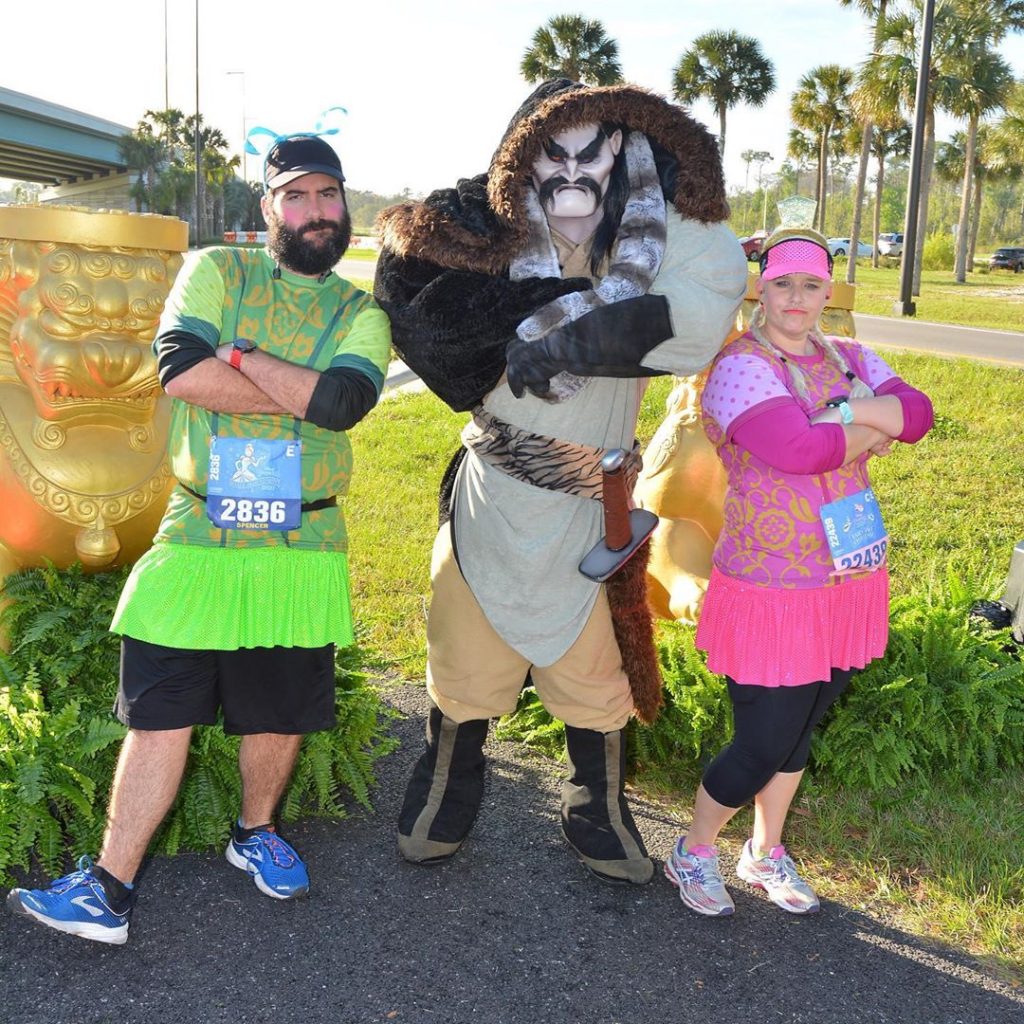 Just before entering the park, Tinkerbell and her sister Periwinkle were meeting runners. We skipped this in favor of stopping for Bolt by Journey Into Imagination. Bolt had a 5 minute line. The last character stop was just before exiting the park in Mexico with Panchito Pistoles from The Three Caballeros.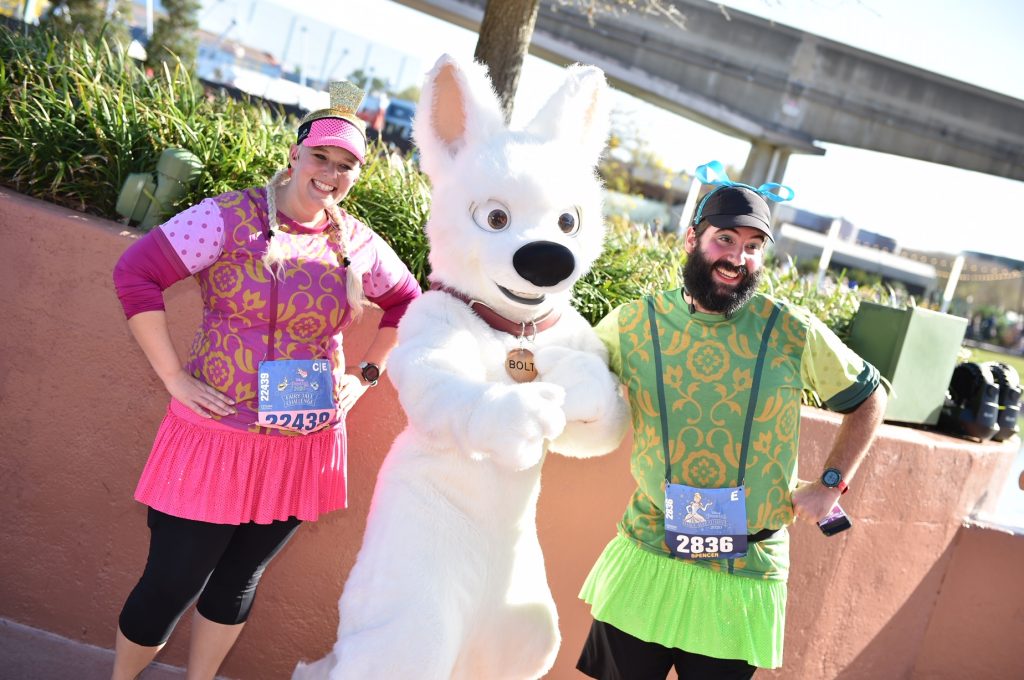 runDisney Princess Half Marathon Medal
The best part with the runDisney Princess Half Marathon medal for 2020 is how big it is! The medal is one of the largest ones we have! We loved the stained glass feature circling Cinderella, and didn't actually notice that feature until we received our own medals!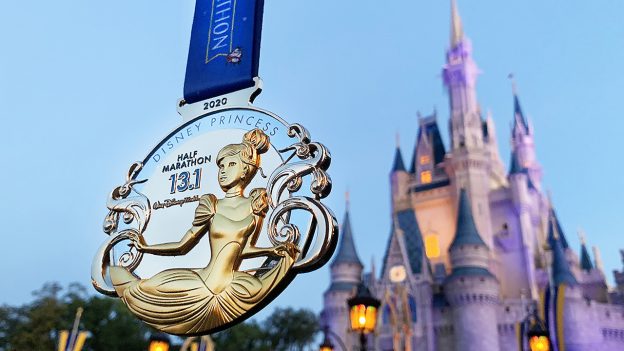 Katie received a bonus medal for completing the 10K and Half Marathon as part of the Fairy Tale Challenge. The bonus medal is also massive and features three spinners. Each of the good fairies spin to reveal 6.2, 13.1 and 19.3 for the distances run, and the 19.3 challenge total.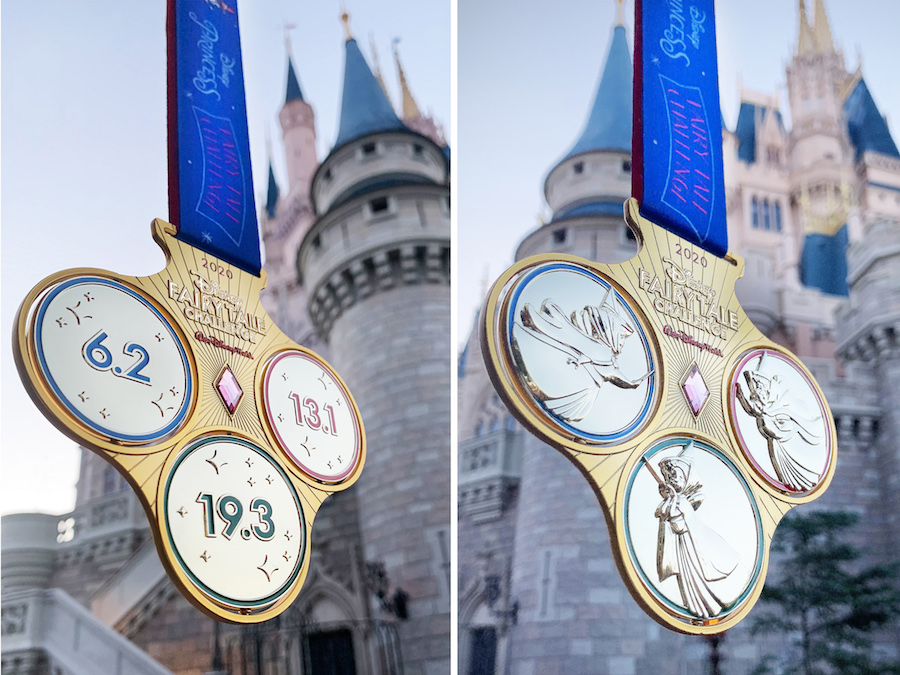 Overall, the Princess Half Marathon continues to improve each year. It is important to remember these are fun races, and you get value out of spending time enjoying the parks and the characters along the course. We waited an estimated 45 minutes on the course for photos, so remember to train strong and leave time for those photos!