We were so fortunate to complete the Princess 5K, 10K, and Half Marathon races this year, making a triumphant return to in-person running at Disney! It has been a few years since we have run the Princess 5K, and it was one of the highlights of our weekend! The weather was hot this year, but a late February race means wild temperatures of highs or lows! Let's take a look at one of the most fun and most costumed runDisney Half Marathon Weekends!
RunDisney Princess 5K
The RunDisney Princess 5K is a favorite race for runners, new to the sport and long time princess racers! The course begins and ends at EPCOT making it easy for spectators to watch you from the start and finish lines. With the first small portion being around the parking lot, the second half of the course is much more enjoyable!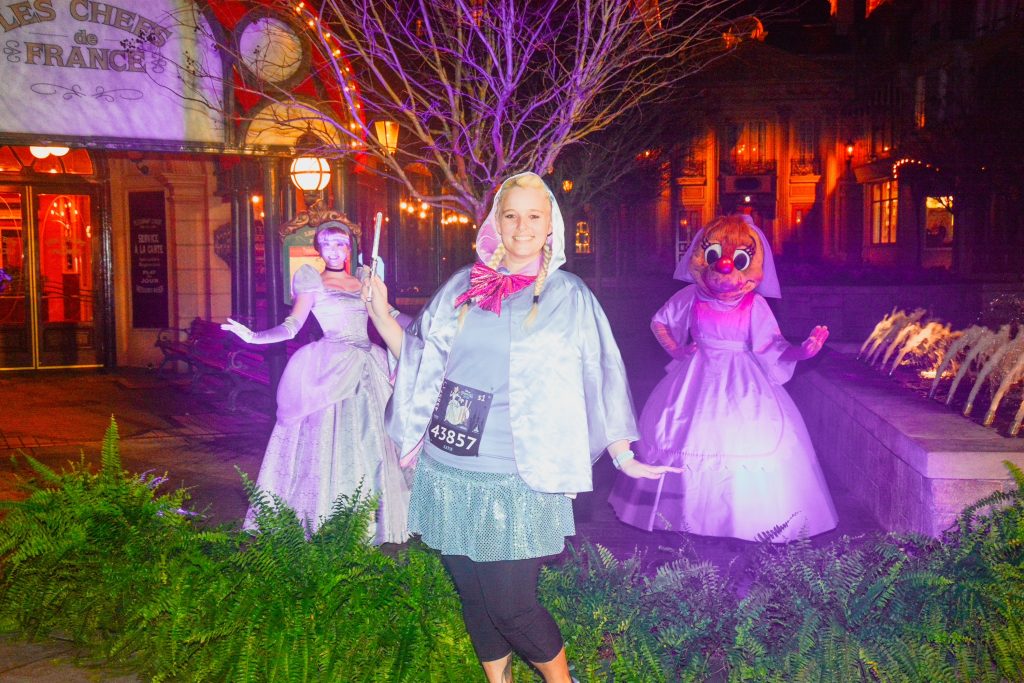 Character stops line the course, with the first line being the longest line we have seen in ages. They structured one stop with three princess photos, Merida, Pocahontas, and Moana. While it seemed awesome to get three photos, the wait so early on just wasn't worth it in our opinion. Our favorite photos at this race were Cinderella (the medal princess) and Mickey with Donald in their Three Musketeer outfits!
To see the entire Princess 5K course, check out our RunDisney Princess 5K Steady Treadmill Video! We also filmed a full RunDisney Princess 5K Recap Video!
RunDisney Princess Enchanted 10K
The RunDisney Princess 10K is a great race by itself, or paired with the Half Marathon to receive a bonus medal for completing the 19.3 miles! Other runners agree with us that this course could be a lot better than it is. Over half of the course is spread around parking lots and World Drive, making the first 5K boring. Fortunately, the distance in Hollywood Studios was extended a little (bringing opportunities for more photo pass stops!).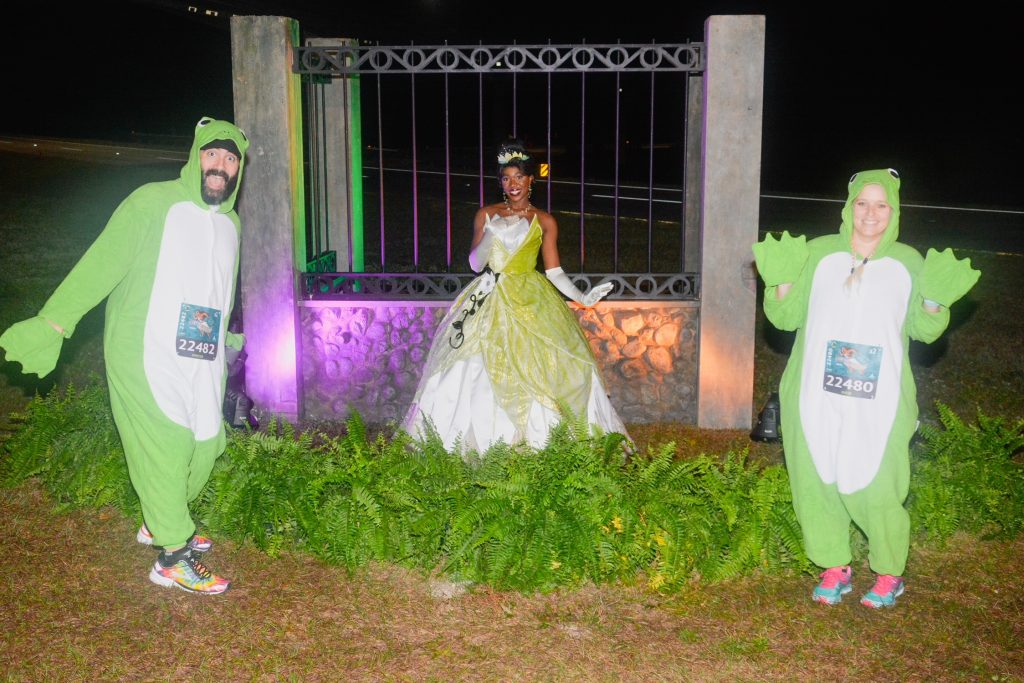 Another great assortment of characters dotted the 10K course, with options for runners in many popular costumes. Since we dressed as frogs, we had to stop for Tiana! We also love that they continue to bring out the princess featured on that race's medal for a photo. Near the end of the race, we took advantage of a short line for Clarabelle the Cow as well!
To see more about this course that started meh and ended fantastically, check out our RunDisney Princess 10K Recap Video!
RunDisney Princess Half Marathon
The Princess Half Marathon suffered a substantial amount of transportation problems. This actually led to a 15 minute delay at the start of the race. We have voiced our concerns to RunDisney, and they have confirmed that mistakes were made and they are already improving upon future races.
We mentally divide the course into three sections. The first is the distance to and through the Magic Kingdom (and the best part of the course). Runners spend from roughly mile 5-6 inside the Magic Kingdom, which features characters, photo pass opportunities, and running through Cinderella Castle!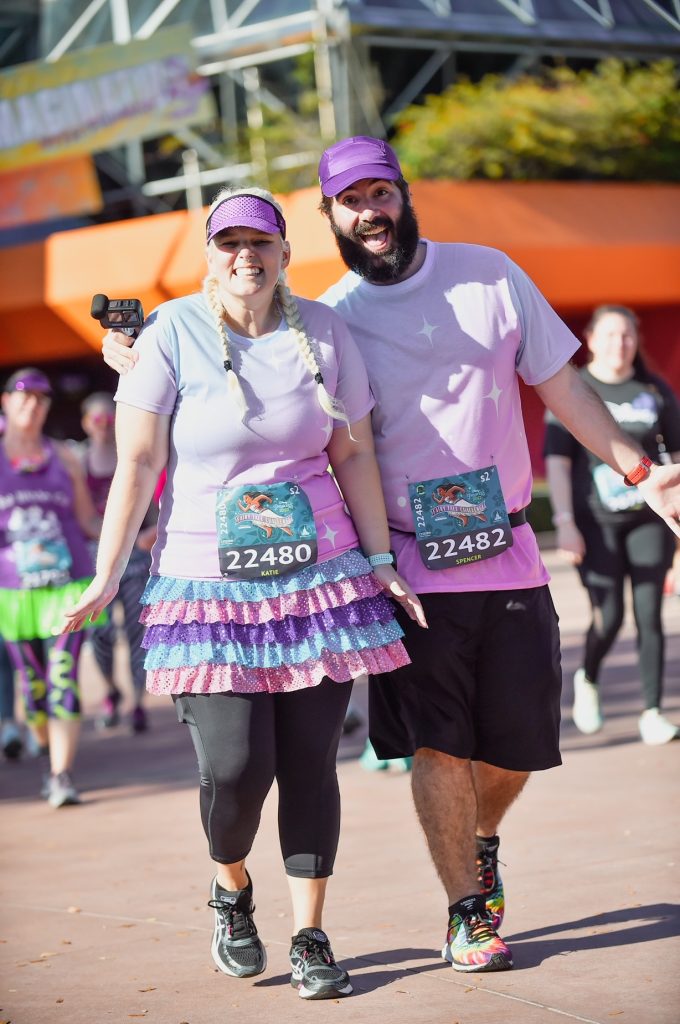 After that amazing section of course, comes the dreaded and bland World Drive. Miles 6-10 are on the roads that connect the different Walt Disney World properties. It is important to be aware of this, so that you may prepare yourself both mentally and physically for this portion.
At mile 10 is an on-ramp and one of the only hills on course, it is at this portion that we know there is just a 5K remaining and we are heading into EPCOT for our grand finish! At this point in the race you need to focus on moving forward and finishing strong! It is a great motivator to look back from the top of the on-ramp and see runners behind you still pushing. After a quick portion in EPCOT, you have completed the Princess Half Marathon!
To see our favorite parts of this race, check out our RunDisney Princess Half Marathon Recap Video!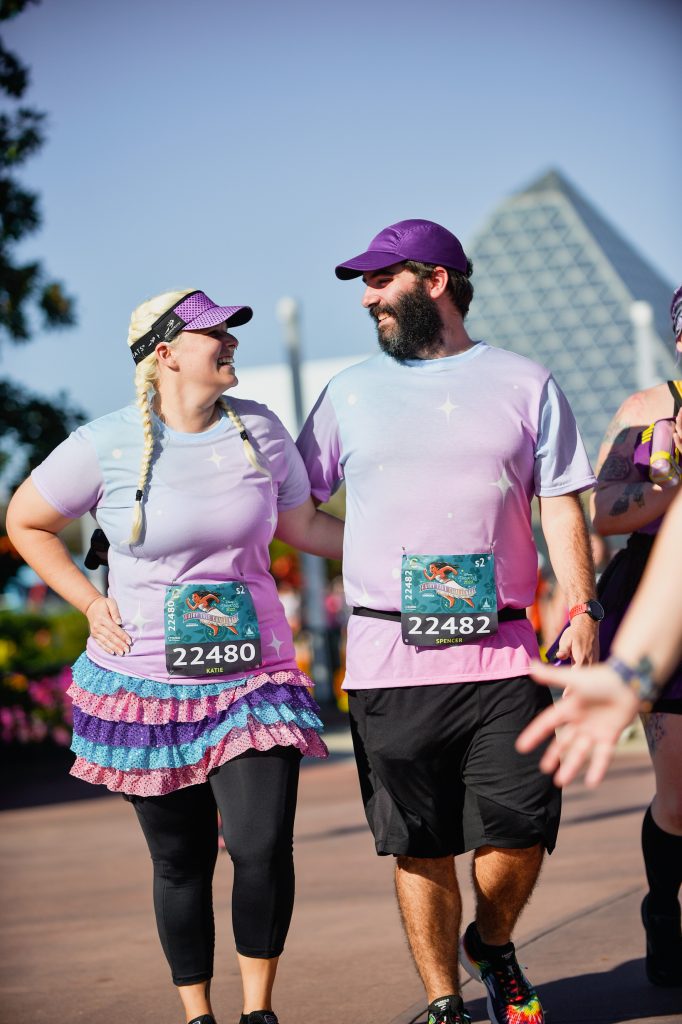 Overall, the RunDisney Princess Half Marathon continues to be one of our favorite race weekends. Even though we are stepping back from as many Half Marathon distances, this weekend will likely remain as a full three day race weekend for us for a while. It always has the most boisterous crowd, most costumed runners, and some of the best character stops!