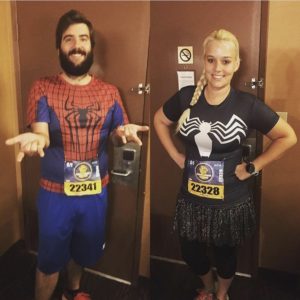 Getting to the Half Marathon portion of this weekend was an adventure, to say the least. After Katie experienced some medical problems, we were not sure if we would be able to race. With a doctor's advice, we decided to walk the entire Half Marathon. This was a challenge in itself. Since we always train to run intervals, walking affected our body differently and caused a whole different set of pains.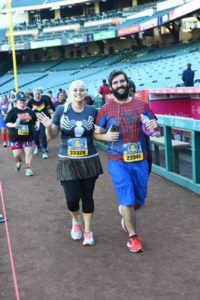 The course for this Half Marathon was the best one we had seen at Disneyland. Even though there is a long gap between park time in the first 4 miles of the race and Angel Stadium around mile 8 and 9, the path this time made it seem easier. We loved spending almost a mile around Angel Stadium in the parking lot area because it was safe, fun to look at the stadium, and felt like it went by so quickly!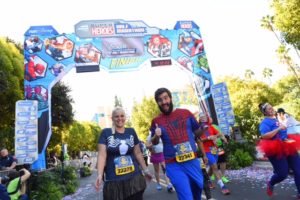 We were disappointed that the characters were the same for this race. It would have been nice to have some classic characters mixed in with the Avengers Face Characters. We loved the addition of a few new Marching Bands along the course (especially the one that played the Spiderman Theme Song as we went by)! Overall, it was a nice Half Marathon course and we really wish we had been in better shape to run it!