Captain Phasma is recruiting troops for the First Order, are you up to the challenge? The runDisney Star Wars Dark Side Half Marathon is the final event of the runDisney calendar, but is generally the least busy. It is a must-do for any Star Wars fan, despite the rising temperatures and high humidity.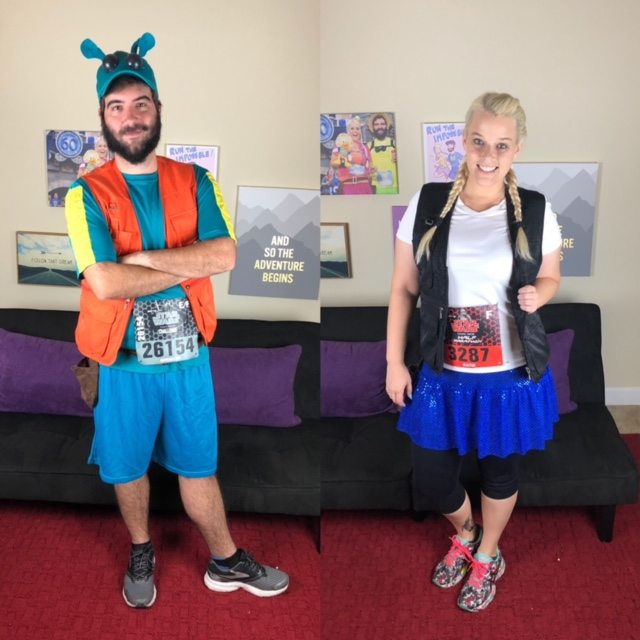 runDisney Star Wars Dark Side Half Course and Parking
Much like the Dark Side 10K, the Dark Side Half is a point-to-point race from the Magic Kingdom to Epcot. If driving to this race be sure to arrive early! Buses run from Epcot to the Transportation and Ticket Center and it's recommended to arrive at Epcot around 4:00AM. The race course runs through three Disney Parks: Animal Kingdom, Hollywood Studios, and Epcot! It can be a little dark at the start of this race for the first few miles, and the course is peppered with generator lights. Once inside Disney's Animal Kingdom you run through Pandora: The World of Avatar, the newest addition to the Walt Disney World Resort! The worst part of the course is the several mile jaunt down Osceola Parkway between Animal Kingdom and Hollywood Studios. It feels like forever down a road, but once you get to Hollywood Studios there's almost non-stop fun to the finish line! Between the amount of Star Wars characters and cheering spectators, the last few miles are a blast. This race differs from the 10K by running the full length of The World Showcase in Epcot before finishing just outside of the park.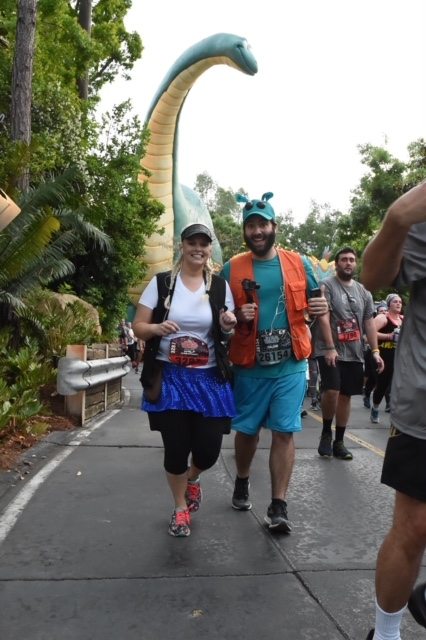 runDisney Star Wars Dark Side Half Photos
We've seen a dramatic improvement in the quality of race photos since Disney's PhotoPass took over from MarathonFoto. This race is no exception! Plenty of photographers in the parks and resorts led to a great number of awesome photos. The characters were about the same as the 10K, with the exception of Ewoks (which were super cute!). Unfortunately when we got to R2-D2 there were a few light sprinkles so he had to be pulled in, understandably. Once again the 501st and other cosplay groups were out in full force at Animal Kingdom, Hollywood Studios, and Epcot making for a super memorable experience. These groups are volunteers that stand out there for hours taking pictures with runner after runner, and for that we thank you! Just be sure to bring a phone along, as the "non-official" characters do not have PhotoPass photographers.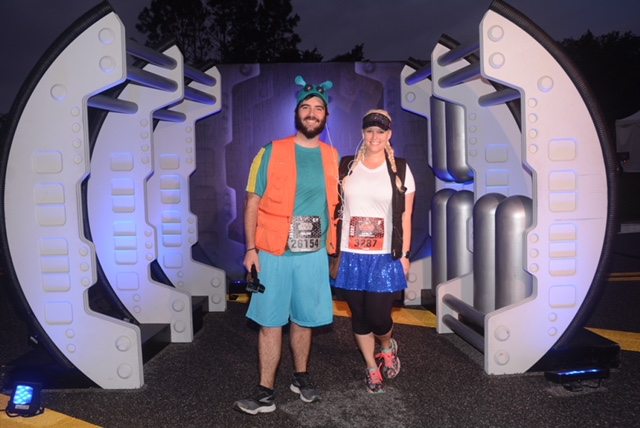 runDisney Star Wars Dark Side Half Costume
Katie created our incredible Han Solo and Greedo costumes! We got TONS of comments on people who thought they were awesome. RunDisney has started to offer different costume pieces at the Expo, and added a number of Star Wars pieces! This race sees a lot of die-hard Star Wars fans and probably the largest number of costumed participants of any runDisney race.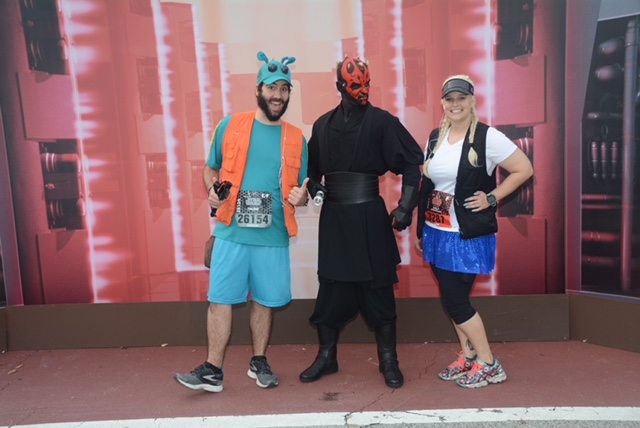 runDisney Star Wars Dark Side Half Marathon Medals
Of course runDisney races have to have crazy medals, and the Star Wars Dark Side Half Marathon is not exception! The medal for the Half Marathon is a shiny chrome Captain Phasma helmet. Heavy and super cool looking, this medal was a hit among runners. The medal for the First Order Challenge is Kylo Ren's iconic helmet. Some old school fans hope that we'll see the return of Darth Vader in future Dark Side Half Marathons, but it's understandable they want to promote the newest films.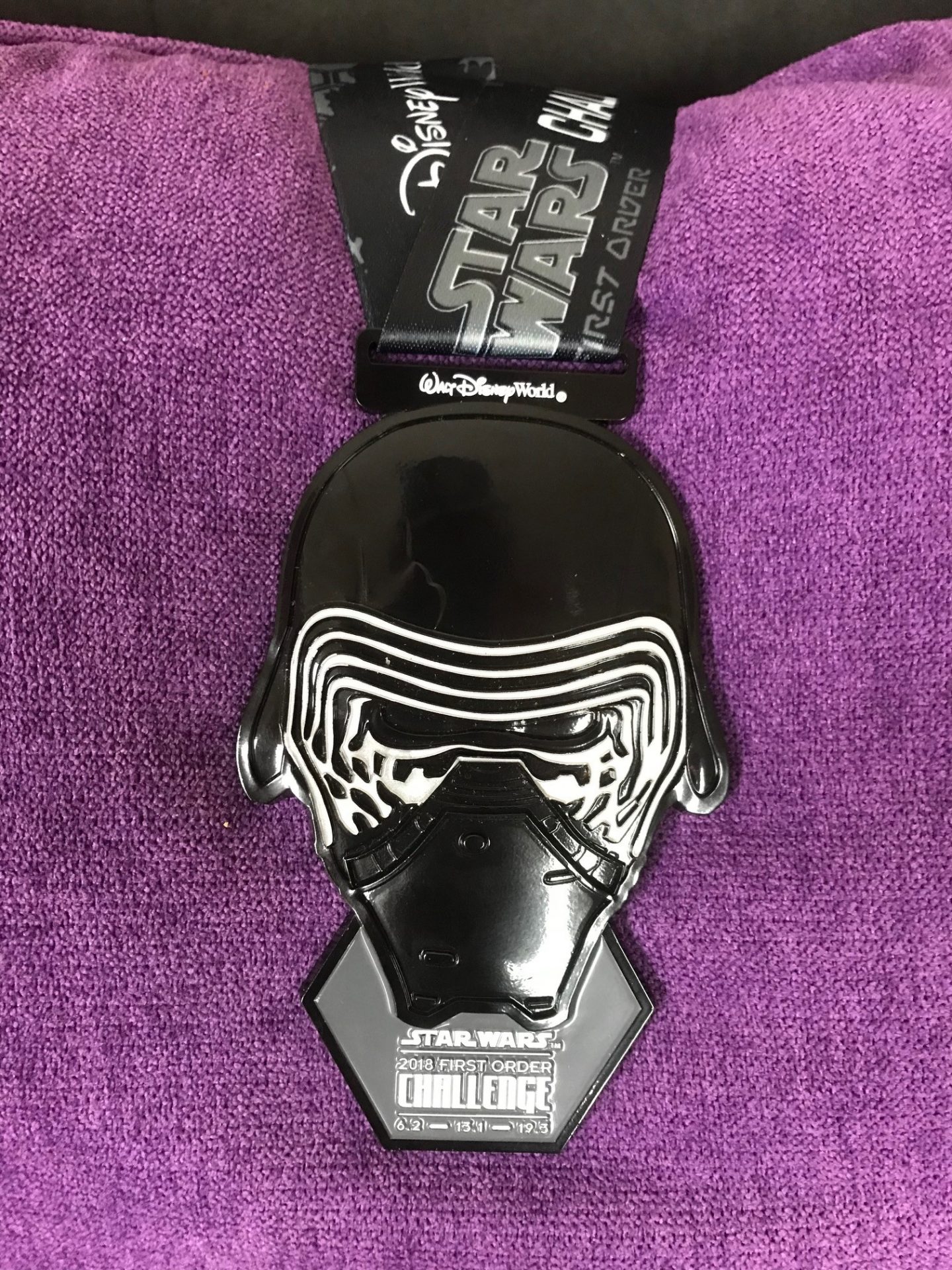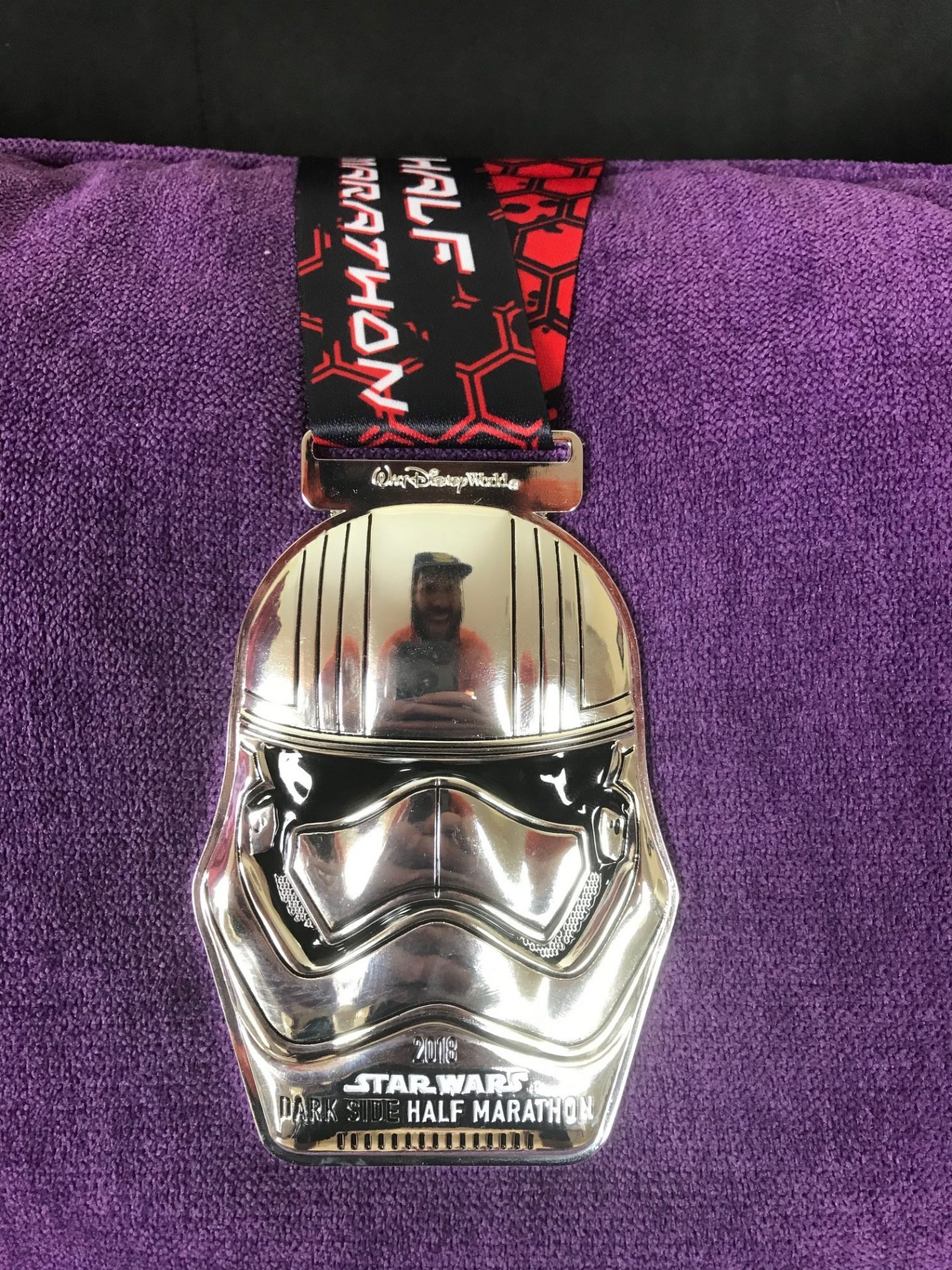 Overall, this race weekend is perfect for Star Wars fans of any ages! Please take into consideration the high humidity of Florida in April. The weather is unforgiving, which is why we are hesitant to recommend this race for Northerners who are die-hard Star Wars fans. We will be back next year as Katie is perfect Dark Side Half and Spencer is Dark Side Challenge! Check out our YouTube review for an in depth look at the course.