Another wet Wine and Dine weekend is in the books! The runDisney Wine and Dine Half Marathon is typically held on the first weekend in November – which means runners can arrive early to celebrate Halloween and leave late to see Christmas decorations in the parks. Another huge perk is the extra hour of sleep that runners get before the Half Marathon due to Daylight Savings Time! While many runners still miss the nighttime version of this race, we really enjoy this weekend!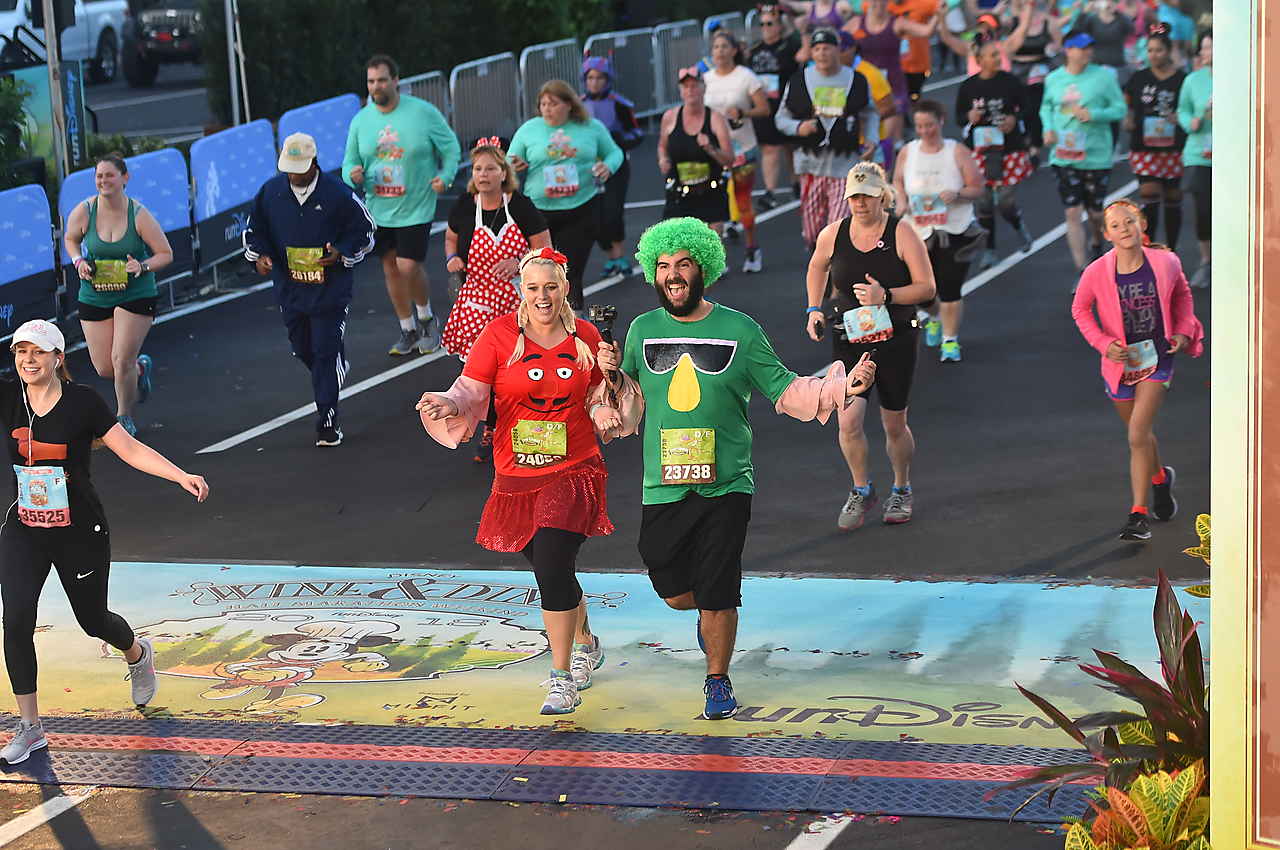 Wine and Dine 10K
The runDisney Wine and Dine 10K is held on the Saturday of race weekend! We had amazing cooler temperatures and no hiccups for this race (Okay, well Katie did literally get the hiccups)! For this race you can either take Disney bus transportation to the start line at the Ticket and Transportation Center (TTC) near Magic Kingdom or if you drive yourself you will park at the EPCOT finish line and take a bus over. Gear check is still over at the TTC so you can bring a jacket or other pre-race necessities.
The course takes you from the Rapunzel parking lot straight down to EPCOT where you enter the park around mile 4. While it is always a bummer to spend so much time outside of the parks, it is nice to get that out of the way in the beginning! We saw Lightning McQueen and Mater, Jack Sparrow and Barbossa, and Chip and Dale during the first half of the race! Just before entering EPCOT, we stopped to meet Oswald the Lucky Rabbit! Once inside the park, we ran past Remy, and Jiminy Crickett! There was also a photo op with Photo Pass with a nice view of Spaceship Earth in the background. This is a great opportunity near the end of the race so you know how much time you have remaining!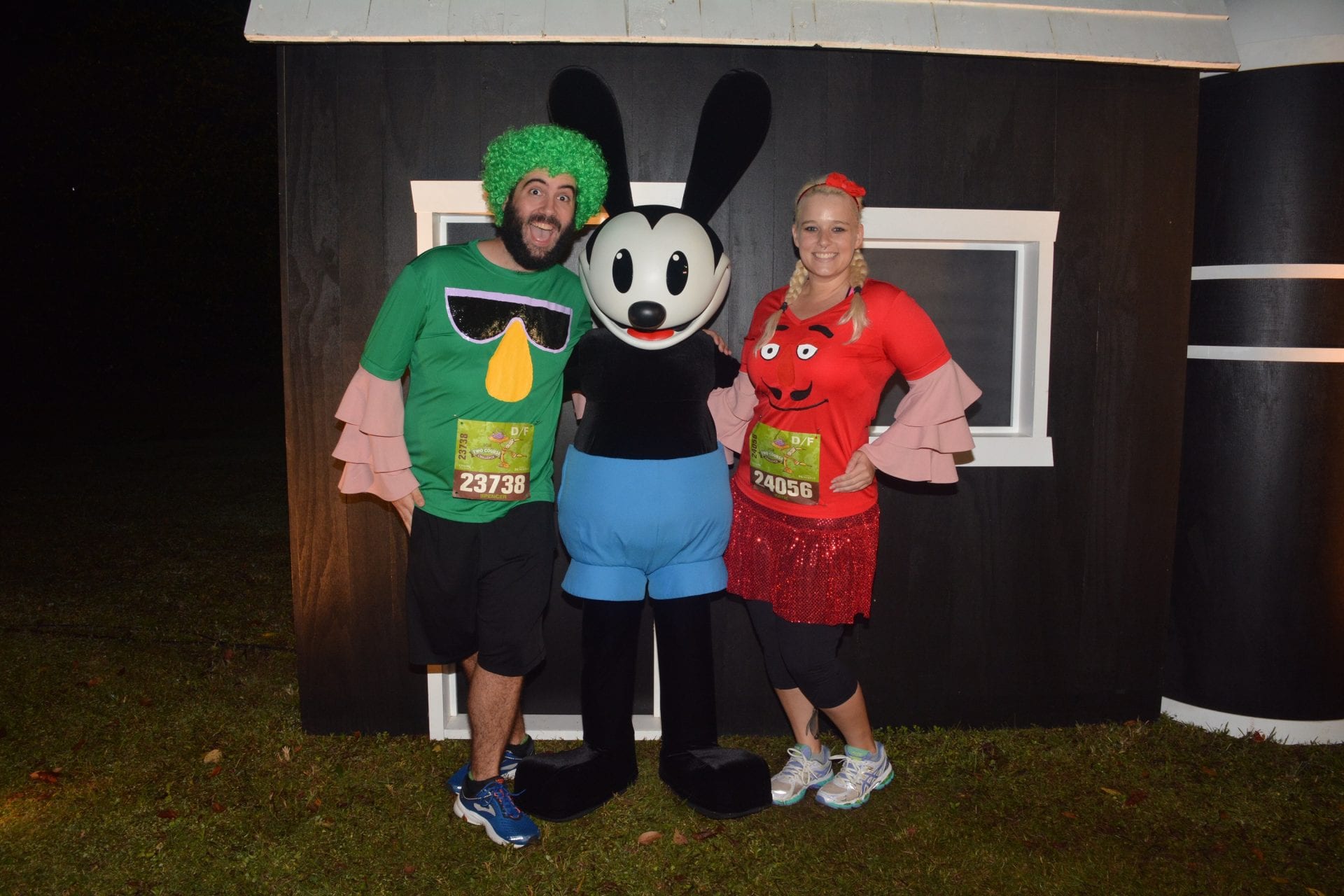 Wine and Dine Half Marathon
For the runDisney Wine and Dine Half Marathon you will again have to bus to the TTC or park at EPCOT and bus over as well. It is important to leave yourself some extra time for this transportation. There are also more corrals for this race, so arrive early as they were closing higher corrals even 30 minutes before race start. We were not so lucky with weather on Sunday morning. One minute before the Chair Athletes began their race, the skies opened up! For us we were stuck in consistent rain from the start line through mile 5 at Animal Kingdom!
This course takes you through Animal Kingdom, Hollywood Studios, and EPCOT! The race is broken up nicely with plenty of park time and the only dud stretch is between Animal Kingdom and Hollywood Studios. A good section of this stretch is on one lane of road and becomes tight for those trying to run. Knowing in advance that this section is rough is a great opportunity to select some great songs for a power playlist!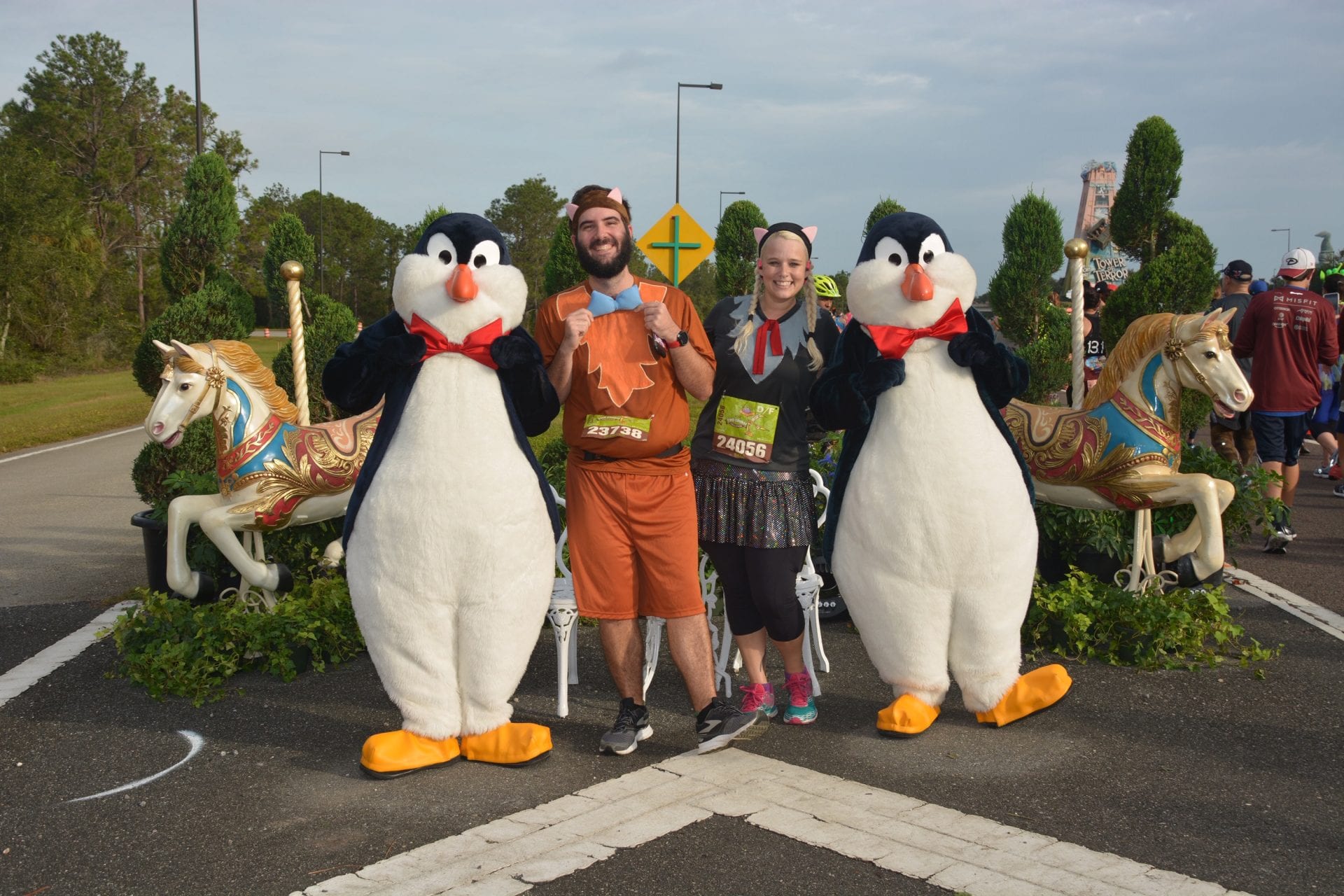 Wine and Dine Half Marathon Character Stops
We stopped for more photos than usual since there were some great opportunities on this course! Runners passed Louis, the Adventurer's Club, Captain Hook, and Russel before entering Animal Kingdom. In the first park, we saw Timon, Rafiki, and Chip and Dale in their newest Dinosaur costumes! For the next stretch, we passed Pluto, Elvis Stitch, and Flik. We should note that seemed very similar to races in the passed and we wanted more variety! The Mary Poppins penguins were next and we had to stop – they are Katie's favorite! Hollywood Studios featured Mr. and Mrs. Incredible and Edna Mode – a new character option! Daisy was out in her sports gear near the ESPN Club on the Boardwalk too! Our highlight was Marie, located in France, as we were dressed like the Aristocats! The last two characters were Pinnochio and Mushu! Overall, a huge amount of variety and opportunities for great photos!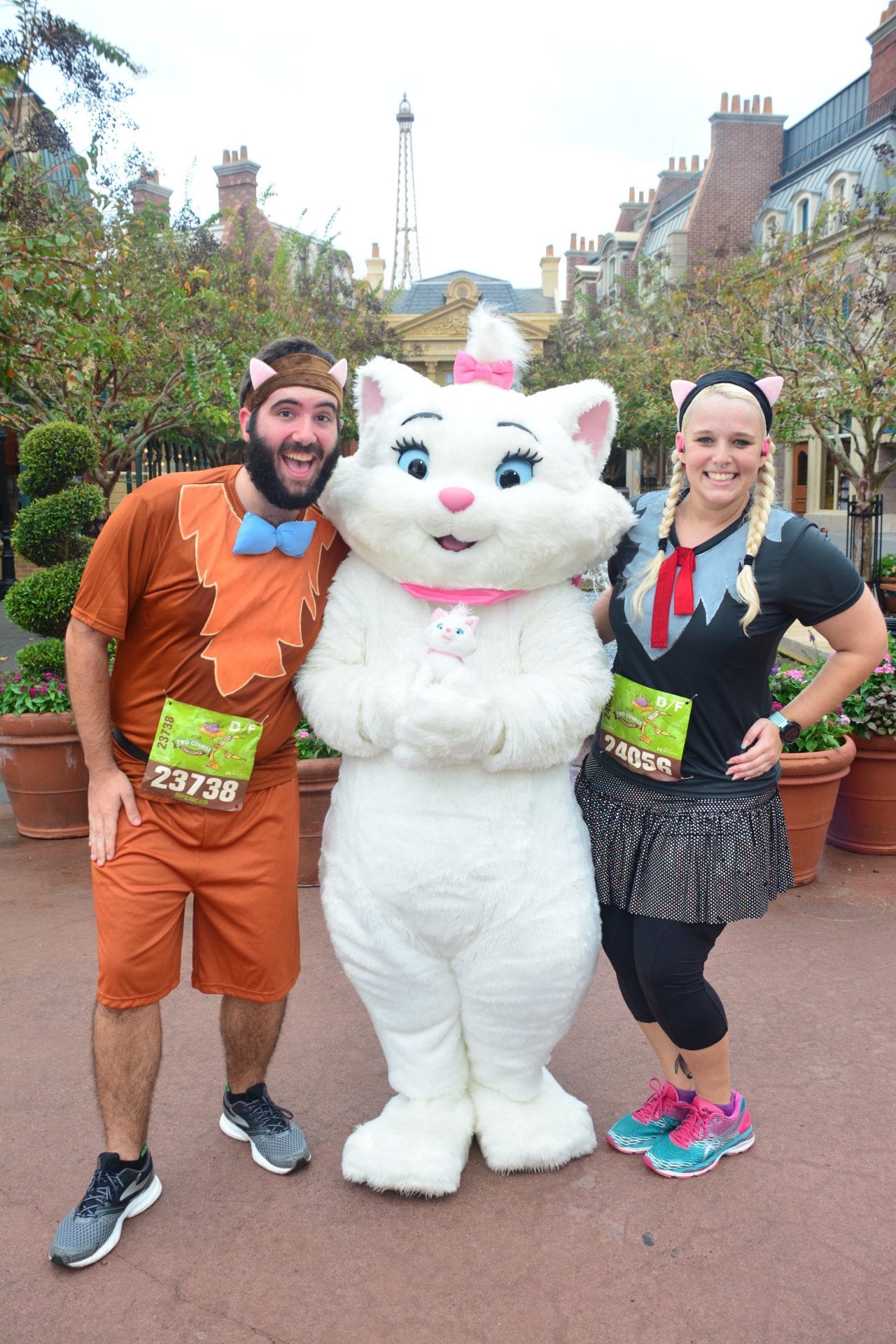 Two Course Challenge
The runDisney Two Course Challenge is for runners who like the extra bling! If you complete the Wine and Dine 10K on Saturday and the Wine and Dine Half Marathon on Sunday, you get a bonus medal to honor your 19.3 mile achievement! To complete this challenge, ensure you have signed up specifically for the Challenge, signing up for the 10K and Half Marathon separately will not gain you entry into the Challenge!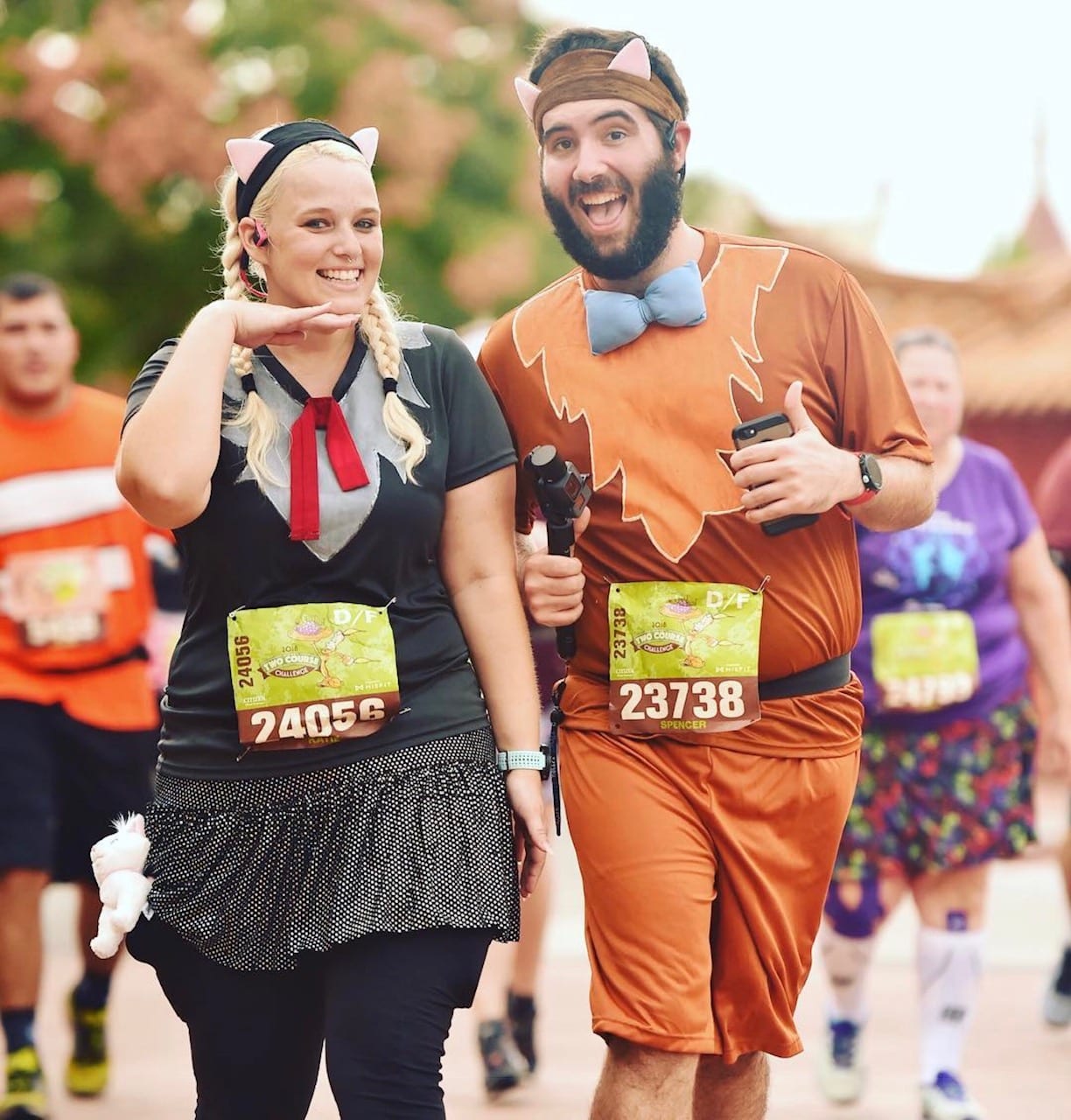 Aside from all the weather related challenges this weekend always seems to have, it is still a favorite for us. The theming is great and it's a nice way to kick off all of the holidays season race opportunities! We will be returning in 2019 for the Two Course Challenge Again!