We are big Universal Orlando fans so we were absolutely thrilled to see a new 5K and 10K series in town! We recently completed the Universal Hollywood Jurassic World 5K and Jurassic World 10K as well! It should be noted that 5K races have been held at Universal Orlando before, but this is a new race series from a new designated running team! They decided to make a big statement with the Inaugural Epic Character Race 5K!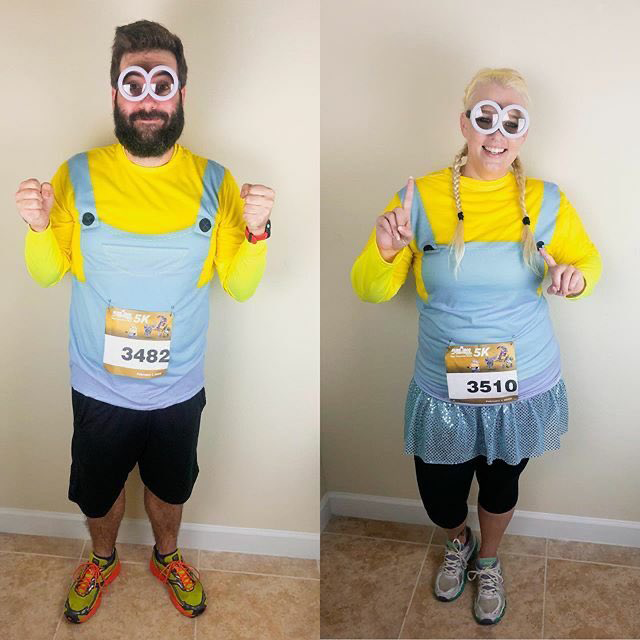 Running Universal Epic Character Race 5K Course
While we've run in Universal Orlando before, this was an all new course for this series. The race began outside near the Volcano Bay entry booth. We spent about a mile heading towards the parks, entering at Islands of Adventure. It was still dark outside, so the park lights were stunning as we ran through Toon Lagoon, Marvel Super Hero Island, Port of Entry, and exited through Seuss Landing. It is important to note the 5K did not go through Hogsmede or any Harry Potter themed areas in Islands of Adventure.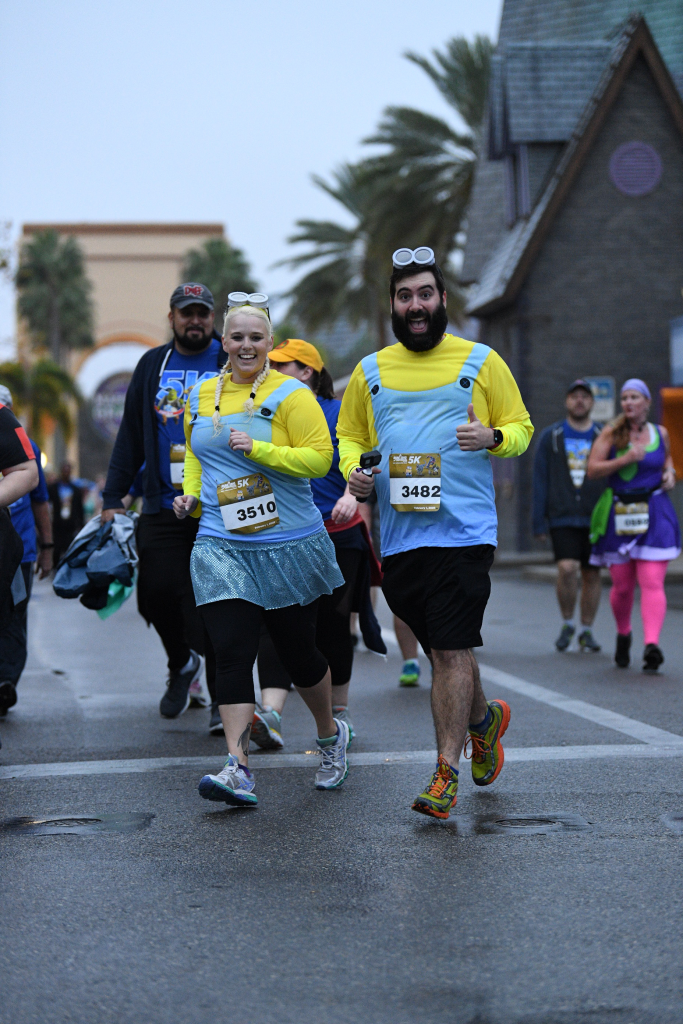 After a quick stint through the backstage areas, we began our Universal Studios journey by entering into the park by Fast & Furious Supercharged. We ran through London and by King's Cross Station (we took a quick detour into Diagon Alley for a photo). We spent the whole remainder of the course running through the World Expo, Springfield, the streets of New York! The majority of this park is inside the two theme parks – which we love!
Running Universal Epic Character Race 5K Characters
Wow! Even with some less than stellar weather, Universal pulled out all the stops for characters! With a race called the Epic Character Race, we had big hopes! Throughout the 3.1 miles, we encountered 11 different character stops! That is amazing and a huge record for us! In Islands of Adventure, we saw Betty Boop, stopped to chat with Popeye & Olive Oil, said hi to Puss in Boots, and waved at the Who's in Whoville.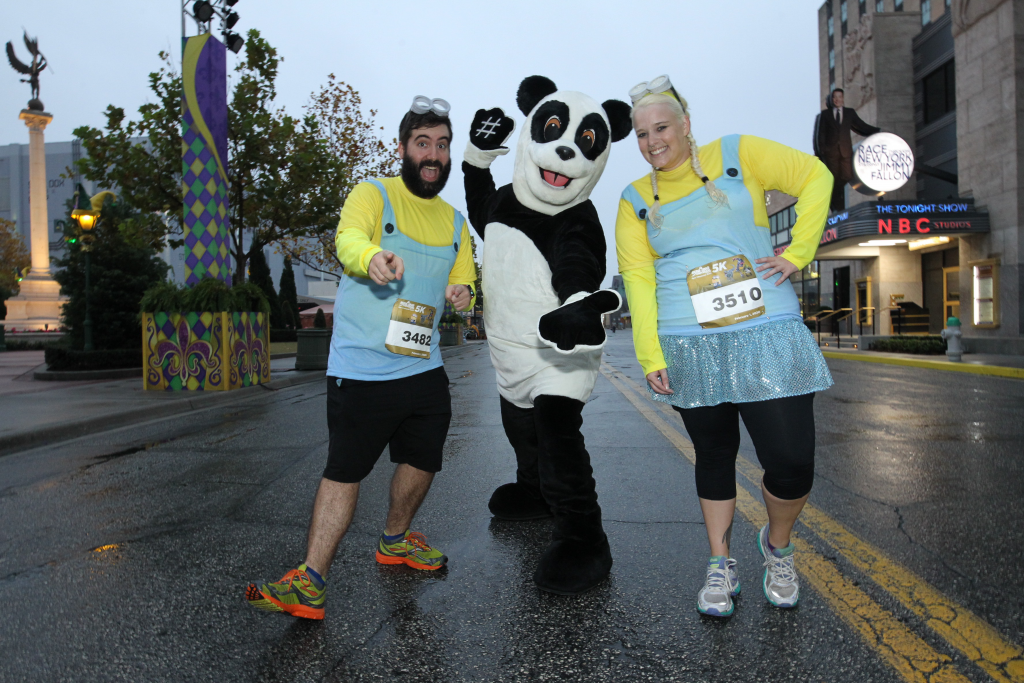 Over in Universal Studios, we saw even more characters! The Knight Bus Driver crossed our path, Krusty and Sideshow Bob were snapping a few photos. Shrek was out while Donkey was critiquing the runners passing by. We stopped for a super cool photo opportunity with Bumblebee and Optimus Prime together! Some Mardi Gras performers were out as well getting ready for opening night of the parade! Even the Blues Brothers and Hashtag the Panda took time out of their busy schedules to meet runners!
Running Universal Epic Character Race 5K Perks and Swag
When we crossed the finish line and saw the medals for the first time we were so excited to find out they were spinner medals! We love the crazy character combinations, seriously Shrek and Transformers is a great crossover! With out VIP Media perks, we received a great water bottle in addition to our wicking athletic tees. We can't wait to wear our shirts to the parks!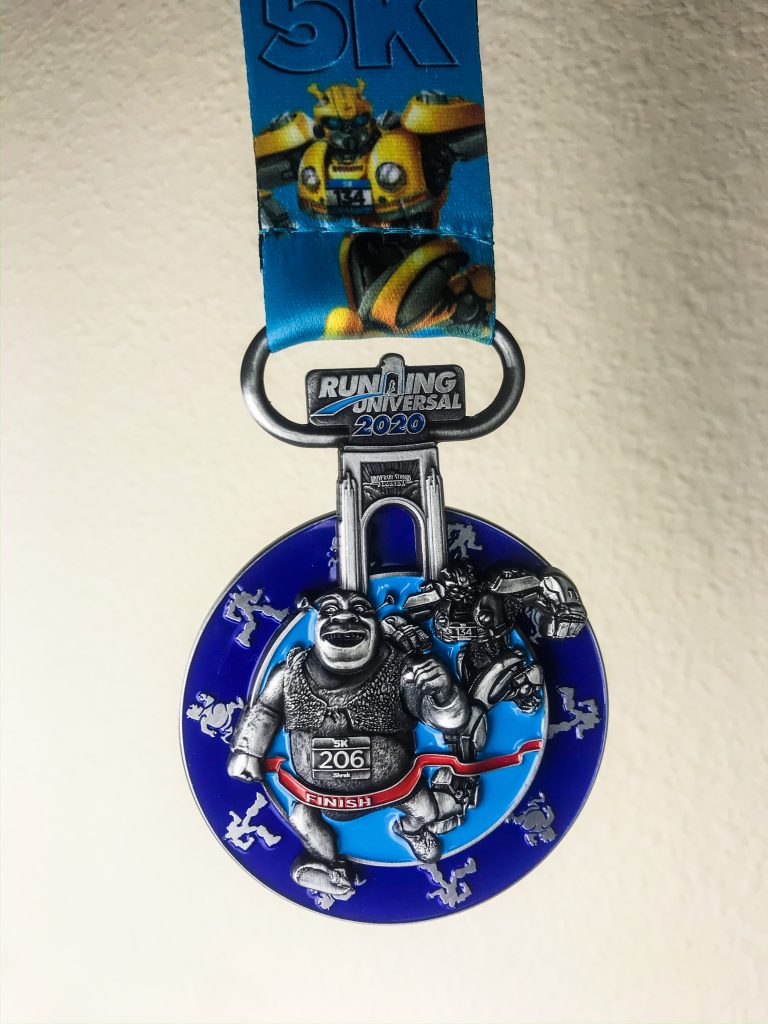 Overall, we are thrilled that Running Universal brought a great race to Universal Orlando that really rivaled the experience in Universal Hollywood. This race is great for beginners, theme park fans, and those looking for an entertaining run! We highly recommend this race experience and can't wait to hear more for 2021!